Last Updated on June 19, 2019 by Kristi Linauer
One of the main pieces of furniture I need in my is a desk to go in my "home office" portion of the room. I decided that I didn't want anything fancy — no drawers, no frills, and no fancy or bulky design. I just wanted a simple but classic writing desk. And after searching online and finding nothing that fit the bill (especially since I wanted a desk on the larger side), I quickly realized that this was going to have to be a DIY writing desk that I build myself.
So I came up with a very simple design, which is also very easy to build. It still needs to be painted (the base) and stained (the desktop), but I did get it built yesterday, so let me show you how it looks so far…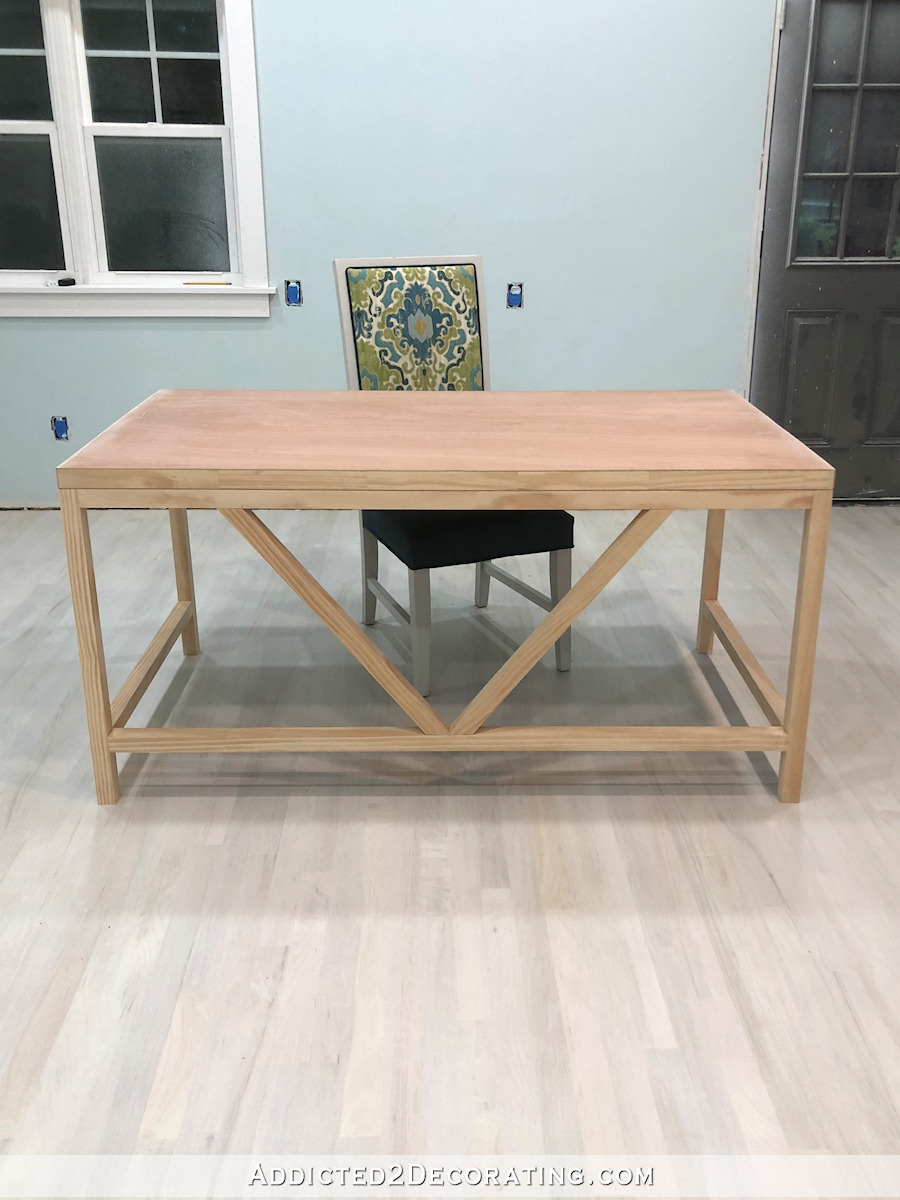 And of course, that's one of my breakfast room chairs. As soon as I find a desk chair for the studio, I'll be returning this chair to the breakfast room.
I had originally planned to purchase some metal legs to build a desk, but I finally came to the realization that if I use all wood, I could build an entire desk for quite a bit less than the price that the metal legs would cost, and the final look (after the base is painted black) would be very similar.
This desk required a solid core door (about $80) and six pieces of 1.5″ x 1.5″ x 8′ lumber (about $66). Throw in some nails, wood glue and screws, and I've got a 32″ x 60″ desk for about $170. (I wasn't able to find the lumber I used on the Home Depot website, but on my receipt it's called 2 x 2 – 8 ft. select pine board. The actual dimensions are 1.5″ x 1.5″ x 8′.)
Even though I was using all wood for my design, I still found plenty of inspiration from some metal base/wood top designs that I found online. One thing I liked about several of those metal base designs is that the edges of the wood top were flush with the metal frame, whereas a desk top or table top usually extends past the apron on the base. So I decided to adopt that idea in my design.
And while I wanted a basic, no frills writing desk design, I did add just a very simple and easy decorative "V" design on the front of the desk.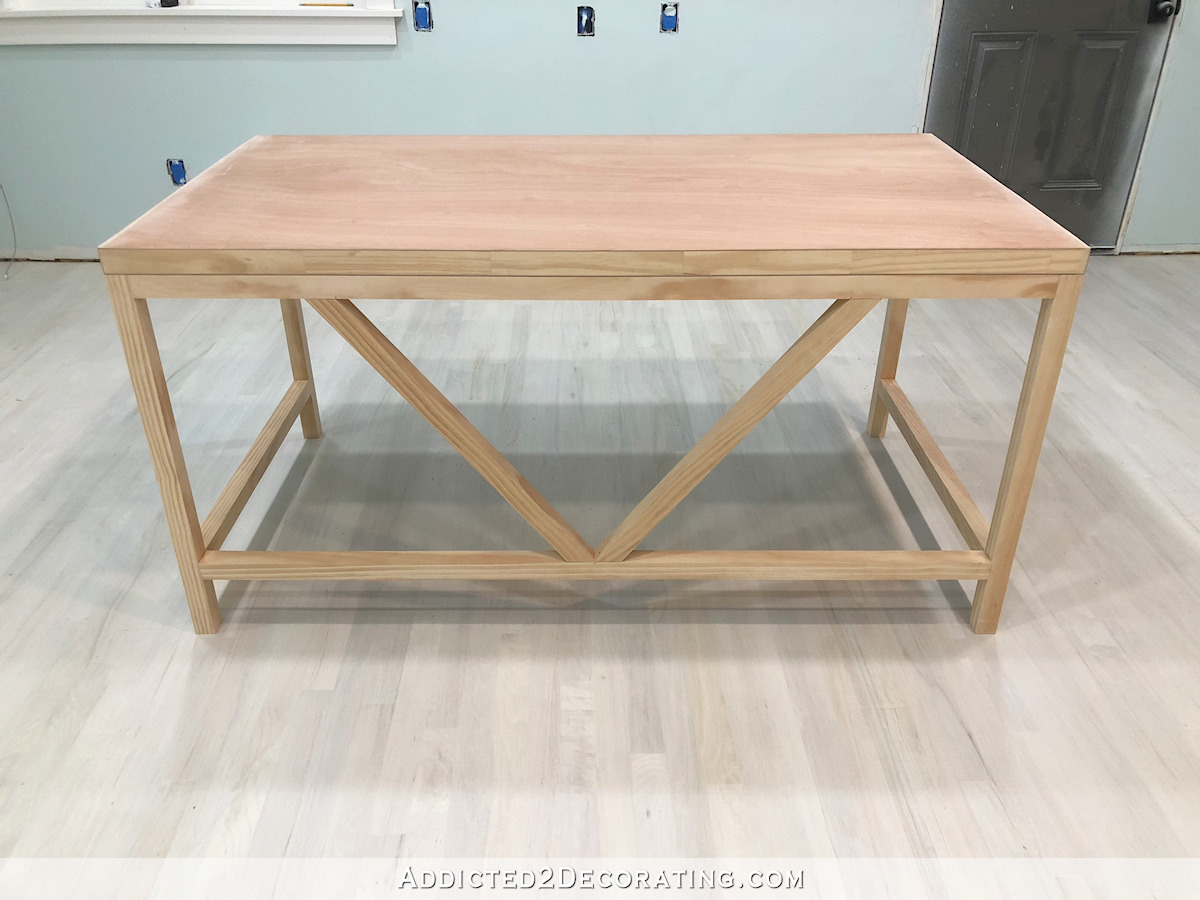 I like that it kind of echoes the chevron pattern on the back entry floor.
So let me show you how I built this very simple writing desk.
How to build a simple DIY writing desk
Step 1 – Cut a solid core door to size for the desktop
First, the top is made out of a solid core door. I considered several options for making a stainable wood top — plywood, DIY butcherblock, etc. — and decided that the solid core door would be the easiest.
I went with solid core because it's heavier and more substantial. You can use a hollow core door as a desk top, but I just don't like the hollow sounds when writing on and placing things on a surface with a hollow core. And because it's hollow, it also has too much give to it, giving the surface a slight "bounce" when objects are placed on it. I just don't think hollow core doors make practical desktops.
So I purchased a 32″ x 80″ flush unfinished solid core door with no bore hole.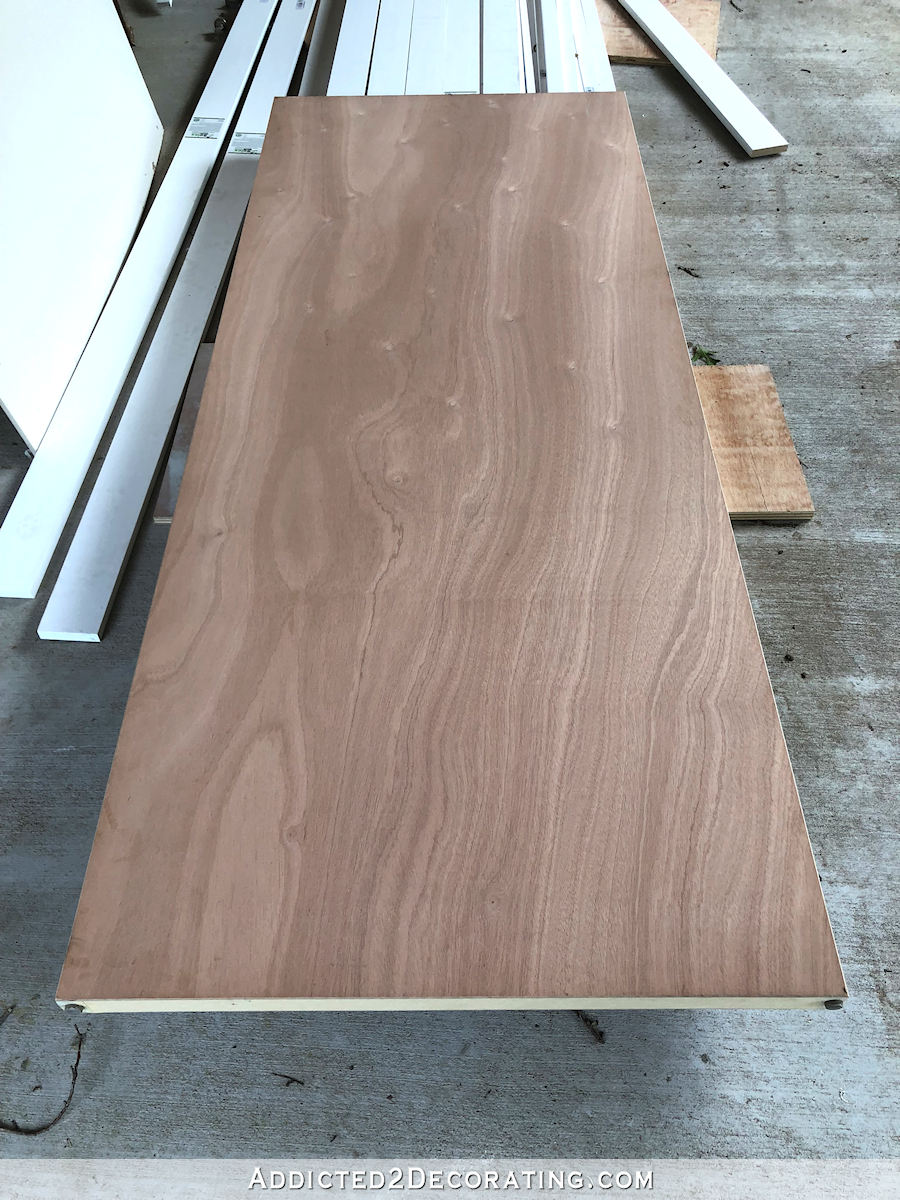 I wanted my desk to be 60 inches wide, so I started by cutting off 20 inches from the door using my circular saw. This is what the inside of a solid core door looks like. (Note that a solid core door is not the same as a solid wood door.)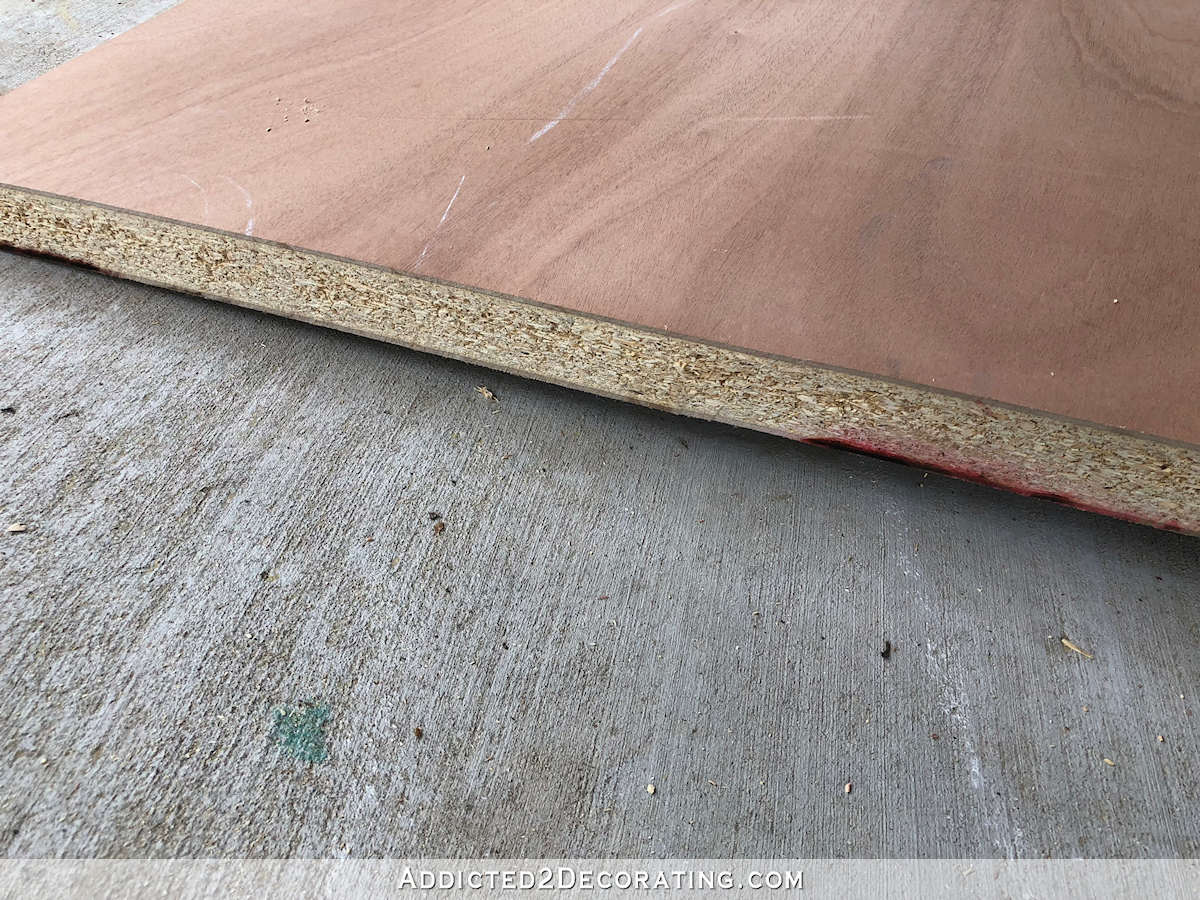 Yep, it's just a lot of particle board sandwiched between two layers of thin plywood. The cut end looks pretty rough, but even the finished ends of a solid core door (what would be the top and the bottom edges of the door) have visible particle board. They don't put veneer over those edges, but they do sand them very smoothly. But I still wanted to cover my cut edge as well as the factory sanded edge with wood that would be stainable.
So to make it match the rest of the door, I used the piece I just cut off to make two end pieces of plywood/veneer that could be used to cover the end edges.
First, I used my table saw to cut a piece off of the scrap piece that was 32 inches (i.e., the width of the door) by 2 inches.
And then using my table saw again, I cut the thin plywood off of each side…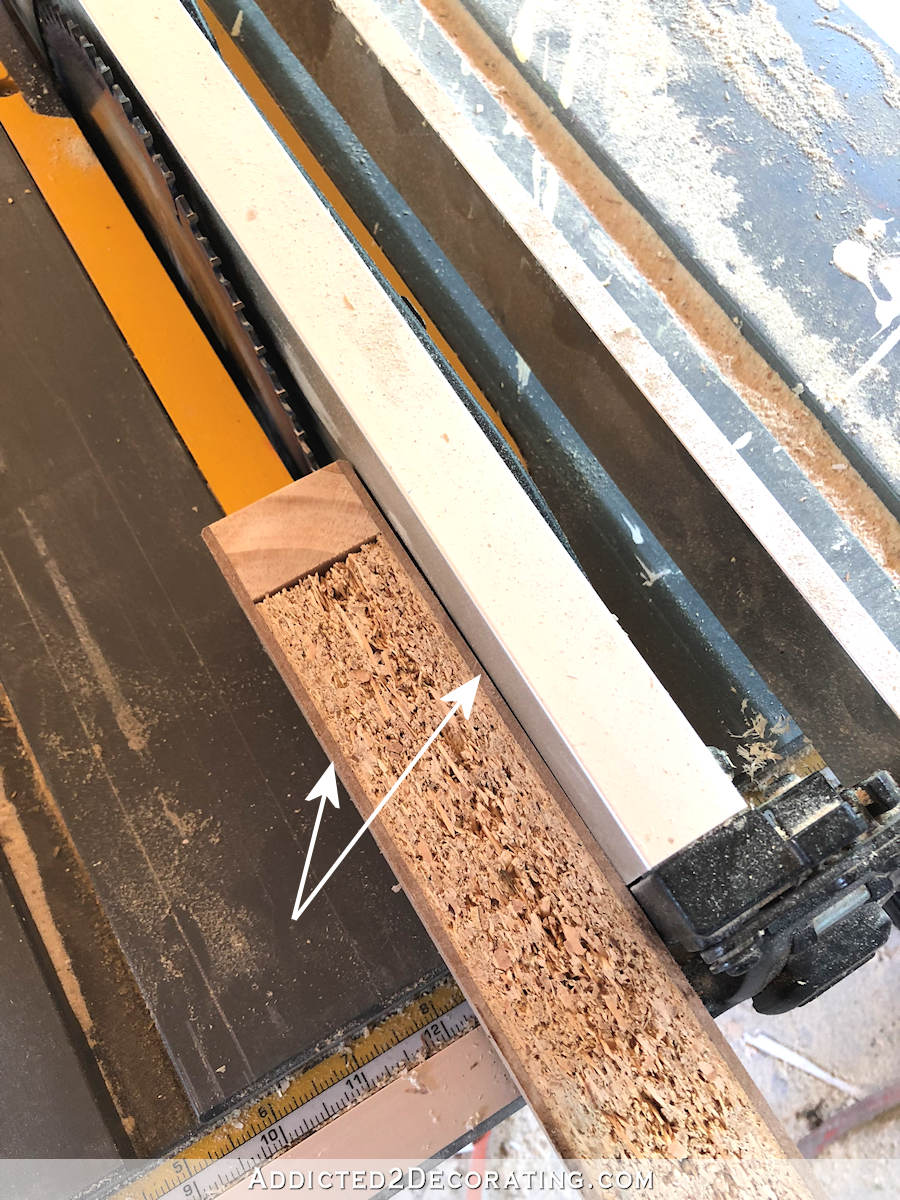 That gave me two pieces of plywood/veneer to use to cover each end. I wasn't worried about cutting them perfectly because the excess could be removed using either a sander or router after it was adhered.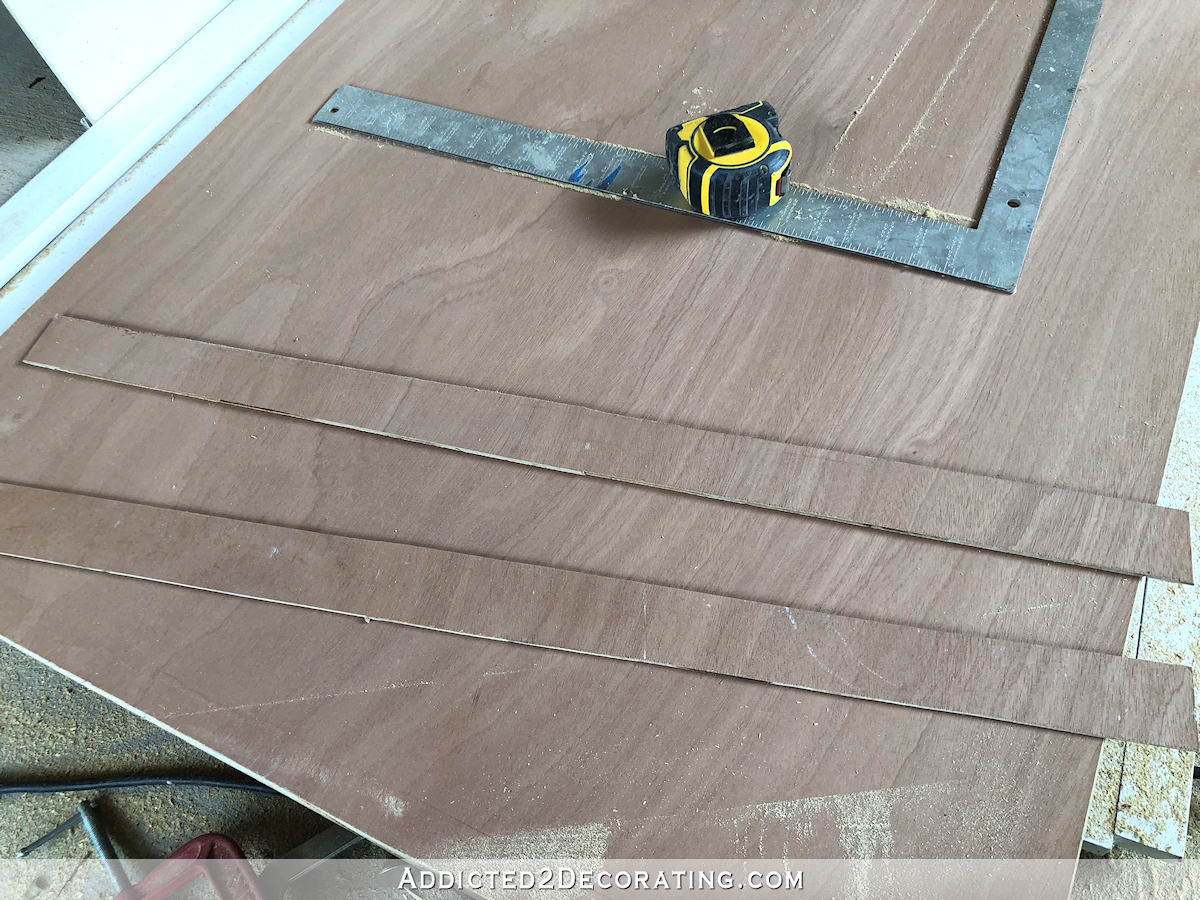 I adhered those pieces to the ends using wood glue, making sure that the glue was spread liberally on the entire surface, and then held them on with painters tape until they dried.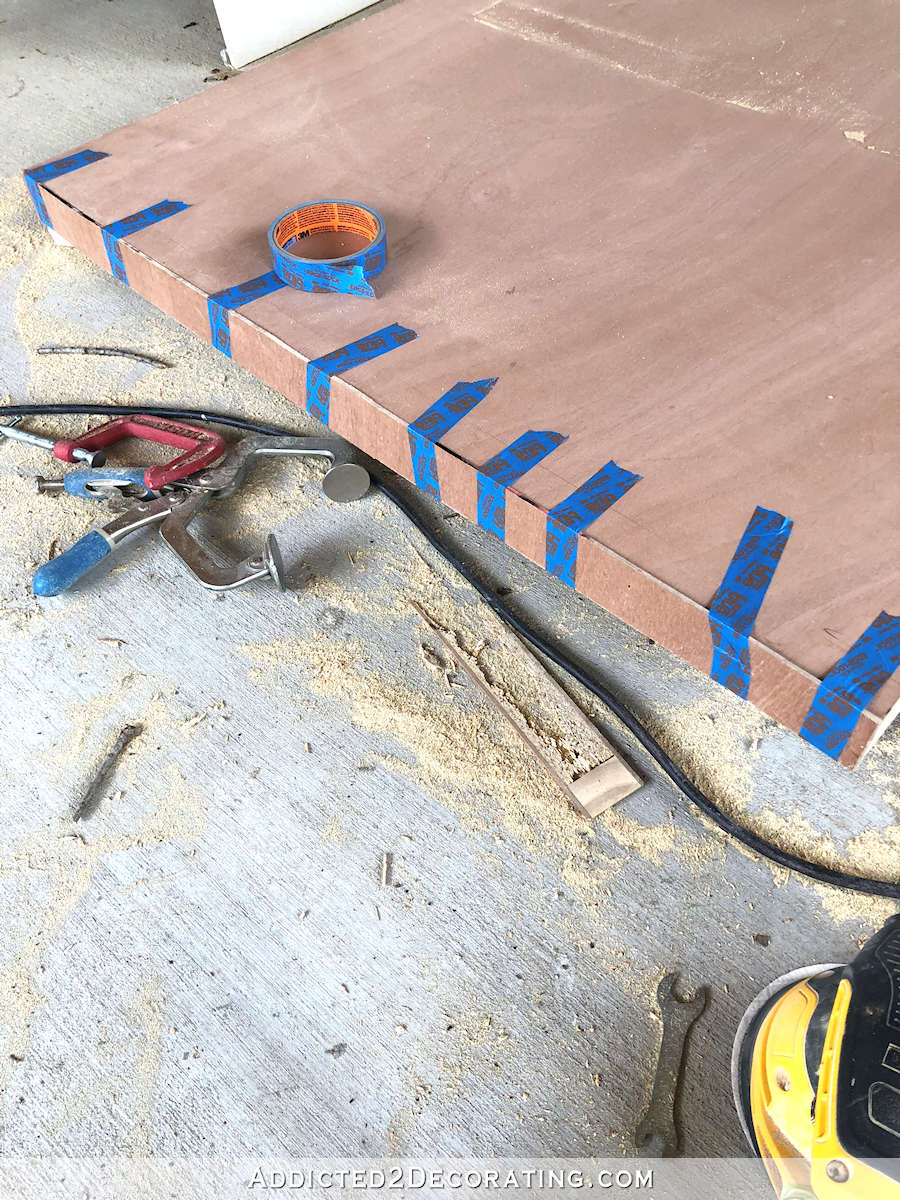 I gave it a couple of hours to dry, and then removed the tape. I decided to remove the excess plywood using my sander with 60-grit sandpaper, but again, a router would also work.
Then I filled the tiny crack with wood filler…
Here's how it looked with the whole thing filled, but before the excess wood filler was sanded off…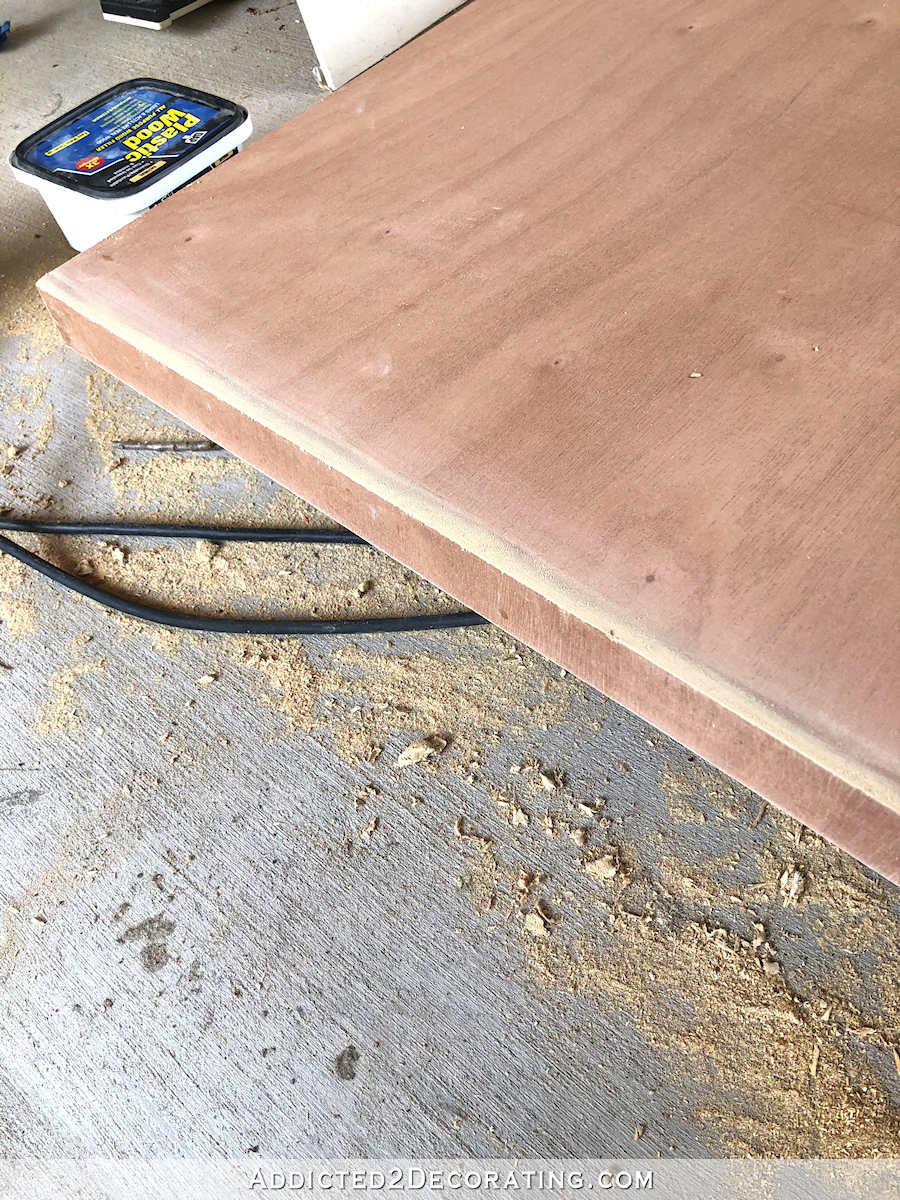 With the door cut to size and the ends finished, I moved the desktop inside to build the base. I placed the desktop face down (i.e., the prettier side down) on my work surface…
Step 2: Build the front section of the base
I built the base using 1.5″ x 1.5″ x 8′ pieces of lumber. The whole base, which was 60″ x 32″, required six pieces of lumber.
Starting with the frame for the front of the desk, I cut two pieces that were 57 inches long, and two pieces that were 28.25 inches long. Then I secured those together using wood glue and screws that were inserted through pocket holes that I drilled using my Kreg pocket hole jig.
Here's a closer look at the pocket holes. I drilled two pocket holes in each end of the long pieces, and then used 2.5-inch screws to attach the pieces.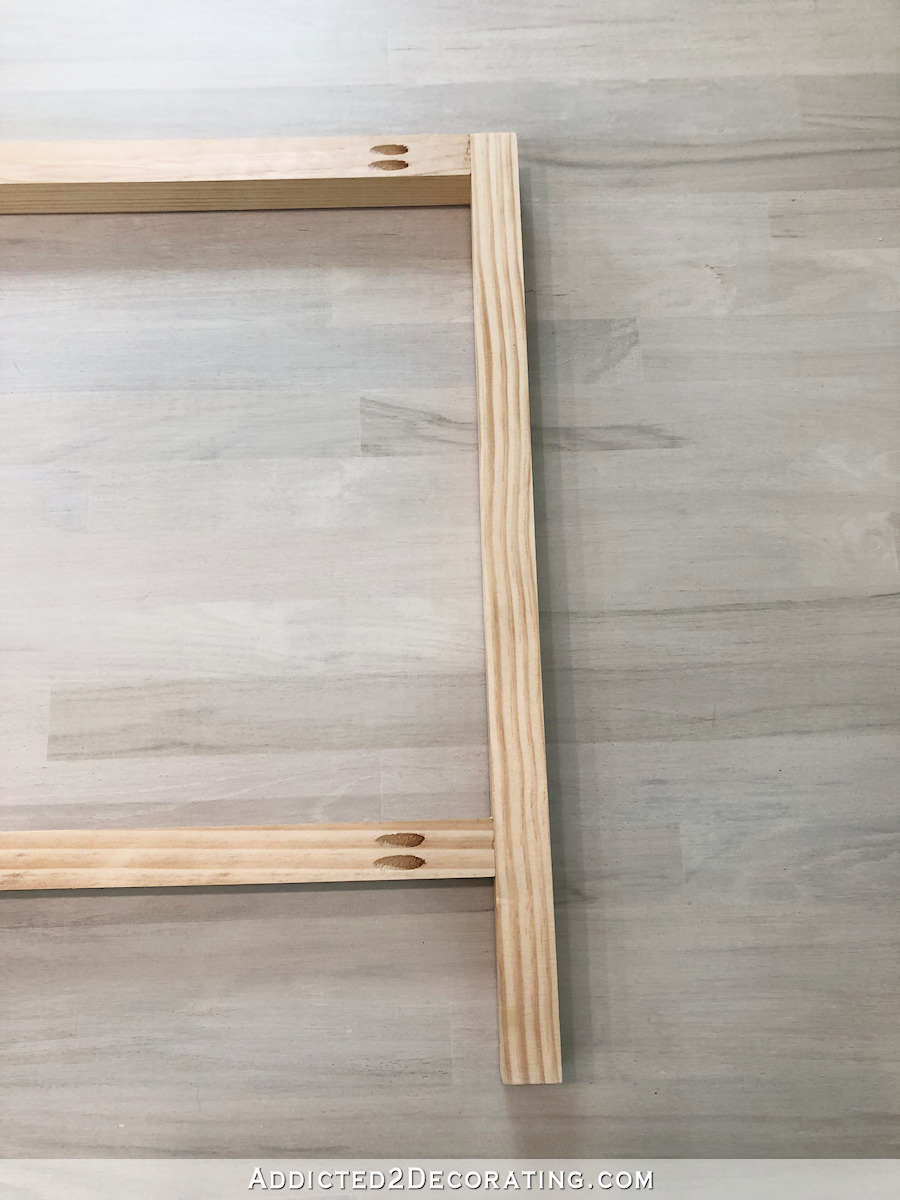 And I repeated that on the other side…
I attached that bottom cross bar five inches up on the legs, but there's no hard and fast rule. You can attach it where you think it looks best.
With that section of the base completed, I attached it to the bottom of the desktop using three 2.5-inch screws.
I attached this portion of the base so that the pocket holes faced under the desk, and the pretty side faced out.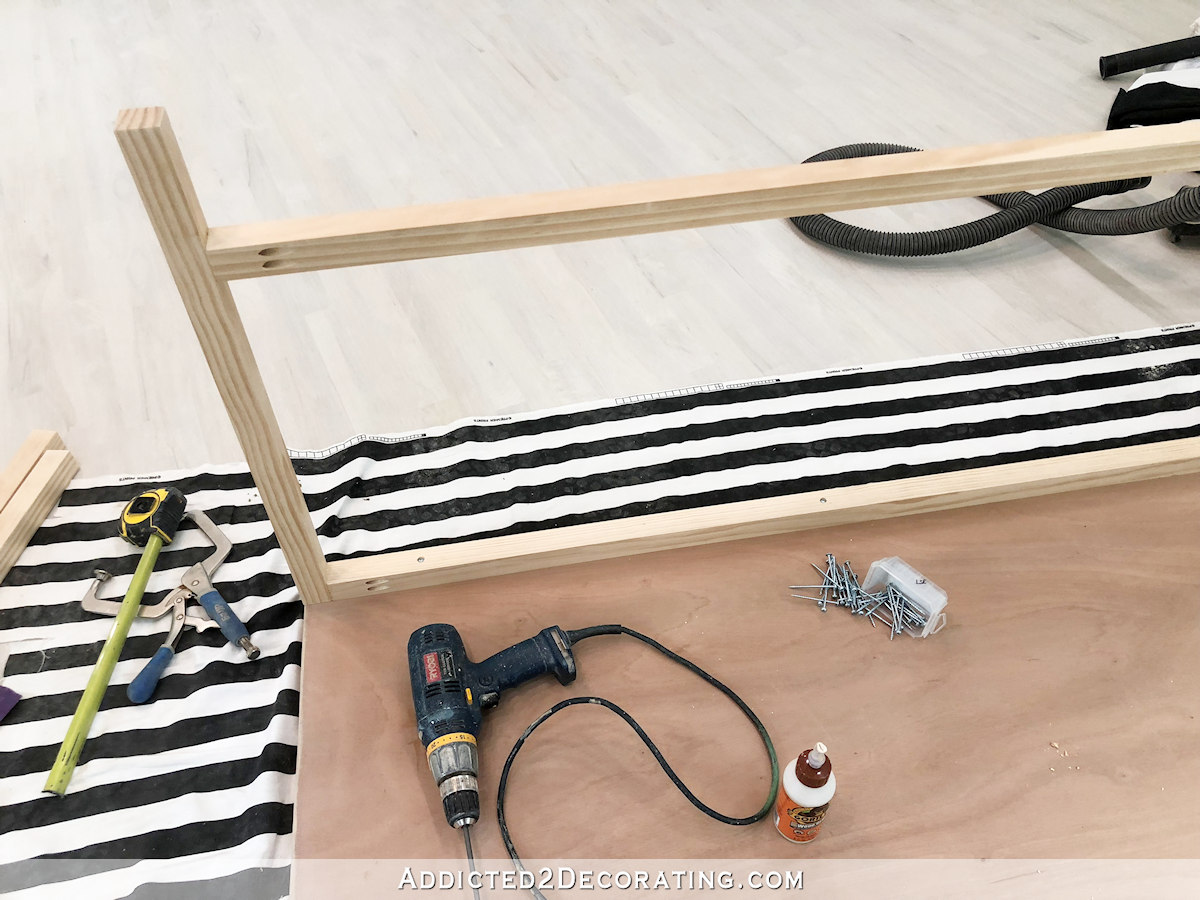 Step 3: Build the back section of the base
Next, I repeated that process for the back side of the desk (i.e., the side that accommodates a desk chair), but obviously this side can't have a bottom cross bar since that would be in the way of a desk chair. So this one just had one long piece and two shorter side pieces. I attached those in the same way, using wood glue and pocket screws.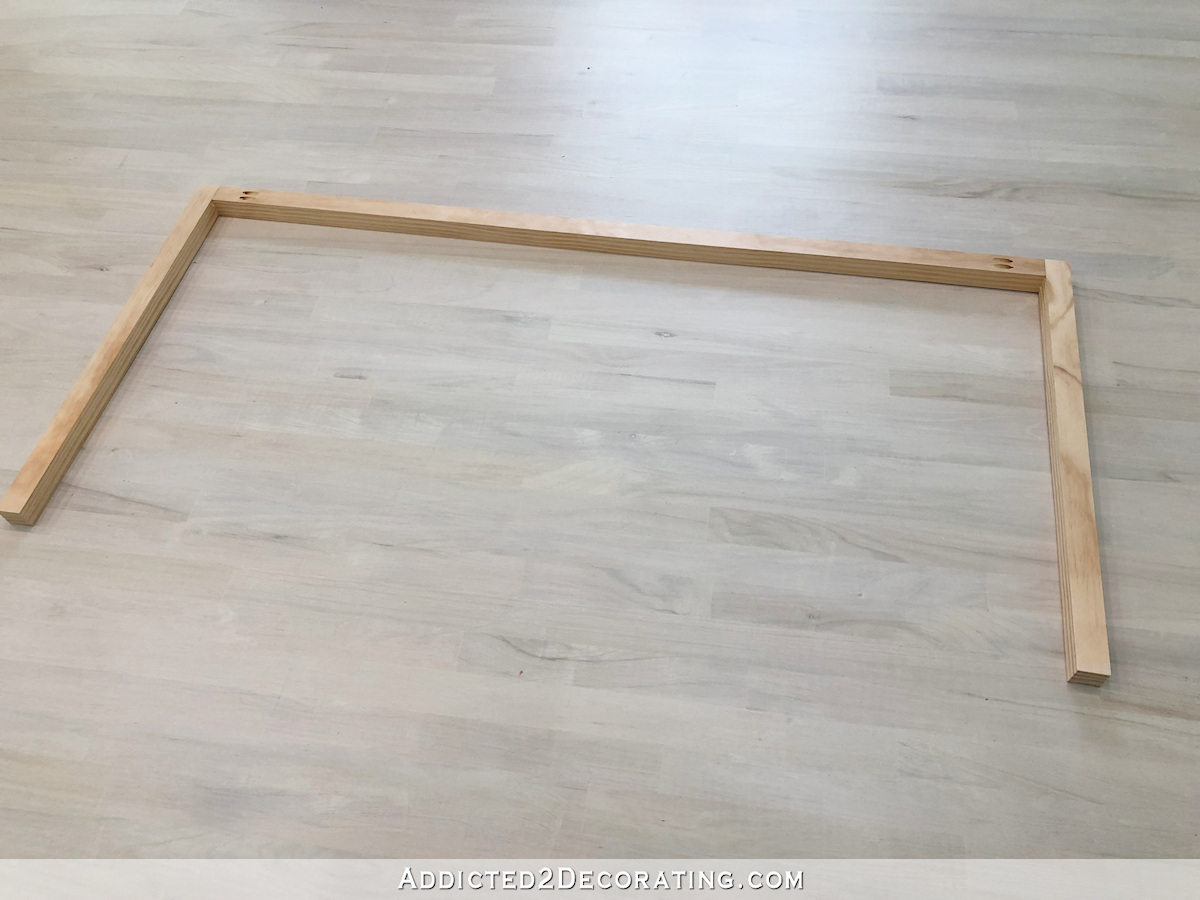 Here's a closer look at those pocket holes…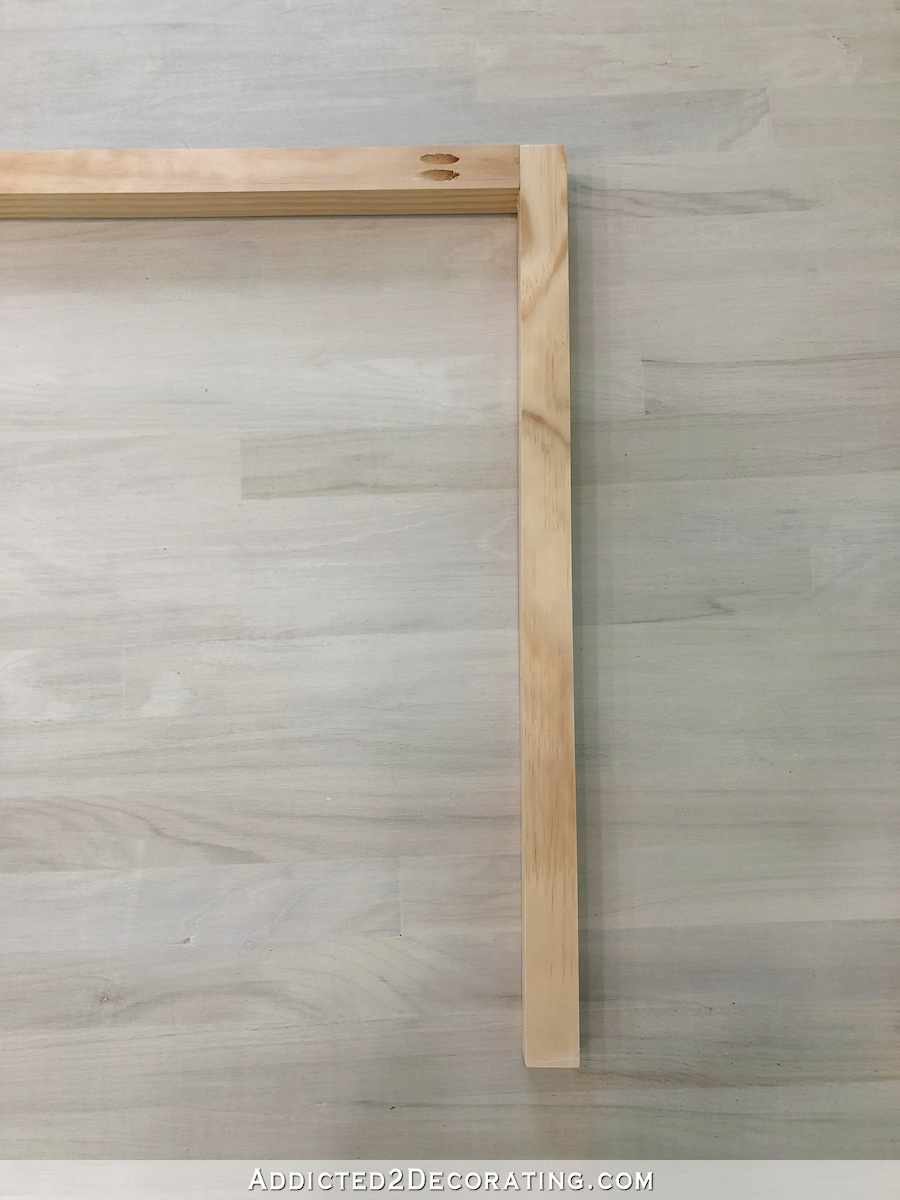 With that section of the base built, I attached it the same way as I did the front section, using three screws.
Step 4: Attach front and back base sections with side stretcher bars
To finish the basic structure of the base, I attached two side stretcher bars on each end of the desk. The first one went here…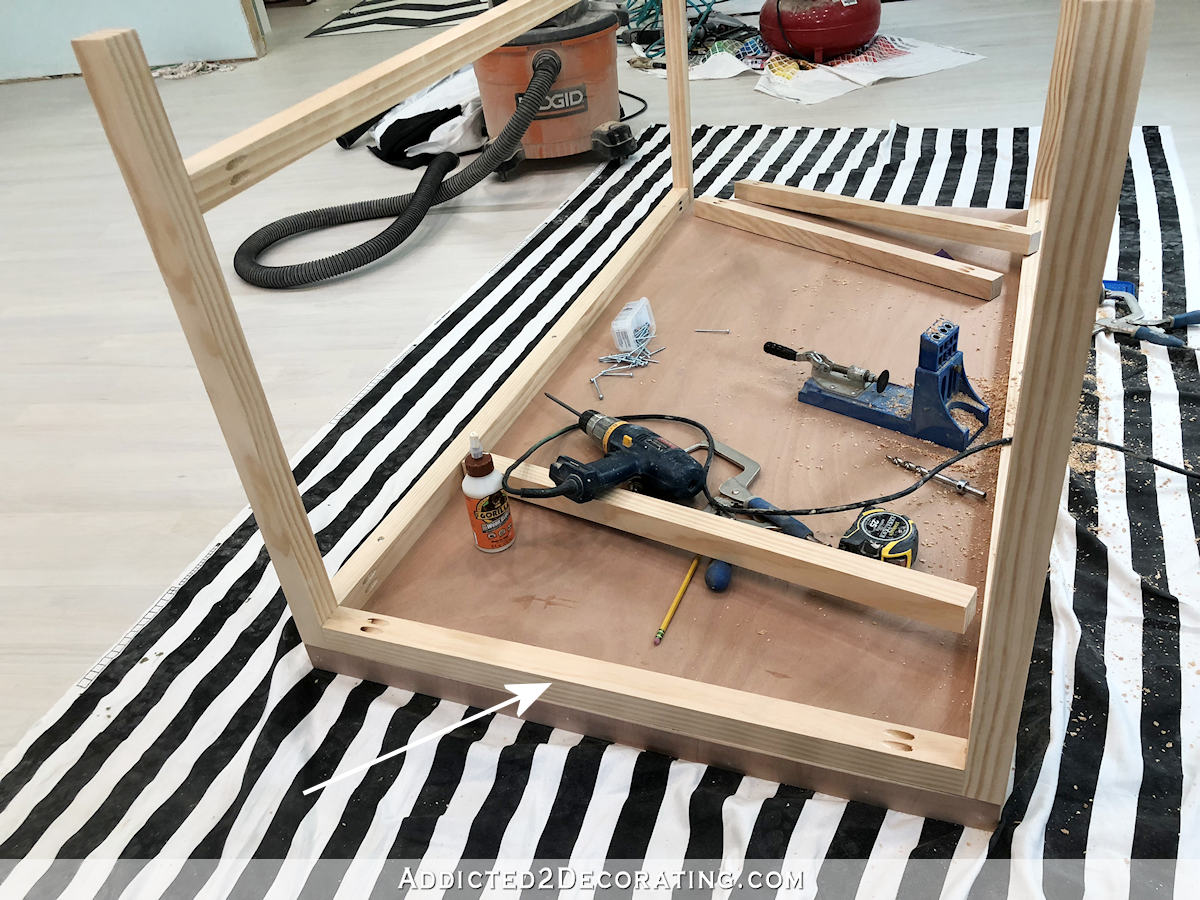 …and I attached it using pocket screws that went into the legs, but I didn't screw this piece to the desktop.
Then I attached the bottom stretcher (i.e., the one that would be on the bottom if the desk were upright) in the same way…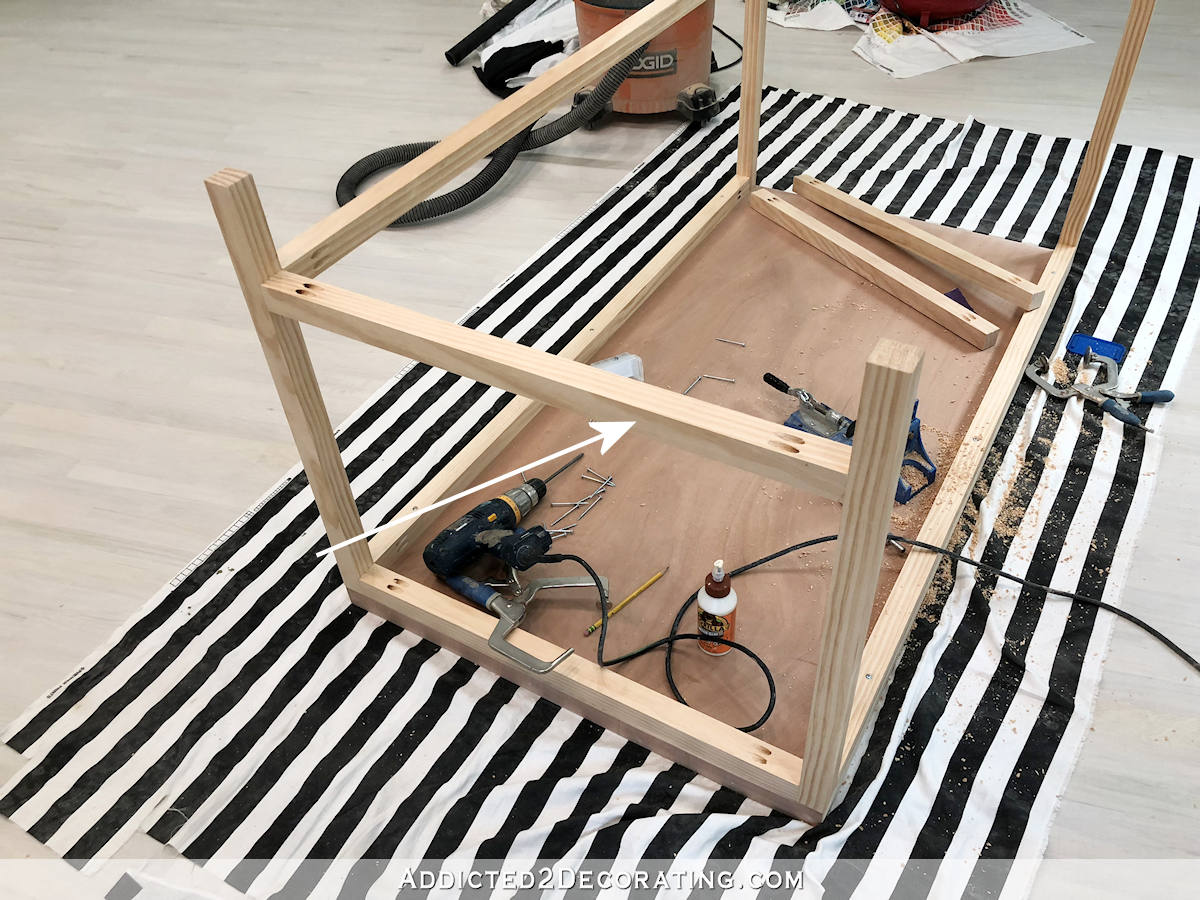 And after repeating that on the other end of the desk, the basic frame was done.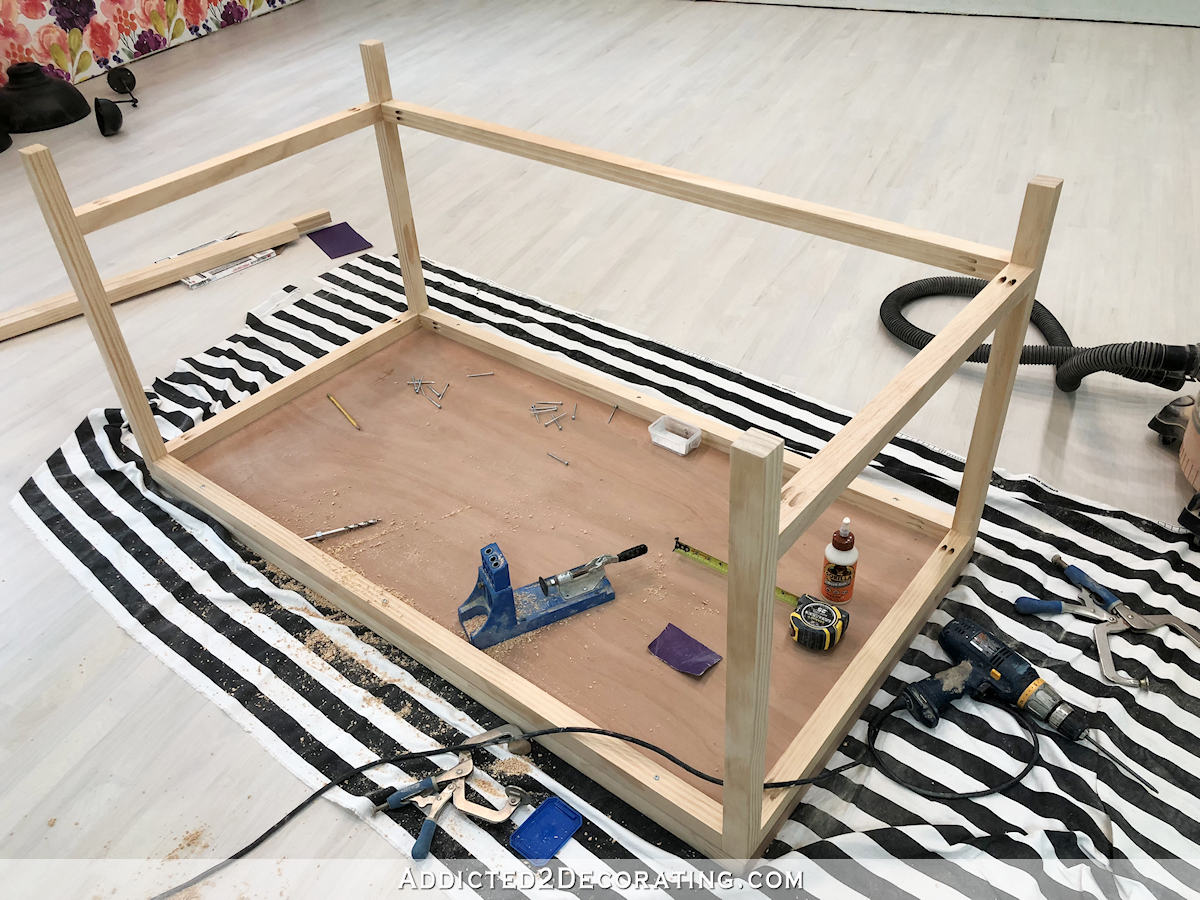 Step 5: Add any optional decorative pieces to complete the base
I still wanted to add a simple decorative touch with the "V" design on the front, so I placed the desk with the back side (i.e., the side where a chair would go) down on the floor and the front of the desk facing up.
Then I marked the center of the bottom cross bar, and I marked over 13 inches from the edge on the top cross bar. I placed a piece of 1.5″ x 1.5″ lumber on those marks, and then used a pencil to mark where I needed to cut that piece to fit inside the frame.
I cut two identical pieces using my miter saw, and then attached them in a "V" formation using wood glue and 1.25-inch 16-gauge nails.
Here's a closer view of how I nailed these pieces to the frame…
And with those pieces attached, the basic build for this large writing desk was done.
I still need to do some wood filling, sanding, priming, painting, staining and polyurethaning to get it finished, but I'm pretty pleased with how it's turning out.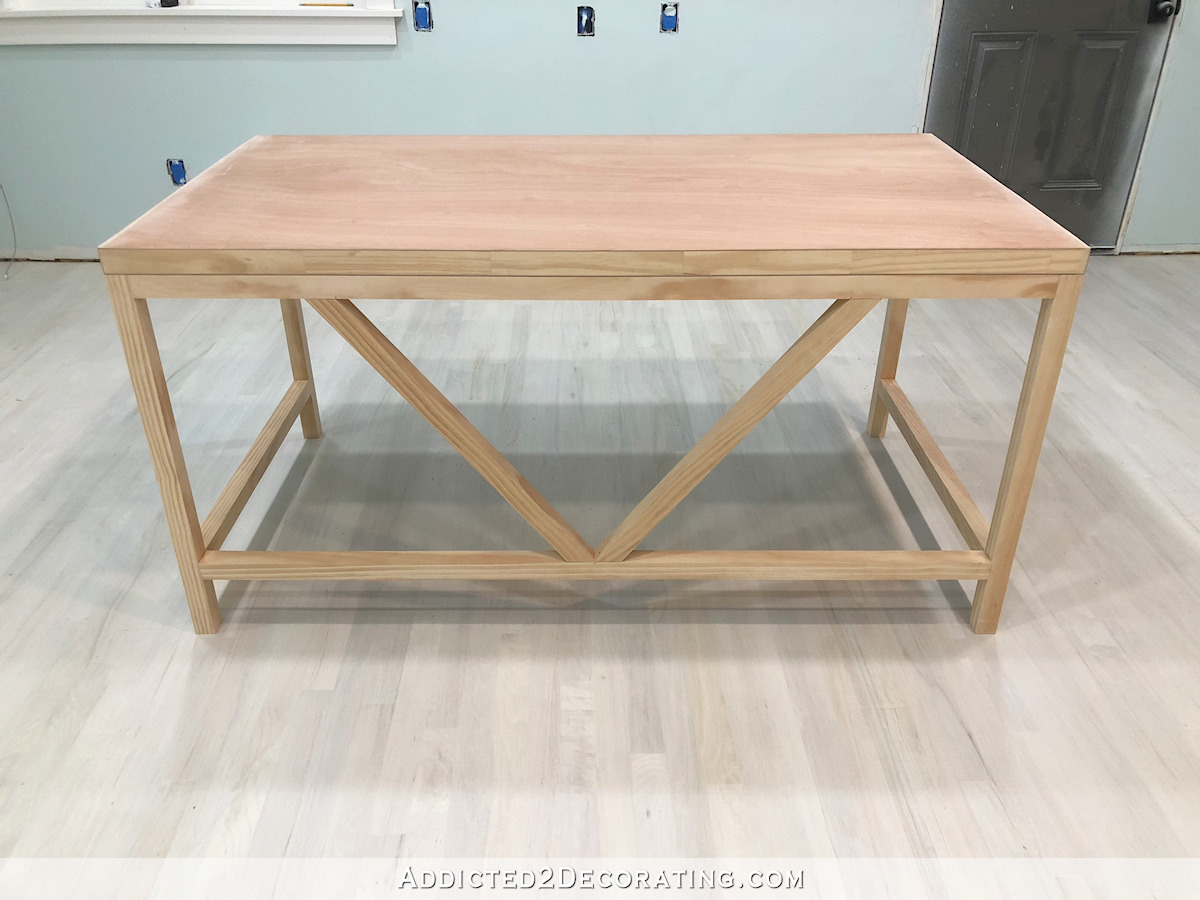 And since the top is attached with only six screws, I'll be able to easily remove those screws and remove the top so that I can spray the base and stain the top separately.
It can be finished very easily IF the weather will cooperate, that is. 🙂 It's not looking like today will be that day, but maybe tomorrow!
Helpful sources and products:
Kreg Jig Master System — This is the Kreg pocket hole jig package that I have, but there are several available. At minimum, you'll need the actual large blue jig, the drill bit with adjustable collar, the screwdriver bit, and a clamp. The Master System comes with all of this, including a clamp, but I also have and highly recommend this right angle clamp, which does not come with the Master System.
Porter-Cable 3-Tool Combo Kit — This is the air compressor combo kit that I purchased years ago and have used ever since. It comes with a little portable 6-gallon pancake compressor, a 16-gauge nail gun, an 18-gauge nail gun, and a staple gun. And while I mainly use the 16-gauge nail gun for my building projects, l use all three of those tools quite often. I wouldn't want to be without any of them.
Update:
The desk is finished! Here's a peek at how it turned out…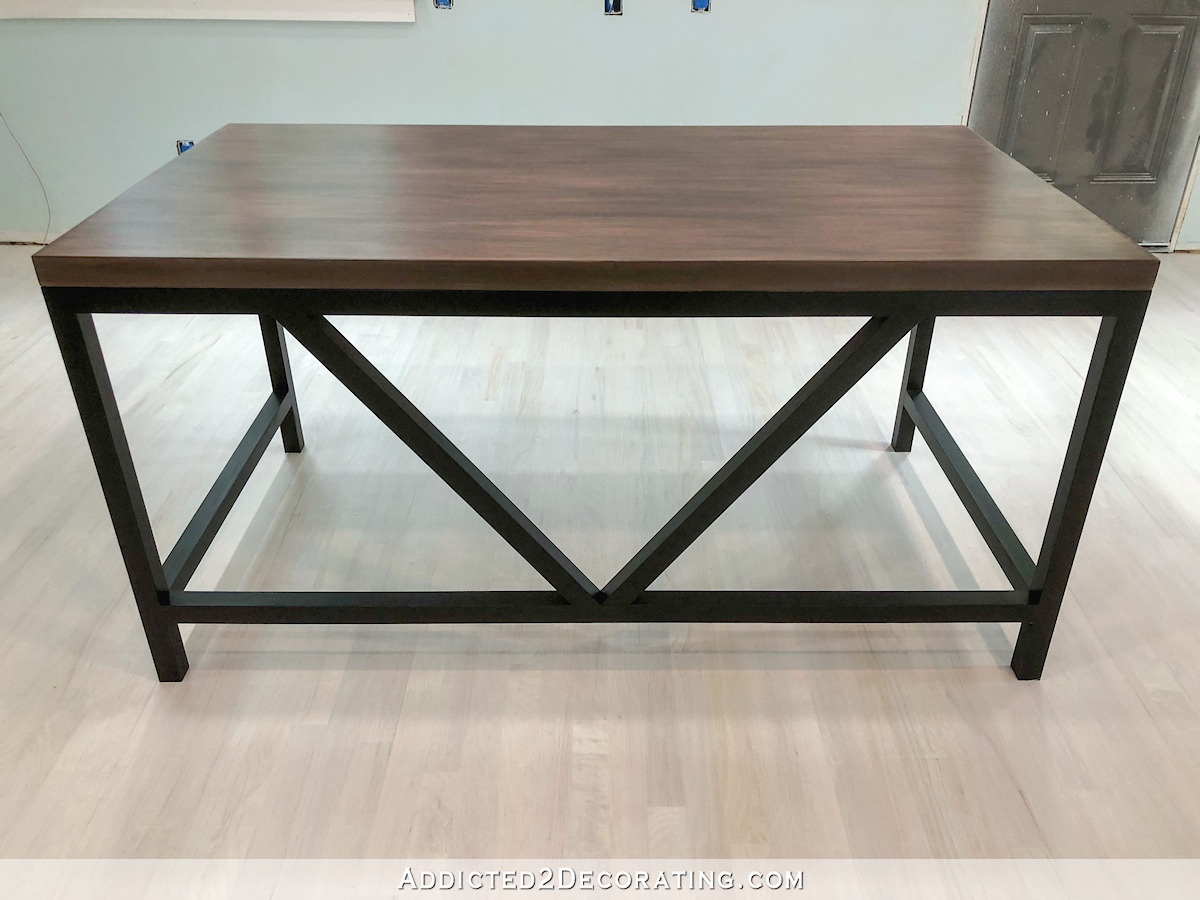 You can see how I finished the desk here…
*This post contains affiliate links.
Addicted 2 Decorating is where I share my DIY and decorating journey as I remodel and decorate the 1948 fixer upper that my husband, Matt, and I bought in 2013. Matt has M.S. and is unable to do physical work, so I do the majority of the work on the house by myself. You can learn more about me here.
I hope you'll join me on my DIY and decorating journey! If you want to follow my projects and progress, you can subscribe below and have each new post delivered to your email inbox. That way you'll never miss a thing!