Blogging Help:: Out With Blogger, In With WordPress
Fair warning:  Very long and wordy post ahead!!
Over the last year, I've read so many posts and articles on the topic of WordPress vs. Blogger, trying to decide whether or not it was worth it for me to take the plunge.  I had so many questions and fears…
Isn't WordPress difficult to use? (No, it's not difficult.  If you can use Blogger, you can use WordPress.)
Won't I lose all of my links?  (Nope, all traffic can be rerouted to the new links.)
What about all those pictures on Pinterest?  Will I lose all that traffic?  (Nope, same as above.)
Will I have to start over at "0" on Feedburner?  (Nope, your feedburner info can be updated to the new address without losing any subscribers.)
Doesn't Blogger have better SEO (search engine optimization)?  After all, it's owned by Google!  (That seems logical, but it's actually not true at all.  WordPress gives bloggers much better SEO control.)
The list could go on and on.  For over a year, I convinced myself that it was too difficult, and too much was at risk to make the big move.  But now I'm here…and I could kick myself for not doing it sooner.
I'm not going to go over the pros and cons of Blogger and WordPress in general terms.  That topic has been written about at great lengths.  Just Google "Blogger vs. WordPress", and you'll get over 29 million results, with the first ten pages filled almost completely with articles and videos by that very name (or a very close variation).
Instead, I want to show you why WordPress was right for me, and in the process, perhaps answer the question of whether WordPress is right for you.
As I shared with you the other day, it took a while for me to get settled into this whole blogging thing.  Similarly, it took me a very long time (about3 1/2 years) to really, fully understand my own vision for blogging, what I personally wanted to share and get out of it, and exactly how I wanted my site to be arranged.  I wanted A2D to be part personal journey and journal (coming from the viewpoint of a homeowner who's trying to get my own home decorated), part decorating handbook (written from the perspective of a person who has made interior decorating my profession for the last six years), and part DIY handbook (coming from the viewpoint of a person who has been using power tools since high school, and loves to build and make things), mixed in with lots of great DIY projects and inspiration from other bloggers.
That final clarity led me to do a complete site redesign about a year ago, with information accessible by category on the main menu.  The information itself was contained on three separate blogs, all hosted by Blogger, plus a separate website hosted by a different company.
I had DIY Projects all on one page, but you could go directly to a specific category on that page using the drop down menu…
I had information arranged by topic…
Or you could search for articles and posts by room…
Inspiration Files (projects from other bloggers) and Decorating Q & A were located on separate blogs, each accessible on the menu as well…
I tried to make this system work for about a year, but was never completely satisfied with it.  Besides the confusion of having three different blogs and a separate website, the whole thing became such an administrative hassle that I was wasting unimaginable amounts of time trying to keep everything organized, and failing miserably.  Here's an example of the "behind-the-scenes" maintenance this required:
On November 15, I shared a DIY project with you that I did for my kitchen–a framed magnetic chalkboard spice rack.  That project took about three hours over two days to complete.  When it was finished, it took me about another three hours to sort through and select the pictures I wanted to use, edit the pictures, and write the post.
But even after all of that, I still wasn't through.  Since it was a DIY project, I needed it to show up on the DIY Projects Page, which was a page on the website portion of the old A2D.  That required me taking one of the photos of the spice rack, and using my photo editing software to create a "button" that would go on the DIY Projects page…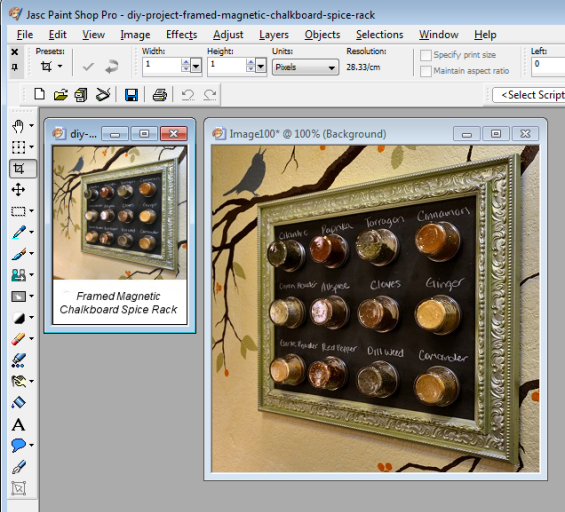 Once the button was created, I had to go to my HTML editor (I used Frontpage), pull up my DIY Projects page, manually add the newly-created button, and make sure it was properly linked to the post I had written.
Then I had to re-upload this HTML page by going to my website hosts' site, and going through a multi-step process to upload the newly-edited HTML file, along with the new picture (button) I had created.
That took care of the DIY gallery, but I still wasn't finished!  Since this was a project that fit nicely under the "kitchen" category of the "Decorate By Room" menu item, I had to add it to that page as well.  I would head back to my HTML editor, pull up the page called "Decorate By Room", find the correct subcategory, and add the new post name and link: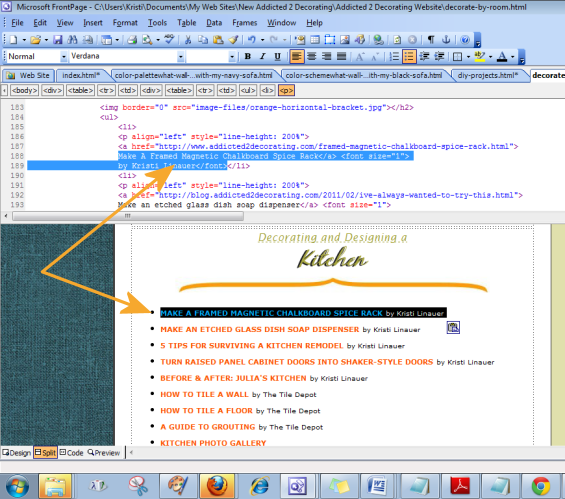 And then…back to my website's host to re-upload this newly-edited HTML page:
Some projects even fit into a category under the "articles" heading, so that required the creation of another thumbnail in my photo editor, and then the editing of yet another HTML file…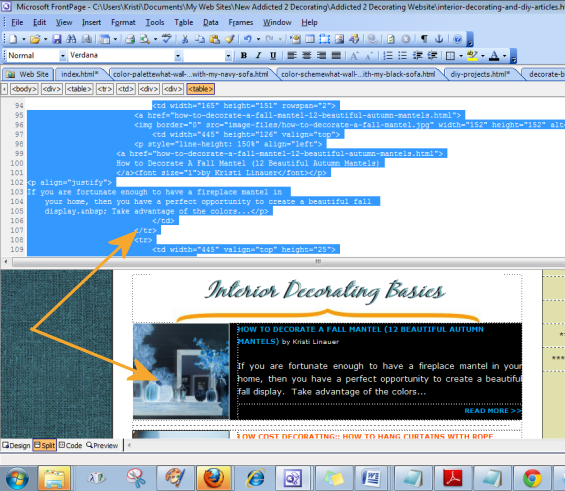 And then…you guess it…back to the host's website to upload yet another newly-edited page…
For some articles and projects, that might be all.  But for others, even more was required.  You see, when I do a final room reveal, I like to do a post that includes all of the before and after projects, all of the DIY projects that were included in that room, and a list of all of the posts about that room.  And as you would imagine, all of the DIY projects and post listings would have to be done manually, and then the HTML file would have to be uploaded separately.
Are you tired yet?  Ha!  Well, I sure was.  And after a year of that busy work, trying to keep up, but often falling so far behind that I didn't know where to even start to get caught up, I finally decided that enough was enough.
Now, of course, I could have built these pages directly on Blogger, but that would have only eliminated the uploading step.  the actual design of the pages, as well as the linking between pages, still would have had to be done manually.  I've noticed that some bloggers are now using Inlinz for the DIY Projects gallery, but I never considered that because honestly, I don't like the way they look.  But even with that, I still would have had to manually input the information into a third-party site.
The thought of moving to WordPress scared me (mostly because of the questions I posted at the beginning of this post), but I knew enough about WordPress to know that it could potentially greatly reduce or even eliminate all of this extra busy work I had been doing just to keep my site somewhat organized.
Well, WordPress not only met my expectations, but far exceeded them.  All of that busy work that I described above has been completely eliminated.  Now, when I write a post, all that's required is that I check the appropriate categories, and the post automatically gets listed anywhere and everywhere it needs to be listed.
On this particular example (the magnetic spice rack), the "kitchen" category ensures that it will show up under the "Decorate By Room" menu option.  The "diy–accessories" and "diy–artwork and wall decor" ensure that a thumbnail of this project will automatically be placed in the DIY Projects Gallery, and will also show up on the category-specific DIY Project Gallery pages.
And what about those final room reveals where I like to include all related DIY projects and blog posts?  I've marked the DIY projects that went into my kitchen with the category "diy projects for kristi's kitchen".  So if…IF…I ever get my kitchen finished and do a final, proper reveal with all of the before and after pictures, all I have to do is add one tiny snippet of code into the blog post, and miraculously (and with no extra effort or busywork on my part) a thumbnail gallery will automatically be generated that includes every DIY project that went into that room.  Similarly, the category "Kristi's kitchen" will allow me to include a complete list of all of the blog posts that were written about my kitchen transformation, and again, the only effort on my part is to add one tiny snippet of code into the blog post.
Needless to say, I think WordPress is the best thing since sliced bread.  No, it's actually better.  I hate that I spent a year floundering around trying to make less efficient methods work, holding myself back just because of fear.
I will say, without a doubt, that designing my WordPress site and getting it programmed to work the way I wanted it to work is not something I could have done on my own, and paying a pro to help me was well worth the money.  It wasn't cheap, but the peace of mind that I wouldn't lose my links, my Google and Pinterest traffic, and my Feedburner followers was worth it.  Add to that the fact that I now have a site that is programmed exactly like I imagined (but wasn't really sure was possible), and that has cut out all of that time-sucking busy work, and I can tell you without a doubt that the money I spent was easily worth every single penny.
Is WordPress right for you?  That's a question that only you can answer, and it starts with really understanding how you blog, why you blog, what your blogging goals are, and exactly how you envision your site being set up.  Once you fully understand those things (and it's okay if you don't know these answers early in your blogging journey), then you will be able to know if you are okay with Blogger's limited capabilities, or if you'd like the almost limitless versatility that WordPress offers.
If you're considering the big move to WordPress, but have questions or fears of your own, feel free to leave a comment, and I'll try my best to answer them.  By no means am I an expert on the topic, but having just made the big move, I'd love to help or answer any questions I can.
Addicted 2 Decorating is where I share my DIY and decorating journey as I remodel and decorate the 1948 fixer upper that my husband, Matt, and I bought in 2013. Matt has M.S. and is unable to do physical work, so I do the majority of the work on the house by myself. You can learn more about me here.