Hello everyone! I'm back today with another installment of "Blogs You Should Read". And today in the spotlight is Thistlewood Farm!
Kari's talent for decorating and her eye for detail is evident in her gorgeous home. The photos of her home look like something right out of a magazine. Want proof? Take a look at this beautiful kitchen…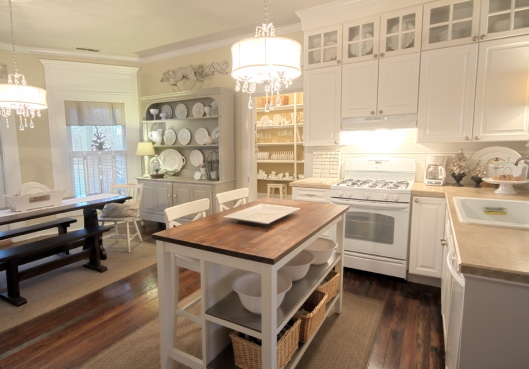 Yeah. Amazing.
And speaking of "eye for detail", check out this detail in her dining room. I've seen burlap curtains before. Heck, I've made burlap curtains myself! But these are far and above any burlap curtains that I've seen before.
Yes, those are smocked curtains…burlap smocked curtains!! If those aren't exclamation-point-worthy, then nothing is!
We all love a good before and after, right? Of course we do! And it doesn't get much better than this dramatic master bedroom before and after. Here's the busy before…
And the beautiful and relaxing after…
There's so much more to see at Thistlewood Farm. Not only is Kari's home absolutely gorgeous, but her writing is witty and humorous. The perfect combination!
**Psst…Do you have or know of a home/decorating/DIY-related blog that you think I and the readers of A2D would enjoy? Feel free to shoot me an e-mail at [email protected] and tell me all about it!
---
---