I've finally started painting the black walls in the office (which is really, officially the master bedroom). A while back, I started painting the walls black, but I never not around to finishing. So I've just lived with my walls looking like this..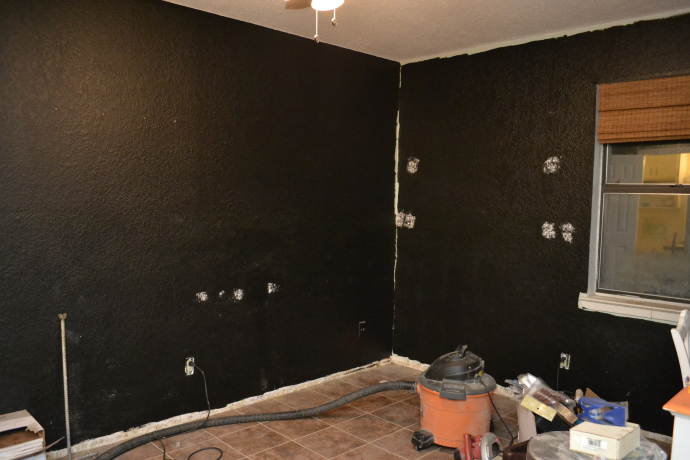 I knew that black walls probably weren't the best choice for a condo that's about to go on the market, so I decided to paint them brown. Yes, I know…that's probably not much better. 🙂 But let's face it, I'm just not a "neutral" kind of person, and I thought brown would be pretty.
So I decided to use the same brown that I used on my chalkboard door and the small stripes on the curtains that cover my washer and dryer closet.
Which is also the same brown that I used on the other side of the hallway in the utility closet, both on the argyle walls as well as the ceiling.
It looks so deep and rich in those pictures — not too red, not too green. Right?
So why, pray tell, do the walls in the room look like this?
That seriously has to be one of the ugliest, most offensive colors I've ever seen on a wall. I won't say what it looks like, but I'll say it's something that people would never want smeared on their walls.
So I definitely need a new color. I was thinking that I would just pick out a new brown — something a bit richer and with more red in it.
But then I thought…you know what would be daring for me? A white room. It's so not my personality that it would actually be a daring choice for me. Plus, it would be good for making the room appear lighter and brighter (good for selling).
I know, I know…all of you already knew this, and probably even told me to go light, bright, and neutral. I guess I just had to do my own thing and learn from my mistake. I can be really stubborn like that. 🙂
Anyone want to wager a guess on how many coats of white paint it'll take to cover up the black and brown walls?
My bet is four. 🙂
Addicted 2 Decorating is where I share my DIY and decorating journey as I remodel and decorate the 1948 fixer upper that my husband, Matt, and I bought in 2013. Matt has M.S. and is unable to do physical work, so I do the majority of the work on the house by myself. You can learn more about me here.