Last Updated on February 19, 2019 by
I spent another day working at the condo yesterday, and I finally got all of the wood filling, sanding, and caulking done on the closets. That means I'll actually be able to paint the closets today, and possibly even finish them. While I'm working at the condo, I have lots of alone time to think and plan and dream. My mind never stops, and yesterday, my mind was on window treatments — not for the condo, but for the house. Specifically, cornices.
For at least a decade now (probably longer), I've had a pretty serious aversion to cornices. Just hearing the word "cornice" gives me flashbacks to 1980's decorating with shirred cornices that I think are best left in the past. Remember those? My mom and I made one for her living room in the mid- to late-80's, to go above her vertical blinds, of course! We thought it was awesome, especially accented with dried flower sprays. 😀
And it went perfectly with the balloon valance that we added to the adjacent breakfast room. I remember stuffing that thing with newspaper to get the puff juuuuust right. 😀
Aaahhh, the 80's. There are so many things I love about the 80's — big hair, Bon Jovi, Def Leopard, Miami Vice, Rubik's Cube, Sweet Valley High books. I could go on. But the window treatments? Ugh. And the word "cornice" generally sends me right back to the shirred cornices of the 80's. (By the way, my mom's living room doesn't look like that any more.)
But the other day, I was searching for window treatment inspiration for my living room, breakfast room, and bedroom, and I came across this picture. And immediately, I thought, "Oh my gosh, I want that!" And…it's an upholstered cornice.
Eclectic Living Room by Dallas Interior Designers & Decorators Abbe Fenimore Studio Ten 25
I just love the simple, tailored look of the cornice and the side panels with the Greek key trim. That's definitely not a 1980's cornice.
So I went in search of more cornice inspiration. I'll admit, I'm incredibly picky about them. After searching "cornice" on Houzz, I searched through over 22 pages of results, and only found about four or five that I really liked.
This one from Betsy Burnham tops the list.
Eclectic Living Room by Los Angeles Interior Designers & Decorators Burnham Design
You'll notice a theme on the ones I like. They're all very simple, and have trim on the bottom edge, with the same trim on the leading edge of the drapery panels.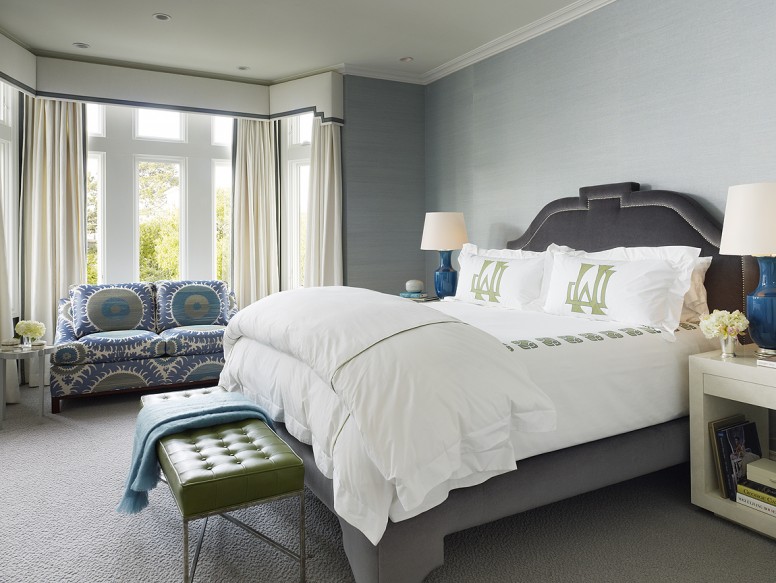 Bedroom design by Palmer Weiss
In some rare cases, I find that I also like painted wood cornices that are integrated into the trim around the ceiling, like in this room where the crown molding wraps around the painted wood cornice.
Traditional Bedroom by Tara Dudley Interiors
And just like my valance preference, I don't really like cornices used as a stand-alone window treatment. I like them used with drapery panels. The exception would be if they're used in a kitchen or bathroom.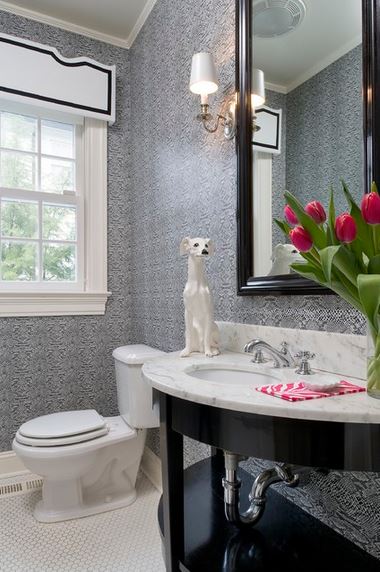 Contemporary Powder Room by Fairfield Interior Designers & Decorators Tiffany Eastman Interiors, LLC
So I'm still incredibly picky about cornice styles, but I find that I'm coming around on the idea. My decade-long aversion to the idea of cornices in general is coming to an end. But I do like them simple, with simple trim, and used with drapery panels in most situations.
What I still can't get on board with is a plain and simple wrap-and-staple box cornice with no trim, cornices used as sand alone window treatments in rooms like living rooms and bedrooms, anything with an ornate design, tufting, buttons, tassels, tassel or fringe trim, rope trim, excess fabric that swags or creates other "fancy" designs, jabots, etc. And lambrequins…well, those are just cornices on steroids. I can't imagine myself ever jumping on board with those, at least not for my own home…although I will say that I've seen some pretty incredible lambrequins used in historic homes.
I really want to give cornices another chance. I just need to find the right room, and the right design. I'm thinking the breakfast room will be perfect, but I haven't completely ruled them out for the living room at this point. If I can come up with a design that really works, I'd pretty much be open to them in any room of my house now.
What are your thoughts on cornices? Do you like them, or were you like me, and they reminded you of decades past that were best left in the past? And have you ever done a complete 180-turn on a design idea to which you had a strong aversion at one time? I have to say, it feels kind of strange opening my mind to an idea to which I had such a strong aversion for so long.
Addicted 2 Decorating is where I share my DIY and decorating journey as I remodel and decorate the 1948 fixer upper that my husband, Matt, and I bought in 2013. Matt has M.S. and is unable to do physical work, so I do the majority of the work on the house by myself. You can learn more about me here.
I hope you'll join me on my DIY and decorating journey! If you want to follow my projects and progress, you can subscribe below and have each new post delivered to your email inbox. That way you'll never miss a thing!