DIY – How to Build Cabinet-Style Closets To Flank Your Bed (Double Your Bedroom Storage!)
Well, it took a bit longer than I had anticipated, but I finished the built-in closets on Friday evening.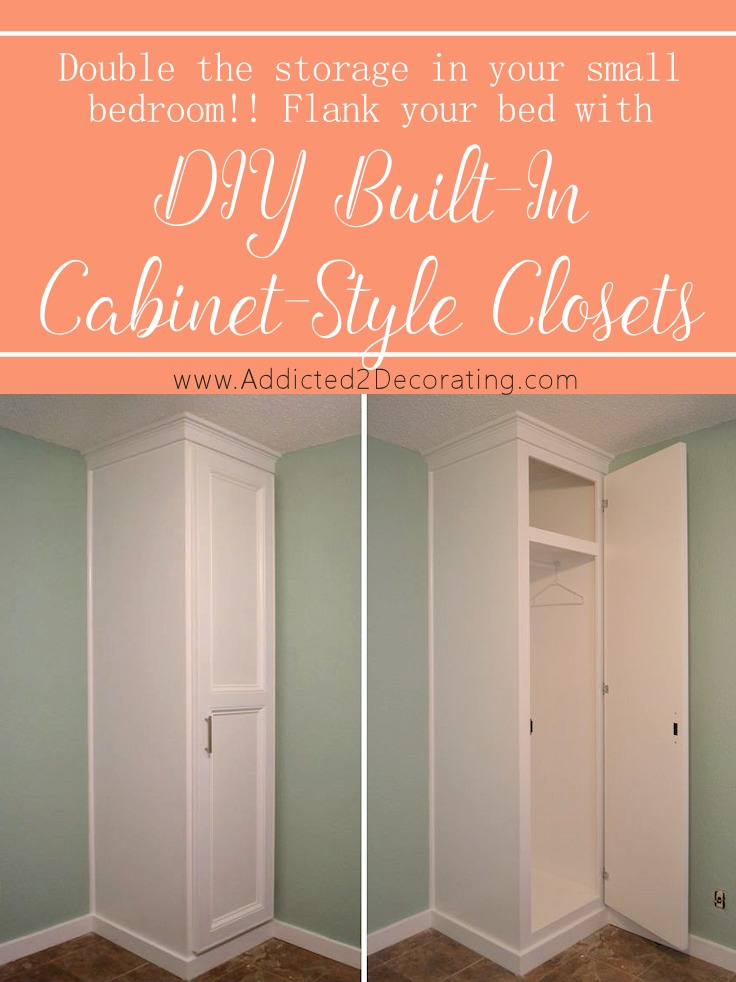 Then I took another day to scrape off the wallpaper remnants, clean and patch the walls, and give the walls a fresh coat of paint. For the walls, I chose a light, muted, somewhat grayed aqua called Marina Isle by Behr. Here's how the right bedside closet turned out…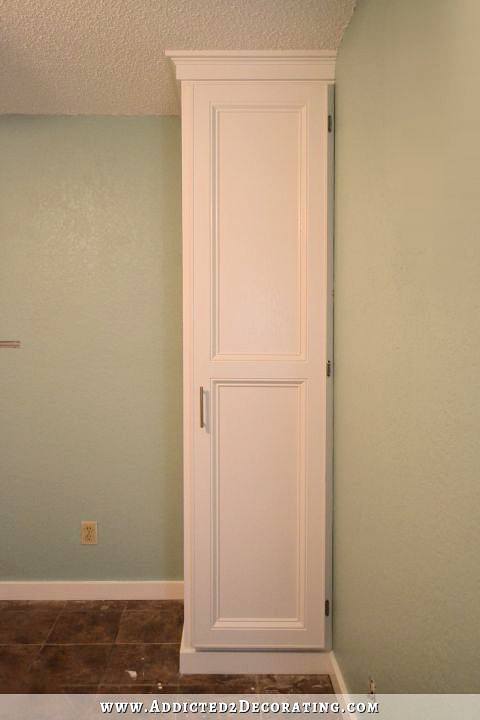 If you missed the previous posts on this project, you can check out Part 1 here…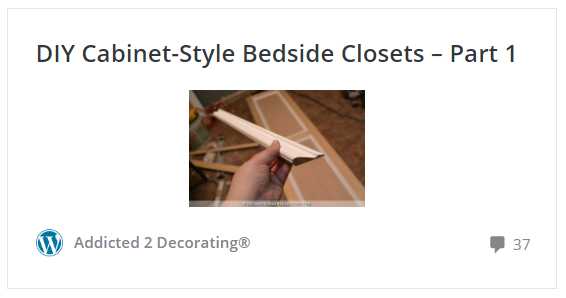 And you can check out Part 2 of this project here…
The paint color I used on the closets is Polar Bear by Behr, which has been my go-to trim color for many years now.  I don't like stark whites for trim because they can look cold and harsh, and I don't like whites that have hints of yellow, because they can come a little too close to "antique white" for my taste.  This white has just the tiniest, slightest hint of red added to it, so it's a very warm, creamy white.
I'm really proud of how these closets turned out.  The quality of the construction is miles above what the original closets were that I started building in here a few years back.  And while these closets aren't very wide, I think they'll offer quite a bit of storage.  In a condo this size, any additional storage is a huge bonus.
In the closet on the right, I added a shelf at the top, and then one hanging bar for longer clothing items.
The closet on the left looks identical on the outside…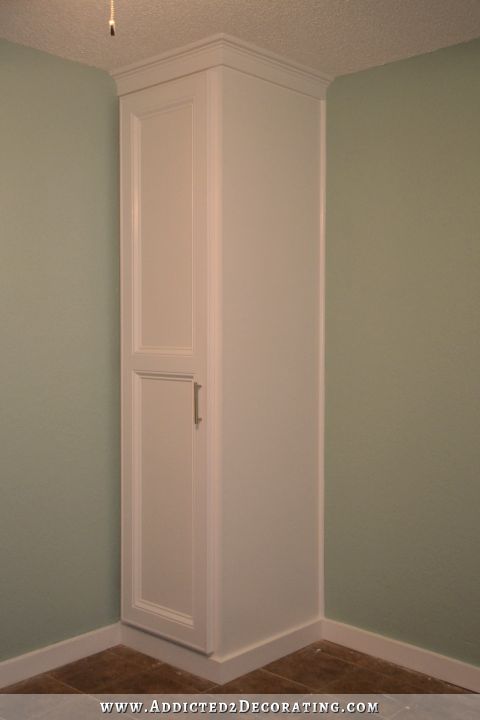 …but the inside is configured with two hanging bars for shorter clothing items.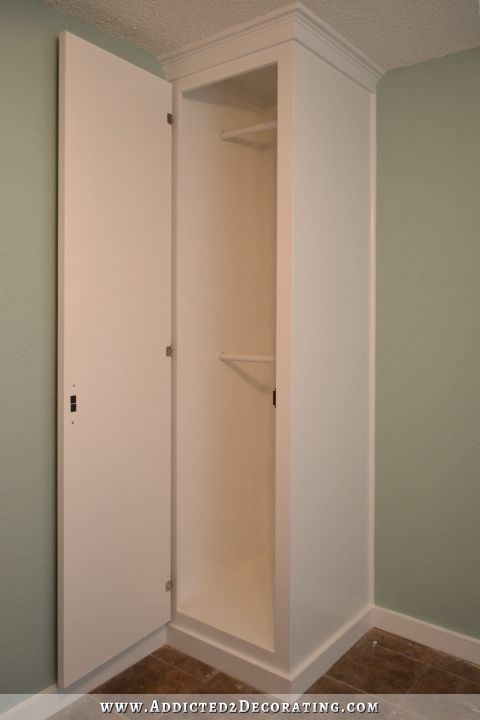 Combined, they offer about 69 inches of hanging storage.  That's over ten inches more than the original closet in this room (which is now shelf and drawer storage).
And they ended up costing about $168 each.  Not too bad, right?
You can see I still have some wallpaper scraping and painting to do on the walls (on the right wall).  That's turned out to be a bigger job than I had hoped, but there's no turning back now.  And I've had far worse wallpaper removal experiences, so while this isn't coming off as easily as I had hoped, it's still much easier in comparison to removing old wallpaper from unprimed drywall.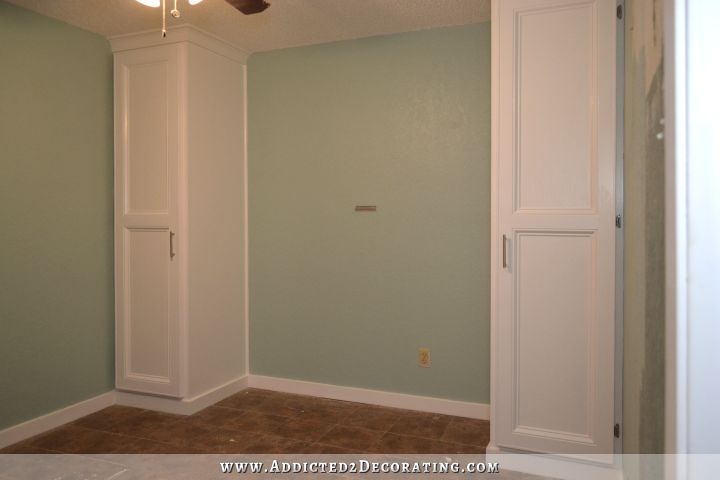 Oh, and remember my not-so-perfect mitered corners on the faux crown moulding?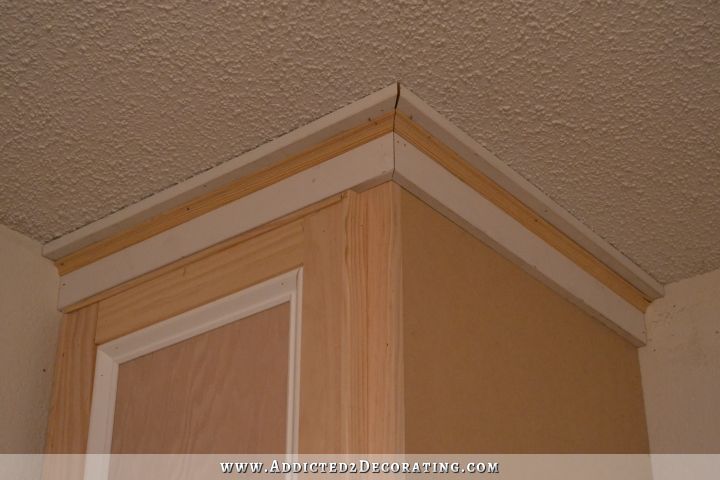 Here's how it looked after I filled the cracks with wood filler, sanded it smooth, caulked, primed and painted.
I'm tellin' ya…wood filler and caulk are a DIYer's best friends when it comes to getting a high quality finish on a project with less-than-perfect cuts and joints.
And as far as the shelf that I added to the closet on the right, there's nothing fancy or difficult about it.  I simply cut three pieces of scrap 1″ x 2″ lumber, and attached those horizontally to the back and the sides of the closet interior using wood glue and my nail gun.  Then I cut a piece of 1/2-inch MDF to fit to create the shelf, whch I glued and nailed to the 1″ x 2″ supports.  Then I cut a piece of 1″ x 3″ lumber and attached it to the front edge of the shelf.  Then with a little wood filling, sanding, and caulking, it blended right in.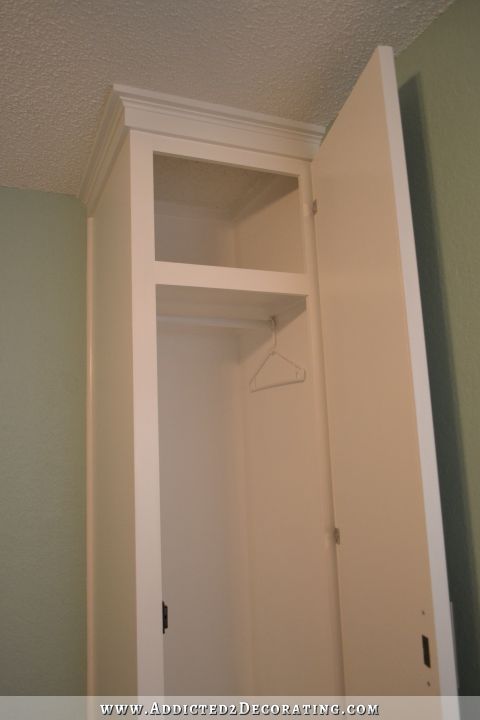 It feels really good to finally have this project finished.  This was the biggest unfinished project in the whole condo, so the rest of my to-do list should feel pretty simple in comparison.
UPDATE: This room makeover is complete!
Click here to before and after pictures of this room makeover.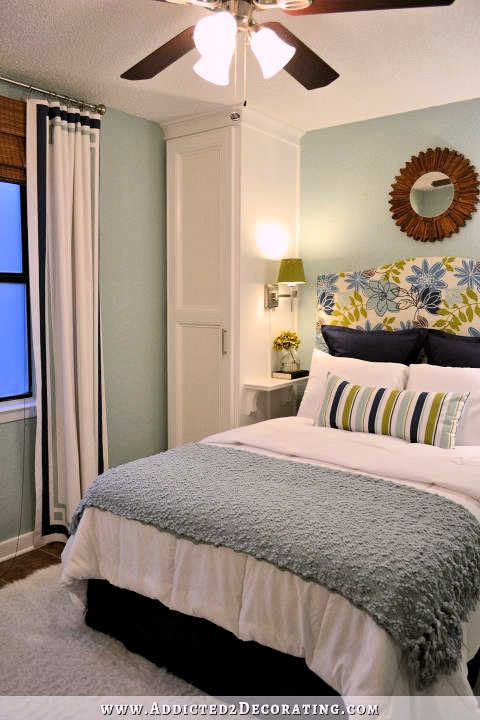 Planning a small bedroom makeover?
Don't forget to save this idea for later!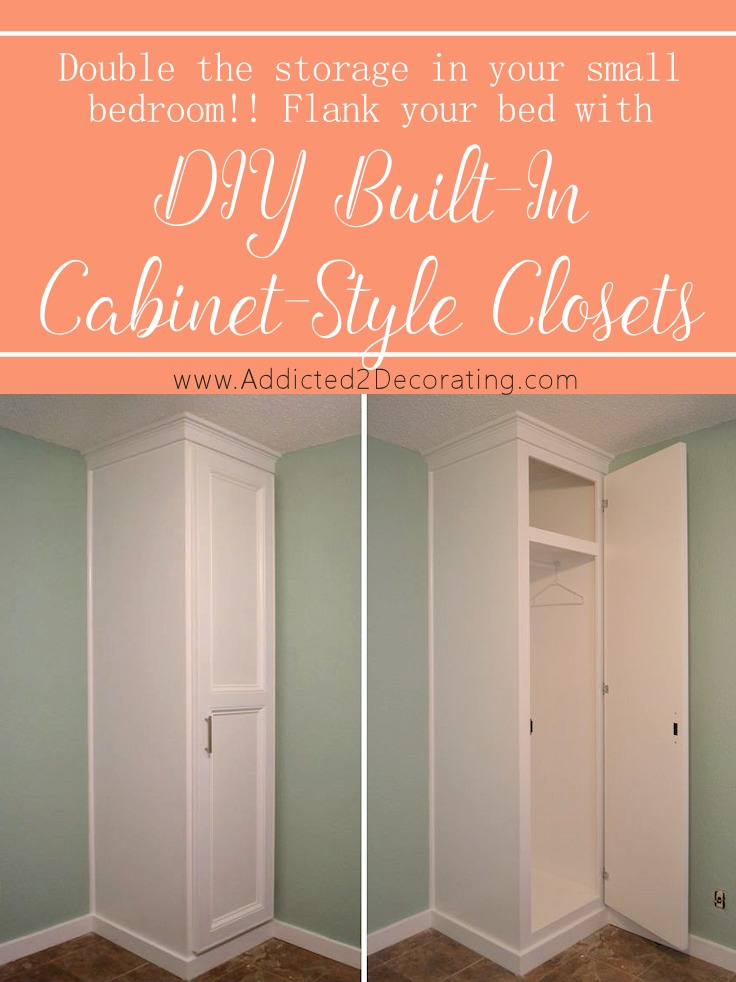 Addicted 2 Decorating is where I share my DIY and decorating journey as I remodel and decorate the 1948 fixer upper that my husband, Matt, and I bought in 2013. Matt has M.S. and is unable to do physical work, so I do the majority of the work on the house by myself. You can learn more about me here.