Curb Appeal – Beautiful Brick Sidewalks
When it comes to doing temporary makeovers, like the one I plan to do on the front exterior of my house, one of the biggest challenges for me is deciding which items are actually temporary and need to be done as cheaply as possible, and which items are actually going to stay put for the long run.
I'm fairly certain that the stone on my house will eventually be replaced with something else in the future, so in the meantime I need to update it as cheaply as possible (i.e., paint). And I'm 100% certain that the vinyl siding on my house will eventually be replaced with Hardi Siding, so that will also require a temporary and inexpensive update for now.
What I'm less sure about is my sidewalk. To be quite honest, I'm not really fond of sidewalks that make a straight line from the street to the front door, and yet that's what I have.
I much prefer a curved sidewalk like this…
But I'm thinking that I might just have to be satisfied with the shape of the sidewalk I have. Ripping that out and repouring a new sidewalk just seems like a lot of work and a huge expense for something that, in the end, will probably be pretty inconsequential. But what I can do is give the sidewalk a completely new look, and right now I'm leaning towards the idea of adding brick pavers to the top of my concrete sidewalk to give it some character.
Out of all of the paving materials available, brick is my current favorite. There's just something so beautiful and charming about a brick sidewalk.
My favorite bricks are the ones that are reddish in color, but look old and faded like the ones above. While I'm not particularly fond of the really saturated brick red color, I do think that this next picture shows that even a straight brick path from street to door can be quite charming. That awesome white picket fence and open gate help, too.
I could actually add some curve to my sidewalk by adding a path that veers off from the main sidewalk and goes to the driveway, like this one has.
That would help to visually break up that straight line, although I really do think that just adding brick would be enough to turn my straight path of solid concrete into something really beautiful.
So to that end, I've been looking into options, and I found that Home Depot actually carries thin brick flats, which are slices of actual brick that are just over 1/2-inch thick.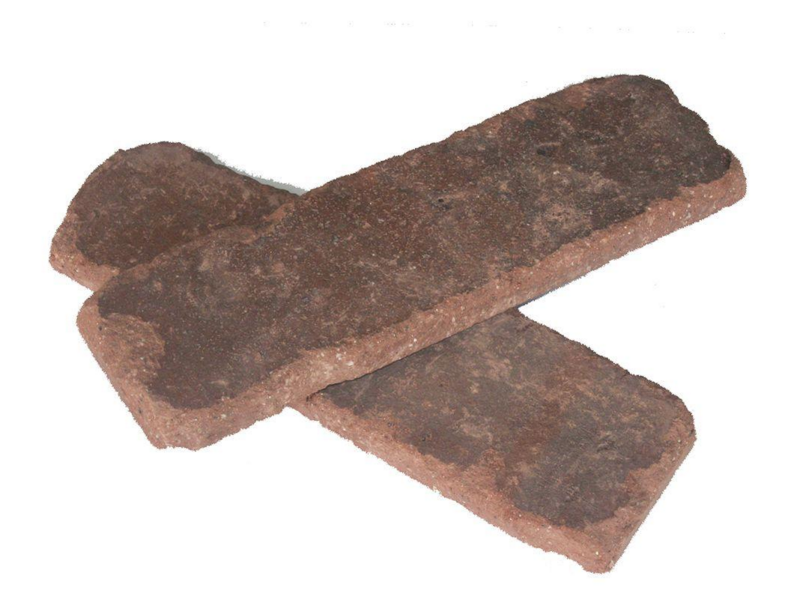 via Home Depot
They're not cheap (about $8.30/square foot, which would add up very quickly), so this is definitely something that I need to really think about and plan before jumping right in with both feet. And so far, Home Depot is the only place I've looked. I'm certain that local building supply companies carry these as well, because I've seen Chip & Joanna use these on a sidewalk on one of their Fixer Upper homes, and they bought them from a locally-owned store. So I'll definitely need to shop around, but I have a feeling that they're going to be quite expensive. So I really need to have a solid plan in place before I move forward with this idea.
For example, if I really do want a walkway between the main sidewalk and the driveway, then I'll probably need to have that poured first. And do I want a walkway going the other way towards the big side yard on the left side of the house? I'm thinking I do. And I also need to decide how I want this incorporated into a driveway in the future. I know I don't want a brick driveway. As much as I love brick, I think an entire brick driveway would be overkill, but I might like a brick-lined concrete driveway. Maybe. I'm just not sure.
And then I have to consider the fact that we'll eventually be extending our front porch out several feet (hopefully, if the city approves those plans). So if I brick the sidewalk now, and the several feet of the sidewalk towards the front porch gets covered up in the future, is it worth it to do it now? I guess that depends on how far in the future our front exterior remodel will be. If we're looking at several years, then I think it would be worth it to go ahead and do it now.
And this is why I really hate temporary makeovers. 🙂 I find it so frustrating to figure out all of the logistics, and decide what portion of the permanent, long-term stuff can and should be done now, and what I should wait on. But the good news is that I don't have to decide now. As soon as the weather clears up, I can move forward with my painting and front porch plans. That should keep me busy for a while. And then I'll just see how everything else evolves.
But in the meantime, I'm going to keep looking at and dreaming about beautiful brick sidewalks, and envisioning my own sidewalk looking so charming.