What Color Is Best For Garage Doors?
I feel like I'm in a holding pattern right now when it comes to house projects. I had hoped to be working on my dining room draperies by now, but the black linen I was counting on using turned out to be too thin for my liking. So I'm still searching for the perfect black linen. I placed a bid for a set of eight dining room chairs on Ebay, and I've been waiting over a week to see if I'll have the winning bid. I've actually had the ONLY bid the entire time, and the auction still has about 27 hours to go. If I win, I'll have to drive to Dallas to pick them up. And of course, the weather has been so rainy and dreary outside, so I haven't been able to start painting my house.
So I wait. And dream. And plan. 🙂
One thing I'm not quite sure about is what color to paint my garage doors. Right now, they're the same beige as the house. Obviously that won't work with my plan for a light yellow house with white trim and black accents. So I've been looking at garage door makeovers online, and I've found that there's really no definite "right" or "wrong" way to do garage doors. Some people have wood (or wood look) garage doors, but those are generally used along with a stained wood front door and possibly stained wood shutters. I don't plan on either of those, so I can rule out staining mine with gel stain to look like wood.
But the three remaining options all seem like they would work, and I'm just not sure which direction I should go with mine.
The first option is to paint the trim color, so in my case, that would be white. And I wouldn't plan on keeping them just solid, plain white. I'd like to do a makeover on them to make them a little more interesting. I envision something like this…
The second option is to paint the garage doors the color of the house. So in my case, that would be yellow. For years now (ever since we built our house in Oregon thirteen years ago), I've wanted a house with an arbor over the garage doors. I think garage doors painted the same color as the house look really nice surrounded by a beautiful white arbor.
The third and final option would be to paint them the accent color. So for me, that means black. And I actually found an example of black carriage doors on a yellow house with white trim! Of course, I won't have fancy carriage doors, but I can try my hardest to dress up my plain garage doors to mimic the look of carriage doors.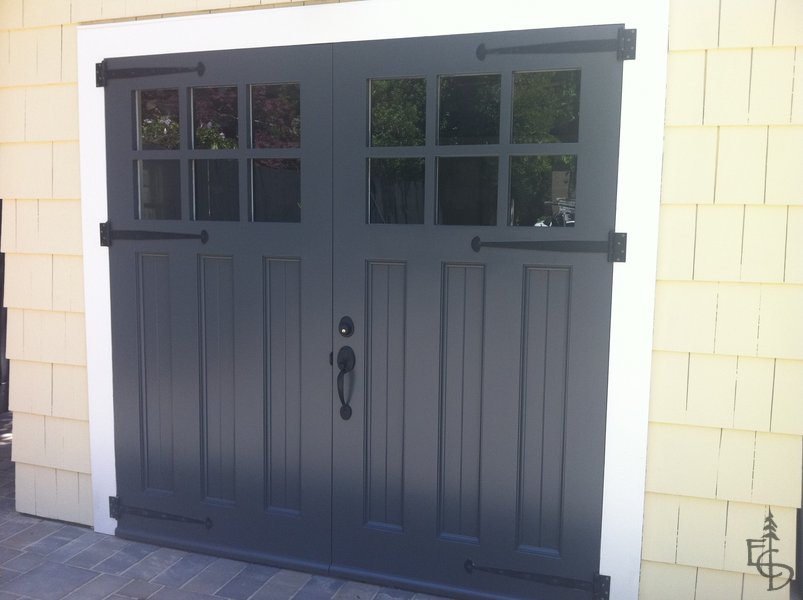 The black is, without a doubt, my absolute favorite look. My only concern is that I have not one, but two garage doors side-by-side that are at least that size (maybe a bit wider), and I'm concerned that the black may end up being too dominant. But then again, if mine can look even half as spectacular as those real carriage doors, then I might not care if they're an attention-grabbing feature of my house.
You know what's funny? Sometimes for me, writing these posts really helps me work through options and solidify decisions in my mind. I can really, honestly have no clue what I want when I start writing the post, and by the time I get to the end, I've worked out the issues and have made my decision. That's exactly what happened as I was writing this post. I was actually leaning towards white when I started writing, and now I think I'm going to go for the black. Those off-black doors with deep black hardware and windows will look beautiful on my yellow house! And if I add a white arbor, it'll look even more amazing.
What do you think? Of the three options, is that the decision you would have gone with? I'm getting more excited by the day. Now I just need this rain to GO AWAY!! 🙂
Addicted 2 Decorating is where I share my DIY and decorating journey as I remodel and decorate the 1948 fixer upper that my husband, Matt, and I bought in 2013. Matt has M.S. and is unable to do physical work, so I do the majority of the work on the house by myself. You can learn more about me here.