Last Updated on July 17, 2016 by Kristi Linauer
Good morning, all! My brain is feeling kind of scattered today, and there's quite a bit I want to say. So I'll just dive right in. 🙂
First, you'll remember a few days ago that I wrote a post about just wanting to get the big things at the house DONE, and even taking out a loan to do so. Remember that? I was talking about going ahead and jumping right in with the front porch/front exterior remodel, which would take the front of our house from this…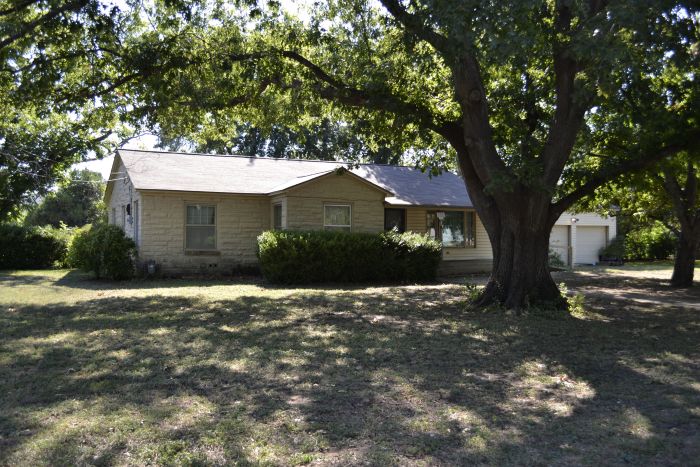 …to this, except with a more traditional style rather than a craftsman style…
And which would extend the back of our house from this…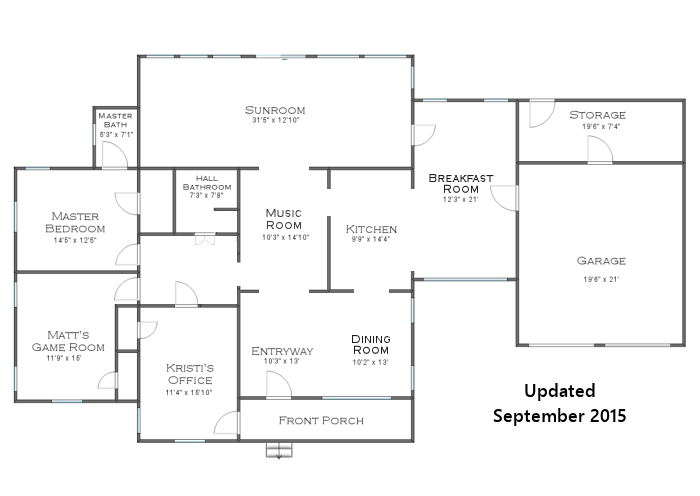 …to this…
Well, that whole plan — the idea of getting the loan and getting it done NOW rather than later — is a no-go. Matt and I have had many conversations about it, and at first he was on board. Then as the days passed, he became less convinced that taking out a loan was a good idea. And then a couple of days later, he said he definitely didn't feel comfortable with taking out such a big loan right now…or probably ever.
Matt and I just aren't "debt" kind of people. We've worked hard to become mostly "cash only" people who live well within our means. And now that we not only have a mortgage, but also a new car loan, he just doesn't want us getting back into the habit of continually taking on more and more debt and living outside of our means for the sake of instant gratification. We lived like that when we were newly married, and it got us into trouble. We learned the hard way that debt can get out of hand very quickly if you're not paying attention, and financial stress caused by getting in over your head with debt can feel suffocating and hopeless. We don't ever want to go through that again.
So we're back to Plan A — save up and pay for it in cash. Or somewhere along the way, we may feel comfortable with some mixture of Plan A (pay cash) and Plan B (get a loan). Perhaps after we pay my car off and pay down more of the mortgage, we'll feel okay about taking out a loan for part of the remodel, and then paying cash for the rest. Who know? All I know is that for now, I just need to be patient and wait. I have plenty to keep me busy for now. 🙂
But I do need to clarify something…
In that blog post that I wrote a few days ago on this topic, as I read the comments, I got the distinct impression that many of you thought that the big remodels — both on the front exterior/front porch, as well as the add on to the back of the house — were originally going to be DIY projects, and now I had decided to forgo the DIY process and hire it out instead.
Well, y'all must have a great deal of faith in my DIY abilities if you thought I was ever planning to tackle those massive remodels/add-ons as DIY projects! 😀
To be clear, neither the front porch extension/front exterior remodel, nor the back add-on/remodel, were EVER going to be DIY projects. I mean, we're talking about some major and massive construction that requires crews of people doing everything from pouring footers for a new foundation, to framing an entire new extension of the house, to tying in current roof structures with new roof structures, and electrical, and plumbing. It requires building permits, city plan approvals, and city inspections of the work.
That's major construction, and from the very beginning, the plan was always to hire that out. I would never in my life take on such a massive project as a DIY project.
The only issue at hand when I wrote that post was that I wanted to scrap Plan A (save up and pay in cash), and I wanted to move on to Plan B (take out a loan and do it NOW). That was it. 🙂 It wasn't a matter of DIYing it vs. hiring it out.
What I will be doing is all of the finishing and decorating, just like I've been doing in the other rooms of this house. I'll be doing any trim, building/installing cabinets, flooring, tiling, etc. In other words, once they build the "shell" for me and get all of the electrical and plumbing done, I want to take over from there. There will still be plenty for me to DIY and get my hands dirty with at that point.
And a second point of clarification… 🙂
I mentioned something about being done with DIY for the sake of DIY. I simply meant that I don't want to spend time on temporary projects that I know will be torn down or replaced. I really want to focus my energy and money on things that I know will stick around for the long haul. So rather than spending time this summer putting lipstick on a pig by painting the front exterior of my house, and coming up with temporary solutions for dressing up my ugly front porch — things that will eventually be replaced when we hire out the front porch/front exterior remodel — I might instead put that time and money into setting up my workshop in the garage.
In no way am I getting burned out on DIY. I love it. I thrive on it. I just want to focus on permanent solutions, and not waste time and money on temporary, lipstick-on-a-pig solutions. Make sense? 🙂
---
Now I want to move on to a topic I don't even want to bring up, but after the last couple of days, I feel like I need to say something. And no, this probably isn't going in a direction you might expect. 🙂
I don't have much time to just sit and read DIY/decorating blogs. I love them, but I can't keep up with my favorites, so its a rare treat when I can sit down and read through and get caught up.
So yesterday, I did just that. I clicked to one, wanting to read about fluff like painting walls and arranging furniture, and instead I sat and read a post about horrific events that have occurred in this country over the last week or so, along with that blogger's thoughts about those events.
I clicked to another blog…similar thing, but much shorter.
I clicked to another one, and was enjoying a lighthearted post, and then at the end…BAM…thoughts on racism.
I clicked to another one, and found a post about the two men shot by police this last week, racism, and other social issues.
I sat there thinking, "Aren't these decorating/DIY blogs? I wanted to turn my brain off, tune out the world for a little while, and just focus on fluff and nonsense."
And then the thought occurred to me — if this is the norm on decorating/DIY blogs (and probably cooking blogs, fashion blogs, mommy blogs, etc.), what the heck are people thinking of me since I NEVER address these things? I mean, in the wake of a tragic event, whether it's a man being shot on the street by a police officer or a sniper taking out five police officers just 90 miles north of me, or a crazed madman gunning down people in a night club, I still come here and talk about upholstery and paint.
Are people thinking, "Wow, that Kristi sure is insensitive! Doesn't she realize there are more important issues right now than her stupid upholstered chairs?! Does she have ice water running through her veins?"
I can assure you that my silence here on these issues and events doesn't mean that I don't feel these things just as deeply as you do. But my blog, as the name would suggest, is a DIY and decorating blog. That's it, and I don't ever want to turn it into anything else.
We are so inundated every single day with news and commentary on current events and social issues, from the 24-hour-a-day corporate news on TV, to the tens of thousands of news websites and political/social/current events blogs filled with articles, editorials, commentaries, and reader comments, to Youtube videos and channels dedicated to those topics and commentary, to Facebook and other social media filled with more of the same. It seems we can't escape it, even for a few minutes of mental and emotional relaxation.
It's everywhere. There's no shortage of it. And if you want to discuss, debate, share your thesis on social issues, hurl insults, call the opposing side names, etc., there are thousands upon thousands of places online where one can engage in that activity. You don't have to look far. You can probably just click over to your Facebook wall and find plenty of opportunity.
But the last thing I want to do is bring that here. You do not need me, on my decorating blog, to tell you that it's a tragedy when someone is shot dead in the street. You don't need me sharing my thoughts about a sniper murdering five cops on the streets of Dallas. You don't need me dedicating a post to lives lost in a mass shooting in a night club. You don't need me waxing philosophical on the topic of racism. You don't need me sharing a "this is where I was, what I was doing, and how it affected me" post on 9/11. You don't need me adding one more voice to the millions upon millions that are already out there….
Especially not on a decorating blog.
Don't get me wrong. I'm not saying that those other bloggers shouldn't write those posts. Not at all. Those are their blogs, and they should feel free to share whatever they want to share.
I just sometimes get weary by the fact that when tragedy strikes, or injustice is seen in the nation, everyone with any kind of platform with any kind of audience feels the need to wax philosophical on that topic, regardless of what that platform is or what it was originally intended for. Cooking blog? No problem…I need to share my thoughts about racism.. Fashion blog? Not today…because you need to hear my thesis on police violence. DIY blog? Maybe tomorrow, because right now I need to acknowledge that lives were lost and talk about my thoughts on LGBT issues.
Ugh…
No. Not on my blog. Not now. Not ever. I am a DIY/decorating blogger. No one needs my thoughts or opinions on any other topic. My silence on this blog about issues and events doesn't mean that I'm not feeling them as deeply as you are. It just means that this isn't the place for those topics and conversations.
I'm a DIY/decorating blogger, and this is where I talk about DIY projects and decorating. And if anything, perhaps my place and my purpose in the midst of these sad, tragic events is to offer a place where people can just check out for a few minutes — just put the world on hold and give your mind a rest for a bit while you enjoy a bit of fluff and nonsense that might hopefully be a tiny respite in the midst of sadness, tragedy and chaos. I think we all need that from time to time.
Addicted 2 Decorating is where I share my DIY and decorating journey as I remodel and decorate the 1948 fixer upper that my husband, Matt, and I bought in 2013. Matt has M.S. and is unable to do physical work, so I do the majority of the work on the house by myself. You can learn more about me here.
I hope you'll join me on my DIY and decorating journey! If you want to follow my projects and progress, you can subscribe below and have each new post delivered to your email inbox. That way you'll never miss a thing!