Our Break In Scare (And Thoughts On Home Security)
Matt and I had a break in scare at our house last month. It was one of the scariest things we've ever experienced, and ever since, I've had home security on my mind. Here's what happened…
It was the day after my step-father Jon passed away, so I had to get up early on that Thursday morning and head to my mom's house, where the family was meeting with the pastor who would do the funeral service the next day. After that meeting, I stayed at the house just to be with my family, and we had lunch together.
Sometime after lunch, I got a phone call from Matt, who was at home by himself. When I answered, all I could hear on the other end was what sounded like Matt trying to breathe, but unable to get a word out. (For those of you new here, Matt has multiple sclerosis, which causes general weakness and tremors. He's unable to walk, and has been in a wheelchair for about six years now.)
Hearing that he was having a hard time breathing, and unable to get a word out, I FREAKED OUT!!!! I grabbed my purse and ran out the door to to my car, with my brother hot on my heels. We got in my car and I headed towards our house like a bat out of hell.
On the way, I called 911 and told them that there was some sort of emergency at my house, but I had no idea what was going on. My disabled husband was at home by himself, and all I knew was that he sounded like he was having trouble breathing and couldn't talk. Since we had no idea what was going on, she dispatched police officers and an ambulance.
All I could think was that he was choking on something, and since it's a 12-minute drive from my mom's house to our house, there's no way I could get to him in time.
With MS and muscle weakness, choking is always more of an issue for Matt than for healthy people, which is why we have a very strict no eating policy for him if he's alone. So as I'm driving, I'm going through this huge range of emotions. I'm freaked out because I have no idea what's happening, or if he's going to be alive once I reach him. I'm livid that he's choking because he's not supposed to be eating if he's alone. I'm scared to death that he might be having a heart attack or something like that. I'm holding back tears because I think he's probably going to be dead once I ever get through traffic and reach him. I mean, I was all over the place with my emotions, and my imagination was running wild with horrible possibilities of what could be happening.
When my brother and I were about halfway to the house, Matt called back. This time he could speak. I've never in my life gotten a phone call that brought me so much relief. I could finally breathe. My nerves settled just enough for me to stop shaking inside. Or at least I was a bit calmer until he told me what happened…
"Someone tried to break into the house!"
Matt had been in his game room, and he said he heard someone on the front porch, but initially assumed it was UPS or FedEx or someone like that. Then he heard the person walking around the front of the house (he mentioned something about them touching or messing with the window screens/storm windows) towards his game room. And then they turned the corner to the side of the house, and started messing with the window unit air conditioner that Matt still has in his game room. He said it sounded like they were actually trying to remove the air conditioner from the window.
I was in disbelief. It was broad daylight outside! I couldn't believe someone could be so brazen as to be doing this in the middle of the day!
Matt naturally freaked out, and when he gets really and truly scared (which, thankfully, very rarely happens), he has a hard time breathing and speaking. So that explained the first phone call when I thought he was choking and dying.
When my brother and I finally arrived at the house, there were already two police SUVs there with four police officers. Somewhere along the way, after hearing what was going on, I had called back 911 to give them an update and tell them we didn't need an ambulance, so there was no EMS there.
I knew that at this point, there was probably nothing that they could do since the person didn't actually make it inside the house, and was probably long gone by then. But I still wanted them to get the story from Matt just in case there were other similar reports in the area. So two of them stayed inside with Matt, while I went with the other two to look around the outside of the house and check things out.
Just before we bought this house back in 2013, and while the house still sat empty (which it did for about four years before we bought it), someone tried to break into the back sliding glass door. He didn't make it inside, but he did manage to break the glass, cut himself on the glass, and bleed on the door. The police actually took a blood sample and ran tests, and the DNA matched a known repeat offender (for burglary) in the city! So they were able to arrest him. But this time, it didn't look like we were going to find anything like that.
So this went unresolved, which is pretty unnerving, and we still have no idea exactly what was going on. All we know is that it really scared both of us, and now I have home security on the mind. I know there are simple steps we can take, and then there are some drastic (and more expensive) steps we can take. I'm considering any and all right now, but here's what I know for sure.
1. We'll always have a big dog with a loud bark and a scary as heck growl.
Right now we have a big dog, Boo. He's a 70-pound, solid black Australian shepherd/lab mix, and he's very protective. I have no doubt that he'd attack anyone who posed a threat to either one of us, and he could do some serious damage if need be.
One day our neighbor's very large male pit bull named Rufus got into Boo's yard while I was gone, and he and Boo started fighting. When I got home, I tried to get Rufus out of Boo's yard, but as soon as I opened the gate, they started going at each other again. Boo wrestled that pit bull to the ground, had him pinned on his back, with his jaws wrapped around Rufus' neck. I couldn't believe it. My money would have been on the pit bull, quite honestly, but evidently I have a very tough dog when he needs to be.
Unfortunately, on that particular day last month, I had left Boo outside in his yard when I left, so he wasn't inside with Matt. Had he been inside, I think his loud and scary bark would have given any would-be burglar pause. I won't make that mistake again. From now on, any time I leave, Boo will be inside with Matt.
But Boo is almost 15 years old. And as much as I hate to admit it, he probably won't be around much longer. It might be time for us to look into getting another dog so that he can be trained and ready to take his place as on-call protector of our house.
2. I'll be installing a solid glass storm door.
I've never really liked solid glass storm doors, but I've decided that that's what I'll be getting for my front door. And I think when the storm door color matches the front door color, they can look really pretty.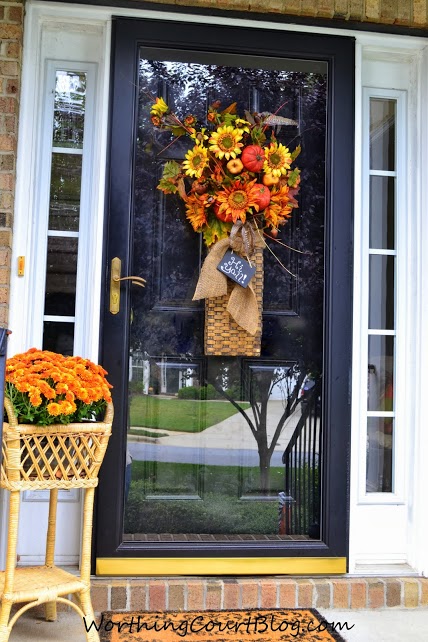 via Worthing Court
After my dad died in 2002, and my mom was alone in her home, she started getting these creepy phone calls from a man she didn't know. He clearly knew that my dad had died (probably from reading local obituaries) and was just acting way too familiar for my mom's comfort. He wasn't exactly threatening her (although she did feel threatened) and he didn't start stalking her or anything, but he was just creepy. And there was no reason for him to be calling her, but he did. So there was always that fear for her that this creep might just show up at her front door one day.
The police chief paid my mom a visit just to give her some pointers about home safety. At the time, she had a solid front door like I do, and that's it. When she opened the front door, there was nothing else standing between her and the person at the door. He told her that she needed to get a tempered glass storm door installed immediately, because she should never answer the door and have nothing standing between her and whoever was at the door. And she should keep that storm door locked at all times.
So I'm going to take that advice as well. A tempered glass storm door will let light in, which I love. It will allow me to see who is at the door, while still offering a barrier between me and someone outside the door. I like that idea more now than ever.
3. I plan to arm myself.
I know this can be a controversial topic. Let's please don't let it be. Not here. I'm a law-abiding adult, and I've given it a lot of thought, and I've decided that this is the decision that's best for me. I'm a 43-year-old Texan who's never fired a weapon in my entire life. But I want that to change very soon, because I not only want to be armed, but I want to be very well-educated.
My situation is very much the same as a single/divorced woman living on her own. I don't have a big, strong man who can wrestle a burglar to the ground, or who can get up in the middle of the night to check out a noise in the house…or worse, in the back yard.
Anytime something like that needs to be done, it's on me. If there's a loud noise at night, I'm the one who has to get up and check it out. That's scary, and I absolutely hate it. I hate that feeling of not knowing what I'm walking into, and feeling very unequipped to handle a threatening situation if one may arise.
So after doing some research and getting some local recommendations, I've decided to take to take a handgun class. There's a local woman who comes highly recommended. She has a training school called A Ready Mind, and she's been an instructor for 16 years, with a focus on teaching women specifically. I like the idea of being taught by a woman, in a class with women, dealing specifically with topics and training geared towards women. The man who recommended this woman's class to me said that his wife has been shooting all of her adult life (hunting, target practice, sport shooting, etc.), and is very familiar with firearms, and even she learned a great deal from being in the class.
I want to be armed, but I want to be educated. And as Matt and I have no children in our home, I feel confident in this decision.
4. I want to light up our home and property!
A well-lit home and property is often enough to keep a potential burglar away. The front of our house is well-lit, but unfortunately the back of our house is not. We used to have working flood lights on our back porch, but for some reason, they stopped working. I think when we were doing some of the rewiring, the wires to those lights got unhooked somehow.
So at night, our huge, open back yard that has lots of trees is incredibly dark. Each night when I take Boo out before bed, I walk out there with a flashlight in hand. I hate not being able to get a full view of our back yard before opening the door and walking out there.
I want to remedy that very soon. Not only do I want tons of light — on the house, in the trees, along the fence line — but I want to be able to turn all of it on with the flip of a switch. My brother-in-law Bill even recommended having the switch (or one of the switches) for those lights inside our bedroom, or just outside the bedroom door in the hallway. That way if we hear strange noises in our back yard at night, I don't actually have to go to the back door to flip the lights on. I can flip the lights on right from our bedroom or the hallway.
Of course, when we do our remodel and add the new bedroom, the switch (or one of them) will be in our bedroom with the French doors that lead out to the back yard. I mean, I want that back yard LIT UP like the surface of the sun. If someone's back there doing something they shouldn't be doing, I want to see them clearly with the flip of a switch.
5.  I might want a monitored home security system.
I keep seeing advertisements on Facebook and such for various home security systems that don't require extensive wiring or anything like that. One is called Simplisafe, and evidently it's a completely wireless system, and the installation is a simple DIY process (or so they say). Once installed, everything can be monitored from your phone. I think there's another company called Livewatch that's similar.
I'd love to know if you have any experience with either of these companies and their products, and if you recommend them! I think I definitely want to get some sort of system into place, especially for use when Matt is home by himself, and during the night, but I'm not sure if these wireless, DIY systems are all they're advertised to be.
So in the four weeks since our break in scare, those are the plans I've come up with. I'd love to know what types of home security you have in place in your home. Or is it something that you really don't ever think about?
I'm not one of those people who lives in fear, and I refuse to ever be that kind of person. In fact, I'm probably on the opposite end of that scale. I tend to take safety for granted, and kind of live with the idea that, "Oh, that'll never happen to us." That scare we had last month definitely made me realize that it could happen to us, and while I refuse to live a life full of fearfulness, I've realized that it's probably time to take some practical steps towards a safer and more secure home.
Addicted 2 Decorating is where I share my DIY and decorating journey as I remodel and decorate the 1948 fixer upper that my husband, Matt, and I bought in 2013. Matt has M.S. and is unable to do physical work, so I do the majority of the work on the house by myself. You can learn more about me here.