It feels so good to have a clear vision for my dining room! Yesterday I got my drapery fabric ordered, and today I'll be ordering my drapery rods. I have my side chair fabric narrowed down to about three, so as soon as I make that final decision, I can get that ordered. And yesterday, I gave my dining table yet another makeover (this is the third, if you're counting) to bring it in line with my new dining room plan.
I decided that the dark table, whether green with a stained top or black with a stained top, just sucked the life out of the room. So I decided to lighten it up with white. But I didn't want just a solid white table. I decided to glam it up just a bit with some gold.
I gave it some gold feet, and also added a some gold to the top.
I almost did a Greek key design in the corners with the thin gold border, but decided to just keep things simple.
I painted the table with Behr Pure White (sprayed this time using my Critter sprayer), and then taped off the areas that I wanted gold and used my favorite gold spray paint, Design Master Antique Gold from Michael's. Then I gave the whole thing two coats of Polycrylic in a matte finish.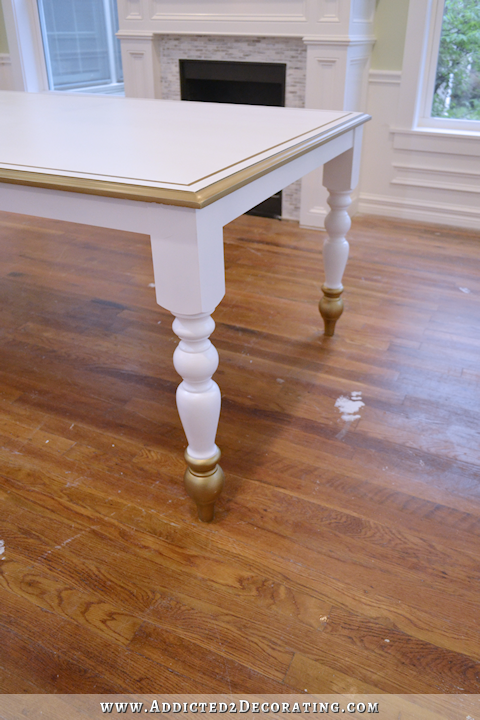 In hindsight, I wish I would have taken the extra time to actually use gold leaf on the feet and gold borders on the top. I think it would have looked much better. I might come back to it in the future and do that, but for now, I'm calling this finished and moving on to my next project. Today, I'll be focusing on the entryway wall. I'm going to do a project that I've wanted to do for a VERY long time now! 😀
---
---