DIY Custom Color Wall Tiles (In Any Color You Could Imagine)
Have you ever needed a very specific color of wall tile and just couldn't find it, so you settled for something that wasn't quite what you wanted? Well, there's no need for that, because with a little bit of paint, and a little bit of resin, you can make your own custom color wall tiles in just about any color imaginable. If you can find paint in the color you want, you can make tiles in the custom color you want.
In my studio bathroom, I decided to do a little accent tile backsplash. But since the upper walls have a very colorful and graphic design on them, I didn't want a backsplash tile to compete with the walls. In fact, I wanted the tiles to blend in perfectly with the light buttery yellow that I'm using on the wainscoting. But trying to find backsplash tiles in the exact shade of yellow that I needed would be a fool's errand, so I made my own.
Here's a before and after (actually, the after on the left, and the before on the right) of my backsplash tiles…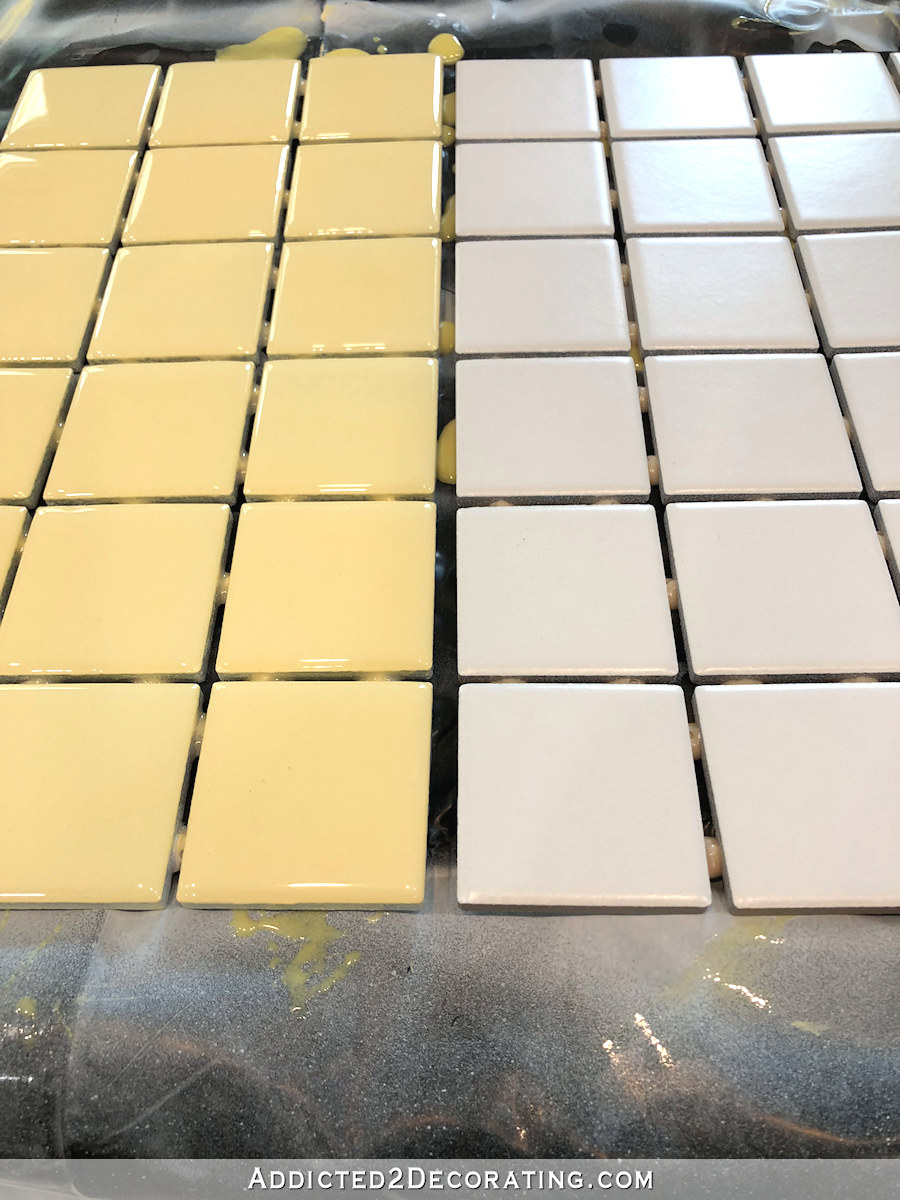 And while I don't have the whole backsplash done yet, here's a picture of the tiles in place. Obviously, they're not all installed yet, and I still need to install the chair rail and grout, but you can get an idea of what the tiles look like in place…
You can use any size and shape of wall tile for this. I used these inexpensive 12″ x 12″ mosaic tiles made up of a grid of 2″ x 2″ white tiles from Home Depot. I cut them in half since I only needed 6″ x 12″ pieces for my backsplash.
Any time you work with resin, you want to put the piece you're coating in resin up on risers so that the piece won't be sitting in a puddle of resin on your work surface. So I used some scrap wood and cut about 200 little pieces of wood to use as risers. Then I used caulk to attach tiny little pieces of wood to the backs of the tiles. I used the smallest amount of caulk imaginable — the absolute least amount necessary to get the wood to stick the back, like the size of a pen head. If the caulk squeezed out from the edges (like on the one on the top left in the photo below) that's way too much and will make it way to hard to remove the wood pieces once the tiles are dry.
If you're using larger tiles, like subway tiles, there's no need to stick the wood to the back of the tiles. Just place the wood piece on your work surface, and place the tile on top. That's the method I used when I made my pantry backsplash tiles. I'll link to that at the end of this post if you want to see how I did that.
After covering my work surface with plastic (construction trash bags cut open so that they were one layer of plastic and taped together with packing tape), I spaced out the tiles and gave them all a coat of spray primer.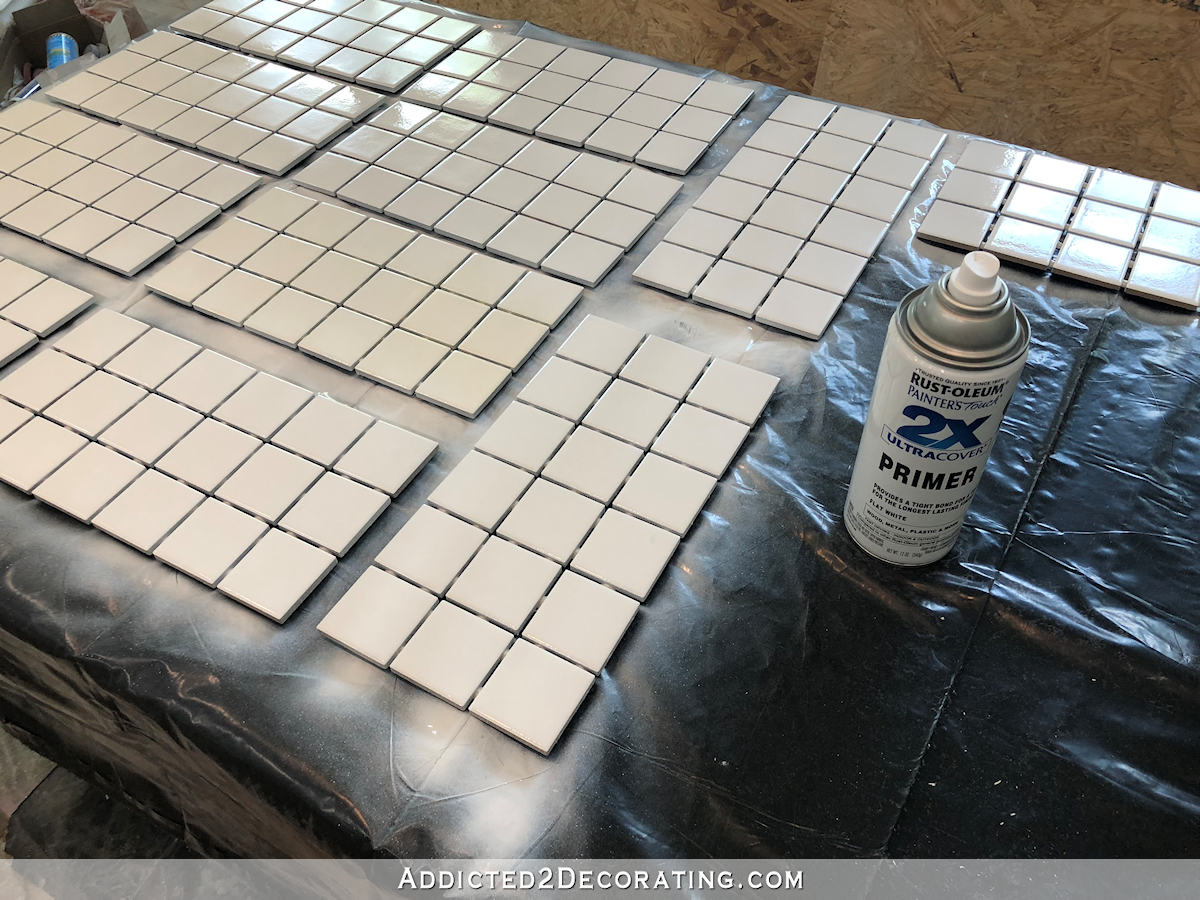 When the primer was completely dry, I used a small craft paint brush and gave the tiles two coats of latex paint. I used Behr paint, and the color is Marsh Marigold mixed with Pure White in about a 1:1 ratio.
The paint I used was a flat finish, and it dried very quickly. So by the time I finished painting the last time, the first one was completely dry and ready for the second coat.
And then once the paint is completely dry, the tiles are ready for the final step that gives them the beautiful shine and durability. And of course, I'm talking about the resin clear coat.
I used ArtResin, which you can order directly from the company. It's a two-part clear epoxy resin that you mix together in a 1:1 ratio (mixing thoroughly for about 3 minutes) and then you can use it to give artwork, tile, and other surfaces a shiny clear coating that's super durable after it fully cures.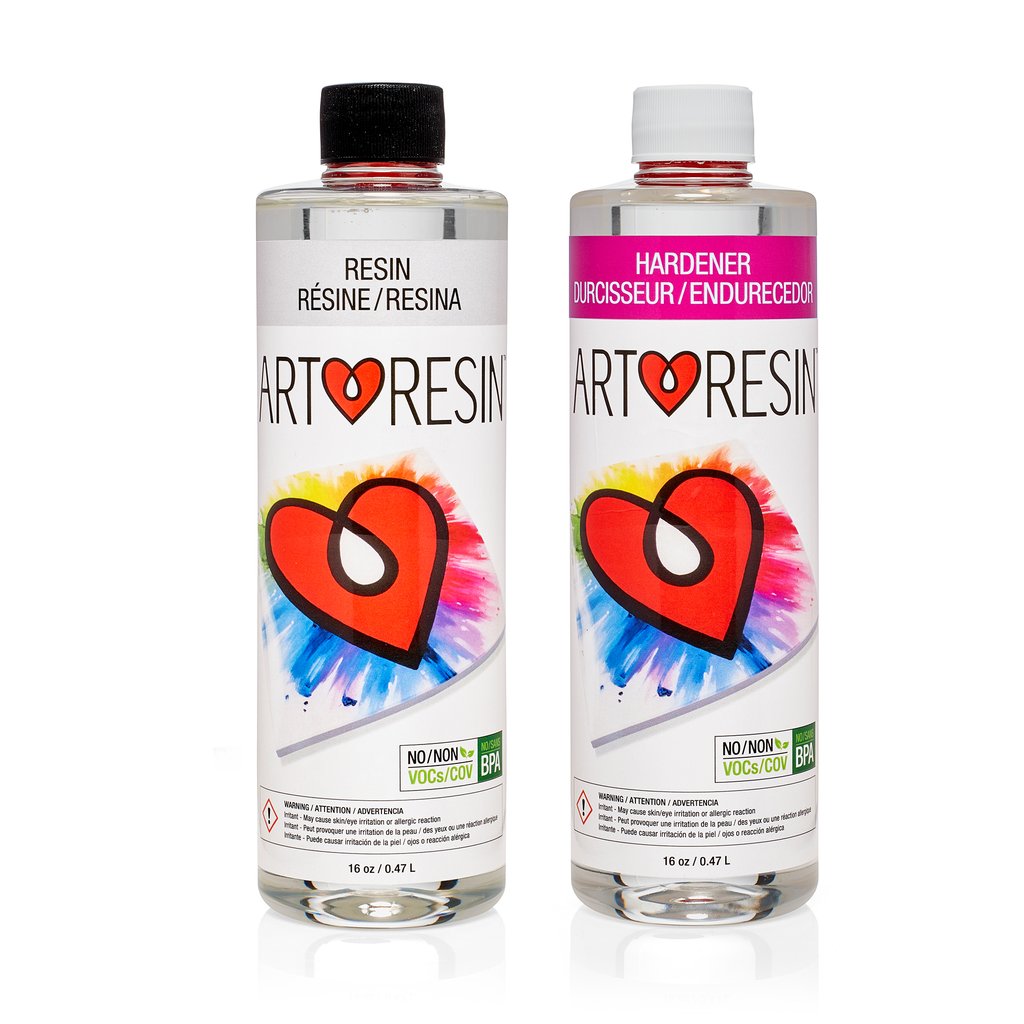 I really like ArtResin, and it's the brand that I used on my pantry backsplash tiles.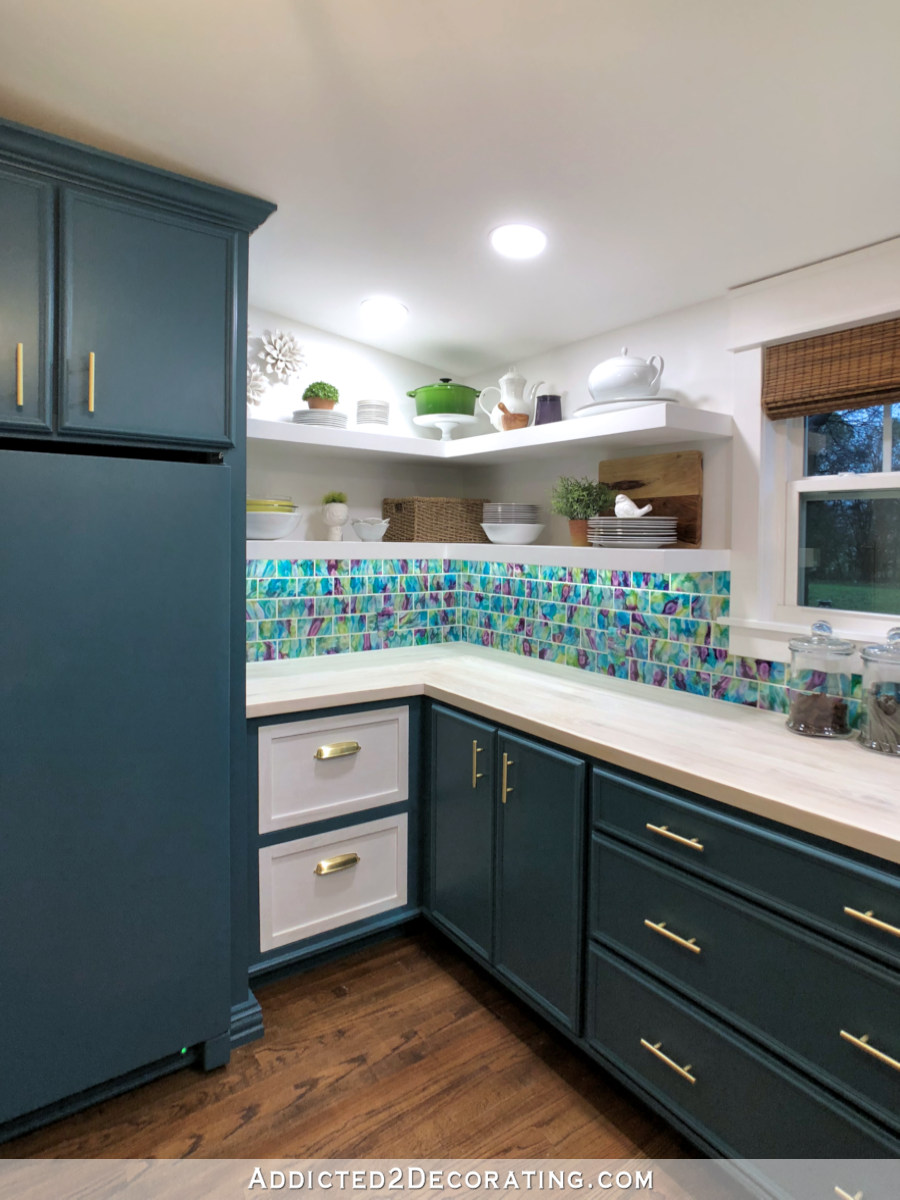 Those tiles have held up beautifully, but my pantry also doesn't get a whole lot of daily wear and tear. ArtResin was specifically formulated to be used on artwork, which is generally hung on walls and not touched and handled often. So their product wasn't made for the specific purpose of durability for daily wear and tear. (That company's main goal was to produce a resin coating that was super clear and non-yellowing for artwork.)
So last week, I ordered another brand that I'm excited to try out. The brand is Stone Coat Countertops, and as the name would suggest, their resin is actually made for countertops and other hard wearing surfaces. I have no personal experience with it yet, but they have lots of amazing videos on YouTube showing the durability of their product. I bought it so that I can do a second coat of resin on the bathroom countertop. But for the backsplash, I'm satisfied using ArtResin.
Regardless of the brand, a project the size of my bathroom backsplash/tile accent (about 11 square feet) would require about two of the 32-ounce size (probably with some left over for another project), and would run about $100. Of course, every brand has slightly different coverage, size options, and pricing, but that estimate will give you a rough idea of the price.
So it's not exactly a cheap project (about $13/square foot), but custom anything is always going to be more expensive.
Anyway, I mixed up my two-part resin, spread it out on the tiles, and used my propane torch to get rid of all of the bubbles. Then I left it to dry for about 16 hours.
The result was custom color buttery yellow tiles with a shiny, glassy finish.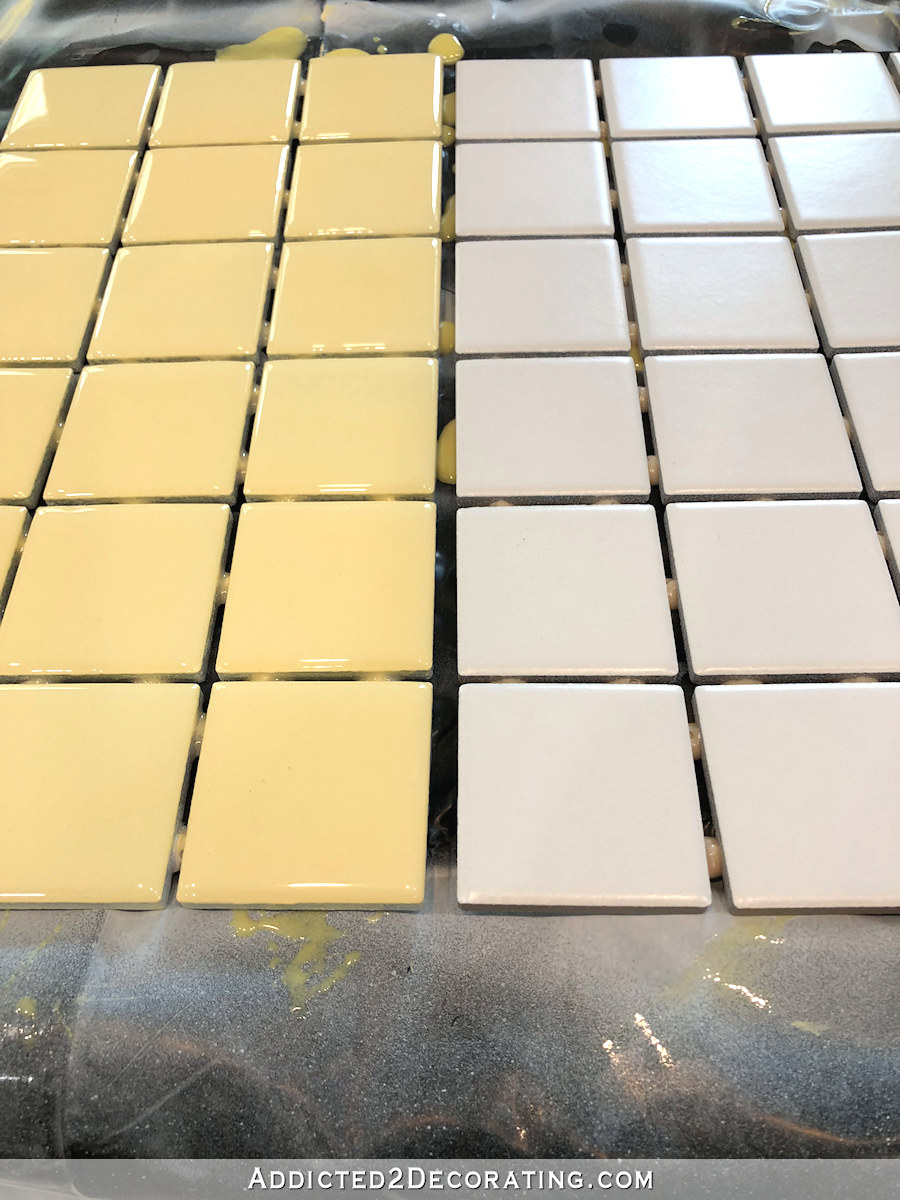 I would recommend handling the tiles carefully until the resin is cured (especially the first 48 hours). The amount of time necessary for full-cure will depend on the brand of resin you use, so be sure to check that info on the label.
But generally after about 24 hours, you can install the tile, and after about 48 hours, you can grout them with unsanded grout. (Sanded grout might scratch the surface!)
I'm hoping to get my backsplash/tile accent finished up today and show you the final result tomorrow.
Helpful sources and products:
My post on how I made my pantry backsplash tiles might provide more insight on working with resin. You can find that here…
ArtResin – This is the brand of resin that I use for artwork. It's not really made for hard-wearing surfaces like countertops and coasters, but it is very durable.
Stone Coat Countertops – I haven't tried their resin yet, but I do have some on order and should receive it this week. I'm going to recoat my bathroom countertop with it, and I'll let y'all know how I like it.
Addicted 2 Decorating is where I share my DIY and decorating journey as I remodel and decorate the 1948 fixer upper that my husband, Matt, and I bought in 2013. Matt has M.S. and is unable to do physical work, so I do the majority of the work on the house by myself. You can learn more about me here.