Last Updated on December 24, 2015 by Kristi Linauer
Well, y'all. Get ready for a post full of randomness. I have so many thoughts whirling around in my head, so this post might be like an exercise in free association. Just picture me lying on a couch in a psychiatrist's office spilling my thoughts on anything and everything that comes to mind. 🙂
Let's start with the house…
Due to circumstances beyond our control, the purchase of my dream home has been delayed. About a month. We'll probably close sometime around the end of July.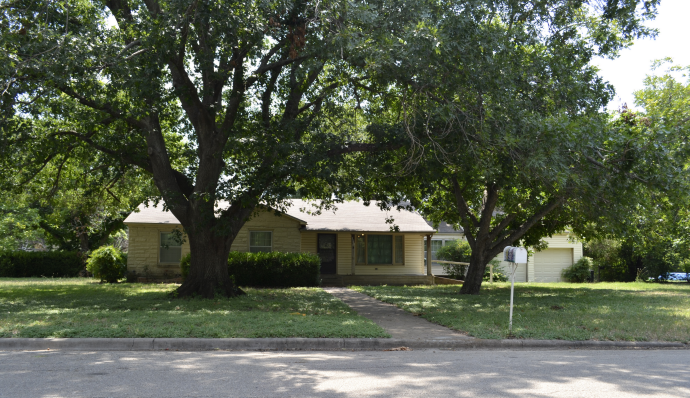 (Only a true — and truly determined — DIYer would call that a "dream home", am I right? 😀 But it is most definitely MY dream home. I'd take this any day over a newly constructed house. Am I strange, or what? I have such plans for this house. Such dreams!)
I was more than a little disappointed by the delay. Frustrated even. I had my heart set on being in that house in July. But now that a couple of days have passed since we were told that an early-to-mid July closing date was impossible, I'm starting to be okay with the idea.
So I took a couple of days to just relax, and be, and relax. It was nice. I had been working non-stop on this condo for probably close to three weeks, working long days almost every single day, consumed with the idea that I had to get it completely finished and ready to go on the market on July 1st. Now that pressure is gone, and while I do tend to thrive under pressure, sometimes too much pressure for too long is a very detrimental thing.
And that brings me to the condo…
We're actually talking about holding on to it. 🙂 We're still mulling over the possibility, and I don't think we've made a final decision yet, but we're not really feeling a huge amount of pressure to sell it or even to rent it out. The fact is that our two mortgage payments combined are still way less than what most people pay for one SINGLE mortgage (or even rent on an apartment… 🙂 ). Seriously. So it's not like it would cause a financial burden at all.
And I think it would be nice to have it available, especially since I'll have it all fixed up just like I want it.
If I need a little weekend retreat, I can come here to this familiar place. Or if I just need to get a few hours away to work on some blog stuff or other work stuff, I can come here. If lots of family members come into town at the same time and my mom doesn't have room for everyone, some can stay at the condo.
And can I share another dream I have with you?
Once we get into the house, and get it all fixed up (including the sprawling back yard), I have this dream of hosting retreats there. I'm still not quite sure even what kind of retreat. A blogger retreat? That's one dream I have. A women's DIY workshop retreat weekend? I'd LOVE to do something like that!!
But if I do that, I'd want Matt out of the house. 🙂 So it would be perfect for him to come stay at the condo!
Anyway, I have no idea if anything will ever come of that dream, but it's definitely something I dream about often, and I'd love to see it become reality. Can you imagine a fun group of women spending a relaxing weekend together, good food, good company, lots of laughter, with some DIY and power tools thrown in? I just think it would be so fun!!
And one more random dream…
Now this might sound REALLY random, but in talking about keeping the condo, I decided that I definitely do NOT want to just keep it as rental property and rent it out to tenants on a long term basis.
I can think of nothing less appealing to me than being a rental property owner.  BUT…
I have this notion that I'd LOVE to rent the place out more short term, kind of like people do with their vacation homes when they're not actually using their vacation homes.
Now granted, Waco isn't really a vacation destination.  😀  But my condo IS about five blocks from Baylor University, so it would be the perfect location for parents visiting their kid for the weekend, or Baylor alumni coming into town for a big game, or something like that.  It's conveniently located, it's gated, it has a pool, it has two bedrooms and two bathrooms, it has a full kitchen.  Heck, renting a comparable hotel room would cost quite a bit!
I know.  It's random.  But that's how my mind works.  😀
Have any of you ever done something like that?  Do you own a vacation home that you rent out when you're not using it?  I know it's a whole new world, one full of legalities and liability with which I'm completely unfamiliar right now.  I'd have to do a ton of research before jumping in with both feet.
But again, it's just a dream at this point.
Isn't dreaming fun?
Addicted 2 Decorating is where I share my DIY and decorating journey as I remodel and decorate the 1948 fixer upper that my husband, Matt, and I bought in 2013. Matt has M.S. and is unable to do physical work, so I do the majority of the work on the house by myself. You can learn more about me here.
I hope you'll join me on my DIY and decorating journey! If you want to follow my projects and progress, you can subscribe below and have each new post delivered to your email inbox. That way you'll never miss a thing!