Last Updated on October 6, 2017 by Kristi Linauer
You know those two stretches of blank wall in my breakfast room on either side of the pantry door?
Before I could consider my breakfast room completely finished, I had to address those areas. I considered several options for those spaces. At one time, I thought about adding built-in storage, but I decided against that for a few reasons. The biggest reason is because I was concerned that it would make the room feel quite a bit smaller.
So after considering all of the options, I finally decided on a simple look where I can bring in some needed color on this side of the room — upholstered benches, pillows, framed artwork, and interesting lighting. And since I love symmetry, I'm doing the same thing on both sides. Well, the artwork will be different. Or perhaps it'll be a diptych, and I'll hang one piece on either side. I haven't really decided yet. But it won't be completely identical.
So the artwork is still undecided. But what I do know for sure is that I need two upholstered benches for this plan. I found several pretty benches that were the exact size I wanted (48″ x 18″), like this one from World Market…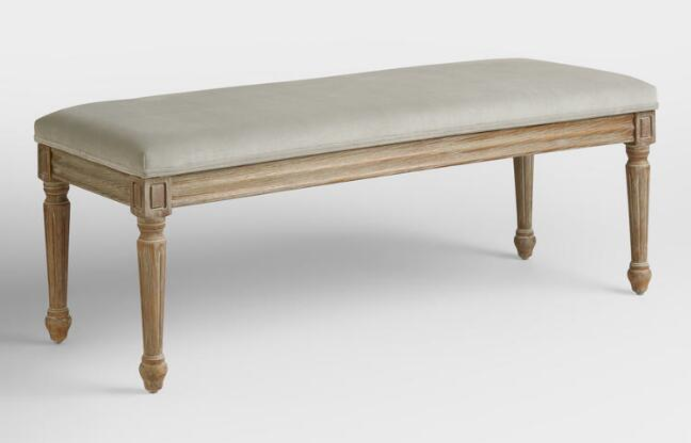 …but I just wasn't satisfied with any of the colors I found. So naturally, I decided to build my own so that I could get a customized look and color that I wanted.
If you've never build furniture before, you probably think that this is a really advanced project for people who have lots of woodworking experience. But I'm here to tell you that with the right tools, this project ranks as one of the easiest building projects I've done. If you're just building one bench, you can easily get it done in one day. A weekend, at most.
The necessary tool to make this project very easy is a Kreg Jig. Click here to see the set that I have. I also have a right angle clamp (click here for that), which is sold separately and pretty invaluable in building something like this bench.
I want my bench to seat two people, so I made it 48 inches long by 18 inches wide. The basic parts to build the base for a bench that size are four 15.25-inch legs (from Home Depot), two 1 x 3 boards cut to 43.5 inches long, two pieces of decorative trim (you can use casing or baseboard trim) cut to 43.5 inches long, two 1 x 3 boards cut to 13.5 inches long, and two pieces of decorative trim cut to 13.5 inches long.
Using the Kreg Jig I drilled two pocket holes into each end of each 1 x 3 stretcher boards…
Then I placed each stretcher board on my work surface so that the pocket holes were face down, and added wood glue to the top…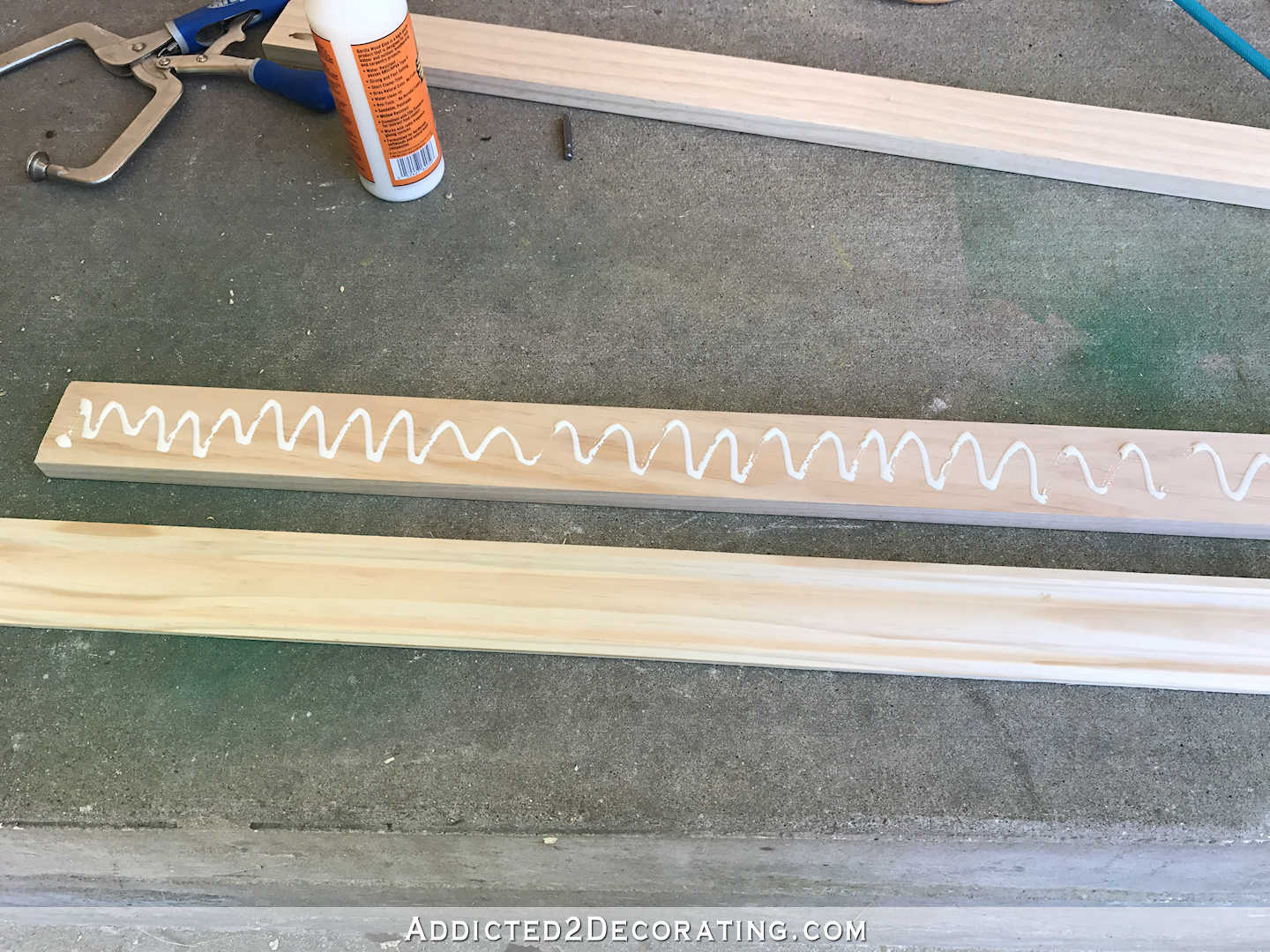 And then I glued and nailed the decorative piece of trim on top of the stretcher boards using 1-inch 16-gauge finishing nails.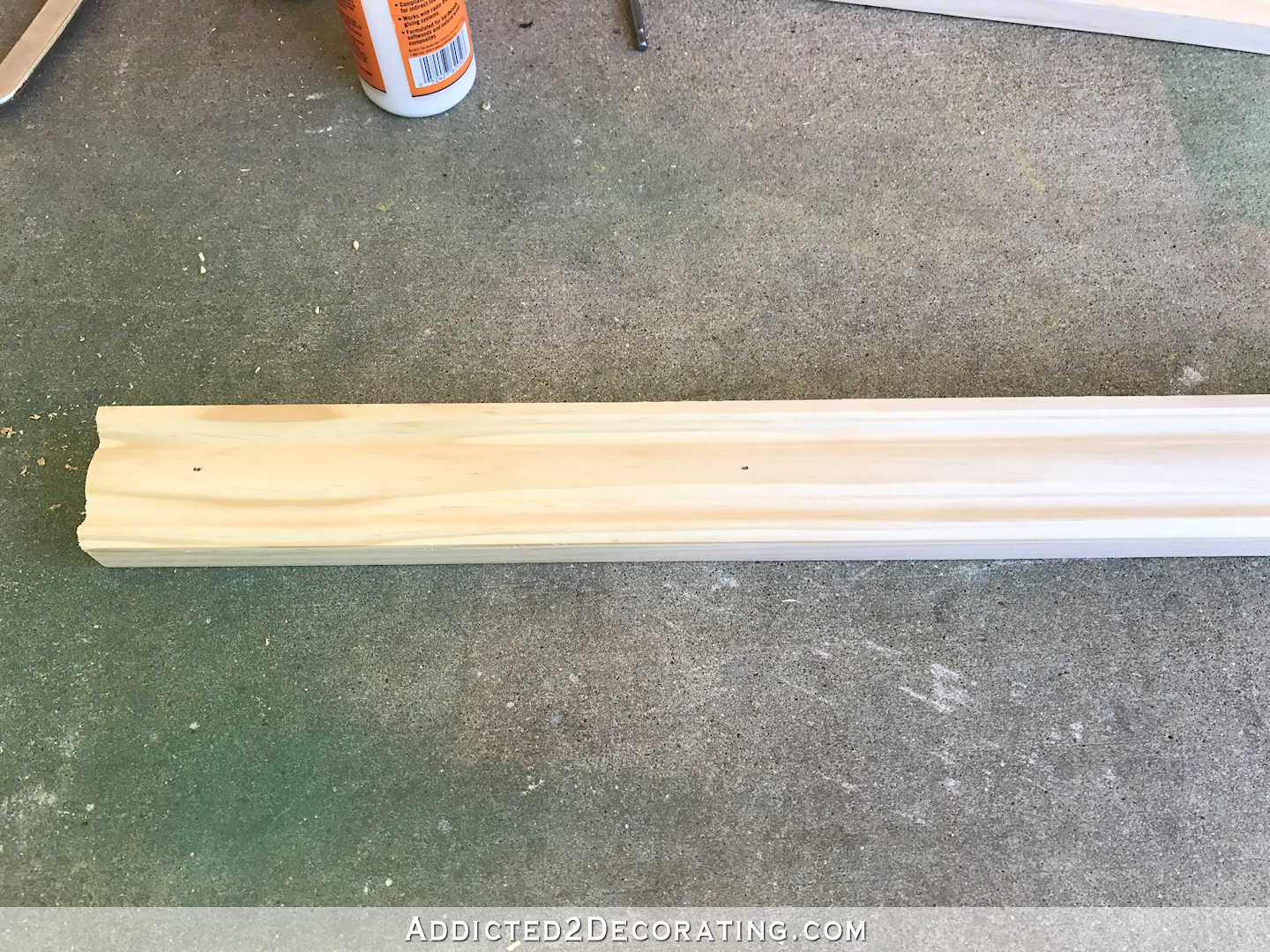 With all four of the stretcher + trim pieces glued and nailed, I was ready to start assembling the bench base. I started with the short ends by placing the short stretcher piece face down with the pocket holes facing up, and after gluing the ends to the legs with wood glue (making sure that the pieces were flush on top), I attached the pieces using Kreg screws through the pocket holes.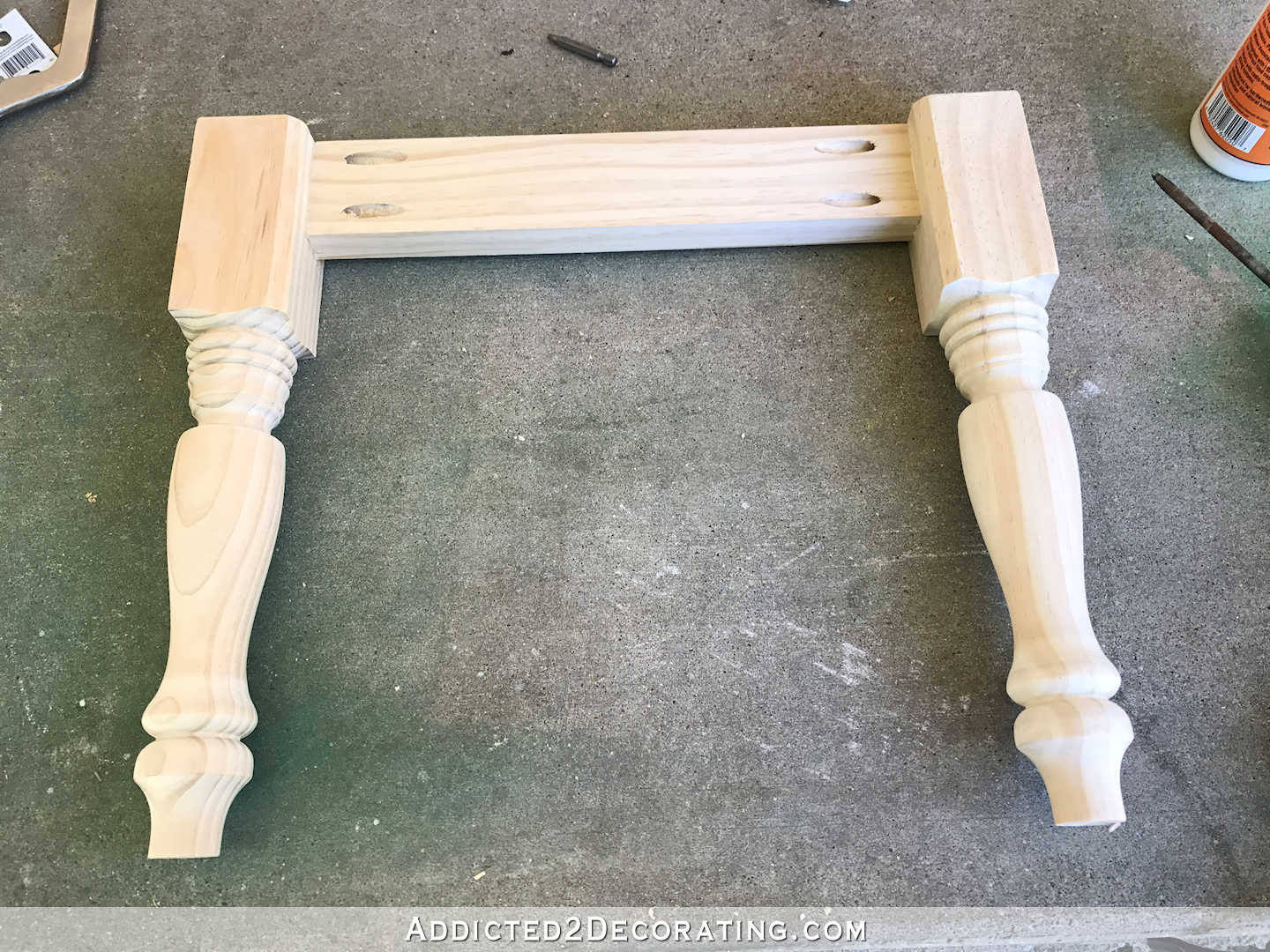 Here's what it looked like from the front…
Then I made the other leg-stretcher-leg section for the other end the exact same way, and then attached those two sections with the long stretchers, again using wood glue and pocket screws.
Here's what it looked like at that point…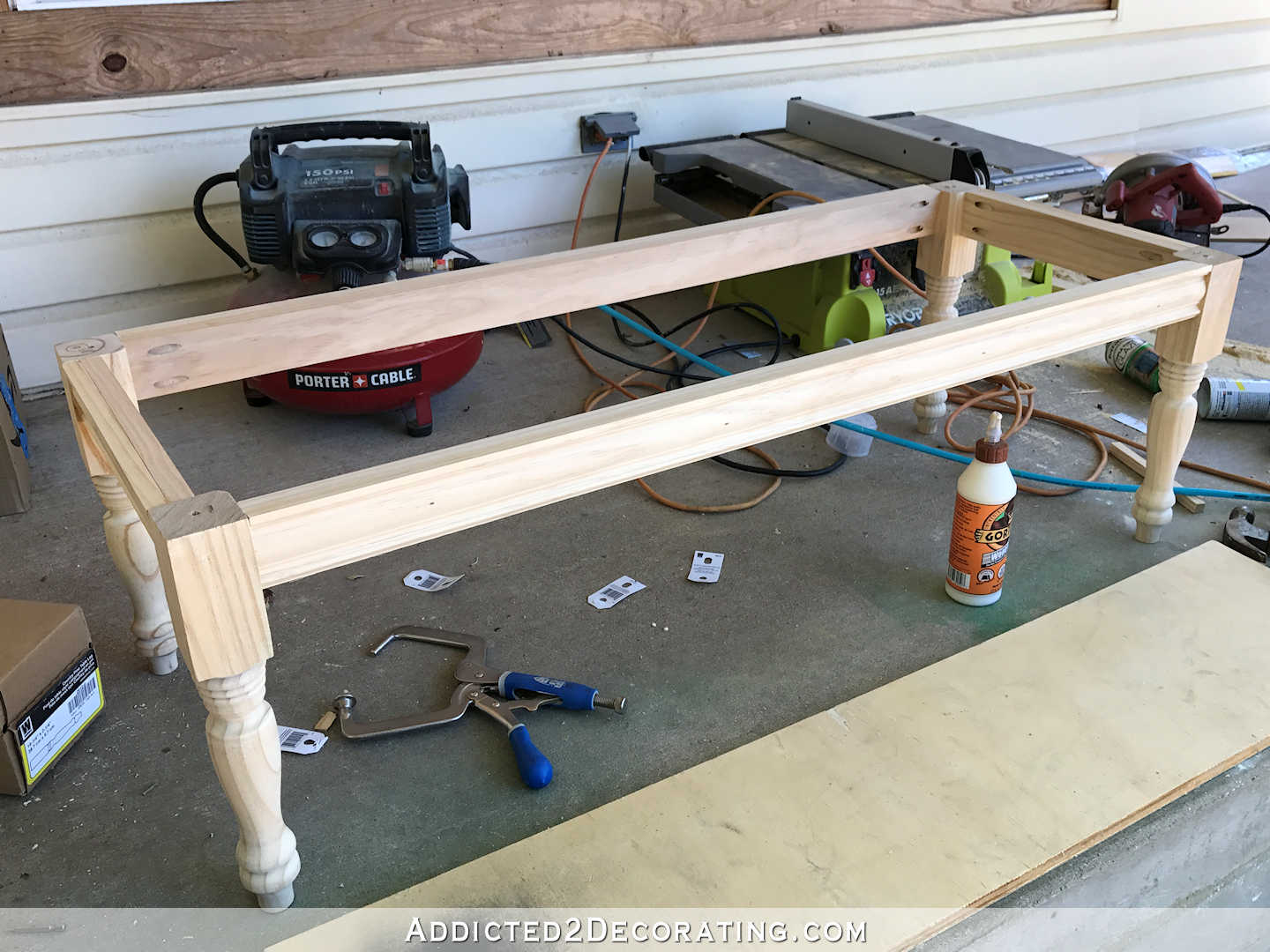 To finish up the base, I added wood glue to the top edges of the stretchers and legs…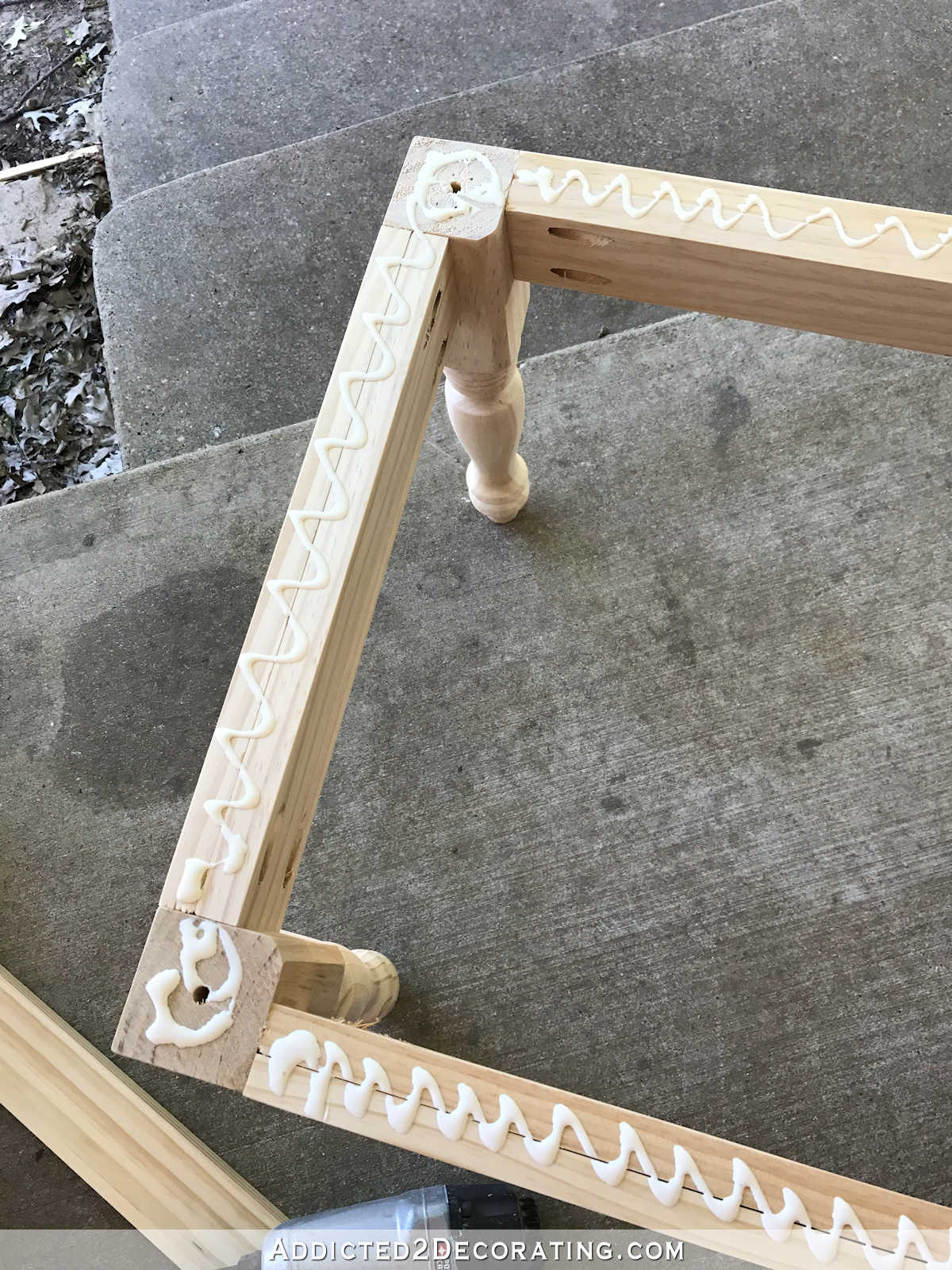 And then added a piece of 3/4″ plywood that I had cut to fit the top. I secured it with 1.25-inch 16-gauge finishing nails.
At this point, the base is ready for whatever finish is desired. I originally tried to stain the base (which you can see from the back right leg), but I didn't like the way it was looking so I let it dry and then primed the whole thing with oil-based primer. Today I'll sand it smooth, give it a couple of coats of paint, and then move on to the upholstering the top of the bench.
And of course, any time I bring anything new into the house, my cat thinks it's for her. 😀
So I'm hoping to get both of these benches done today, but whether or not that's feasible depends on how I trim them. I'm debating a double welt cord, which would be the easier option, or a nailhead trim, which would be the time-consuming option. If I go the nailhead route, I probably can't get them both completely finished today, but I can certainly try!
UPDATE:
The benches are finished! Click here to see the finished benches as well as instruction for upholstering the top.
Addicted 2 Decorating is where I share my DIY and decorating journey as I remodel and decorate the 1948 fixer upper that my husband, Matt, and I bought in 2013. Matt has M.S. and is unable to do physical work, so I do the majority of the work on the house by myself. You can learn more about me here.
I hope you'll join me on my DIY and decorating journey! If you want to follow my projects and progress, you can subscribe below and have each new post delivered to your email inbox. That way you'll never miss a thing!