My breakfast room is finished…once again. Last year, I only got to enjoy the completed breakfast room remodel for a couple of months before the garage-to-studio conversion started and the guys took out my new door, along with the pretty trim around it, and replaced it with a temporary unfinished hollow core door.
Now that temporary door has been replaced with a beautiful 15-lite pocket door.
Of course, right now the door opens to reveal a completely unfinished room that's being used as part storage and part workshop, where I've been using my saws.
So I'm anxious for the day that my beautiful studio with custom cabinets will be visible through that door.
The door is this 15-lite unfinished pine door from Home Depot. And since the door is considerably heavier than a regular door without glass, I decided that I would use this heavy duty Johnson Hardware pocket door frame (which can hold doors up to 200 pounds) instead of one of the all wood pre-built pocket door frames that you find in stock at the big box home improvement stores. I've framed plenty of doors, so this is very doable as a DIY project, but I decided to hire out the actual door installation.
So when they were finished with the installation, it looked like this…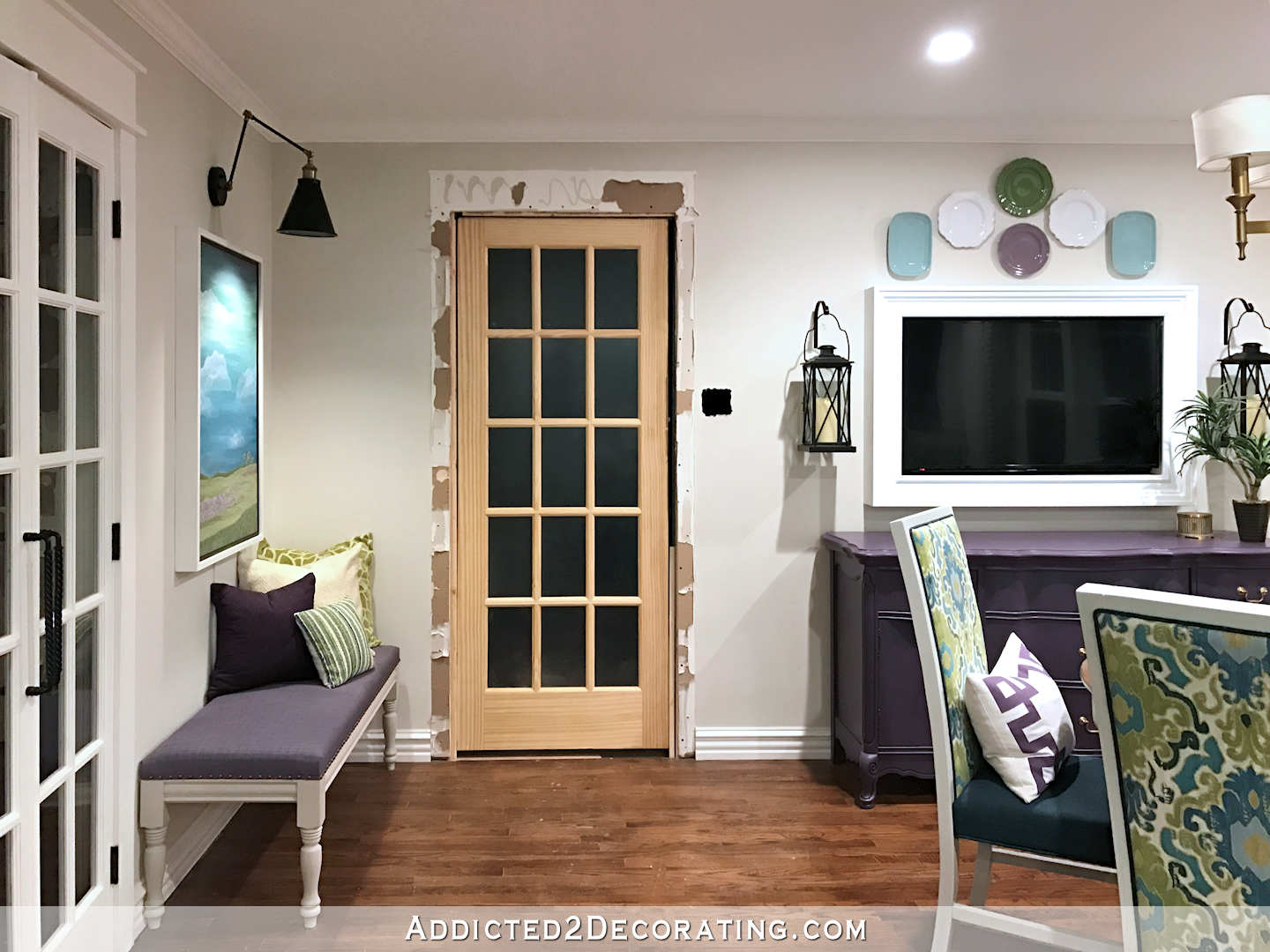 …and it was up to me to finish it.
The door required one coat of primer and three coats of paint (Behr Polar Bear in a satin finish). I sanded with 220-grit sandpaper between all coats to ensure the best possible finish. The great thing about these doors is that the glass comes with plastic covering them, so there's no time wasted with the tedious task of taping off the panes of glass with painters tape. You just paint and then score and peel off the plastic.
I also had to repair the hole in the drywall that was left when they removed the light switch box to the right of the door. For that, I used one of these metal drywall patches.
These things are awesome and make drywall repair so easy. They're sticky on the back, so you just peel off the paper and stick the patch right over the hole. Then cover with drywall mud, wait for it to dry, sand smooth, and you're ready to prime and paint.
Framing a pocket door is just like framing any other door, except that the top jamb and one side jamb are basically half the width of a normal jamb since they can't cover the slot where the door fits into the pocket door frame at the top and on one side. I was expecting to have to rip a piece of lumber down to the exact width to fit those areas, but as it turns out, a 1″ x 2″ piece of lumber fit the needed width perfectly.
I'm going to go ahead and call this project done, even though I still need to find and install hardware for the door. Unlike my music room doors, where the edges of the doors stick out from the "pockets" even when the doors are completely open, leaving enough room for actual handles, this door recesses completely into the pocket when it's open, so I can't have a pretty handle on the door. Any pulls I use will have to be the kind that recess into the actual door.
This doorway has been through quite the journey to get to this point. Remember what it looked like when we bought the house?
It was a garage door then, and it was metal and light blue.
Then during the breakfast room remodel, I replaced that door with this one, which still led out to the garage.
Then the guys working on my studio removed that door and replaced it with this one…
So now I'm on door #4 for this doorway. 😀
But this one is here to stay.
Addicted 2 Decorating is where I share my DIY and decorating journey as I remodel and decorate the 1948 fixer upper that my husband, Matt, and I bought in 2013. Matt has M.S. and is unable to do physical work, so I do the majority of the work on the house by myself. You can learn more about me here.
I hope you'll join me on my DIY and decorating journey! If you want to follow my projects and progress, you can subscribe below and have each new post delivered to your email inbox. That way you'll never miss a thing!