Easy Modern Triptych Wall Art
I'm slowly but surely making progress on my hallway. I know…it's a hallway. It should have been done months ago! I'm just taking my sweet time, right?!
Last week, I tried my hand at making some wall art to go on the only sliver of wall in the hallway. Since it was going to be right there by the argyle wall in the utility closet, and the striped painted curtains hiding my washer/dryer closet, I wanted the artwork to be something a little softer, without a lot of hard lines or bold, graphic shapes. Here's what I came up with (and please kindly overlook the yet-to-be-painted trim)…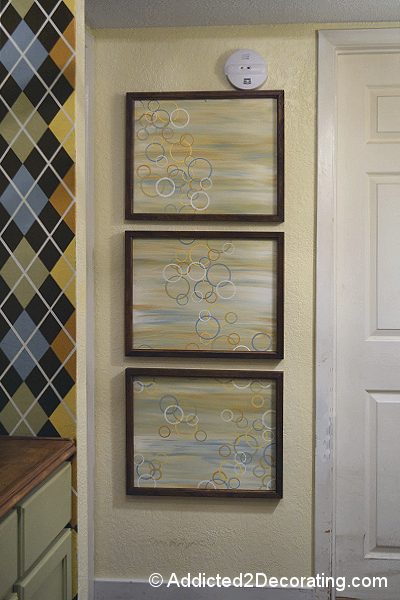 It's a triptych!  In case this word is new to you, a triptych is simply a series of three artistic pieces that are meant to be viewed together.  If you'll notice, the pattern of the circles in my triptych move together from one painting to the next.  That's because I painted them as one large painting, and then framed them separately.
If you'd like to make your own, here are the details…
Tools & Supplies:
1/2-inch MDF, cut into three pieces of the same size;
1″ x 2″ pine lumber for the frame;
small wood trim for the frame;
paint in assorted colors;
paint stir sticks;
paint brush;
plates;
jars and lids in assorted sizes,
miter saw,
wood glue,
brad nailer or hammer and finishing nails.
Instructions:
First use a miter saw to cut pieces of 1″ x 2″ lumber to frame the MDF pieces, then set those aside.
Now place the MDF pieces on your work surface so that they're touching (like they're all one piece), and give it a coat of white paint.  I didn't even bother priming the MDF first.
Now use paint stir sticks and drizzle paint over the MDF, creating a very random effect.  If your triptych is large, you'll need to do one section at a time so that the drizzled paint doesn't start to dry as you're working.
Now take your paint brush and load it with a very generous amount of white paint, and brush over the drizzled paint.  Continue to load the brush with white paint when needed to create the effect you want.  Don't over brush, or the paint will blend too much and the variations of color won't be as visible.
When all of the pieces are finished, separate them, wipe away any excess paint that accumulated on the edges, and allow them to dry just a bit.  When they're mostly dry, push them back together for the next step.
Place small amounts of your paint colors onto plates.  Dip the opening of the jar (or lid) into the paint…
…and then place it onto the MDF to create the circles.
I found that this type of lid worked the best because it came with a built-in "handle", and the opening allowed the air to move freely through when placing the lid onto the MDF.
With the circle pattern completed, let the whole thing dry completely.
While that's drying, stain the frame pieces.  I used the same Rust-Oleum stain that I used on my utility closet countertop.  This Early American color is definitely my new favorite!
When everything is dry, use wood glue and nails to attach the frame pieces to the MDF.
This step is optional, but if you have gaps between the frame and the MDF, you can cover it with thin strips of wood.
Cut, stain, and glue those into place along the inside edge of the frame pieces.  (Yes, I'm aware that mine aren't stained in this picture.  😀  I was just dry-fitting the pieces.)
Then just add your choice of hanger (I used large Ook sawtooth hangers) to hang your new artwork, and enjoy!
The placement of my smoke detector is definitely less than ideal.  I'm not quite sure what to do about it.  I'm definitely going to move the artwork down a bit, so that it doesn't look like the smoke detector is sitting right on top of the artwork.  Maybe I'll paint the cover yellow as well.  Or maybe I'll just leave it alone.  Smoke detectors, light switches, vents and thermostats are just those aesthetic annoyances that we all have to deal with, and I think most people look right over them.  But if you have a brilliant solution for me, I'm all ears!
I'm linking this project here:
Addicted 2 Decorating is where I share my DIY and decorating journey as I remodel and decorate the 1948 fixer upper that my husband, Matt, and I bought in 2013. Matt has M.S. and is unable to do physical work, so I do the majority of the work on the house by myself. You can learn more about me here.