Last Updated on February 26, 2013 by Kristi Linauer
Hello, friends!  Today, I'm feeling a bit frazzled and scattered.  I woke up this morning feeling like I was running behind.  I hate waking up like that.  One of the reasons was because I didn't quite get my striped painted curtains finished.  I mean, the actual painting of the curtains is finished, but the hanging of the curtains is pretty sloppy at this point.  I was bound and determined to completely finish them yesterday and get them hung and beautifully arranged for the pictures last night.
It didn't happen.
I kept getting interrupted, so the second panel took me forever to finish.  Then when I was finally ready to hang the curtains, I was missing one curtain ring.  I had purchased two packages of 7 rings, but I searched and searched, and I could only find 13 rings.  Then I also realized I was out of drapery hooks and eye hooks, so I couldn't attach the return on the curtain panel to the wall.  It's still just flapping free.
By then, it was 9:30-ish, so a trip to Home Depot wasn't possible.  So, I have kind of, sort of, almost nearly finished curtains to show you.
But it's better than nothing, right?  And really, you're just interested in the painted stripes, aren't you?  😉
So here are my kind of, sort of, almost finished striped painted curtains that really need to be steamed, set on a backdrop of my still-incomplete hallway with the yet-to-be-repaired pendant light and the still-ungrouted floor with a few missing tiles.  (Please promise you'll just look at the pretty stripes…and the chalkboard door and yardstick vent.  Mmmkay?)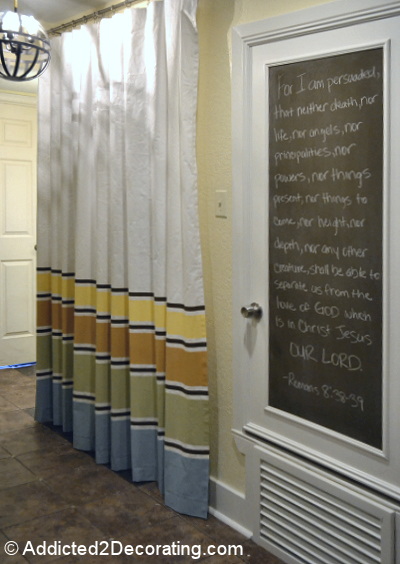 I love how they turned out!  I'll love them more once I get them hung correctly, but still…there's just something about stripes.  Horizontal stripes are my favorite.
So there you have it…my striped painted curtains.  What do you think?
If I can get my act together and actually finish this hallway, then I'll show you how amazing these look directly across from the argyle wall in the utility closet.  I promise, I'll get it finished…eventually.
But today, I have to build a garden.  Yippee!
(Psst…Did you miss Part 1 of this project?  Here it is…How to make striped painted curtains.)
Addicted 2 Decorating is where I share my DIY and decorating journey as I remodel and decorate the 1948 fixer upper that my husband, Matt, and I bought in 2013. Matt has M.S. and is unable to do physical work, so I do the majority of the work on the house by myself. You can learn more about me here.
I hope you'll join me on my DIY and decorating journey! If you want to follow my projects and progress, you can subscribe below and have each new post delivered to your email inbox. That way you'll never miss a thing!