Pressback Dining Chair Makeover – Before and After
After my awful DIY fail on Tuesday with these dining chairs, I finally had success yesterday after re-stripping, re-staining, re-shellacking, and then cerusing the seats to go with my refinished dining table.  And I finally got to use my new paint sprayer for the first time.  I love it!  It was so fun to use!  More on that in a second.  First, here's how my chair turned out.  (I only got one finished because I ran out of spray primer.)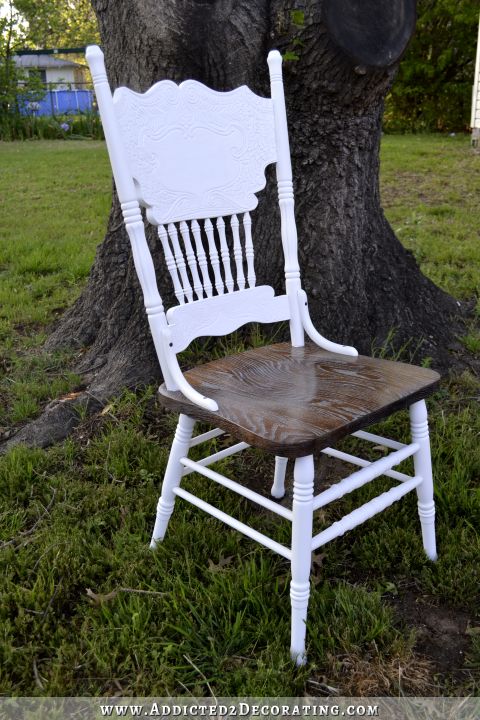 I think they look so much better than the original dull orange finish.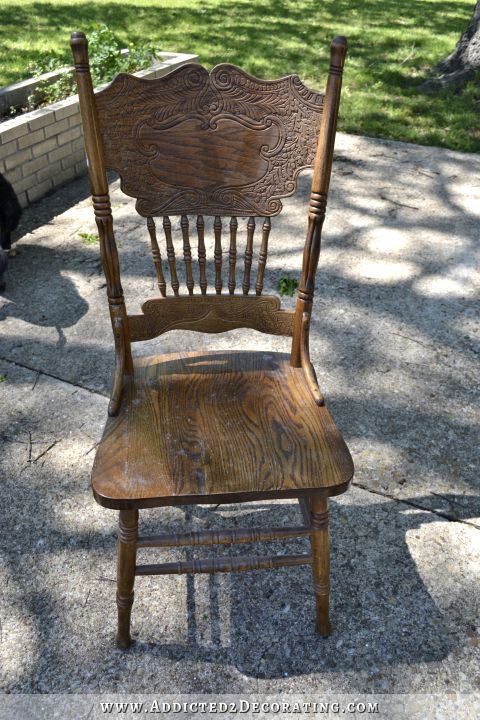 And of course the seats got the same treatment that the table top did.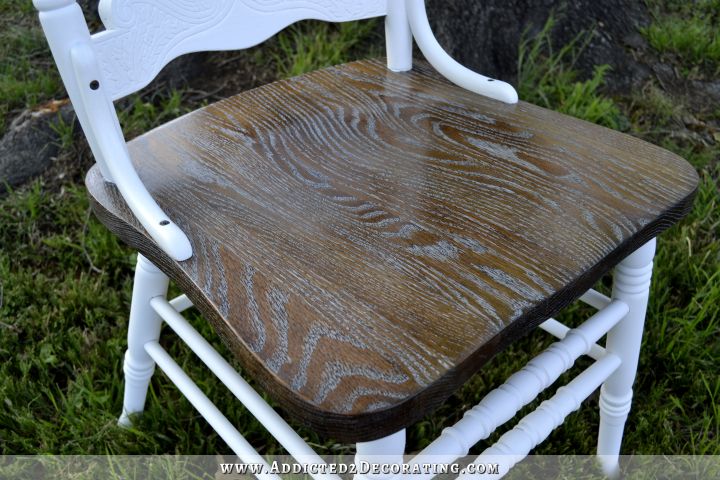 Definitely a step (or ten) above the original worn finish.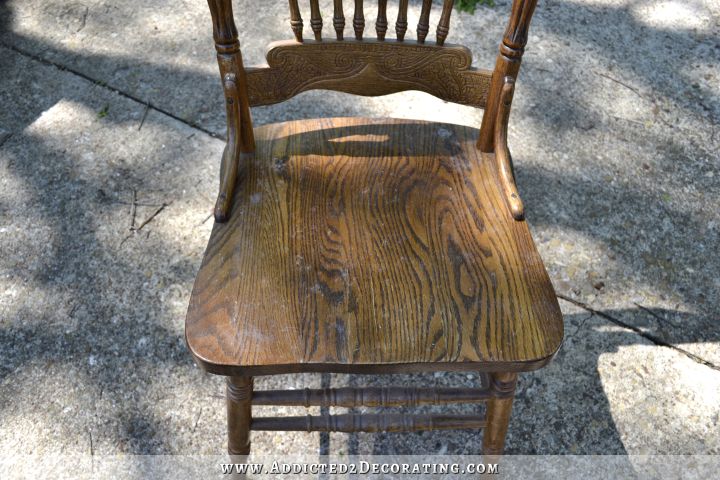 And I really love how the stained seat contrasts with the bright white paint that I used on the rest of the chair.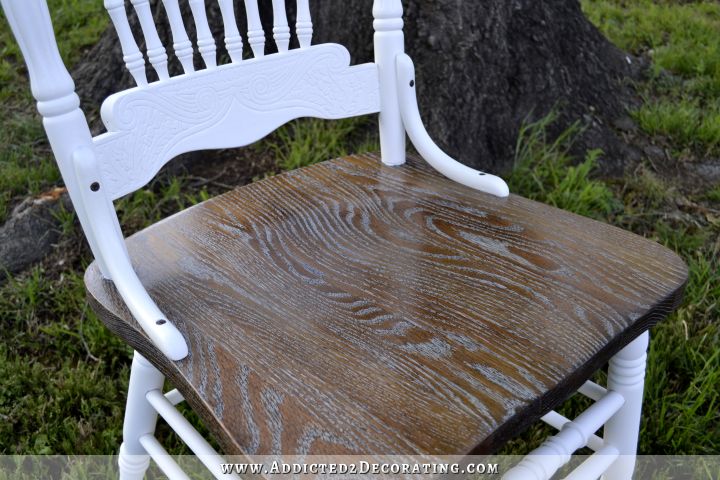 And as far as the design on the back, I didn't do anything to highlight it.  I just painted it all white, and left it at that.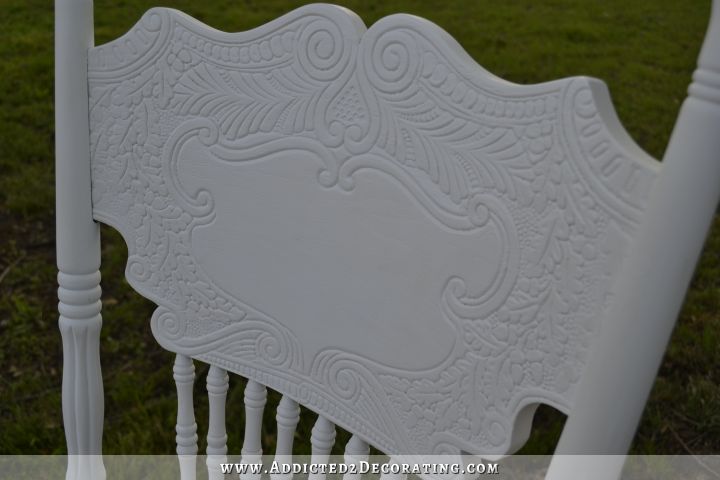 I actually love how subtle it looks now.  I know many of you would have antiqued it, or distressed it, or brought out that design with some dark wax or something like that.  But you know me…I'm not much of one for distressing and antiquing.  Plus, a cerused seat + an antiqued/distressed/highlighted design on the back = competing designs that are way too busy for my taste.
Anyway, here's a before and after view.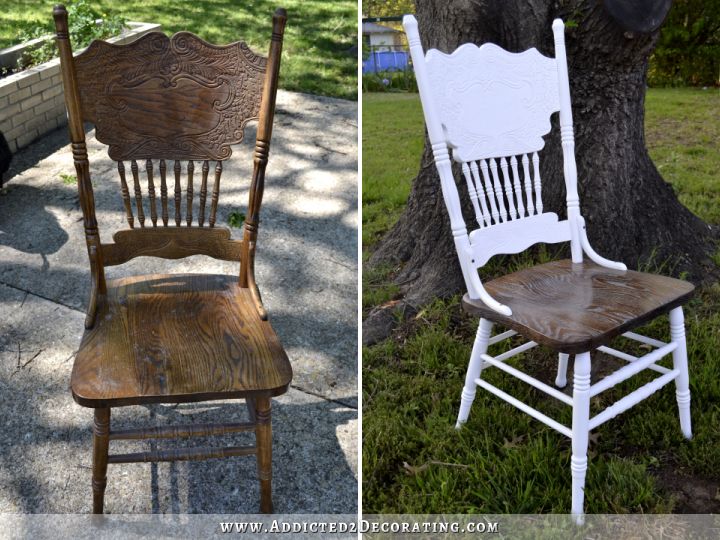 And now, let's talk about my favorite new toy!  Errr…I mean…tool.  🙂
My paint sprayer!
I absolutely LOVE this thing!!!  I've been wanting to buy a paint sprayer for quite some time now, and never could decide on one.  I looked at all of the ones that Home Depot and Lowe's carry.  The big professional ones were way more than I wanted to pay, but the smaller ones made more for DIYers just looked like they had so many parts to clean.  Plus, I read such varying reviews about all of them.
Well, this one (it's called Critter) is very highly rated on Amazon
*, with 4.6 out of 5 stars with 110 reviews.  That impressed me.  Plus, I really liked the simple design and the price (it's $50).  You do have to have an air compressor, but since I would imagine most DIYers have an air compressor already, that makes this paint sprayer very affordable.
But my two favorite things about this sprayer (the two things that sold me on it, at least) are (1) the super easy clean up (I'd rather clean glass and metal instead of plastic parts), and (2) the fact that it uses regular 'ole glass Mason jars.  No fancy/specialized container needed for this sprayer.  Just Mason jars, which you can usually find at the grocery store with the canning products.  It does comes with one jar, but multiple jars would be incredibly handy of you're working on a big job, like spraying all of your interior doors.  Just mix up several jars ahead of time and have them ready so that you don't have to keep stopping during the job and adding more paint.
And did I mention that it sprays beautifully?  I was really amazed at the incredibly fine mist of paint produced by this paint sprayer.  So if you're in the market for a paint sprayer, be sure to check this one out.  I highly recommend it!
Please be aware that that's an affiliate link, as is any link with an asterisk (*) by it. If you click on that link and make a purchase, Amazon will pay me a bit of commission. 🙂
Addicted 2 Decorating is where I share my DIY and decorating journey as I remodel and decorate the 1948 fixer upper that my husband, Matt, and I bought in 2013. Matt has M.S. and is unable to do physical work, so I do the majority of the work on the house by myself. You can learn more about me here.