Faux Flowers For Window Boxes? (Could You? Would You?)
As soon as I get all of my shutters built, I plan to move on to building window boxes. Of course, when I envision window boxes on my house, I picture them overflowing with gorgeous flowers and greenery.
But that vision begins to wither a bit when I remember that I can't keep plants alive to save my life. I don't know if the problem is that I don't have a green thumb at all, or if I just get busy and sidetracked and forget about the plants. But either way, my plants die. If nature doesn't take care of them for me, they have no hope in my possession.
I was so glad to read this article in the Washington Post yesterday about how faux flowers used inside are becoming more and more common and widely accepted among designers. Of course, I think that's due to the fact that faux flowers today have come such a long way. They look more realistic, and some of them even feel real. Of course, for the really nice ones, you'll pay an arm and a leg.
But what about for outdoor use? Are we there yet? Have we reached a point where that's acceptable, or is it still taboo and tacky?
I'll be honest here. In our first house that we had built in Oregon, I was determined to have window boxes, even though it was a two story house. I found a picture of the house on Google maps, and those window boxes are still there!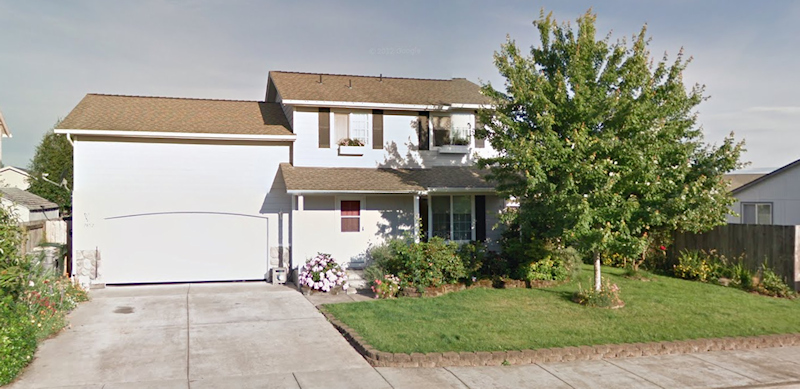 Although I remember them being wider and the same size. Those look like two different widths on the second story windows. Strange.
Anyway, the point being that there was no way to water those flowers without removing the window screens each time. And there was absolutely no way I was going to do that. So after the original plants died (which didn't take long), I replaced them with faux flowers. In second story window boxes, I can guarantee you that nobody could tell they were fake, at least not in those first couple of months. But then the sun started bleaching out the color, and they weren't as pretty. They eventually had to be replaced.
It really wouldn't have crossed my mind to do faux flowers in my window boxes on our current house except that a few days ago I was searching on Pinterest for pictures of window boxes so that I could decide what style I want and how I want to build mine, and I came across this picture…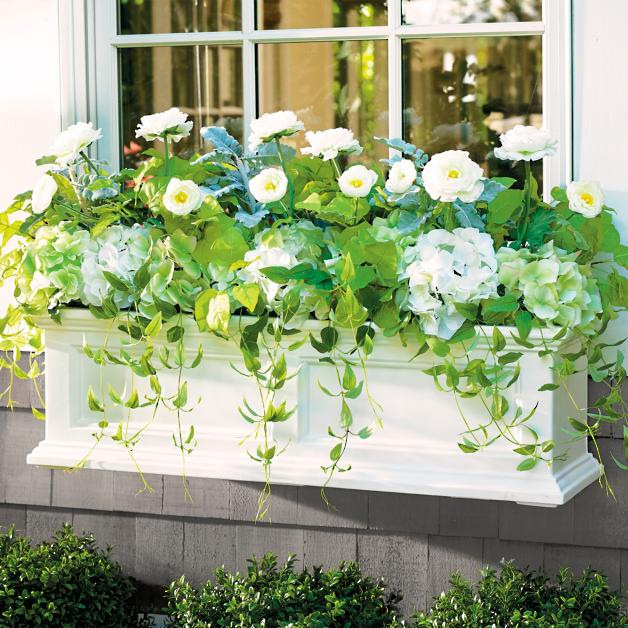 via Grandin Road
That whole thing — the style of the box, the flowers — was so close to what I envision in my head for my own flower boxes (except that I'd love more color, of course), so I clicked on the image and it took me to Grandin Road, where the image was a product listing for….faux flower window box filler.
As in, that's an actual thing. As in, there's an actual market for that and people actually buy it.
So I searched for faux window box filler, and while there's not a massive selection like you find for indoor faux flowers, there's still a decent selection available. And the outdoor faux plant selection in general (i.e., not just flowers, but trees, shrubs, ivy, ferns, etc.) is pretty extensive. And evidently the ones made for outdoor use are made to stand up to the effects of the sun so that they won't fade, or they'll at least last quite a bit longer.
So tell me…have you ever used faux flowers and plants outside? Have you ever filled your window boxes with faux flowers and greenery? Are we to a point where this is actually acceptable as long as they don't look plastic and cheap? Or are we not quite there yet?
Addicted 2 Decorating is where I share my DIY and decorating journey as I remodel and decorate the 1948 fixer upper that my husband, Matt, and I bought in 2013. Matt has M.S. and is unable to do physical work, so I do the majority of the work on the house by myself. You can learn more about me here.