Colorful Orange Lamp Makeover (Plus A Few Entryway Plans)
I turned my attention to my entryway yesterday out of frustration. My original goal was to get all of my studio shutters installed and show you today how they turned out. Then I realized I hadn't ordered enough hardware to finish the six studio shutters. Ugh!! So now I won't have finished studio shutters until probably sometime towards the middle or end of next week.
So I wanted to find a quick and easy project that I could start and finish, and that would brighten my day a bit. I decided that a lamp makeover for my entryway fit the bill.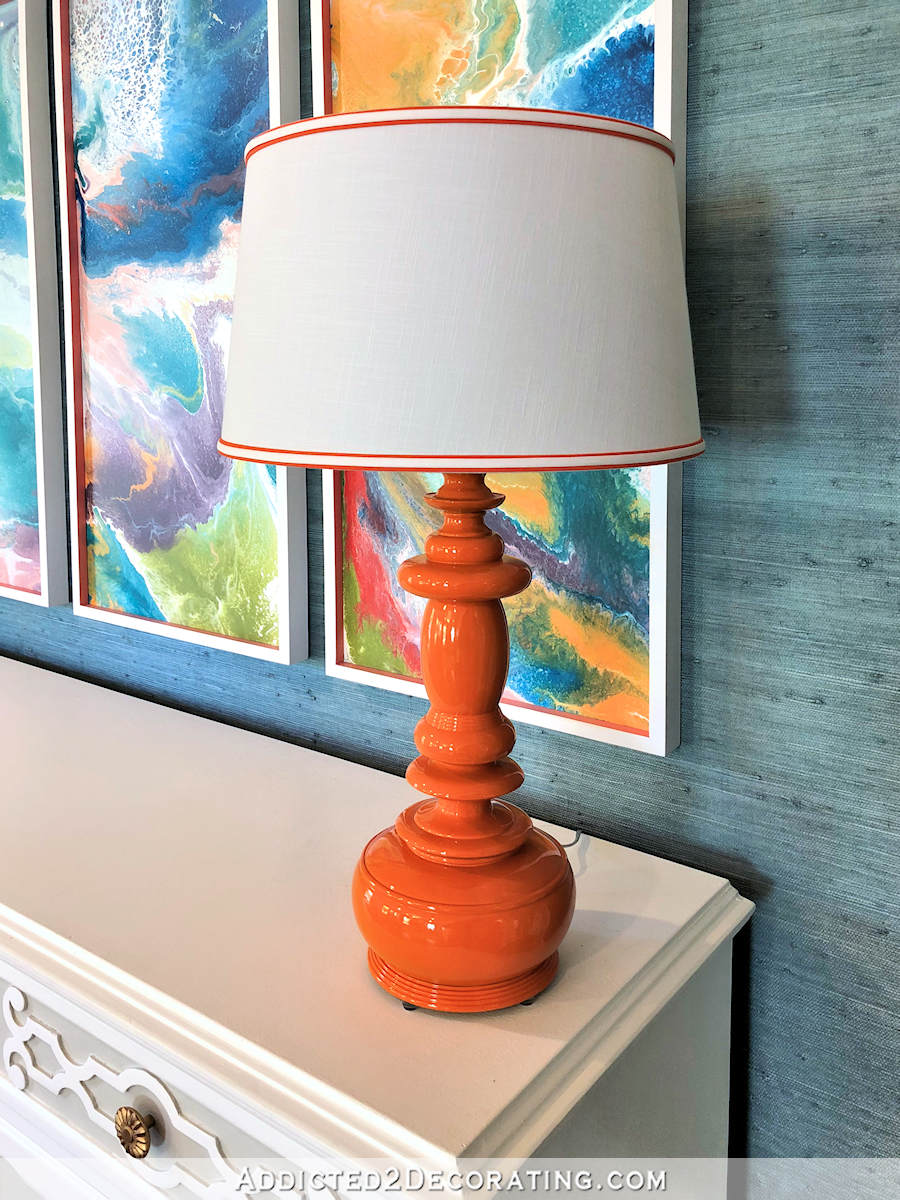 You might recognize that lamp. I actually used two of them in the first version of my entryway makeover. For that makeover, they were green and had white shades with black trim.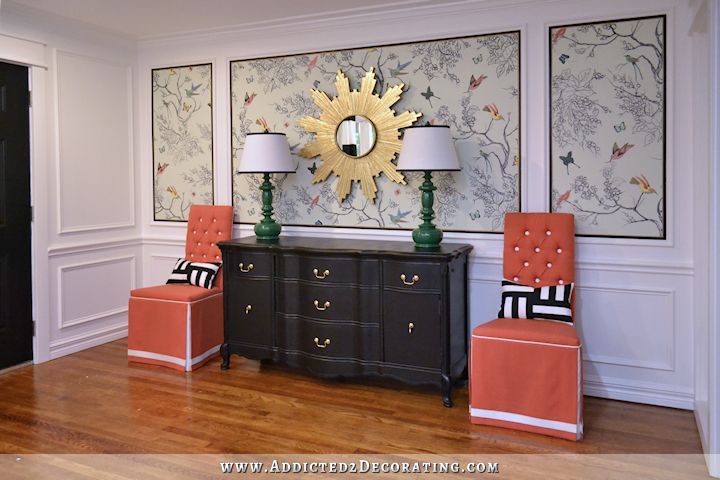 And you know what's funny? I never actually wired those lamps. They have no wires, so they don't actually work. If that's not the epitome of "form over function," I don't know what is. 😀 But y'all know I've never claimed to be a practical person. As long as it's pretty, function is secondary to me, although I am getting a big better about focusing on function as I get older.
Anyway, those lamps actually started out as floor lamps that I bought at Target soon after we moved into this house. Here's a blast from the past 😀
It's so crazy looking back at those pictures of the living room looking like that. It makes me wonder who the heck I was decorating for. It certainly wasn't me!
Anyway, at some point, I accidentally knocked one of the lamps over and broke it, and then when I did the first entryway makeover, I used the unbroken parts from that lamp along with the other lamp to make two matching table lamps.
After searching for the last four months for the perfect pendant lights for the entryway (I had my heart set on pendant lights, which you can read about here) and never finding any that I liked enough to click the "confirm purchase" button, I finally gave up. I know many of you will be glad about that. 🙂
And then after spending 20 or 30 minutes here and there over the last two weeks trying to find the perfect table lamp(s) and never finding anything that seemed just right, I finally gave up on that as well. So yesterday, I dragged this lamp back out (only one this time — I'm going against my need for perfect symmetry, which is challenging) and gave it a good sanding with 15o-grit sandpaper, and then sprayed it using Rust-Oleum Real Orange.
I used a gloss finish, but it wasn't quite shiny enough for my liking, so I followed up with a about three coats of clear gloss. It turned out just right. Look at that shine!
For the lamp shade, I used an idea that I saw on Instagram recently, but for the life of me, I can't remember who posted it. Anyway, y'all know I love my embellishments, and when I saw this idea, I thought it was just the right amount — not over the top, but not so subtle that it goes unnoticed. They had used a wider tape that matched the lamp base, with a thinner white running through the center of that.
So I used just regular double fold bias tape from Joann Fabric. The orange is an extra wide tape, and I attached it with hot glue.
And then through the center of that, I added a white bias tape (standard width), also attached with hot glue.
I did that around the top and the bottom of the shade, and once all four pieces were attached, I used a really hot iron to iron them as flat as they would go. I really like that little detail. Here's how it looks with the lamp on (look, it's actually wired now! 😀 )…
…and with the lamp off…
So my frustrating day ended on a good note and with a jolt of bold color, which always makes me happy.
As for the rest of the entryway, I've got just a few more things that need to be done before I can call it finished.
First, I want to paint the moulding around the grasscloth in the same teal that I have on the fireplace, which is directly opposite this wall. That's what that strip of teal is to the left of the grasscloth. (If you need to get your bearings, you can see my recent house tour video in this post.)
I'm also going to repaint the insets on the credenza. The color that's on there now looks okay in some light, and then it turns an awful purple gray at other times of the day. It really shows in this picture…
That drives me crazy, although every time I say that about something, Matt reminds me that that's a very short trip. 😀
After about 13 years of shunning all things purple, I finally like purple again in general, but that icy purple gray just doesn't work for me. So I'm going to repaint just those areas. The irony is that I'm going to paint them purple, but it's going to be something more in line with the purple on my living room draperies. No more light icy lilac gray. But the two colors I tested are also not quite right. I'll keep trying until I find just the right one.
And finally, I'm thinking about upholstering that chair for the entryway. I've been hanging onto it for years just waiting for the right spot. Since I only have one, this is probably as good a place as any.
This "entryway" wouldn't take long to finish if I would just focus on it for a few days, but right now the gorgeous weather keeps drawing me outside to work on outdoor projects. But perhaps once the really hot weather hits, I can spend a few days and get this area finished.
Addicted 2 Decorating is where I share my DIY and decorating journey as I remodel and decorate the 1948 fixer upper that my husband, Matt, and I bought in 2013. Matt has M.S. and is unable to do physical work, so I do the majority of the work on the house by myself. You can learn more about me here.