Garage-To-Studio Progress – Week 1
So the good news is that this project is finally underway. I've been talking about it and planning it for months, and it was beginning to feel like one of those things that would always be "the plan" but would never actually get started (you know…like our big addition on the back of the house 😀 ). But today is officially day three of the project. So while there's not a huge amount of progress to show, there's definitely some progress!
The first thing they did yesterday was remove the door from the breakfast room into the garage so that they could see exactly where the banding for the floor joists needed to be in order for the studio floor to be level with the breakfast room floor. And since that exterior door is being reused on the driveway side of the studio (which will hopefully be framed in today), they didn't want to re-install the door. So for now, I have a cheap hollow core interior door in that place.
It's definitely not ideal, and there's nothing energy efficient about it, but at least it's temporary.
Then they added some temporary bracing and took out the front wall of the garage completely since none of the original framing could be reused.
It's pretty much the exact same thing that my brother and I did on the front and back walls of the breakfast room.
And then they reframed it, added new OSB on the outside, and wrapped it in Tyvek. So now we can actually see where the windows will be on the front wall of the studio.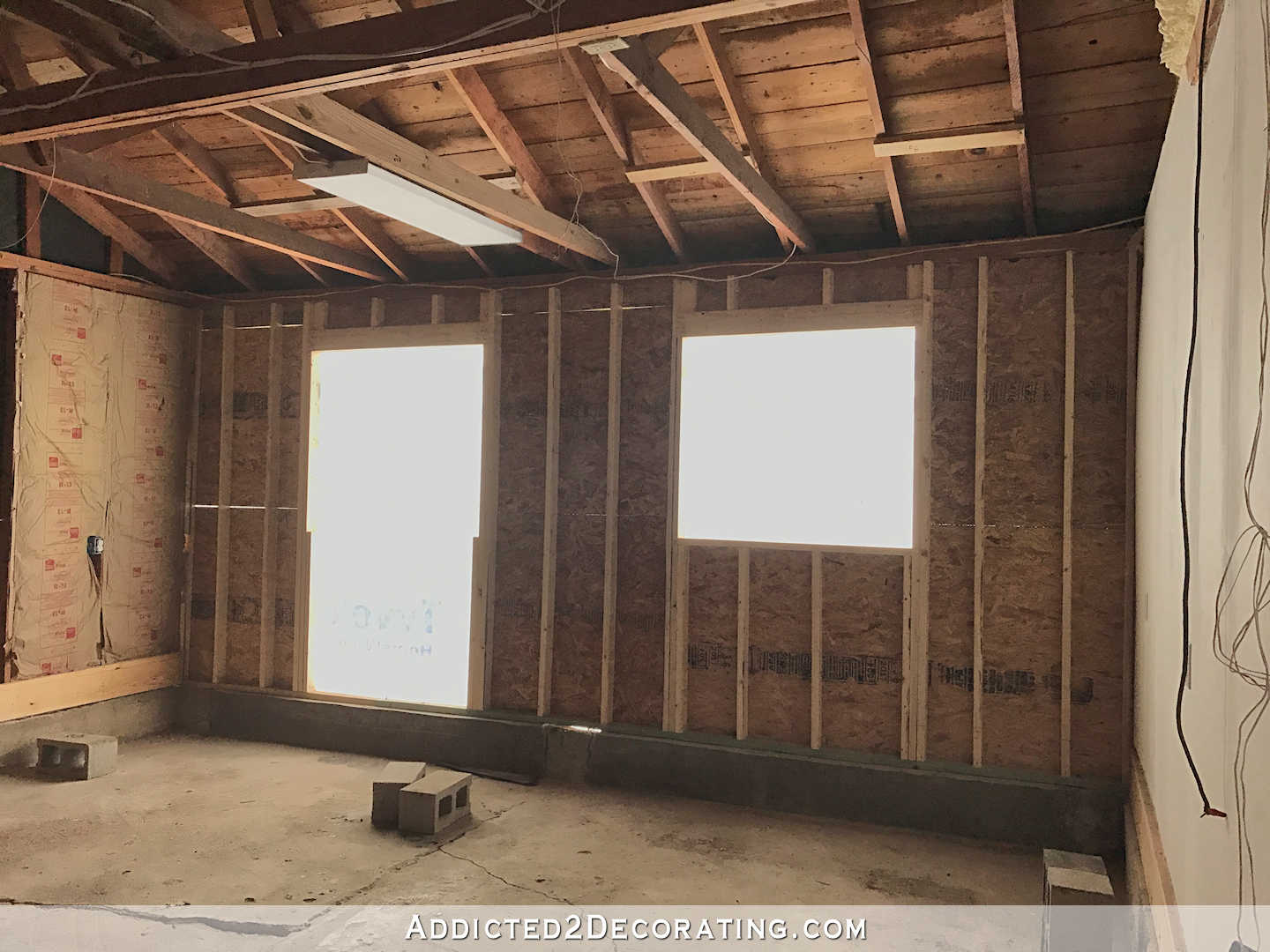 The one on the left isn't framed in completely, as you can see. They left the bottom piece of OSB of so that they could use that to get in and out of the garage to bring tools and lumber inside. If they had framed and sheathed it completely, they'd have to walk all the way around to the back yard and enter/exit through the back door on the storage room, which would be very inefficient.
And in that picture just above, you can see what looks like 2″ x 8″ lumber that they're using as banding on top of the concrete footing that will be used to hang the floor joists. They still need to add that banding to the front wall, and then they'll be ready to install floor joists and subfloor. I'm hoping that's what they'll be doing today. Once they raise the floor, that's when this will really start to feel like a room rather than a garage.
So anyway, it's progress. And I'm trying really hard to focus on the progress and keep a positive attitude about this project, because let me tell you, we're only two days down and just beginning day #3 and I'm already about to pull my hair out. I won't go into details just yet, because I'm still stewing on the inside about a few things and waiting to see how things work themselves out. So I'm not quite ready to rant to all of you. But you can be assured that if things keep going the way they're going, there will be plenty of ranting in the near future. We're barely into this project, and I've already been reminded repeatedly why I dislike contractors and go out of my way to avoid working with them if at all possible. *Sigh*
But…happy thoughts. The guys are here now, and they're working on the floor. Yay! This is exciting! I'm sure I'll be sharing some behind-the-scenes progress pics on my Instagram account, so if you want keep up with those, you can click here to find me on Instagram.
Addicted 2 Decorating is where I share my DIY and decorating journey as I remodel and decorate the 1948 fixer upper that my husband, Matt, and I bought in 2013. Matt has M.S. and is unable to do physical work, so I do the majority of the work on the house by myself. You can learn more about me here.