Last Updated on January 14, 2019 by Kristi Linauer
Y'all, I'm so excited about the progress on my studio! It's really starting to look like an actual room, and I can actually envision the finished studio now.
I was so curious about how they were going to raise the floor to be level with the breakfast room, so I stood around watching probably way more than they liked. 😀 But I love watching and learning new stuff about construction from these guys who do this stuff every day. And let's just say that even though I now know how it's done, I can't imagine this ever being a DIY project, especially since I tend to work alone. I have framed doors myself, but raising and entire floor isn't really a one-person project.
They started the floor by adding what looks like 2 x 8's or 2 x 10's around the perimeter of the room on top of the concrete footings. Then they installed a double 2 x 12 beam spanning the entire width of the room, cut to rest right on top of the concrete footing and attached to the perimeter banding. And then they ran the floor joists perpendicular to the center beam.
That was the basic structure, but they were far from finished. They added spacers/pressure plates between all of the joists to keep them straight and give them more structural integrity, and then they added lots of "feet" under the joists and the center beam resting on pressure treated lumber attached to the garage floor.
Let's just say that this is the most structurally sound floor in my entire house. It really does have a different feel to it than the almost-70-year-old pier and beam foundation and floor in the rest of the house.
And once all of that framing was done, they attached the 3/4″ plywood subfloor using construction adhesive and nails.
So I now have a studio floor that is just 3/4″ lower than the breakfast room floor, so all it needs is a finished floor in order to be completely level.
They also finished framing out the front left window, so that wall now looks like this…
Can you envision it now?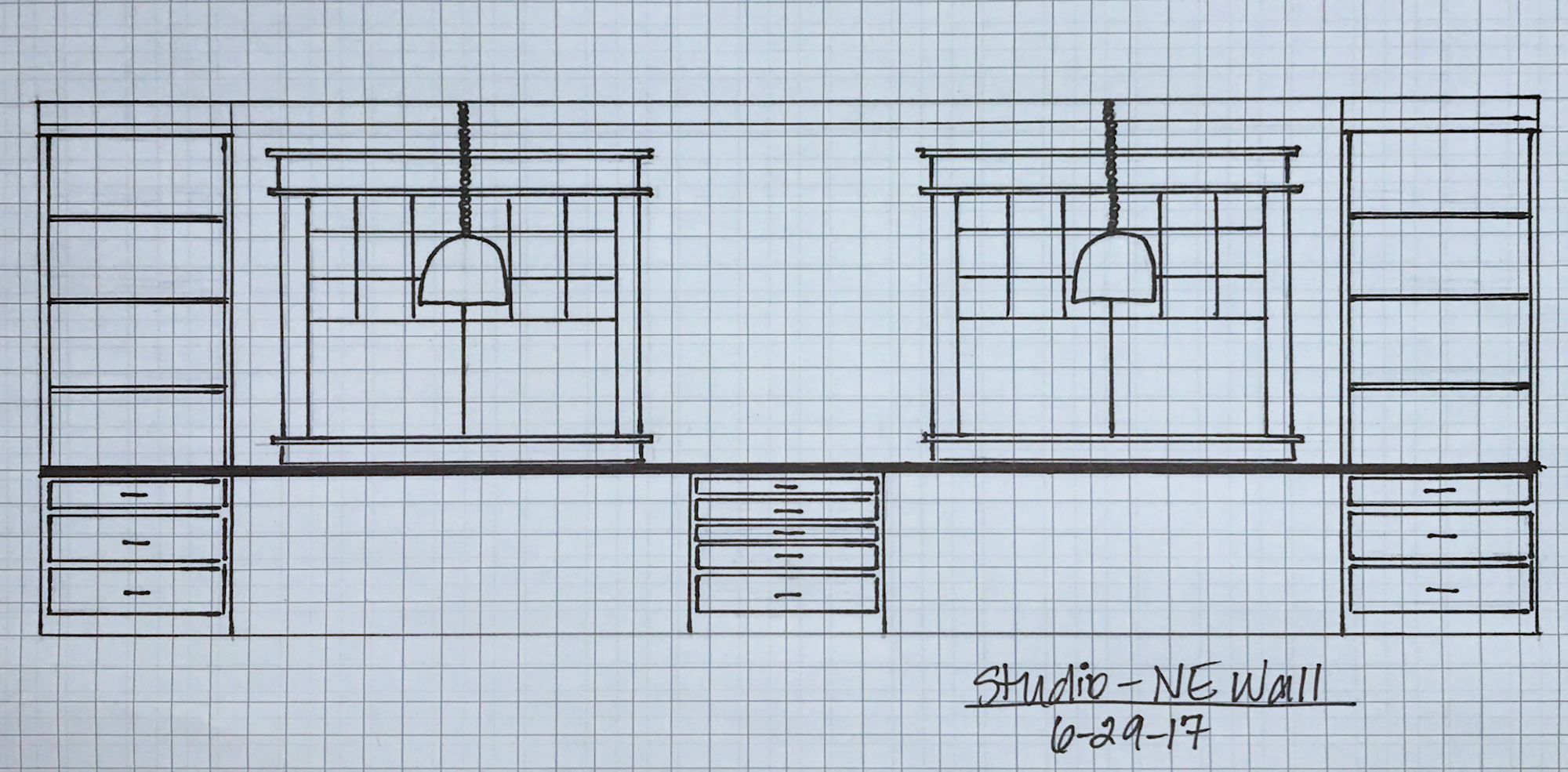 And on the side wall, they got the door and window framed out…
So we're a little closer to it looking like this…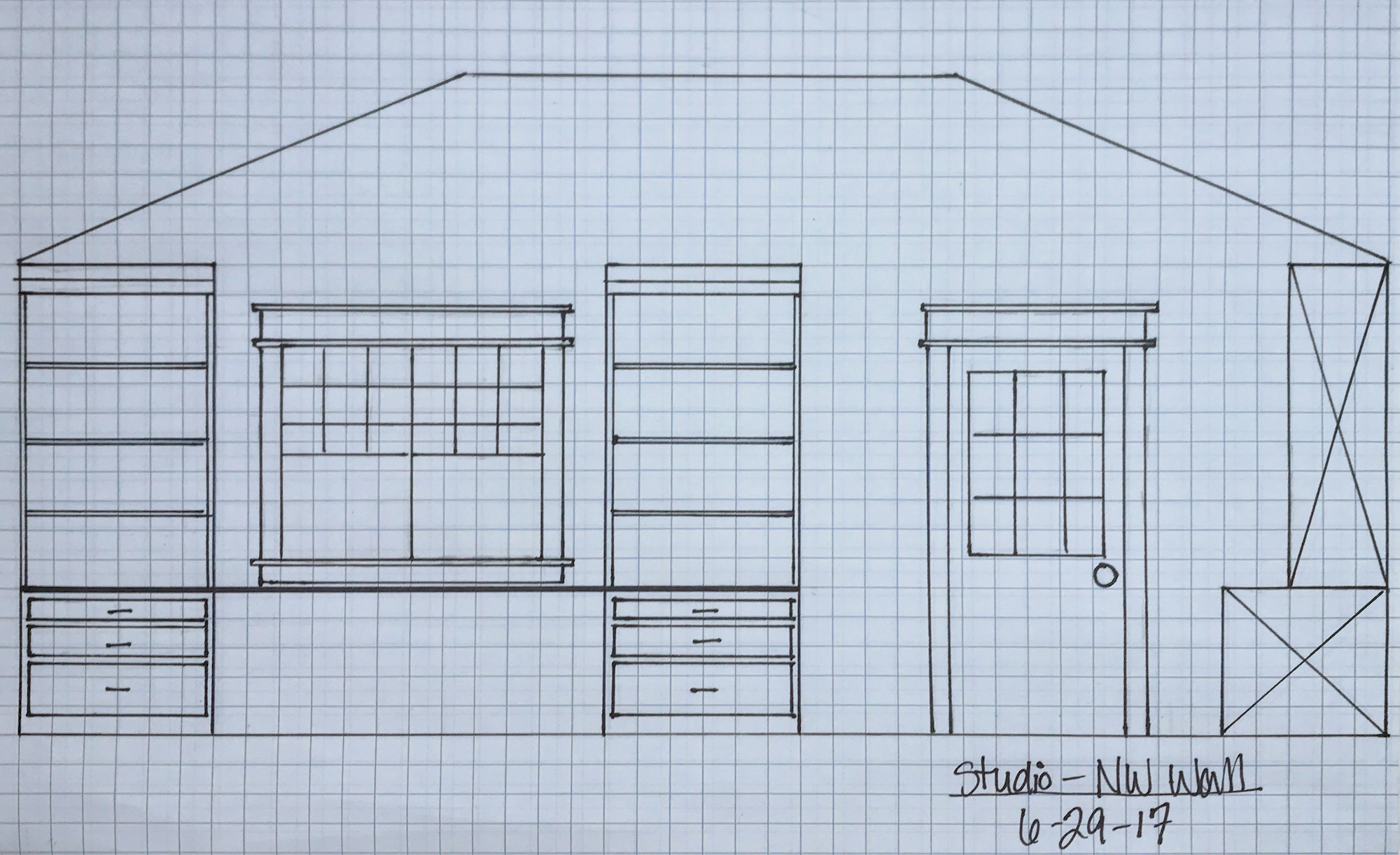 And on the back wall, the framing is in place for the cased opening.
On the left side of that wall will be the built-in storage, and on the right will be the "office" area.
And beyond the cased opening will be a bathroom on the left and a mudroom on the right, with French doors straight ahead.
I think today is the day that they'll vault the ceiling, and I couldn't be more excited! That is going to totally transform this room. This room will undoubtedly be my favorite room on the house when it's finished. With three large windows, a 9-lite door, cased opening leading to French doors, and two skylights, it'll be like I'm working outdoors in the sunlight…without the frustration of mosquitoes, bees, and sweltering heat, of course. 🙂
Addicted 2 Decorating is where I share my DIY and decorating journey as I remodel and decorate the 1948 fixer upper that my husband, Matt, and I bought in 2013. Matt has M.S. and is unable to do physical work, so I do the majority of the work on the house by myself. You can learn more about me here.
I hope you'll join me on my DIY and decorating journey! If you want to follow my projects and progress, you can subscribe below and have each new post delivered to your email inbox. That way you'll never miss a thing!