Less Doing, More Hiring Out
My hand is healing just fine after the drill attach a few days ago. It's still sore, and on the surface, there are only a few small scrapes and a very small amount of swelling. It feels like I have bone bruises on my knuckles, but other than that, everything's fine.
I did meet with the contractor yesterday, but I haven't gotten a quote from him yet. He said it might be a couple of days, so I'm waiting patiently for that. Or trying. 😀 "Patient" isn't really a word that comes to mind if I were to describe myself, but I have no other option.
The last couple of days of downtime have given me time to think. I don't know why I feel like I have to take on so much myself. I don't have anything to prove to anyone (not even myself). So I guess it's just a money thing. I like to be as frugal as I can by doing as much as I can myself.
But because I keep taking on so much myself, that means that areas like my studio stay out-of-commission for much longer than they should. That studio has been in progress since the summer of 2017, and it still looks like this…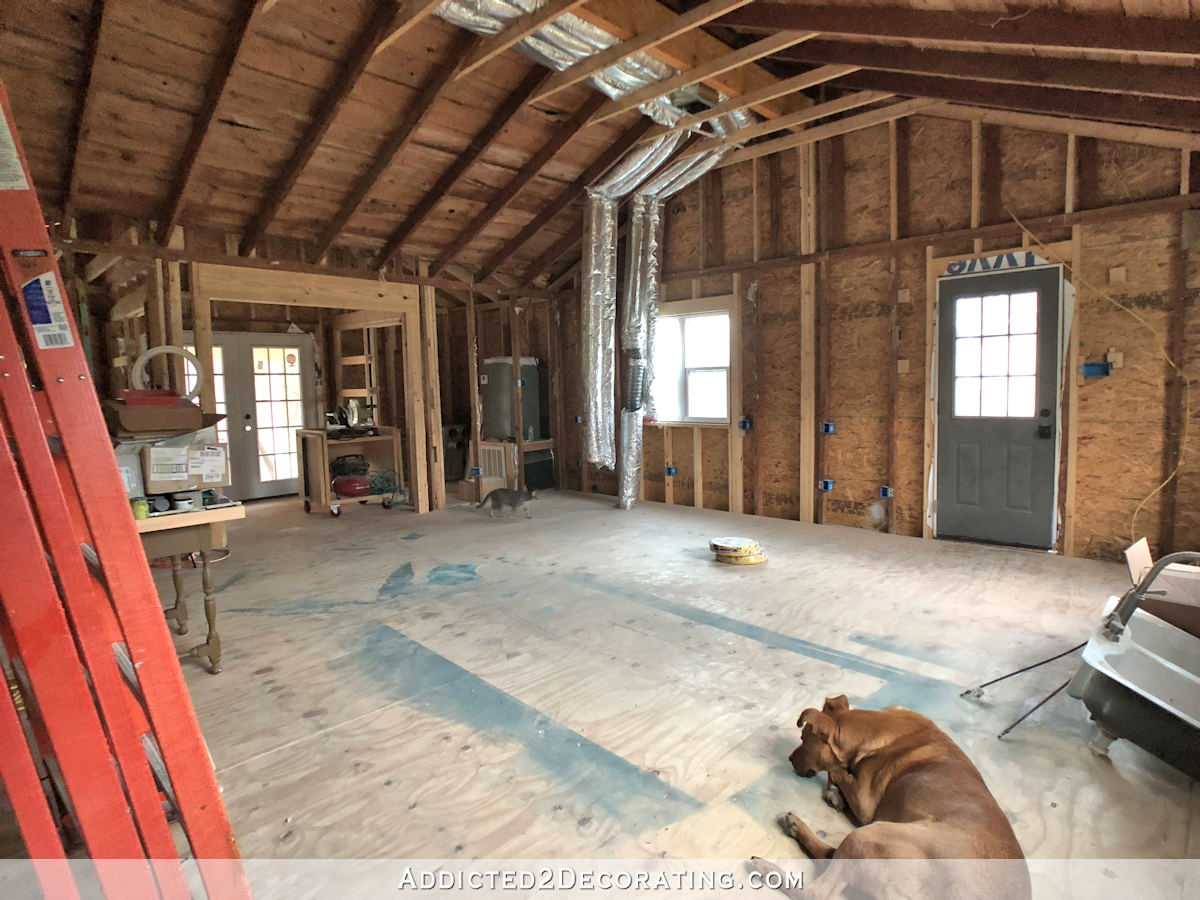 Had I just been willing to hire out the electrical and the rerouting of the HVAC ductwork a long time ago, I could possibly have a usable studio by now. But I kept saying, "No, I can do that myself," so the studio continued to look like that for a year-and-a-half.
One issue — and I'm sure most of you can relate — is that I just don't trust others to take care of my house the way that I would. For contractors, the work on my house is just a job, and probably only one of a hundred that they'll do this year alone. For me, it's my home, and there are only a handful of things that are more important to me than home.
When I started doing the electrical work on the studio, several people said stuff like, "Oh, a professional really should be doing that!"
Well, you would think that a professional would get it all right, right? But last year, when my brother and I were chasing down electrical wires in the attic so that we could get rid of any existing wires that had been powering the garage and replace them with new wires for the studio, we came across one uncapped, unwrapped, bare wire lying in a pile of decades-old insulation right up against a 2 x 4. And that wire was live! It had been up there for who knows how long…live and uncapped.
I was furious, to say the least. But who had done it? Well, at that point, I had had three different teams of people working in my house, all who had been dealing with electrical wiring at some point, so I had no idea when it happened or who did it. There was nothing I could do. The only thing I could do was thank God that we still had a house standing around us, because that could have sparked an electrical fire.
So suffice it to say that the person who comes to my house to finish the electrical work will just need to deal with me hovering over his shoulder and watching every move he makes. At this point, there's no way I'm just going to turn over the electrical work to someone else and walk away.
But the good thing is that I have found a contractor I like and trust. He's the one who did the carport behind the studio. He's honest, easy to work with, and so far, I've liked every sub that he's sent to my house.
So from here on out, I've decided that I'm going to be doing less myself, and hiring out more. Or at least I'm sure going to try. It's hard for me to even say that, because if ever there was a meme to describe me, it's this one…
And I've been like that my entire life. My mom tells me that one of the first complete sentences I learned to say as a child was, "Me do it meself!" So I've always been very independent and wanted as little help from others as possible.
So I'll just say that I'm at a point where I really do want to get more help, and I really do want to trust other people to do the work, and I'm really going to try my hardest to be a person who's okay with giving other people more control over these projects. I still want to do the cabinet building myself. And, of course, I'll do all of the painting, trim work, and pretty finishing details myself. Those are the parts I thoroughly enjoy, and I can still feel good about saving money by doing those things myself.
But if I don't start farming out more work to others, and trusting others to help me, then I feel like I'll be in my 60s and still working on this house. And believe it or not, I really do want this house finished.
I'd love to be able to get it completely finished in the next couple of years (including the addition in the back) and then turn my attention to some other projects (like maybe buying a flip house) while having a comfortable, finished place to come home to every day.
Addicted 2 Decorating is where I share my DIY and decorating journey as I remodel and decorate the 1948 fixer upper that my husband, Matt, and I bought in 2013. Matt has M.S. and is unable to do physical work, so I do the majority of the work on the house by myself. You can learn more about me here.