Last Updated on October 6, 2017 by Kristi Linauer
I'm having a bit of trouble finishing anything this month because it's that time of the year when I have to let the weather dictate what I'll be working on from day to day. I wanted to get my pantry doors finished yesterday, but it was a gorgeous day — 65 degrees and sunny — so I headed outside and worked on kitchen cabinet doors instead. We have another gorgeous day ahead of us today, and I think I can get my kitchen cabinet doors all finished today, just in time for the rain to return tomorrow. So it might be Friday before I have my pantry doors finished.
In the meantime, I've been trying to go over some studio details. I have a meeting with my co-contractor (you can read more about that here) this afternoon so we can get the ball rolling on turning our garage into my studio and a new half bath.
Here's the final plan I came up with…
You'll notice that I did away with the idea of creating a hallway from the back door to the breakfast room in order to keep my studio completely separate. While I loved the hallway and the idea of my studio being completely separate, I decided that easy access to my studio was more important. The hallway created a maze of sorts that would be very difficult to maneuver through in order get large projects from my workshop in the back yard into my studio.
I started thinking about this when I was working on upholstering my dining chairs for the breakfast room. In the future, half of a project like that (the sanding, priming, and painting) would be done in the workshop. Then I'd bring them into my studio to work on the upholstery. I started to imagine lugging projects like that inside through the back door, through the hallway, and through the door into my studio.
So I'm opting for double doors at the back, and a straight shot through the doors into my studio.
For a couple of days, we did consider the possibility of not adding a half bath to the back. Getting plumbing to that side of the house is going to be a huge headache, which means it's going to be expensive. But in the end, we decided that it's a good location for a bathroom, and since this is our forever home, we want to go ahead with it.
So since we're doing the plumbing, I'll also be adding a big sink to my studio for washing paint brushes and such. I'd love to find something that looks like this…
…and put it on the wall shared with the bathroom…
One of the biggest decisions I have to make is about the ceiling. Right now, our garage has an open, vaulted ceiling. There's nothing pretty about it in it's current state.
I had planned to just attach drywall to the ceiling joists and have an 8-foot ceiling, but both the contractor and Matt are encouraging me to leave it open. One of my main concerns with that is the additional expense of heating and cooling such a big room with a vaulted ceiling. Plus, there's the added expense of making that ceiling presentable and actually pretty. I'm just not sure if a high vaulted ceiling is that important to me. That decision might come down to cost difference between drywalling it at 8-feet, and leaving it open. If it's not a big difference, I'll probably leave it open.
On the long wall to the right of the French doors, I want a long desk-height countertop going pretty much the entire length of the wall. That's where I want my desk where my computer, printer, etc. will be, and the rest will just be a gloriously long work surface that I can use for whatever my little heart desires. I'd like a combo of open shelves and closed storage above, and lots of drawers below. Something like this would be great…
I'm also still trying to decide if I want a door on that wall. Our driveway will be right outside, so it might be nice to be able to park my car or truck right there on the driveway and unload things just right there through a door on that wall. But then again, a door on that wall will cut down on storage/desk area. And do I really need a door since I'll have French doors at the front and back of the room, and the back doors will lead directly out to the carport? I just don't know.
However, windows are non-negotiable. I definitely want at least two large windows on that wall. I'll gladly give up storage/desk space for natural light.
On the wall to the left of the French doors (i.e., the wall shared with the breakfast room) I want nothing but storage. A wall of cabinet storage. Doesn't that sound awesome? I keep going back to this image from Beckie's craft room at Infarrantly Creative.
via Infarrantly Creative
And then right in the middle of the room will be the pièce de résistance — the entire reason I'm spending tens of thousands of dollars to convert a garage to my studio. Yes, my workroom table. It will be massive. It will be beautiful. It will be glorious. It will be a sight to behold.
Okay, perhaps I'm overselling it a bit. 😀 But it'll be a freakin' huge work table on locking casters, and I'm ridiculously excited about it.
I found these free plans for a 5′ x 12′ workroom table.
via The Workroom Channel
That will be a good start, but of course, I'll add my own customizations to it. I really like Beckie's big craft table…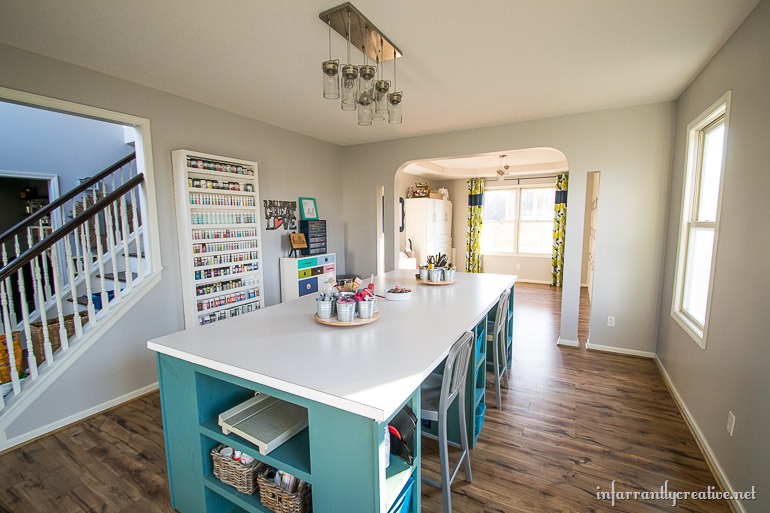 via Infarrantly Creative
So I'll probably end up with a hybrid of those two tables — the size and basic construction of the workroom table with the storage ideas from Beckie's craft table.
Those are the plans so far. Now I just need my co-contractor to tell me exactly how to get started on this huge project. 🙂 I have a feeling it'll start with something really boring, like plumbing. Something tells me it'll be a while before we actually get to the pretty and fun stuff. But we've gotta start somewhere!
Addicted 2 Decorating is where I share my DIY and decorating journey as I remodel and decorate the 1948 fixer upper that my husband, Matt, and I bought in 2013. Matt has M.S. and is unable to do physical work, so I do the majority of the work on the house by myself. You can learn more about me here.
I hope you'll join me on my DIY and decorating journey! If you want to follow my projects and progress, you can subscribe below and have each new post delivered to your email inbox. That way you'll never miss a thing!