Every once in a while, I feel like I need to take a moment and give a little pep talk to some of you. Well, today is one of those days. 🙂 And this happens when I rack up a considerable number of comments that contain the work "scared" or a similar sentiment.
For example, "Kristi, I love your use of color. I decorate with neutrals because I'm scared…"
Or, "Kristi, I love how you're willing to try things, and if it doesn't work out, you redo it until you're satisfied. I'd love to do that, but I'm scared…"
And what do y'all express that you're scared about? First of all, wasting money. That's totally understandable, and there's no real "pep talking" your way out of that.
Second of all, wasting time. That's kind of understandable, but if you're doing something you enjoy, then I wouldn't consider it a waste of time.
Sometimes the whole "wasting time" issue is a matter of personal perspective. I'm reminded of a conversation I had with someone just about two months ago. I was sharing about some frivolous activity that I thoroughly enjoyed and had been spending time doing lately, and his response was something like, "I don't know how you have that much time to waste. I'm too busy for stuff like that." Of course, we had this conversation right before he sat down in front of the television to watch a football game, which on average is around 3.5 hours long. You know what I don't spend MY time doing? Watching 3.5-hour-long football games on TV. 😀
Perspective. The "wasting time" issue is generally all about perspective.
But aside from the money and time issues, people tell me quite often that they're afraid of making mistakes. Now that is not acceptable. 🙂  And I can tell you from personal experience that that fear of making mistakes is something you can get past if you're willing to push yourself out of your comfort zone and suffer the discomfort for a while.
So let me start by showing you a recent chance I took that didn't quite work out.
When I finally decided to go with striped walls in the hallway, I had this idea. The stripes would be neutral colors, but then I'd do an outline around the doors, baseboards, and crown moulding in a bold color. So I got the stripes finished, started on the bold color outline, tested the idea on about 18 inches around one of the doors, and then chickened out and painted over it with the neutral stripe colors.
I hated the fact that I chickened out, and for a couple of months, I kept wondering, "But what if?" What if that was the most amazing idea that I had just passed up on? What if that was the thing that would take the hallway from ho-hum to WOW, and I had chickened out?
But I eventually put it out of my mind. Then a few days ago, I was scrolling through Instagram and came across this post…
I loved it! And that was pretty much the idea I had in my head for the hallway, so after seeing that picture, I decided to go for it. I debated whether to use some sort of trim or paint. Trim would be so much easier but way more expensive. Paint would take way longer but would be much cheaper. I already had plenty of paint on hand, so I decided to do that route.
I decided to use the same color I had used on my front door to bring a warm, bright color into the mix. After a couple of hours of taping and painting three coats, this is what I had.
I left it like that and stared at it for a day. I moved on to something else, and then came back and looked at it to see what my response to it would be with fresh eyes.
I liked it. I liked that it introduced a warm color. I liked that it was bold and out of the box. I liked that it was totally unexpected. I liked how it actually made the trim show up rather than disappear into neutral stripes.
But in the end, I decided it was just okay. And "just okay" isn't really the goal I've set for my projects in my house. So I spent about three hours the next day sanding down the edges (I had, after all, painted three coats of paint on those stripes), taping off the neutral stripes…again, and repainting my neutral stripes with three coats of paint to cover up the coral.
And in the end, I wound up with this…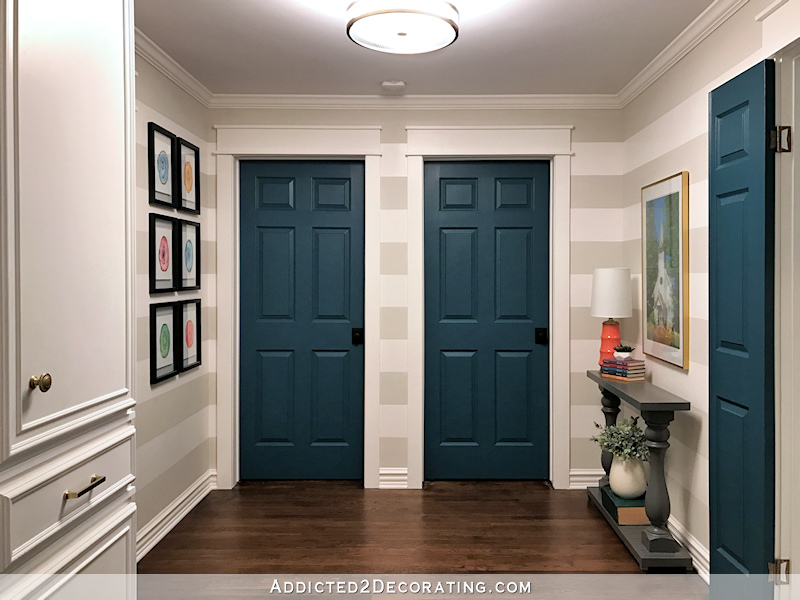 …and called it finished.
Am I disappointed that the bold outline didn't work out? Kind of. In my mind, it looked pretty amazing, so I'm disappointed that the real thing didn't knock my socks off like I thought it would. Am I disappointed that I "wasted time" doing something that didn't work out? Not in the least!
First of all, had I not tried, I would have continued to wonder "what if". And at least for me, that continual wondering about a chance I didn't take leads to a feeling of discontentment. I'm discontent with my final product because in my mind, it can be much better. But now having tried the idea that I thought would make it much better, I now know without a doubt that the final product I actually ended up with is the better version of the two. I'm perfectly content with it.
But also, I learned lessons from that failed project that will be handy for me in the future. For one, if you're going to do something like that, I would highly recommend going the "more money/less time" route and using some sort of purchased trim. It would be so much easier and faster, but the finished product would also look much cleaner and more precise.
I also learned the importance of paint sheen. I mean, yes, I already knew this, but this project really solidified in my mind that certain projects demand certain sheens. I actually painted those outlines twice. The first time I did it, I used the same satin finish paint I had used on my front door. The problem is that I was using a satin finish vertically over walls that had horizontal stripes painted on them. When you tape off and paint any design on your walls, that design will always have ridges when you remove the tape. So those ridges between the white and gray stripes were highlighted when I painted satin sheen paint over the top of them. It looked awful. So I sanded the ridges down just in the areas where the painted outline would go, retaped for the outline, and painted it again with a matte sheen. That worked so much better.
That lesson in paint sheens and ridges left by taped/painted wall designs is something I won't forget, and it's a valuable lesson that I will certainly be mindful of in future projects.
And not all of my chance-taking ends with failure. Some of it does. Some of it doesn't. But I'm always glad I tried. I took a real risk putting a Sharpie marker to my stenciled music room walls, but I think that risk really paid off. The design looks so much better with the addition of the black outline!
But in order to take chances, you do have to get over the fear of failure, and that's something I struggled with for a very large portion of my life.
I can theorize as to why I struggled with such a fear of failure for so much of my life. I personally think it has to do with my being a perfectionist and being afraid of messing up. But others who have a fear of failure may struggle for different reasons.
For so many years of my life, my fear of failure caused me to get stuck in the planning stage of a project, and I could never seem to get out of that planning phase into the actually "doing" phase. I would devise a plan. Then I'd tweak that plan. Then I'd make a couple more changes to the plan. Then I'd do some research and find that I had missed some key parts of the plan. So I'd scrap the original plan and devise a better plan. Then I'd study that plan and tweak it a bit more. Then I'd add a couple more things and subtract a few things. Then I'd come up with a modified version of that plan that might be better. Then I'd get input on that plan, and have to tweak it further.
You get the idea. The planning would go on, and on, and on, and on, and on, in a never ending cycle, and the project would never actually begin. And all because the planning stage was safe, but the "doing" phase was scary because I could possibly make a mistake.
For the most part, I've gotten past all of that. And the more mistakes I've made, and the more chances I've taken, the more fun I find in being a "jump in with both feet" kind of person.
That's not to say that I'm now completely free from the fear of failure, or that I don't still sometimes get stuck in the planning stage. (One word…pantry. 😀 ) But since my 20s, I've gotten so much better and just jumping in and being willing to make mistakes and learn from them.
It's so freeing. I wish I could convince all of you of that, but it's something you have to learn by doing. Just start with one step. And then follow with another step. And before you know it, it won't be that scary. You can do it! 🙂
Addicted 2 Decorating is where I share my DIY and decorating journey as I remodel and decorate the 1948 fixer upper that my husband, Matt, and I bought in 2013. Matt has M.S. and is unable to do physical work, so I do the majority of the work on the house by myself. You can learn more about me here.
I hope you'll join me on my DIY and decorating journey! If you want to follow my projects and progress, you can subscribe below and have each new post delivered to your email inbox. That way you'll never miss a thing!