Last Updated on September 1, 2016 by Kristi Linauer
Last night I was feeling very discouraged. I got in my car around 7:30 to head to Subway to get some dinner, and just kind of sat there in my car in my driveway, feeling defeated. After sitting there a few minutes on the verge of tears, I finally started my car and headed out. And somewhere along the way, between home and Subway and back, I had an epiphany. Or maybe that's the wrong word. I'm not sure, but let me back up and explain from the beginning…
When my step-father Jon was in the hospital, and then hospice, and then passed away in June, I took about three weeks off of blogging and working on the house. I finally came back to the blog, but only kind of. And as you've probably noticed, I haven't really gotten back into house projects since then.
I'm not really sure what's going on. I miss Jon terribly, but I don't really think that's all it is. Or maybe it is. I don't know. All I do know is that I just haven't felt like working on my house. I feel overwhelmed with the big projects, disinterested in the little projects, and a huge sense of dread at the thought of spending any time or effort on any of it.
So I waste my days away. And I've been waiting.
Waiting for my sense of excitement and motivation to return. Waiting for my love of DIY to return. Waiting for something house-related to just…happen. Well, it's been two months, and nothing's happening.
I thought hiring people to do some of the work would help, but seeing that I can't find any reliable help, it has only led to more discouragement, which has only exacerbated my feelings of being overwhelmed and disinterested in house stuff.
Which brought me to yesterday. Wait…I got ahead of myself again.
Okay, I already told you that on Monday, I finally got in touch with the original floor leveling guy, Jimmy, who came out about two-and-a-half weeks ago to look at the breakfast room floor. Jimmy is the one who had pneumonia. He's also the one who was very helpful, freely shared lots of great information, but told me that the work my floor needed done isn't something that his company actually does.
BUT, Jimmy said that he knew a guy who does the kind of work I needed, and that he would call or text me with the contact info. But then Jimmy got pneumonia, and I never heard from him. So finally on Monday, about two-and-a-half weeks after I initially met with Jimmy, I finally got the new guy's contact info.
Once I got the new flooring guy's contact info, I called him immediately. He said he'd come that evening (Monday) and look at the floor. He never showed, and when I called, he said he wouldn't be able to make it and would have to come the next day (Tuesday) around mid-afternoon.
So Tuesday afternoon, I waited, and then around 3:30 I decided to call him. He said he was in Austin, and would come buy when he got back into town, which would be around 6:30. So I made sure to be home at 6:30…waiting. And I waited. He finally arrived around 8:00, left his car running in the driveway, and spent as little time as possible looking at my breakfast room floor.
He looked at it, and when I told him what I wanted done, he began to tell me why it wouldn't work. He came up with alternative solutions, all of which would require a threshold in the floor, a small step in the floor, or an actual incline from one room to another. Ummmm….no. That's not gonna work for me, and I hate it when people tell me what I want done isn't possible when I know for a fact that it IS possible.
But he said that the person I really need to talk to is his cousin (cousin? nephew? uncle? whatever.) and that he'd bring him by the next morning to take a look at it and tell me what could, and needed to, be done.
Well, that was yesterday morning. Wednesday morning. And can you guess what happened?
Thaaaaaat's right. They were a no show. No call. No text. No smoke signals. No nothin'.
So that's what led me to being in my car, on the verge of tears, as I drove off to Subway for some dinner last night. I felt so defeated, thinking, 'What am I going to do?! I can't find anyone actually reliable who wants to actually do any work. This room is never going to get done!'
But as I drove, the fog began to lift. And I began to realize the actual root of all of this negativity. It was the waiting.
For two months now, I've been waiting until I feel excited about working on my house again. I've been waiting until I feel inspired. I've been waiting for motivation to hit me.
Well, you know what? Living a life driven by feeling isn't really something that adults can do. It's not sustainable. "Well, I just don't feeeeeel like paying my bills!" Ha! Too bad. Suck it up, Buttercup!
So I kind of gave myself a little pep talk and a swift kick in the butt (figuratively, of course), and realized that the waiting is just not working. It doesn't matter how I feeeel. The work needs to get done, and I need to get off my butt.
And then there's the waiting for other people to do the work for me. WHAT? When have I ever?! And why am I now?
And most importantly, why in the world have I convinced myself that the breakfast room is WAY beyond anything I can do on my own? It's pouring some concrete (I've done that), laying down a plywood subfloor (I've done that), installing hardwood flooring (I've done that), installing windows (never done it, but watched, and it's not difficult), drywalling (hate it, but I've done plenty of it), building a non-load-bearing wall (I've done that, too), and wiring some lights (been there, done that).
So why have I convinced myself I can't?! It was just about 16 months ago that I was knee deep in this mess…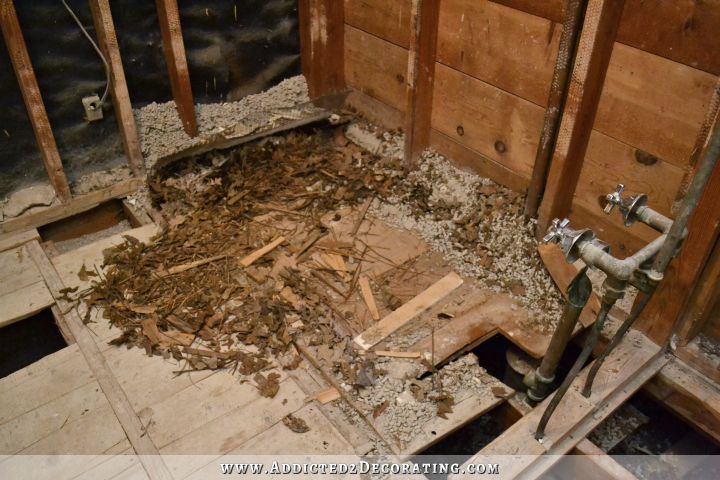 So why have I gone from that fearless woman who tore out that old bathroom down to the floor joists where I could literally see the dirt below my house without freaking out, to this person today who is overwhelmed by a little concrete and drywall?
Well, I don't know, quite honestly. I don't know where she is, or why she left. But what I do believe strongly is that if I just get in there, jump in with both feet, and just get my hands dirty, she'll probably come back. And what I do know for sure is that I'm done waiting.
Addicted 2 Decorating is where I share my DIY and decorating journey as I remodel and decorate the 1948 fixer upper that my husband, Matt, and I bought in 2013. Matt has M.S. and is unable to do physical work, so I do the majority of the work on the house by myself. You can learn more about me here.
I hope you'll join me on my DIY and decorating journey! If you want to follow my projects and progress, you can subscribe below and have each new post delivered to your email inbox. That way you'll never miss a thing!