How To Clean An Area Rug The Fun Way! (Hint: Get Out Your Power Washer)
Over the last three months, my absolute favorite area rug ever — the colorful purple one in the living room — went from bright and beautiful to brown, dingy and downright disgusting. It's not because I live in a filthy house. I'll admit that I'm a clutter bug, but clutter and filth are different things. And I have my house cleaned once a week, so my house doesn't really get dirty, or if it does, it doesn't stay that way for long.
But the rug was filthy. Why? Because of this adorable rug rat.
Just look at how bright the colors are underneath the coffee table, and how dull and dingy they are everywhere else. 😀
Cooper has been with us just over three months now, and if you're a regular around here, then you know all about Cooper and my adventures and struggles with this sweet guy. I seriously doubt that he got a bath during his three months at the Humane Society. Then when he came home with us, I didn't want to take him to a groomer, where he might possibly have to spend time locked in a kennel again. (He was incredibly nervous and anxious during his three months living in a Humane Society kennel.) But the one time I tried to give him a bath, it took two hours of trying to coax him into the tub, followed by a wrestling match between me and a terrified 70-pound dog. He won.
Just last week, I finally got the bath situation figured out — a local mobile groomer came to the rescue. She bathed him in her small and adorable converted school bus, and as soon as he was done, he ran right into the house. So now we're on her regular schedule, and I don't have to stress about bathing and grooming Cooper myself.
But during his three months here without a bath, Cooper made a mess of my rug. It's his favorite place in the house. If he's not following me like my shadow, he's on the rug. He sleeps there, he plays there, he rolls around on it, he runs laps around the coffee table on it, he chews his bones there, and he takes his treats there to eat. He LOVES that rug.
So with my sweet rescue dog finally bathed and clean, I had to find a way to rescue my rug. I considered purchasing a rug cleaner/steamer thing (and I still might). But for the initial cleaning, I really didn't think any kind of rug cleaner/steamer would do the job since the rug was so filthy. So I decided to take it out to the concrete area in back, hook up the power washer, and give it a thorough, high-powered cleaning. And it worked!
Just take a look at this one corner after only one quick spray with the power washer…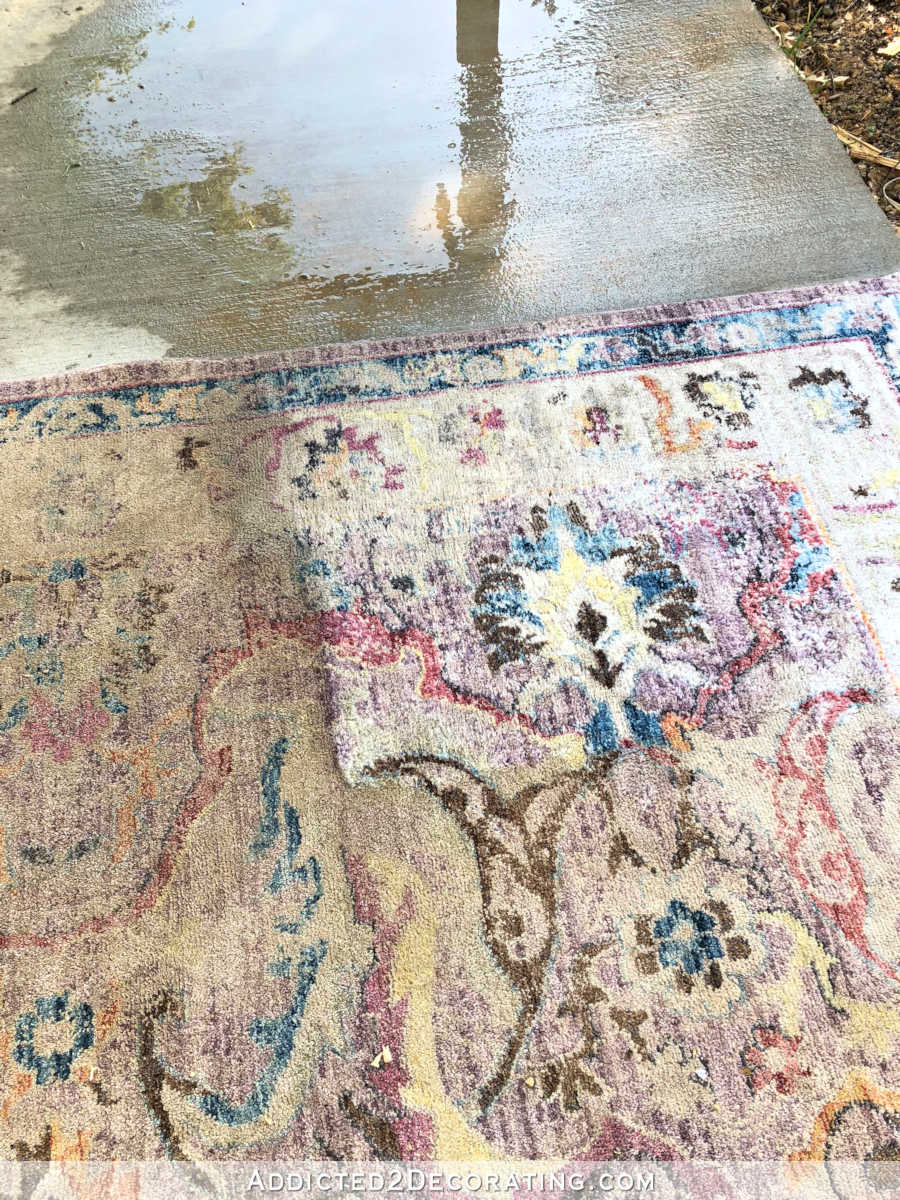 I did a little video showing just how well that power washer cuts through the dirt.
(If you can't view the video above, you can click here to watch on YouTube.)
I really can't believe how dirty Cooper got this rug! But thank goodness it's just an inexpensive polyester rug, because cleaning this thing with a power washer was so fun, and so satisfying. 😀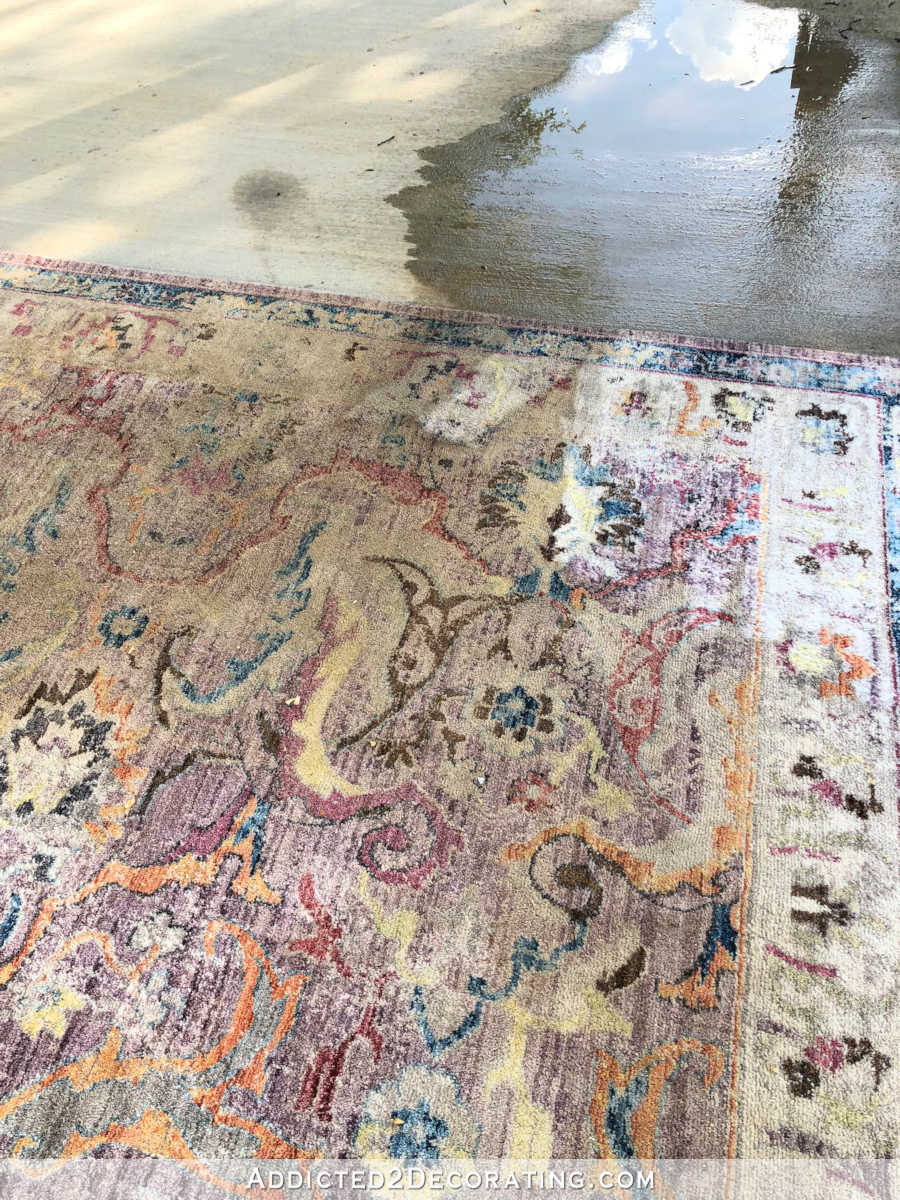 Of course, I would never recommend that you do this with an expensive, heirloom rug. Keep your power washer far away from that $20,000 antique Turkish rug. And I wouldn't recommend that you do this with a natural fiber rug, like a wool or cotton rug.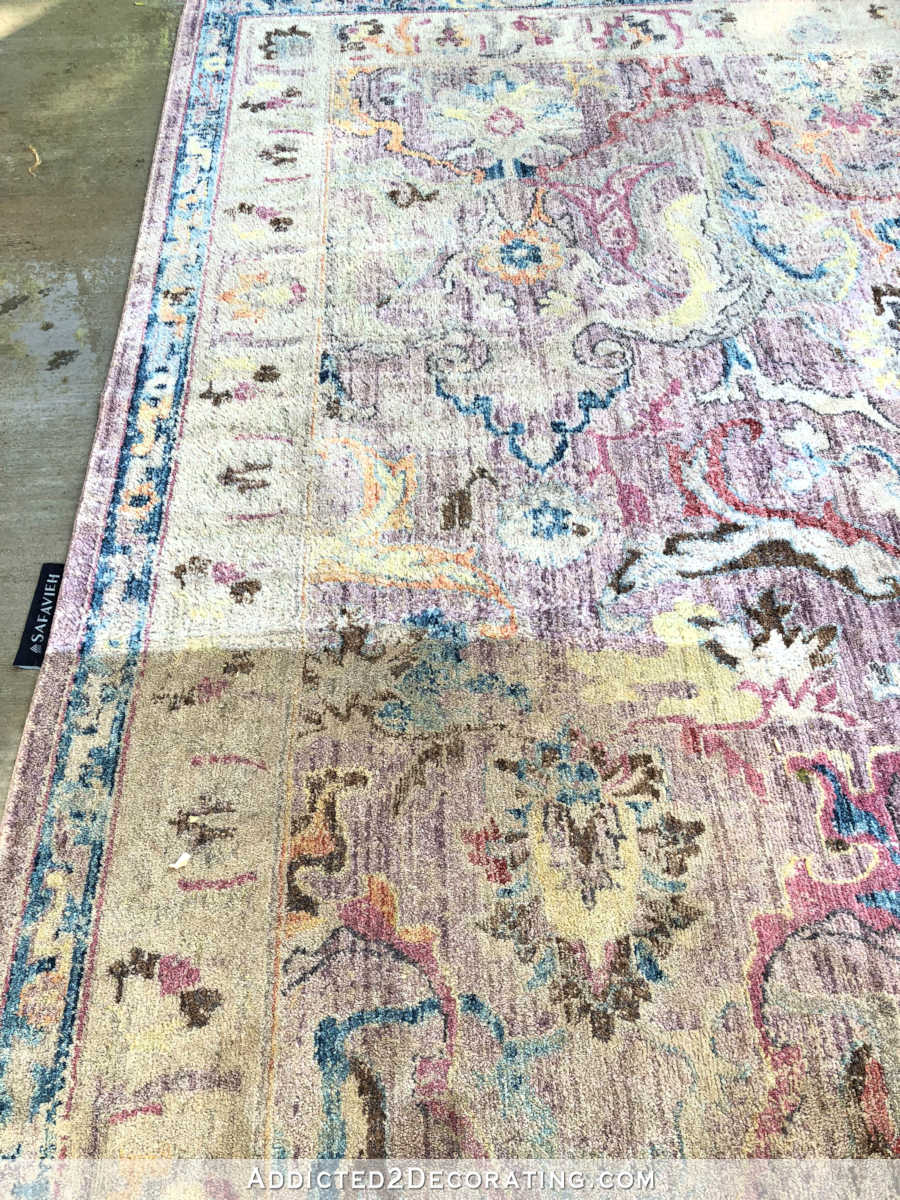 But polyester? Well, polyester is essentially plastic, and it's generally not very expensive. I think I got this rug for just over $100 on Overstock, so I was willing to take the risk.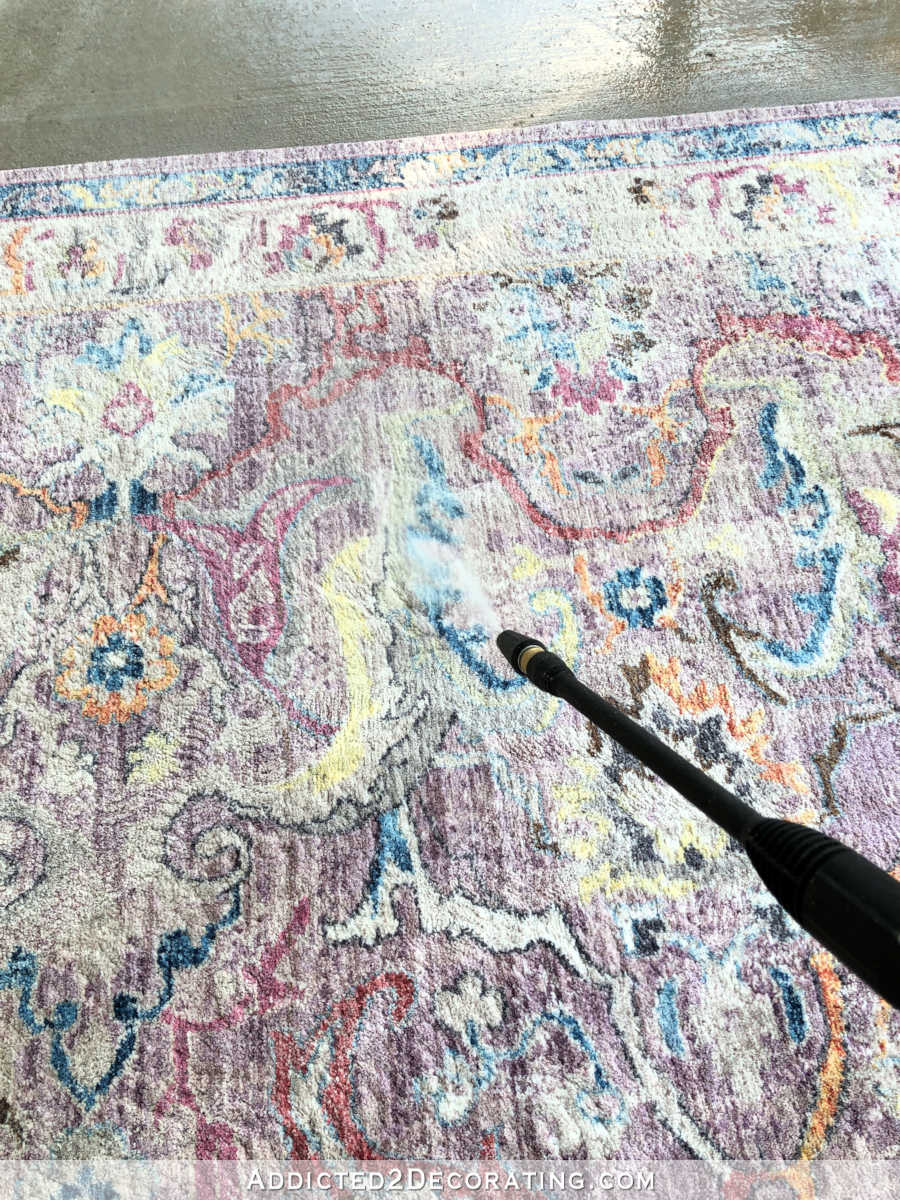 After giving it an initial and very thorough washing, I mixed up some Palmolive Oxy dishwashing liquid in a bucket of water and poured it over the rug. (FYI, Palmolive Oxy is the best thing ever, and they don't even have to pay me to say that.) I let that sit on the rug for about 10 minutes, and then washed it again until there were no more suds. Then I put the rug up on some patio chairs so that it wasn't lying in its own dirty water…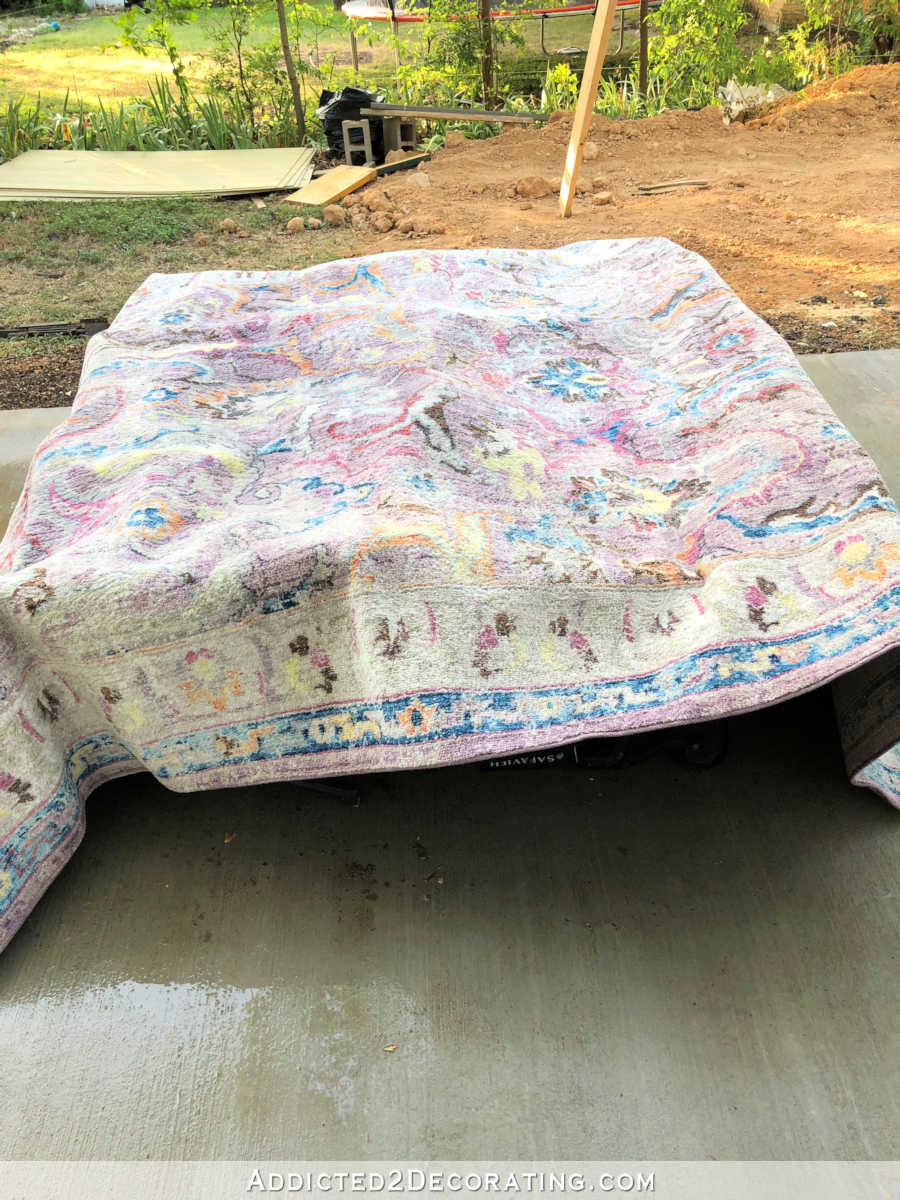 …and gave it one more washing. Then I left it on the chairs for a few hours to let most of the water drain off. Then I removed the chairs so that the rug could lie flat while it completely dried.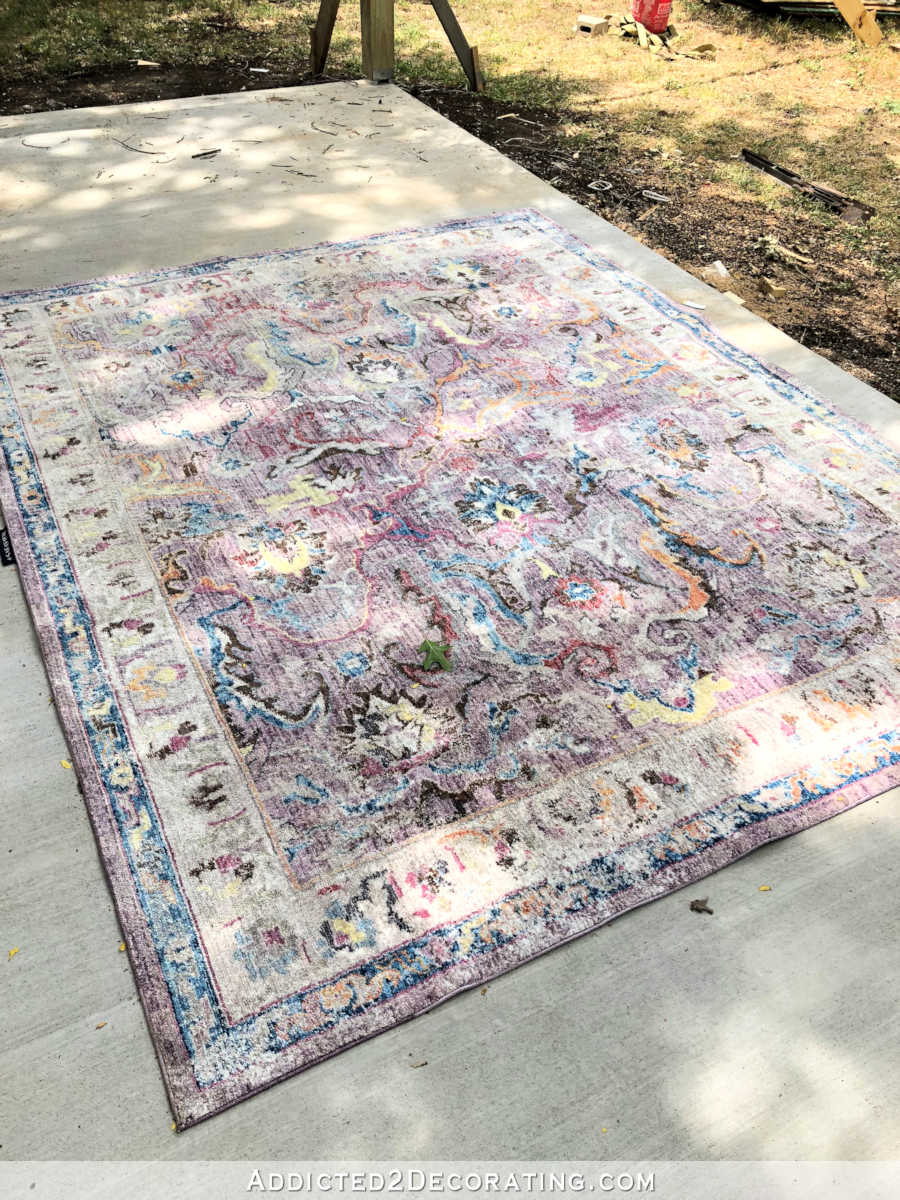 And it's as good as new! No more dirt and filth, and the bright colors have returned.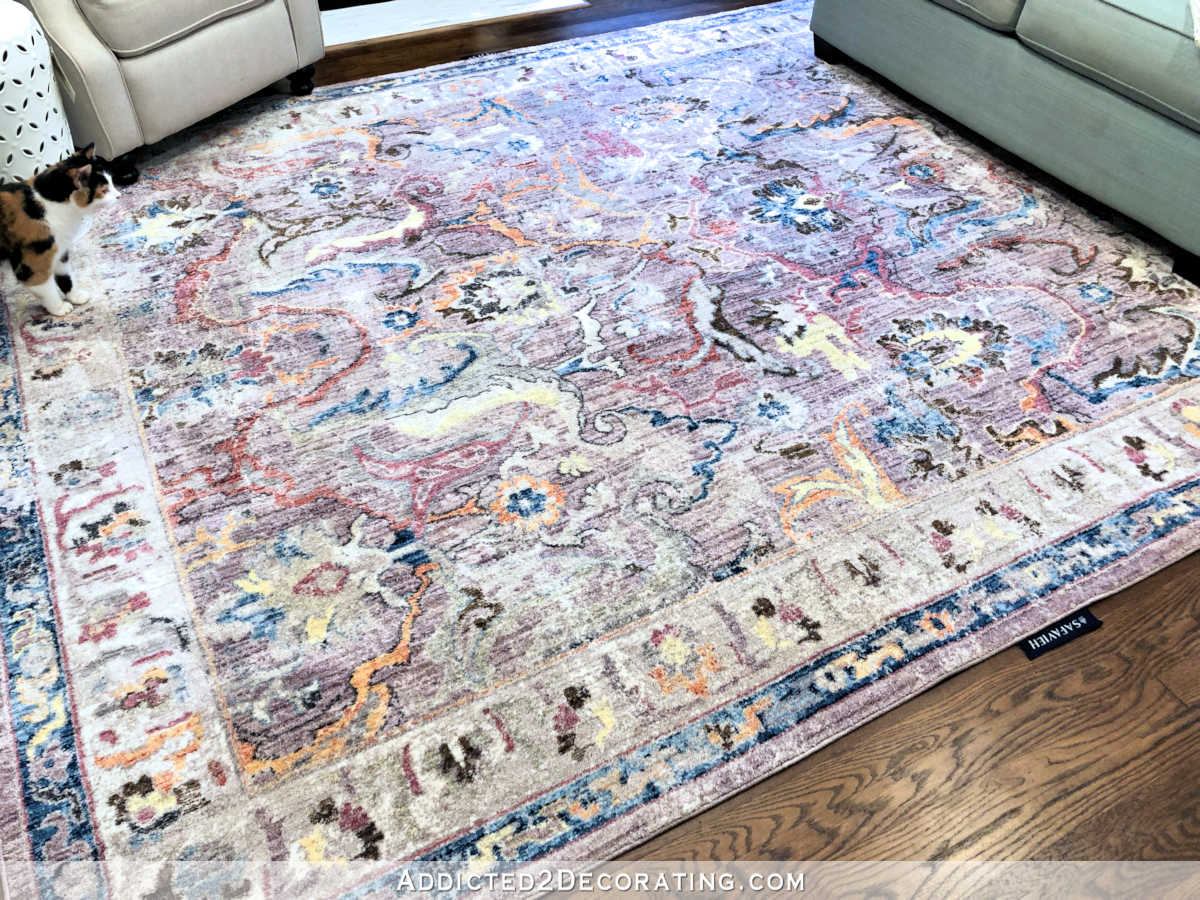 Just because this was so easy (and fun, and satisfying), I'll probably never buy another kind of rug again. For me, it's inexpensive polyester rugs from here on out.
Addicted 2 Decorating is where I share my DIY and decorating journey as I remodel and decorate the 1948 fixer upper that my husband, Matt, and I bought in 2013. Matt has M.S. and is unable to do physical work, so I do the majority of the work on the house by myself. You can learn more about me here.