From Dining Room To Living Room…Again
I've kept this under wraps for a while now, but when I was coming up with my new decorating plan for the main areas of the house, one of the first decisions I made was to turn the front room, which I've been trying and failing to turn into a formal dining room, back into a living room.
While I realized that my first attempt at a living room wasn't "me" at all…
…and ended up way too dark and not nearly colorful enough for me (plus, that was before the new windows, before the polystyrene ceiling tiles were removed, before the new drywall, before the new recessed lighting, and before I made the cased opening from the front room to the kitchen, all of which lent to the drab feeling in this pre-remodel room), I also realized that my attempt to totally change the function of the room altogether was completely misguided.
And it doesn't matter how many times or how many colors I paint that table (or any other table), or if I change the style of the chairs twelve different times. I just don't think I'd ever truly be pleased with any result if I'm using this front room as a dining room.
My decision to use that room as a dining room in the first place was because I wanted room to have big family dinners, and this would give us plenty of room for a table that could extend well beyond 12 people if needed since we could easily overflow into the "entryway" area (which is part of the front room since it's all one big, open room).
But I've just decided that I'd rather not design my house around the possibility of occasional gatherings. I'd rather design my house for everyday use, and then make do when need be for the occasional gathering, even if that means shifting around living room furniture to make room for a temporary dining table setup in the front room.
To be honest, I really don't see that ever being necessary anyway now that my breakfast room is actually in progress and I can see the layout in person.
While it's not a huge room, I'll bet it's every bit as big as "formal" dining rooms in some older houses. It's 12 feet wide, and from the front windows to the pantry door, it's just over 14 feet. With the right table that extends up to 10 feet, that's room enough to seat 12 people quite comfortably, and since I'll be using a round table that extends into a large oval, we could probably even squeeze in a couple more seats if necessary.
So it was with this new function in mind — this room being something in between a daily use breakfast room and an occasional dining room — that I chose the grasscloth wallpaper to kind of take things up a notch in there. But I still plan on having a t.v. on the wall in this room, because I'm just going to design and decorate around how we live (and want to live) in this house, rather than be beholden to any preconceived "rules" for designing and decorating a dining room.
And that brings me back to the front room — now the living room again. 🙂 I have a blank canvas to work with.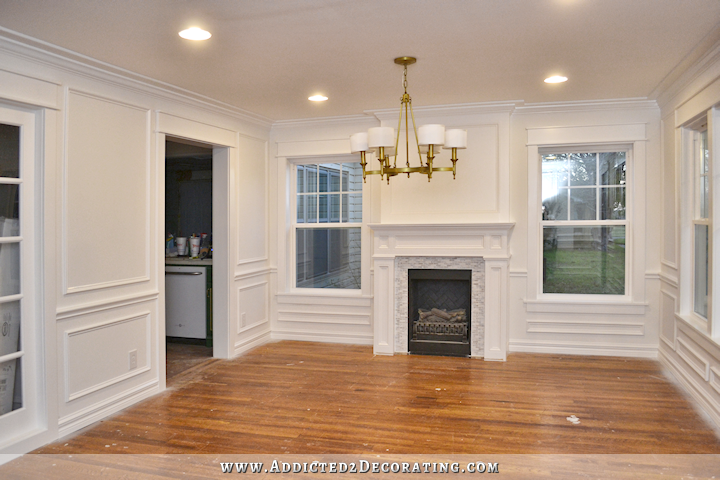 I'll be moving the chandelier and replacing with with something else a little softer and more appropriate for a seating area, so it literally is a blank canvas. And when deciding how to decorate this space, rather than search Houzz and Pinterest for new ideas, I actually went right here, to my own blog, and searched through the archives.
I've had so many ideas over the last two years that I've scrapped for various reasons (or for no reason at all except that I thought there was possibly something better around the corner). It was very eye opening re-discovering some of those things that I really loved, and then tossed aside and forgot about.
I won't divulge my entire plan just yet. And since I haven't actually sourced and priced anything yet, the plan may actually change, but the overall look and color palette of what I'm planning won't change. But I'll just say this. First of all, I love woven shades on windows. Always have, and always will. They're my absolute favorite because they lend so much warmth to a room. Why I ever convinced myself that I needed to use something other than what I absolutely love is beyond me.
Obviously, the whole original window treatment combo didn't work out, and the wall color definitely added to the overall dark and dreary feel of the room, but I threw the baby out with the bathwater when I decided to go a different direction altogether from woven shades.
And second, remember my love of velvet sofas?
via Anthropologie
Yeah. I still really love them. 🙂
The funny (and slightly frustrating) thing about this decision is that when I told Matt about my plans, his response was, "OH MY GOSH, I'M SOOO glad you're doing that! I've NEVER liked the idea of that room being a dining room! I like the idea of it being a living room SO much better!"
Ugh. Why didn't he tell me that a year ago? He could have saved me from myself, and spared me an entire year of trying to fit a square peg into a round hole. That's the downside of having a husband who only ever wants me to be happy, and whose response to my decorating and design questions when I ask, "What do you think about this?" is always, "Well, if that's what you want, then go for it!"
Oh well. It's been a learning experience. 🙂
Addicted 2 Decorating is where I share my DIY and decorating journey as I remodel and decorate the 1948 fixer upper that my husband, Matt, and I bought in 2013. Matt has M.S. and is unable to do physical work, so I do the majority of the work on the house by myself. You can learn more about me here.