Music Room Progress: The Walls Are Finally Finished!
I'm embarrassed to say that this took almost an entire year, but the music room walls are finally finished!
I stenciled these walls in June of last year using Behr Polar Bear (that's the white color) and Benjamin Moore Classic Gray, and then I added the black Sharpie marker accent on half of the room in January of this room. But all along the way, any time I "finished" a part of these walls, that always came with an asterisk.
I stenciled* my music room walls! (*Except for the hard parts around the edges and around the doors.) I improved the design with a black Sharpie marker*! (*Except that I only got halfway done and still have a whole wall plus some to finish.)
But today, I can say (completely asterisk-free) that the music room walls are finished. 😀
If you missed my first post about adding the black Sharpie marker accent, you can click here to see the details. But here's a glimpse of the difference that the black Sharpie marker makes on the stencil.
It takes a very flat design and makes it look dimensional.
I'm so glad to have this project behind me now. The wall stencil is what I was working on when I developed that awful nerve pain issue in my arm and back last year that plagued me for a couple of weeks, then went away, and then came back. It was a miserable experience, so needless to say, I wasn't chomping at the bit to get back in there and finish up the stencil.
But it's done. Finally. One year later. 😀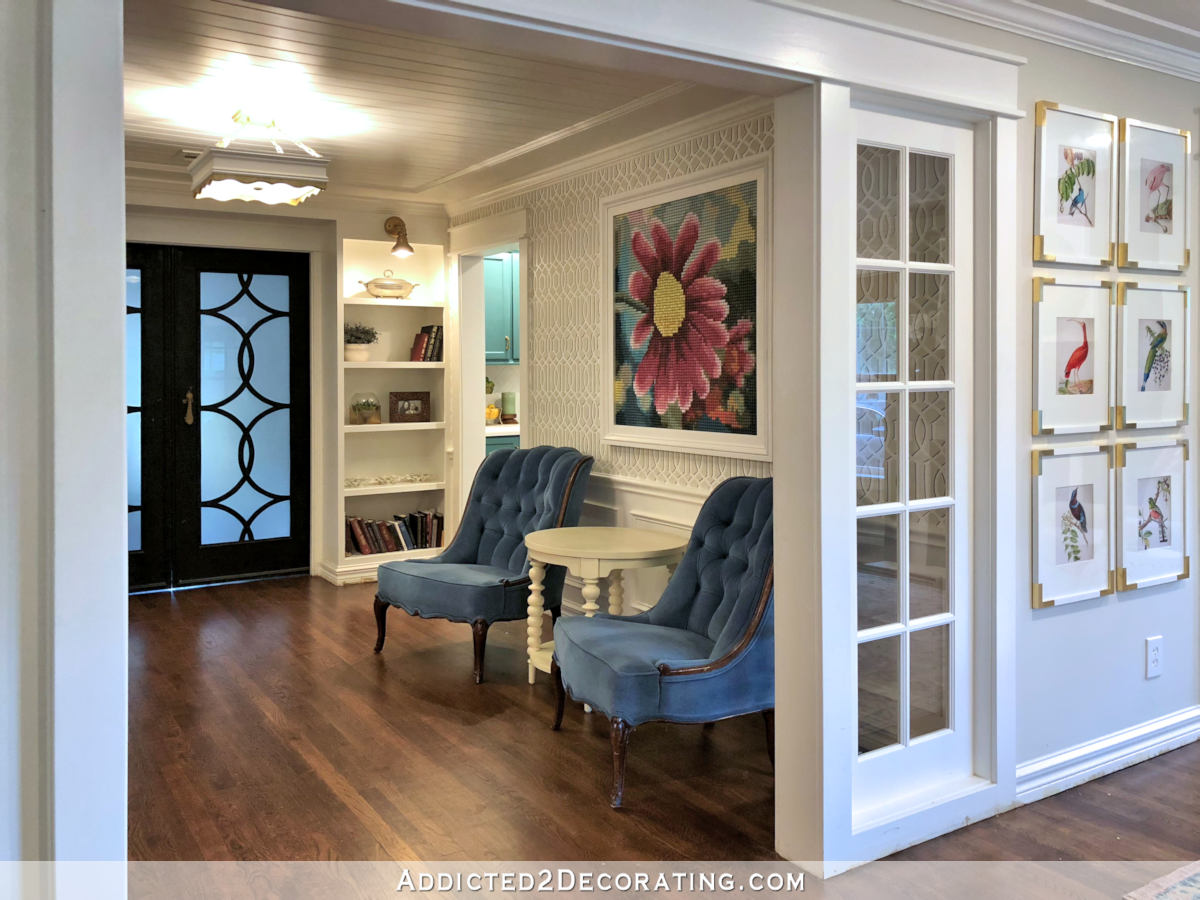 To be clear, the bookcases haven't actually been arranged how I want them. I just stuck some stuff up there a while ago so I wouldn't have to keep looking at empty bookshelves. 🙂
I have a few more projects to do in the music room before I can call it finished. They include:
reupholstering the two chairs
painting the round table
repairing and refinishing the piano bench
building cabinet doors for the lower sections of the bookcases
touching up paint on baseboards
touching up paint on black doors and installing the second handle
arranging the bookshelves and accessorizing the room to finish
Three of those projects — the chairs, the cabinet doors, and the piano bench — are bigger projects that will take more than one day each, but the rest should be fairly quick and easy. Surely I can get this room finished soon!
But for now, I have three more half-finished projects to get finished by the end of the month — shutters, porch ceiling, and one living room drapery panel. I'm feeling pretty confident that I can do it. 🙂
Addicted 2 Decorating is where I share my DIY and decorating journey as I remodel and decorate the 1948 fixer upper that my husband, Matt, and I bought in 2013. Matt has M.S. and is unable to do physical work, so I do the majority of the work on the house by myself. You can learn more about me here.