How To Install A Prehung Door — Tips From A Novice
Yep, that's right…I've installed my very first door, so now I think I'm a pro and have decided to teach y'all how to install a prehung door.  😀  Well, okay…not quite.  But I did just install my very first prehung door all by myself, and I learned some tips along the way that I want to pass on to you.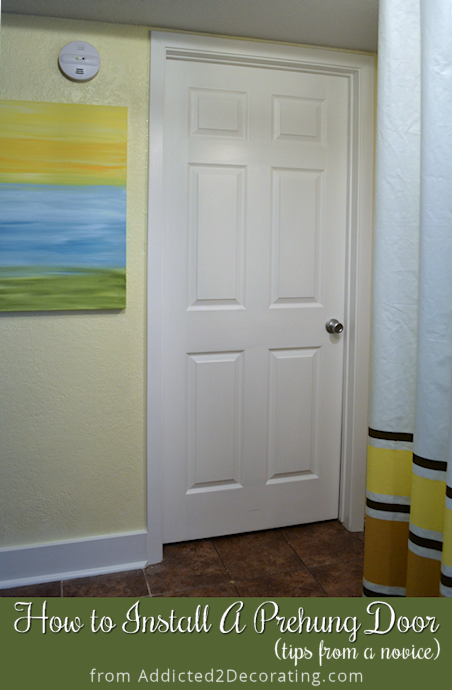 Before I installed my door, I went to YouTube and watched several "how to" videos on the topic.  Then when I went to Home Depot, I asked the man there what tips he would give this first-timer.  All of them had pretty much the same things to say.
I ended up doing the opposite.
So, here are my tips-from-a-novice on how to install a prehung door.  I'm sure if a contractor read this info, he'd be rolling his eyes at me, but as a determined DIYer who does all of my projects alone, these are the things that I found worked best for me.
1.  Keep the door in the frame when installing the door.
This is absolutely the biggest point on which I disagree with the pros.  Every single one of them said to remove the door before installing the frame.  Okay, I tried that.  With the door removed, the frame becomes the flippity floppity thing that I couldn't keep upright by myself, so I certainly couldn't keep it plumb, or level, or square, or any of those other important things.  It was a mess.
As soon as I put the door back in, the frame remained rigid and perfectly square.  And best of all, I KNEW that the door would fit after it was installed, because it was never removed during installation!
2.  Shove the frame all the way against one side of the opening.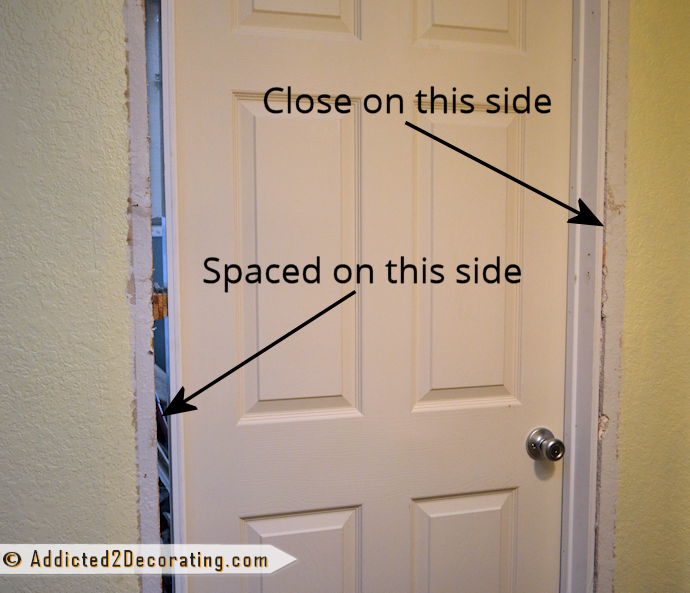 This is something else that the "pros" didn't do.  They all got the door nice and centered in the opening, using shims on each side to center the door.
Well, I found that nearly impossible to do by myself.  So I ended up shoving the door frame all the way to the right and nailing that side first.  I did have to use one shim at the bottom just to get it perfectly level, but that was so much easier than using shims all up and down that side to try to center the frame in the opening.  That left me with a very wide space on the other side, but I just used shims in about four different places to fill it in and nail it into the 2″ x 4″.
And that leads me to tip #3…
3.  Don't freak out about big gaps.
I'll admit, when I was left with this big, massive space on the left side of the door frame (which was bigger than it looks in this picture), I initially had my doubts that this door would end up looking decent.  But there was nothing to worry about!  The trim covered it all up, and made the finished product look great!  And if your gap is even bigger, then just buy wider trim!
Seriously, it's no big deal at all.  I had to stack six shims to get enough thickness to fill this space, and I did that in about four different places on this side of the door.  That's a lot of shims!  But it all worked out, and with the trim on, nobody would be able to tell.
So have you ever installed a prehung door?  What tips would you give?  And did you do it the "pro" way, by removing the door first?  Or did you do it my way by keeping the door in the frame?
Share your door installation secrets!
Addicted 2 Decorating is where I share my DIY and decorating journey as I remodel and decorate the 1948 fixer upper that my husband, Matt, and I bought in 2013. Matt has M.S. and is unable to do physical work, so I do the majority of the work on the house by myself. You can learn more about me here.