How To Strip Paint, Stain & Polyurethane From Furniture (My Top Tips)
Let's talk about using paint stripper for wood furniture today, shall we? 🙂
I've had a few people ask me about the products and process that I use for stripping paint, stain and polyurethane from furniture, so I thought I'd share my tips with you since I'm now in the middle of a paint stripping job.
When using paint stripper for wood furniture, not only do you need a brush (a cheap chip brush will work), a container to put the stripper in, a scraper, and neoprene gloves, but I also always have a cardboard box nearby. Not only is the box useful as a trashcan to throw paper towels into as I work, but I also use it to push the paint into as I scrape it off of the furniture I'm stripping. And the edge of the cardboard box is very convenient for cleaning the scraper. Every so often, I just run the blade across the edge of the box to keep it from getting all gunked up.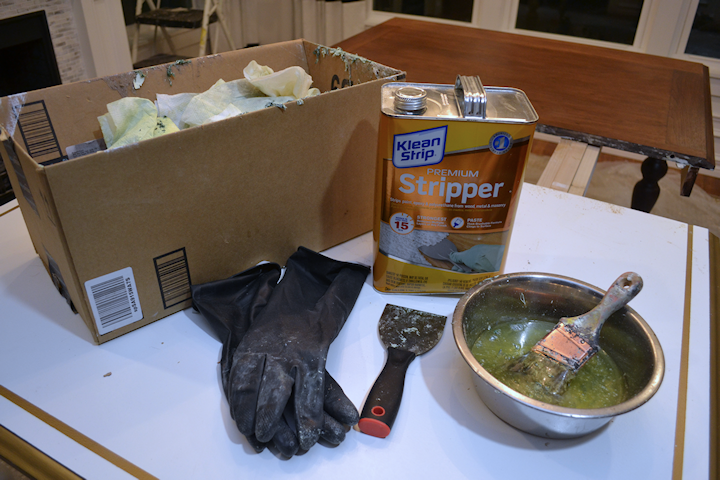 What Is The Best Paint Stripper For Wood Furniture?
Now let's talk about brands of strippers. I know there are those pretty-smelling kinds out there that are supposed to be a lot less harsh, and blah, blah, blah. Well, less harsh means that you're going to be waiting hours for the stuff to work. I've tried the pleasant-smelling orange stuff that smells like you're sitting in a juice bar, and it took about four hours to work on the first layer of paint. Then I had to wait another hour or so for it to work on the next layer of paint. It was so unbelievably slow and frustrating. Plus, the smell is deceiving. It's advertised like it's all natural, and it smells harmless, but the fact is that it'll burn the heck out of your skin just like the strong stuff will.
So when it comes to strippers, I use Klean Strip from Home Depot. It's harsh, and it stinks like harsh chemicals do. And that stink reminds me the entire time that I'm working with a very harsh chemical and that I need to be very careful. And the best thing about it is that it works in minutes. You just have to be sure that you've got good ventilation (open doors and windows if you're working inside so that you have good cross ventilation*), and keep kiddos and animals out of the area.
*A note about cross ventilation — this is VERY important when working indoors. If you're working on a day with no wind, consider setting up box fans in the windows/doors on opposite sides of the room, with one fan blowing into the room, and the other fan blowing out of the window to create your own cross ventilation air flow.
The main keys to getting this stuff to work quickly and easily are (1) using plenty of it, and (2) keeping it wet. I use a VERY generous amount and spread it around with the brush, but if you want it to work really well, you have to keep it wet. That's why it's handy to keep a container filled with stripper nearby. That way, if an area begins to look dry, you can just dip your brush into the container and dab a bit more stripper onto that dry area. If you need to walk away while the stripper does its job, I find that it's helpful to be sure you have plenty of stripper covering the painted surface, and then cover it with plastic so that it won't dry out. A cheap plastic drop cloth will do the trick.
After a couple of minutes, you should see the paint start to bubble.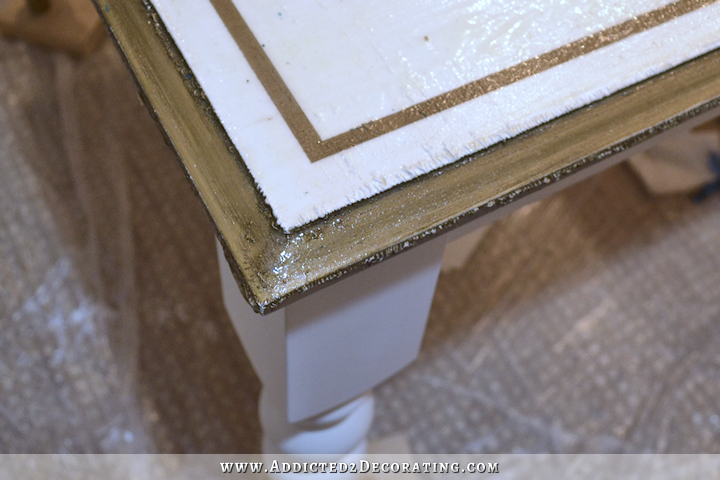 When you start to see major bubbling and wrinkling all over the surface, that's when you know it's time to scrape. It never takes more than about seven to ten minutes.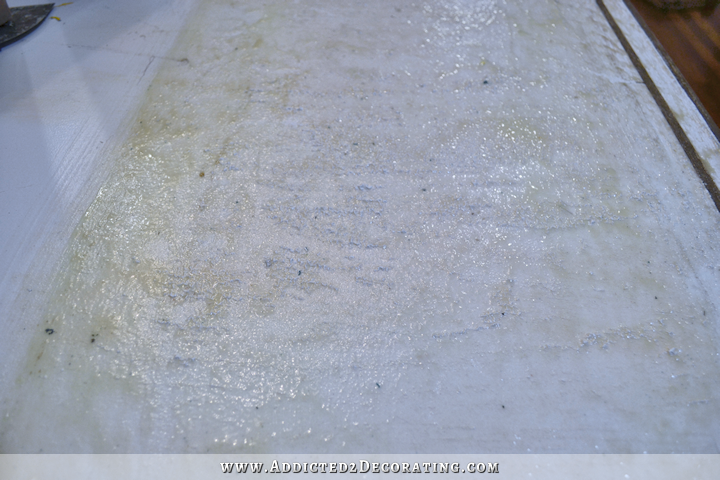 And this is the fun part. 🙂 Just use the scraper, and start scraping that paint off! It should come up very easily. And keep the cardboard box nearby so that you can just scrape the paint right into the box.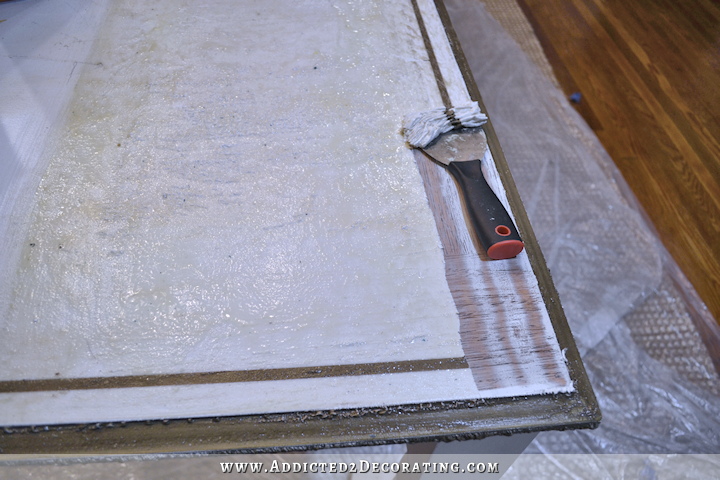 Again, this scraping should be very easy. If you're having to put any muscle behind it at all, then that means that the stripper didn't finish it job. Just add more stripper and wait a few more minutes. You shouldn't need to put any kind of muscle behind this scraping process. After the first go round, mine generally looks like this, where there are still streaks of paint left behind that won't come up easily.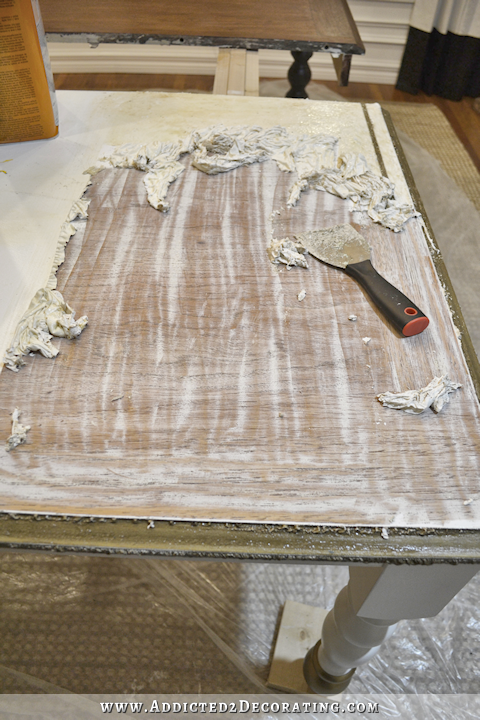 So I add another layer of stripper, wait a few more minutes, and then scrap again. Then it looks like this.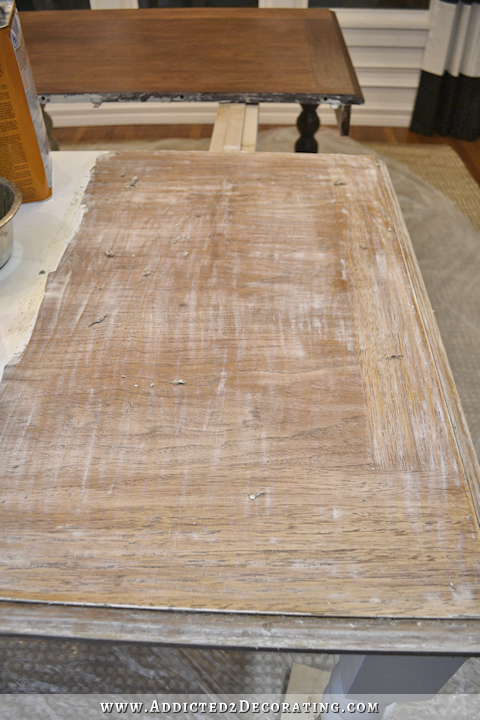 And now for the most important step of all — the Paint Stripper After Wash.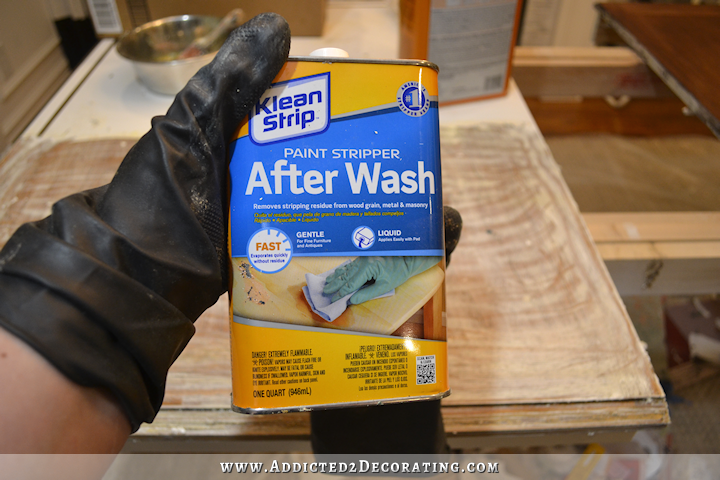 I resisted buying this for the longest time. I thought, "Oh, this is just one of those useless products that they're selling to trying to get more money from me. It's not necessary. I've got all kinds of paint thinners and mineral spirits at home that'll work just fine."
Wrong. I finally gave in just out of curiosity one day and bought the After Wash, and it was AMAZING!! I don't know what kind of magical, mystical concoction this is, but I never strip furniture without it now. You just put some on a paper towel, and start wiping across the surface, and it removes all of the remaining paint stripper and paint streaks.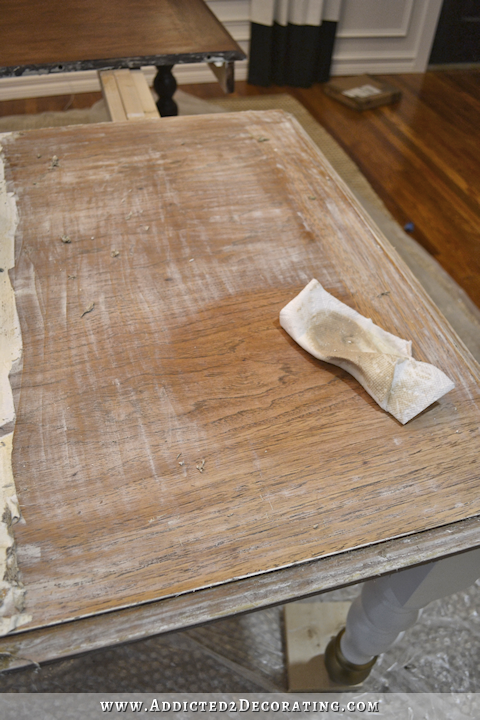 It also makes it much easier to get the paint out of those nooks and crannies, like the routed edge of the table. I was able to scrape most of the paint off of the edge with the scraper, but the After Wash cleaned it right up beautifully.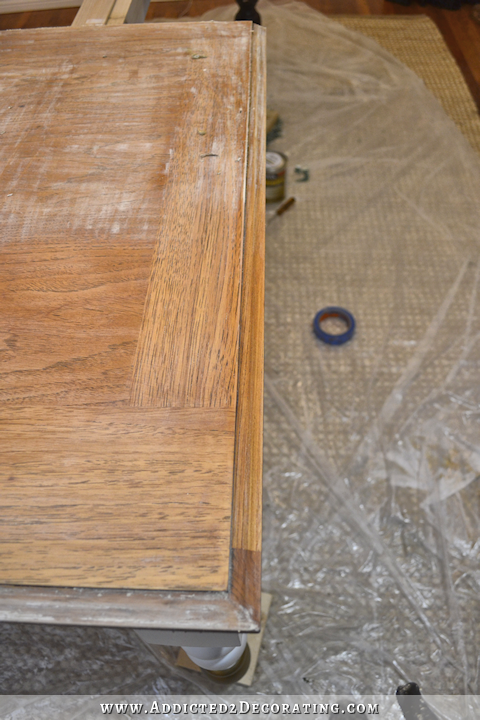 Another note about the After Wash — I like to keep it close by just in case I get any paint stripper on my skin. I'm not suggesting that you use it indiscriminately, because it's still a chemical, and putting a chemical on your skin is never a good idea. Some people are more sensitive to chemicals than others. But it does neutralize that paint stripper almost immediately. If I get the stripper on my bare skin, I just wash it off at the sink with soap and water. But last night as I was working, I was sitting on the floor and put my leg right into an area on the drop cloth where some paint stripper had dripped. It soaked right into my jeans and was burning the heck out of my leg, so I just soaked a paper towel with the After Wash and dabbed it right onto my jeans. It neutralized the burn right away. But again, it's a chemical, so be cautious.
After everything is cleaned up with the After Wash, I generally do have to go back with some 150-grit sandpaper and remove little remnants of paint, like the ones you see here on this front edge. (The edge on the left in the picture hadn't been wiped down with the After Wash yet.) But it's very quick and easy, and nothing that requires a power tool. Just sanding by hand will do.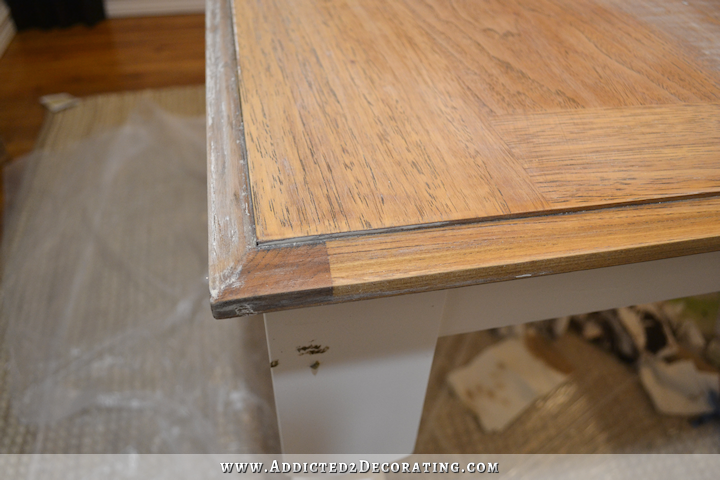 Now admittedly, detailed, carved, and turned wood elements are a different story. They're not difficult to strip, but they are time-consuming. The process is the same — brush on a generous amount of paint stripper, keep it wet while it does its thing, and then scrape. But how do you scrape paint out of detailed areas?
That's where brushes come in. You can find all kinds of little brushes like this one in the same section of Home Depot or Lowe's where they have the paint scrapers.
And once the paint stripper has done its thing, and you've scraped off any and all that you can scrape off with the regular scraper, you can reach into the nooks and crannies with a stiff brush.
But again, the brush's job is just to get the paint loose. The job of removing everything and leaving behind the pretty, bare wood belongs to the After Wash. On detailed areas, I generally find that I have to go through the process about three times before it's all clean — paint stripper, scrape/brush, After Wash, and repeat two more times, or until it's clean.
The bottom line when using paint stripper for wood furniture is that you shouldn't have to put a whole lot of muscle and energy into it. That's not to say that it'll be a super quick job. If you're working with detailed, carved, and turned items, it won't be quick. But all of the hard work should be done by the paint stripper and the After Wash. And when you're done, if you have any sanding at all to do, it should only be a very minimal amount that can be done by hand.
Addicted 2 Decorating is where I share my DIY and decorating journey as I remodel and decorate the 1948 fixer upper that my husband, Matt, and I bought in 2013. Matt has M.S. and is unable to do physical work, so I do the majority of the work on the house by myself. You can learn more about me here.