Installing My Favorite Woven Window Shades In The Studio
Y'all, I actually did some work yesterday! I didn't do much. I don't want to push myself too hard and end up having to spend more days in bed. (Severe sciatica brought me down like a darted elephant, and I had to spend about ten days in bed. More about that here.) But yesterday evening, I was feeling pretty good and relatively pain-free, so I decided to install the woven shades that I had ordered for the studio.
When I find something I really like, I stick with it. And that is true with these shades. I used to buy this exact style and color at Home Depot when they carried them in stock years ago. In fact, I used them in every room of the condo, and that was over ten years ago.
And then when we moved into the house, Home Depot no longer carried them in stock, so I found pretty much the same shades at Blindsgalore (affiliate link). I got those in the color Hana Tranquil. Those were quite a bit more expensive than the Home Depot shades because they are lined with blackout lining, and they're also the top down/bottom up style. But the wood part looks exactly like the Home Depot shades that I had been using for years. I have the Blindsgalore shades in the living room, breakfast room, and guest bedroom.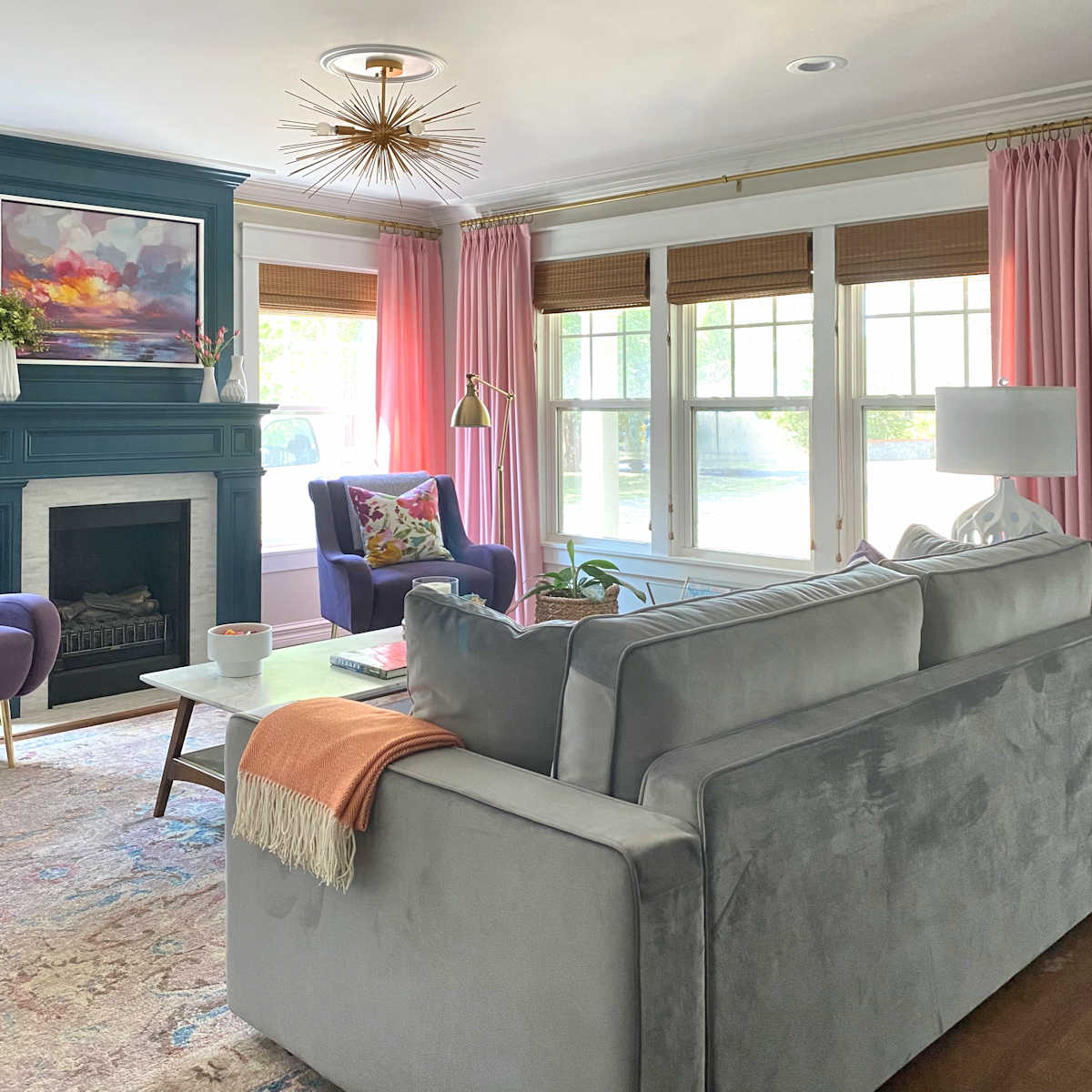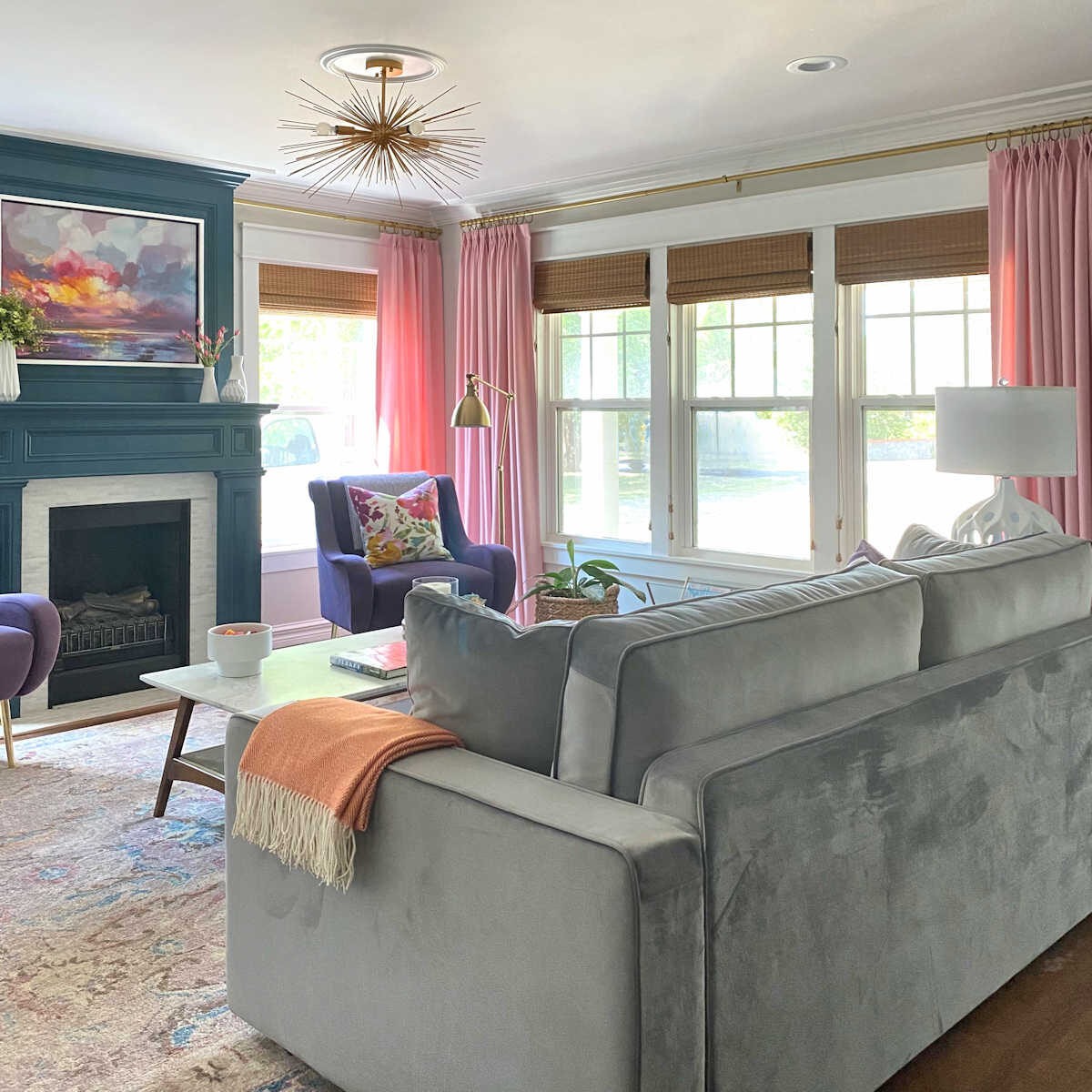 When it came time to put shades on the windows in the home gym and master bathroom, I didn't want to do the more expensive lined, top down/bottom up shades from Blindsgalore, so I went in search of a new source. And I found these shades from Mood Store on Amazon (affiliate link). The weave is exactly like the Home Depot and Blindsgalore shades, and the Rustic Walnut color is very similar to the Blindsgalore shades, although it might be just a little darker and richer in color. I actually prefer the darker, richer color. And because I didn't need the top down/bottom up feature, and I didn't need them to be lined, I saved quite a bit of money. I buy the cordless version, and they're great quality.
Here's the Mood Store from Amazon shade (affiliate lilnk) in the master bathroom.
And here they are in the home gym…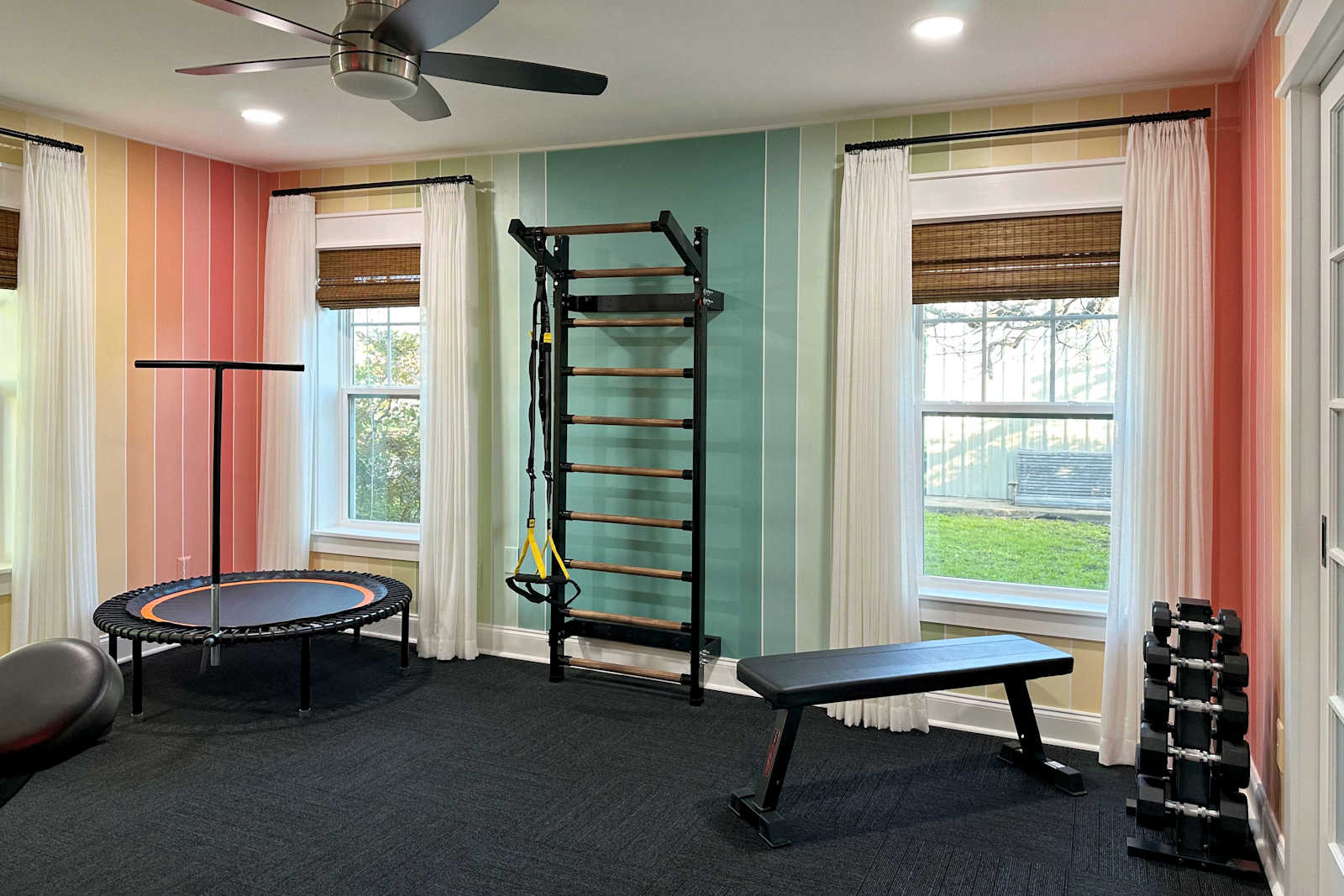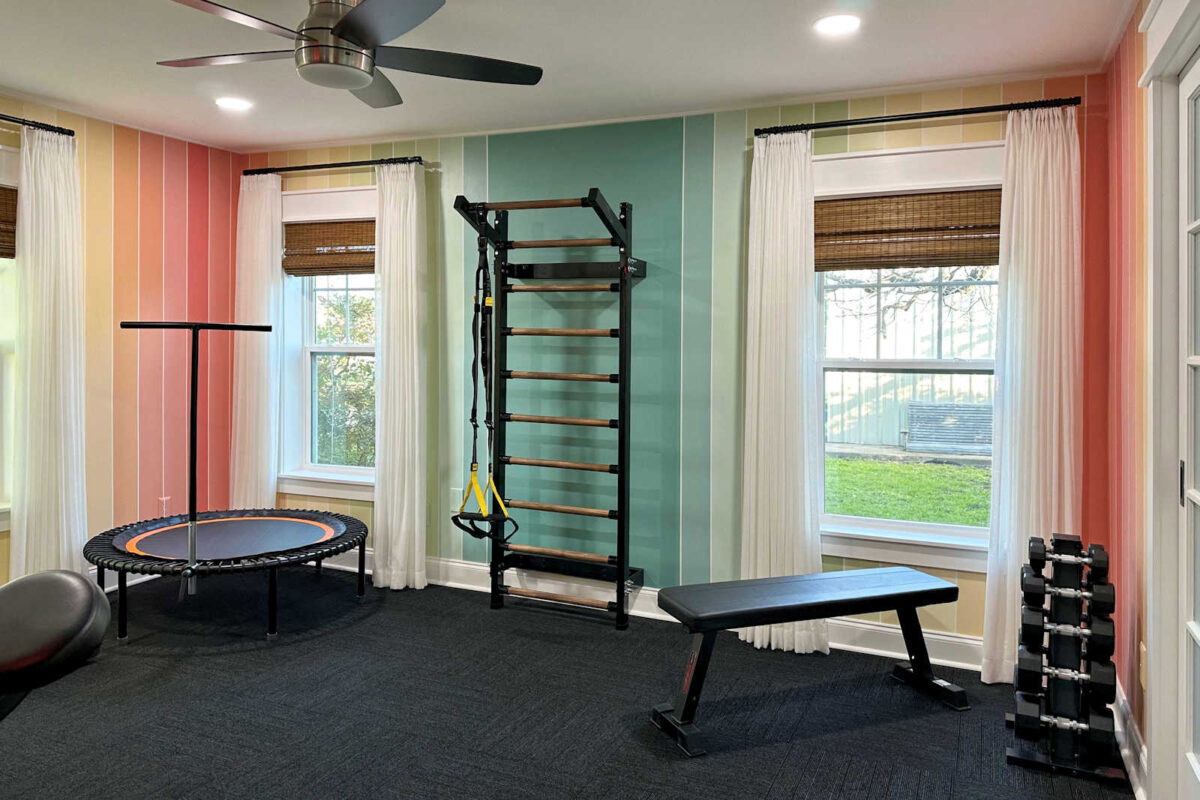 So let me show you how the look in the studio…
Isn't that pretty? I absolutely love these shades! I personally think that the color goes with just about everything. Every room can use the warmth of wood, so I can't really think of a scenario where I wouldn't use these. I don't think that woods in a room need to all match, so I didn't feel the need to use window shades that match the countertop.
And one of my favorite things about these shades is how easy they are to install. Each shade requires two brackets, which are super simple and quick to install. And then the shades attach to the brackets with two wingnuts. I'd say that each shade takes less than ten minutes to install.
The company will cut the shades to fit the window. They'll customize both the width and the length so that you don't have a bunch of extra bulk at the bottom when the shades are closed.
You simply buy the size from their drop down list of size options that most closely fits your window (size up for inside mount), and then once you place the order, you can message the vendor via Amazon to give them the specific measurements of your window. I always send them the exact measurements of my window with no deductions. They'll figure any deductions that need to be made.
So now this wall is 100% finished. There are no other little details that need attention. This is it. Finished. And I think it's perfect. 🙂
Update:
A few people requested pictures of the shades from the outside, pictures taken at night, etc.
First up, these are the lined top-down/bottom-up shades from Blindsgalore (affiliate link) in the color Hana Tranquil that we have in the living room. This is what it looks like from the outside when the shades are open. They're lined with white blackout lining.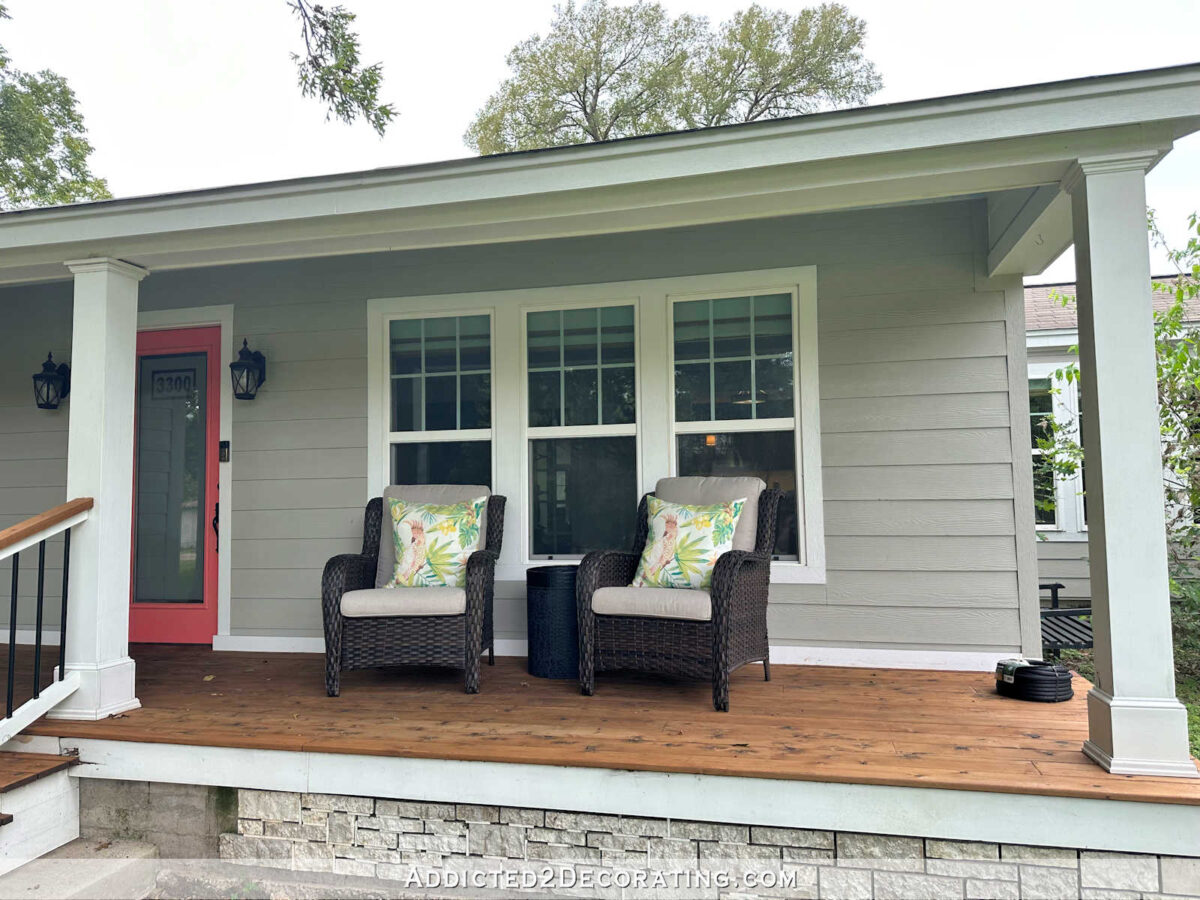 And this is what they look like from then outside when they're closed.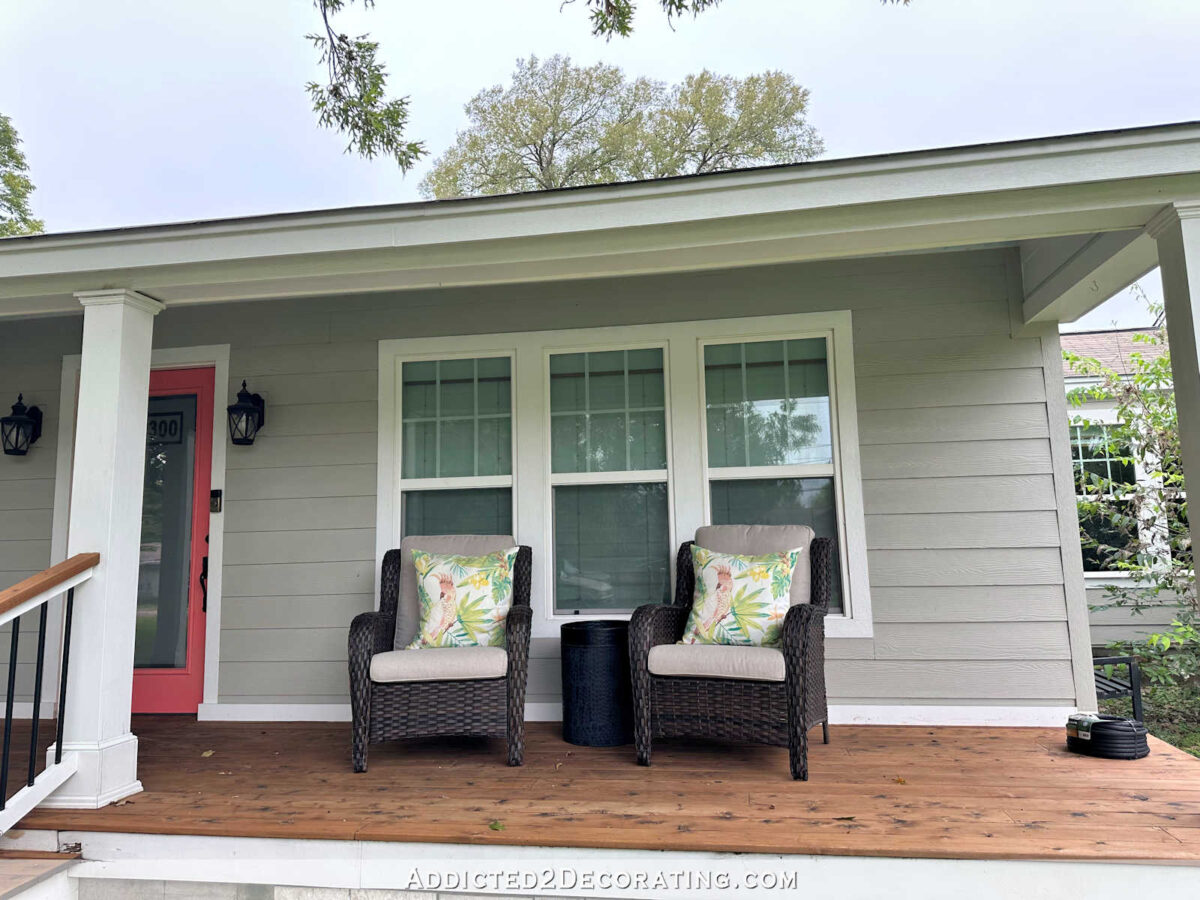 I didn't include pictures of those shades closed at night because…well, they're lined with blackout lining. You can't see a single thing through them when they're closed no matter what time of day it is.
A few people asked about the top-down/bottom-up feature. This is what those same shades look like from inside when they're closed.
And then they open from the bottom up like Roman shades, just as you would expect.
But then they also open from the top down. This allows for privacy in the room while also letting sunlight in. We use this feature every night on the shade on the bedroom window because I like the privacy it gives, but I also like to wake up to sunlight in the room every morning.
Now moving on to the unlined shades from Mood Store on Amazon (affiliate link), this is what they look ilke when they're open during the day. I actually prefer this look to the more expensive ones lined with white blackout lining. You can't even see these during the day on our windows, whereas the Blindsgalore shades with the white lining can be seen.
Here's what they look like at night with the shades open.
I took a few pictures with the shades closed, but I also wanted to test the privacy at night. So I turned on all of the lights in the studio (minus the pendant lights on this wall because this circuit isn't connected to the breaker box yet), and then put my Ring light right in the center of the window. I had all ten recessed studio lights turned on, plus the four bulbs in the ceiling fan.
And this is what it looked like from the outside. I walked back and forth in front of the window, and I couldn't see the Ring light at all.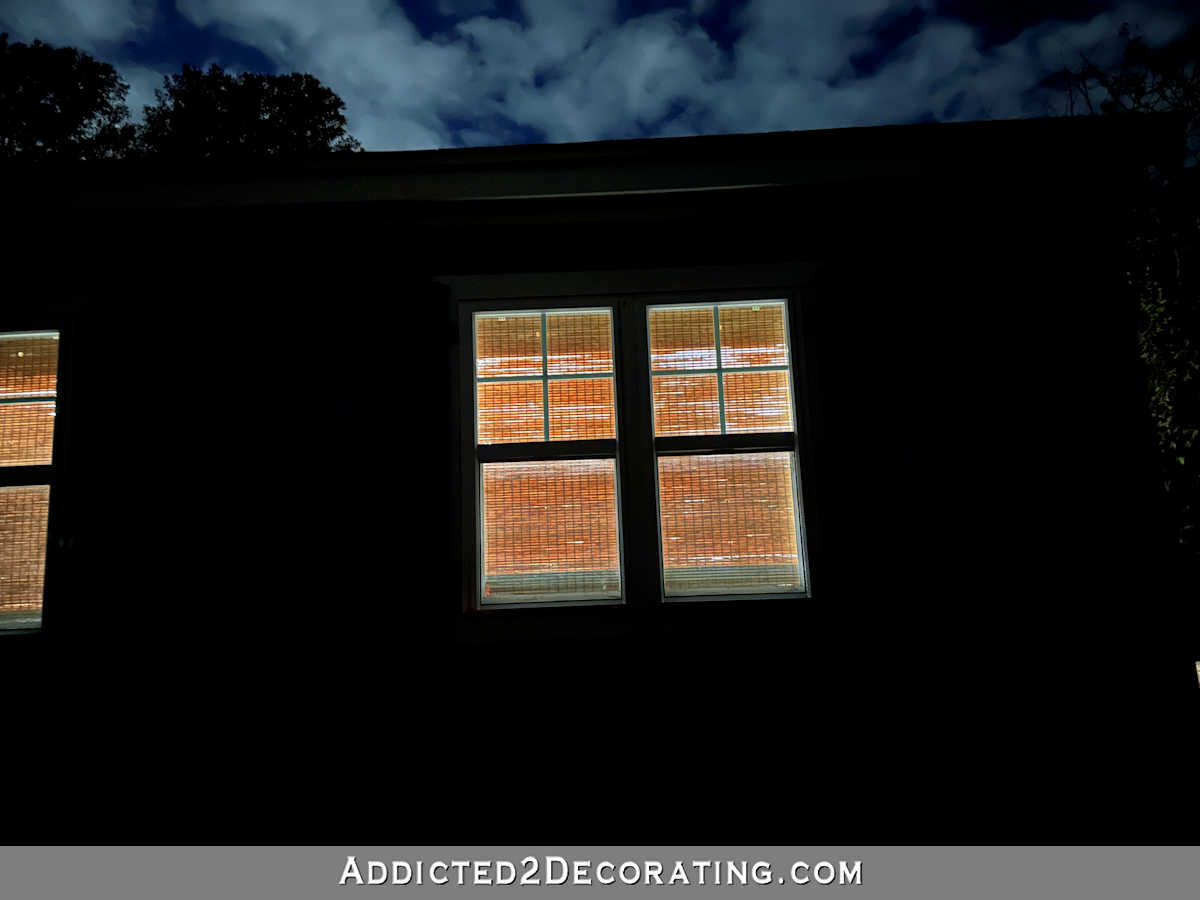 So I went back inside and turned the light around so that the white part was facing the window.
And I still couldn't see anything from outside. I couldn't make out any shape that looked like a ring. And again, that was with 14 5000K (bright daylight) lights/bulbs turned on in the room.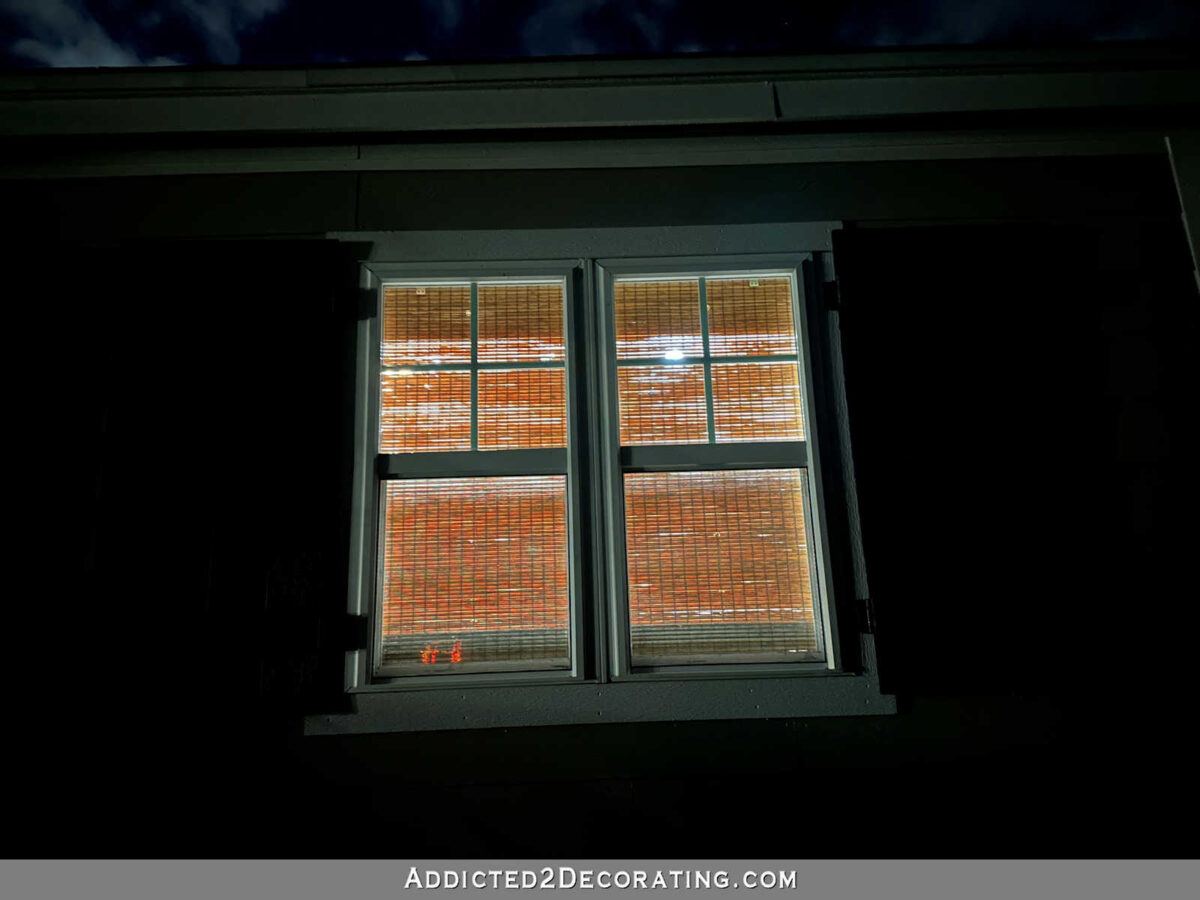 In front of the other window, I put this plant.
And from the outside, I couldn't see even the faintest hint of a plant sitting in front of that window.
All of that to say that I personally wouldn't hesitate to put these shades on a bathroom or bedroom window. If you can't see things that are right up against the window with 14 5000K lights on in the room, you're not going to see something that is further from the window with normal bathroom or bedroom lighting.
Addicted 2 Decorating is where I share my DIY and decorating journey as I remodel and decorate the 1948 fixer upper that my husband, Matt, and I bought in 2013. Matt has M.S. and is unable to do physical work, so I do the majority of the work on the house by myself. You can learn more about me here.