Last Updated on December 24, 2015 by Kristi Linauer
It's not finished yet (it still needs lots and lots of sanding, and then stain and polyurethane), but I started on the headboard for the white room yesterday. I wanted a big, dramatic statement on that long, white wall, and I think this seven-foot-tall headboard will do the trick. 🙂
I made a similar headboard three years ago for John & Alice's master bedroom, and while I try my best not to repeat projects, the fact is that I needed a really inexpensive headboard for this room, and this seemed like the best way to achieve that.
For this headboard, I purchased eleven cedar fence pickets which were $2.25 each.  And that's it.  Everything else I needed (screws, construction adhesive, extra wood), I already had on hand.  So this really did cost me about $25 out of pocket.  Not too bad for a seven-foot-tall headboard!!
I hope to stain it kind of a medium brown, somewhere between the shade on the window (which you can see in the pic above) and the countertop and shower mat in the adjoining bathroom.
So we'll see how it turns out tomorrow Thursday. Cedar can be kind of unpredictable when it comes to stain, so fingers crossed that it doesn't turn orange! 🙂
This headboard was incredibly simple to make. Here's how I did it…
First, I lined up my cedar fence boards side-by-side on the ground, with the good sides facing down. A queen size requires eleven fence boards. When I got them all arranged so that they fit together tightly, I dropped the two outer boards down 14 inches to create the legs. Then I used some scrap pieces of 1 x 2 and 1 x 3 cedar, along with LocTite construction adhesive and 1.25-inch screws to secure the boards together.
I tried to kind of plan ahead so that the boards on back wouldn't interfere with the shape that I wanted to cut out.
At this point, I carefully turned the headboard over. It was still very flimsy at this point since it had so little bracing on the back, but I wanted to get the shape cut out before adding more bracing.
Just like on the other headboard, and on the mirror I made for the bathroom, I used heavy paper (I used watercolor paper since it's what I had, but you can also use cardstock paper, newspaper, cardboard, etc.) to draw half of my design for the top of the headboard.
After cutting out the design, I traced the design onto half of the headboard.
Then I flipped the pattern over and traced the design on the other side for a perfectly symmetrical shape.
This headboard was so huge that in order to cut out the shape, I had to stand it upright, and use a ladder to reach the top. (I am, after all, only five feet tall!) 😀 I used my jigsaw with the same blade made for cutting curves that I used on the scalloped frame for the bathroom mirror. But I'll admit, I didn't take near the time or care in cutting out this headboard that I did with the frame since imperfections on projects like this aren't nearly as obvious as they are on things like a mirror frame.
After the shape was cut out, I placed the headboard face down again, and added more bracing to the back. Once these strips of wood were in place, the headboard was very sturdy.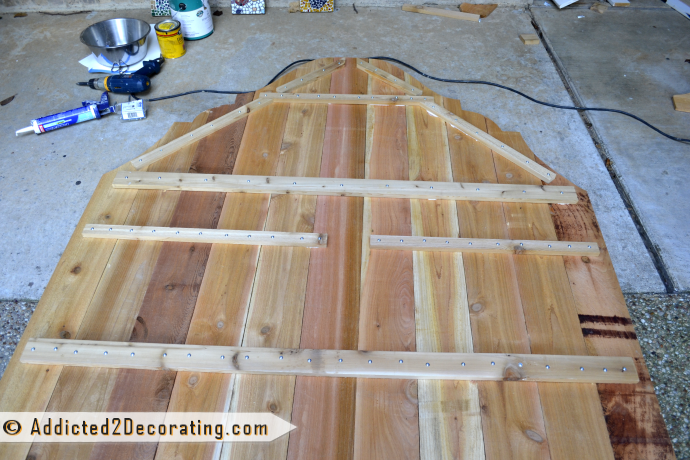 So today, I've got a ton of sanding to do. These fence boards are so incredibly rough, but I know that they can be sanded (almost) perfectly smoothly because these fence pickets are what I used to make the wood countertop in the teal and yellow bathroom.
I'll show you the finished headboard tomorrow Thursday!
Addicted 2 Decorating is where I share my DIY and decorating journey as I remodel and decorate the 1948 fixer upper that my husband, Matt, and I bought in 2013. Matt has M.S. and is unable to do physical work, so I do the majority of the work on the house by myself. You can learn more about me here.
I hope you'll join me on my DIY and decorating journey! If you want to follow my projects and progress, you can subscribe below and have each new post delivered to your email inbox. That way you'll never miss a thing!