20-Day Small Bathroom Makeover – Before and After
My small bathroom makeover is finished, and I made my goal of getting it finished in 20 days!! (That's 20 working days, not 20 calendar days.) And I packed this bathroom full of small bathroom design ideas, all done on a budget.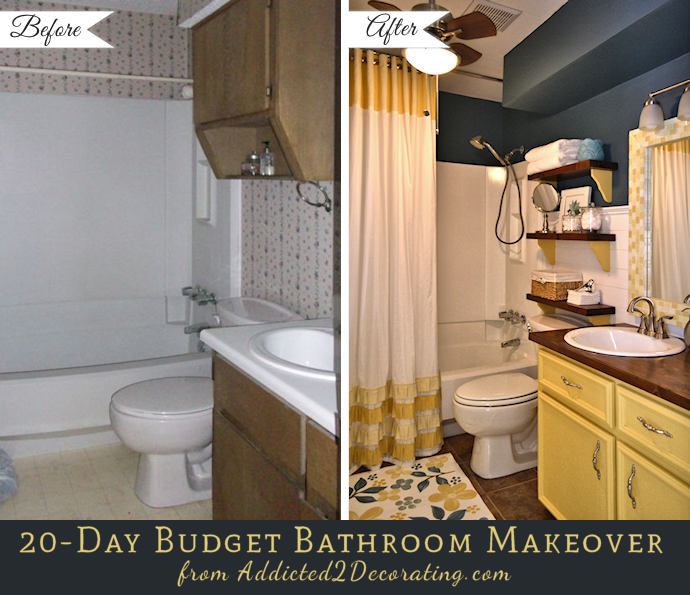 The "before" bathroom was full of apartment-grade…well…everything — the cheap laminate countertop with the 4-inch backsplash, the basic builder plate glass mirror, the ugly 1970's vanity light, the cheap vinyl flooring, the obviously-bought-in-bulk berry wallpaper, and the cheap fiberglass tub and tub surround. (Are you noticing a theme here? Cheap! And not in a good way. 🙂 )
But now all most of that cheap, apartment-grade stuff is a thing of the past. (There are still a few remnants, like the fiberglass tub and tub surround that I painted, but hopefully the upgraded finishes and pretty stuff disguise those remnants now.)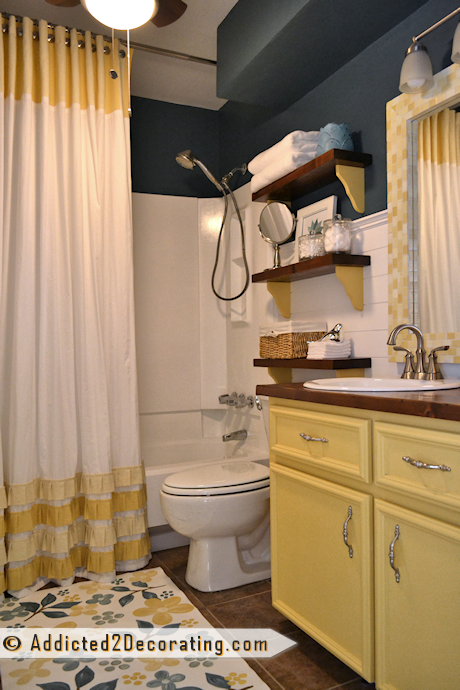 Of course, the backdrop to the whole new look is the faux wood slat wall treatment, painted in a bright, clean white, and then the upper walls painted in a dark teal color called Mystic Forest by Behr. (Sometimes it looks more blue, other times it looks more green.) And I painted right over the wallpaper, after doing some prep work so that the seams wouldn't show through.
The shower curtain with the pleated ruffles was made from a queen size bed sheet, and accented with yellow striped fabric that was provided by Fabric Warehouse Direct. And since I would never have been able to find a patterned rug with the perfect colors in it, I opted to make another painted floor cloth, this time with flowers and leaves rather than my go-to stripes that I seem to use on everything. 🙂 (You can find directions for making a painted floor cloth here.)
The vanity area needed a great deal of work. The outdated light was replaced by an inexpensive "special buy" light from Home Depot, and the basic builder plate glass mirror was replaced with a custom mosaic tile mirror that I made out of wood yardsticks — the most labor-intensive project in this whole bathroom that took up 3 of my 20 work days!!
The old laminate countertop was replaced with a $35 wood countertop that I made from cedar fence pickets, and rather than trying to dress up the old doors and drawer fronts, I decided to make new cabinet doors and drawer fronts from scratch. I found a way to make them using no special cabinet-making tools! A new sink, faucet, and cabinet hardware finished off the vanity area.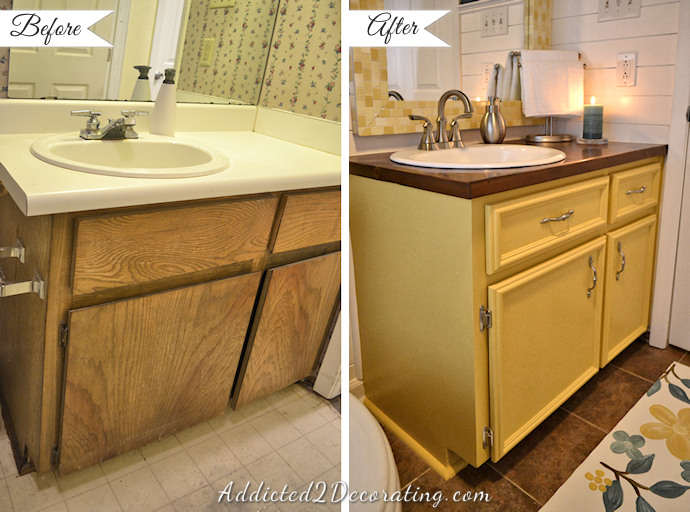 Several people asked why I didn't just "dress up" the existing doors and drawer fronts. I explained that here. 🙂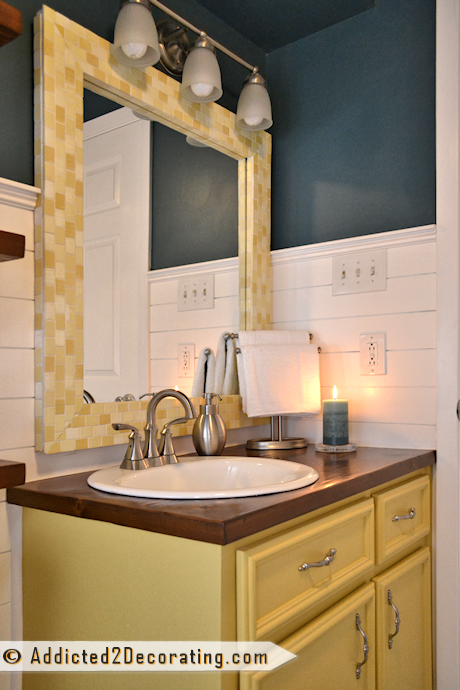 Above the toilet, the old, massive cabinet is now gone, and I now have shelves that I made from scrap wood and very inexpensive brackets.
I'm generally not a fan of replacing closed storage with open shelving in such a small living space, but that wall cabinet was just way too big and bulky for this room. Replacing it with open shelving really opened up the room and made it feel more spacious.
I filled the shelves with useful items, combined with a few items just to give some sparkle and color. The paint chip flower artwork is one of a set of four that I had originally made for my breakfast room, but I ended up replacing it with something else. The blue/teal flower worked perfectly in the bathroom, especially since one of the colors in the flower is the exact color that I used on the bathroom walls!
And then on the other side of the bathroom is the vine and flower artwork that I made using drywall mud.
And that's the tour! I'm so pleased with how this bathroom turned out! And I'm even more pleased with the fact that I made my 20-day goal. I'd estimate that I worked an average of 5 to 6 hours each of those 20 days, and I did all of the work myself, so that's an estimated 100 to 120 hours of work that went into this bathroom transformation.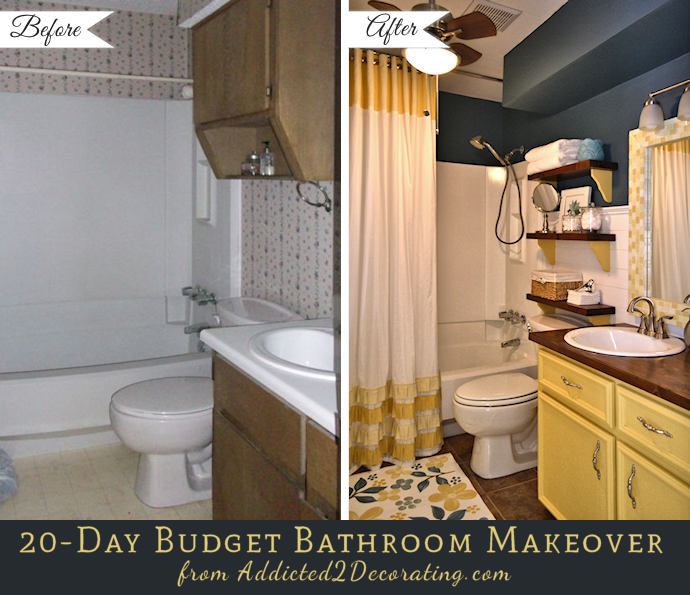 If you're looking for any of the projects that went into this bathroom, you should be able to find them here:
[categorythumbnaillist 527]
Sources & Costs
Groutable Vinyl Floor –
TrafficMaster vinyl tiles from Home Depot, color Shasta: $36
Pre-mixed grout from Home Depot, color Sandstone: $25
Klean-Strip Adhesive Remover: $27
Bathtub Refinishing –
Mosaic Tile Mirror –
Supplies for frame: $55
Replacement mirror: $55 (I could have avoided this cost had I not broken the original mirror that I had planned on reusing)
Vanity Makeover –
Sink from Home Depot: $69
Faucet from Home Depot, $79
DIY wood countertop, $35
DIY doors and drawer fronts, $40
Cabinet hardware from Home Depot, $12
Paint (Arizona Tan by Behr) from Home Depot: $16
Scrap Wood Shelves –
Wood brackets from Home Depot: $10.50
Shower Curtain –
Main fabric, queen size sheet: on hand
Accent fabric: provided by Fabric Warehouse Direct
Extra large eyelets from JoAnn Fabrics: $9.50
Extra long 86″ shower curtain liner from Bed, Bath & Beyond: $29.99
Shower curtain rod from Bed, Bath & Beyond: $29.99
Painted Floor Cloth –
Vinyl floor remnant from Home Depot: $24.97
Clear sealer: on hand
Flower and Vine Artwork –
Walls –
Wood and trim from Home Depot: $45
White paint, Polar Bear by Behr, Home Depot: $29
Dark teal paint, Mystic Forest by Behr, Home Depot: $29
Premixed drywall mud from Home Depot: $13
Zinsser Oil-based Cover Stain primer from Home Depot: $18
Lighting –
Vanity light from Home Depot: $39
Replacement glass shades from Home Depot: $12.00 (The original shades didn't allow enough clearance between the shades and the wall for the mirror frame to fit.)
Tiny Hampton Bay ceiling fan from Home Depot: $60
Accessories –
Soap pump from Bed, Bath & Beyond: $9.99
Candle and candle holder from Bed, Bath & Beyond: $14
Basket from Hobby Lobby: $14.99
Miscellaneous:
Includes caulk, wood glue, construction adhesive, nails, etc.: $75
TOTAL MAKEOVER COST: $996.93
Addicted 2 Decorating is where I share my DIY and decorating journey as I remodel and decorate the 1948 fixer upper that my husband, Matt, and I bought in 2013. Matt has M.S. and is unable to do physical work, so I do the majority of the work on the house by myself. You can learn more about me here.