Last Updated on December 25, 2015 by Kristi Linauer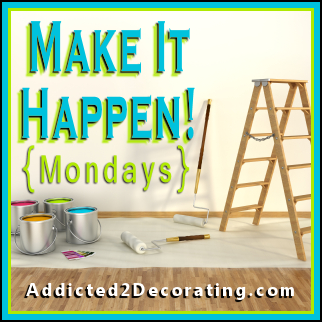 Well, I knew this would happen eventually. I just had no idea it would happen on the second week of Make It Happen Monday.  😀
You've guessed it. I didn't finish my projects. However, I did get started on them, and I even got one small part finished. The trim along the top of my cabinets, which has been unpainted for well over a year, is now painted. Yay!
So that was the only thing that I actually got finished. Bummer.
I did get some priming done where I got stain on the wall…
Oh well. I won't let this discourage me. The truth is that I simply wanted to stay out of the kitchen as much as possible this last week, because the more I stayed away, the less chance there was that I would ruin my countertops. You see, I used water-based polyurethane on them, and evidently it takes several days to cure. If I drip water on the countertop, it turns a milky white like this…
The first time it did that, it scared the heck out of me! I was sure that I had ruined my newly finished countertops…again! But as the spots dried, they became clear again. (Have any of you ever used water-based poly? Did it do this to you? And more importantly, did it eventually stop doing this?)
I called the Rust-Oleum customer service number, and the man assured me that the finish would stop turning milky like that when the polyurethane was fully cured. So until then, I'm trying to be as careful as possible, and stay out of my kitchen as much as possible. I figured that bringing ladders, trim, nail guns, hammers, and other tools into the kitchen before the countertops were cured was a sure way to mess them up.
That's my excuse, and I'm sticking with it. 😀
So I guess you know what's on my to-do list for this next week. I'm determined to finish all of the trim work, paint touch ups, re-caulk where the backsplash meets the countertop, and grout my floor.
Now tell me, how did you do on your projects? Did you get them finished as planned? Or did life get in the way this last week? If so, that's okay! The point of our little support group here isn't to feel guilty when we don't get something finished. It's just to offer encouragement where we need it, and celebrate the small victories! 🙂
Feel free to leave a link in the comments to show off your progress and your projects! If you don't have a blog, you can upload a picture to your Flickr account (or another photo hosting website) and then leave a link below to the picture. We want to see what you've accomplished!!
Addicted 2 Decorating is where I share my DIY and decorating journey as I remodel and decorate the 1948 fixer upper that my husband, Matt, and I bought in 2013. Matt has M.S. and is unable to do physical work, so I do the majority of the work on the house by myself. You can learn more about me here.
I hope you'll join me on my DIY and decorating journey! If you want to follow my projects and progress, you can subscribe below and have each new post delivered to your email inbox. That way you'll never miss a thing!