*This post contains affiliate links.
I'm slowly but surely making progress on the tiled floor in the bathroom. I'm using Kolassus White 12″ x 24″ Matte Porcelain tiles from Home Depot. This is my first time ever to tile a floor with large format tiles, and it's not the easiest thing I've ever done. 😀 I'm definitely getting better and faster as I move along, but I'd still rather tile a wall with small tiles any day of the week.
But I estimate that I have about four rows to go, which means I'm 2/3 of the way done with the tile installation. Then I'll have a lot of clean up to do, and then I'll grout. Here's the progress so far….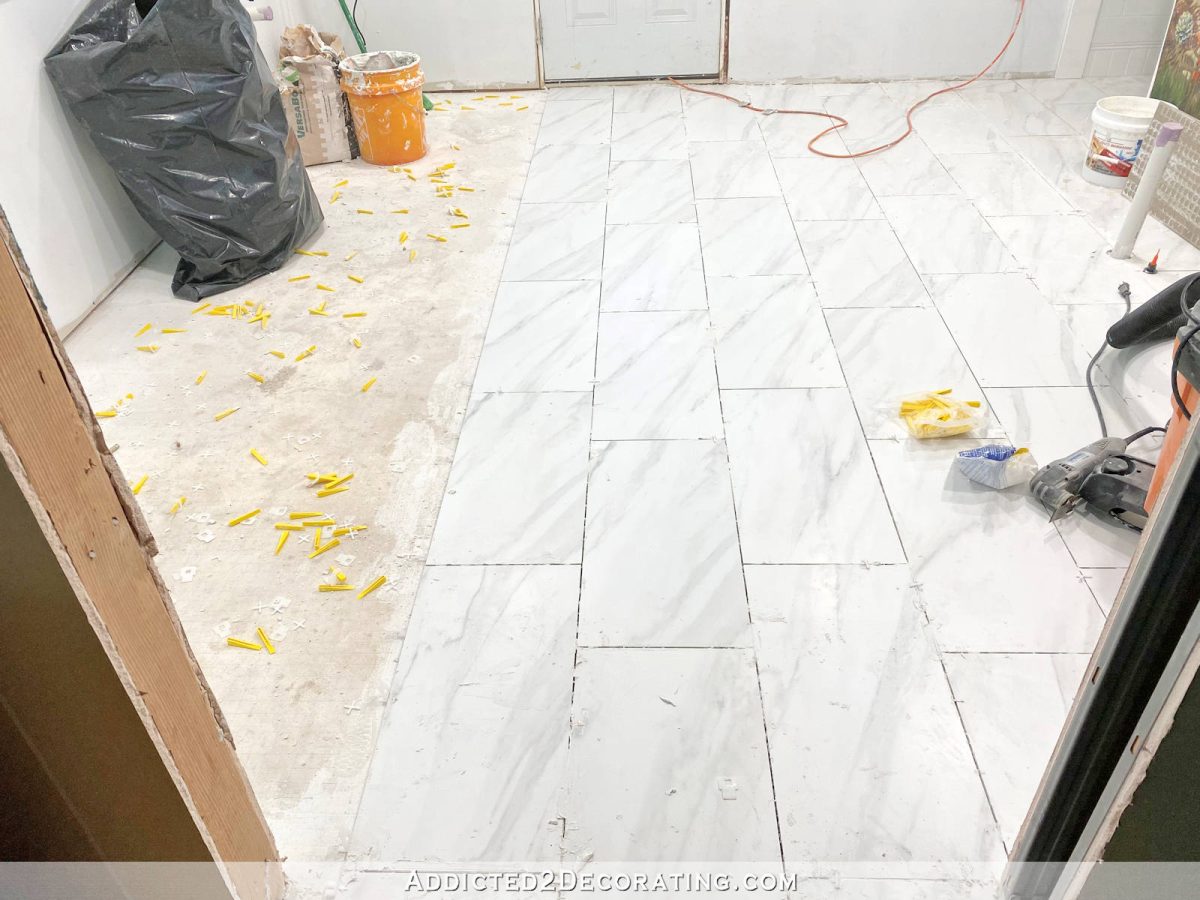 I've used two different tile floor leveling systems on this floor. If you plan on tiling a floor with regular-sized tiles (i.e., not mosaic tiles), you'll want to use a tile leveling system. As the name would suggest, the purpose of these tile leveling systems is to make sure that each tile is level with the tiles around it so that you don't end up with an edge of a tile sticking up higher than the tiles around it.
But for every great tile leveling product out there, there are horrible ones as well. Unfortunately, the first one I used was an awful product design, so I wanted to share my thoughts so that none of you will waste your money on it. The second one I used is an amazing and easy-to-use product.
So here's the first one I used. I don't even know the name of this product, but I got sucked into this by a slick video on a Facebook ad that made these look so easy to use. It has metal prongs that are supposed to go under the tiles and hold in place while you screw that black piece down until it's tight on top of the tiles, leveling the tiles with each other.
First of all, look how ridiculously short those prongs are. If it shifts at all (which it will do as you twist that black piece), it won't hold under the tile. And speaking of shifting, whoever thought it was a good idea to create a product that twists as it tightens on top of the tiles (tiles that are easily moved because they're sitting on fresh, wet mortar) is a horrible product designer. Once the black piece put any pressure at all on the tiles, the twisting motion would shift the tiles out of place. Also, if any mortar got into the threads at all (which is almost guaranteed to happen if you're a DIYer and not a professional), the gritty sand in the mortar made the black piece very difficult to turn.
It's just a junk product from beginning to end. So if you see the ad for that on Facebook that makes them look so easy to use, ignore it and move on. There were so many glowing comments on the ad, but I suspect those were all from fake accounts created just for the purpose of leaving glowing product reviews. So this one is junk. Don't get tricked.
What you need is probably sitting in a bin at your local Home Depot store. This amazing tile leveling system is the QEP LASH Tile Leveling System. This is a two-part system that consists of the white plastic pieces that have the feet that go underneath the tiles, with a plastic piece that sticks up between the tiles. And if you want 1/16″ grout lines, these can also act as your spacers. (I wanted 1/8″ grout lines, so I used separate spacers.)
The piece that sticks up between the tiles has a square hole in it…
And once you have your tiles in place, you push this yellow wedge through the square hole, and the flat bottom of the wedge tightens down on top of the tiles and levels them with each other.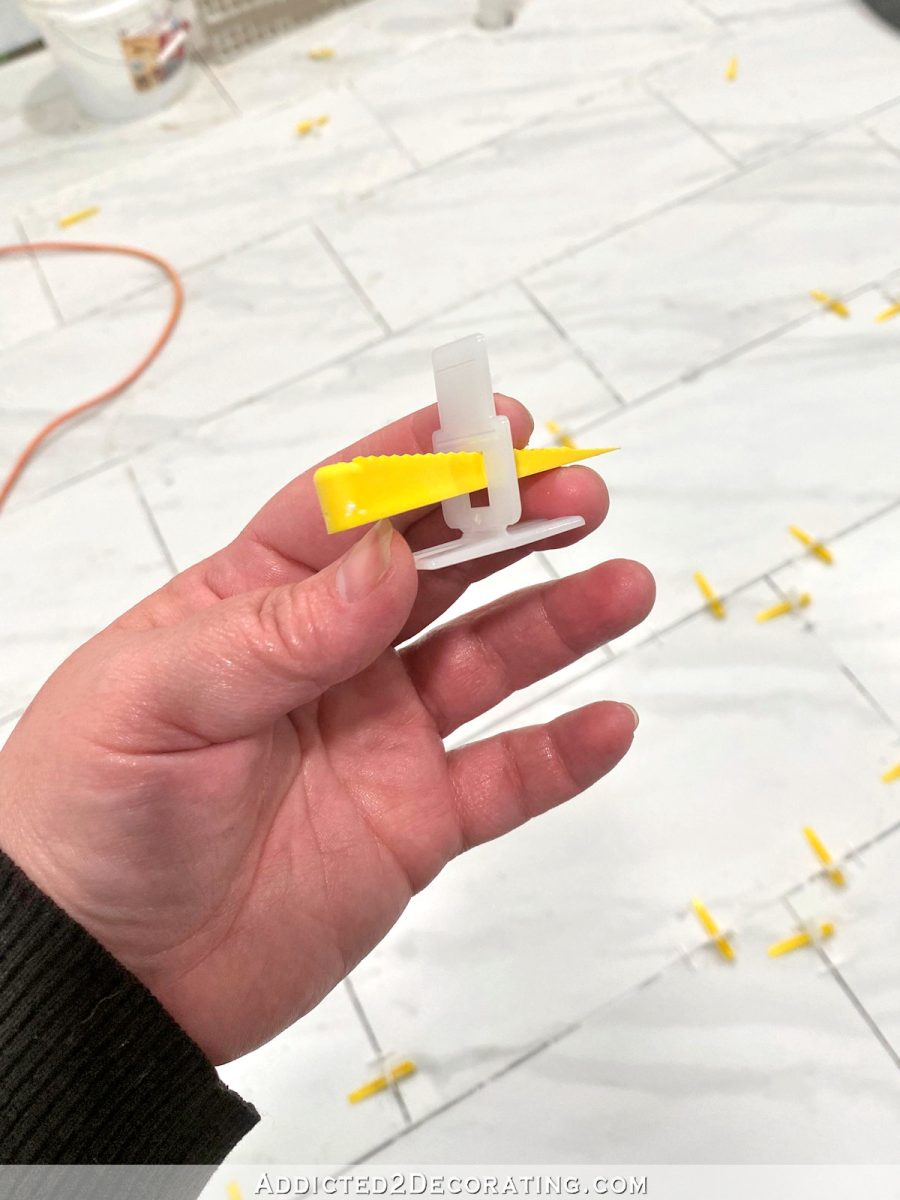 So after you've made some progress, you'll have a bunch of yellow wedges being held down by the plastic pieces that are sticking up between the tiles.
And you just leave them like that for about 24 hours until the mortar has set.
I'm pretty slow at installing these large tiles, so I'm getting about three rows done at a time. But I'm determined to see it to the end!
Anyway, once the mortar is dry (about 24 hours, generally), you come back and give a little kick to the vertical plastic pieces that are sticking up between the tiles ((that's not a euphemism, you literally just kick them with your foot), and they break off, leaving the little plastic feet under the tiles, never to be seen again. Then you're left with tiles that are perfectly level with each other, and you can move on to clean up and grout.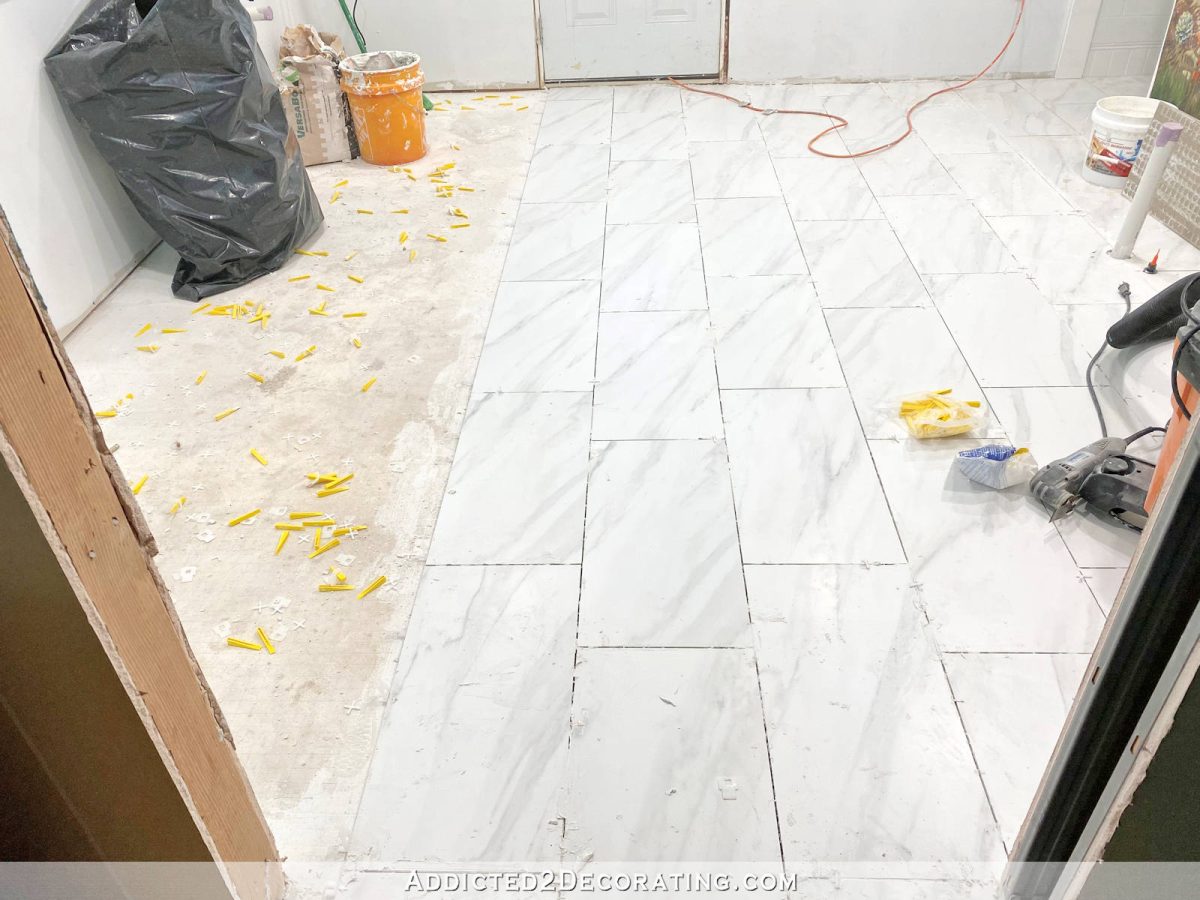 The little yellow wedges are reusable. And the white pieces (which are not reusable because you're literally breaking them into two parts once the mortar is dry) can be purchased separately on Amazon.
I think I have two more days of work ahead of me to get the rest of the tiles installed. I only have four rows left, but since the last four rows are past the doors (in other words, I don't have the ease of starting on a far wall and working my way out the door), I think I can only do two rows at a time. So I'll have to do two rows, let those dry overnight, and then do the last two rows. So if things go according to plan, all of the floors in this bathroom should be finished by the end of this weekend. That will be a huge accomplishment!
My favorite thing about this floor is the way that the large tiles flow right into the small shower floor tiles. I can't wait to see this grouted!
Addicted 2 Decorating is where I share my DIY and decorating journey as I remodel and decorate the 1948 fixer upper that my husband, Matt, and I bought in 2013. Matt has M.S. and is unable to do physical work, so I do the majority of the work on the house by myself. You can learn more about me here.
I hope you'll join me on my DIY and decorating journey! If you want to follow my projects and progress, you can subscribe below and have each new post delivered to your email inbox. That way you'll never miss a thing!