The Bedroom-To-Bathroom Conversion Is On!
Y'all, after much discussion and budget review, Matt and I have made a big decision. We've decided to go ahead and combine the Phase 1 remodel, which is scheduled to start around the middle of November, and Phase 2 remodel, which was originally planned for Spring 2020, and do them at the same time!
I'm so unbelievably excited about this!
So in case you're new around here and have no idea what I'm talking about, the Phase 1 that I'm referring to is a remodel of the two guest bedrooms in our house. and the moving of a wall in the hallway all in preparation for Phase 2, which is to turn the current master bedroom into our new master bathroom. So the rooms labeled "Matt's Game Room" and "Guest Bedroom" and "Master Bedroom," along with the hallway they all connect to on this floor plan…
…would look like this after Phase 1…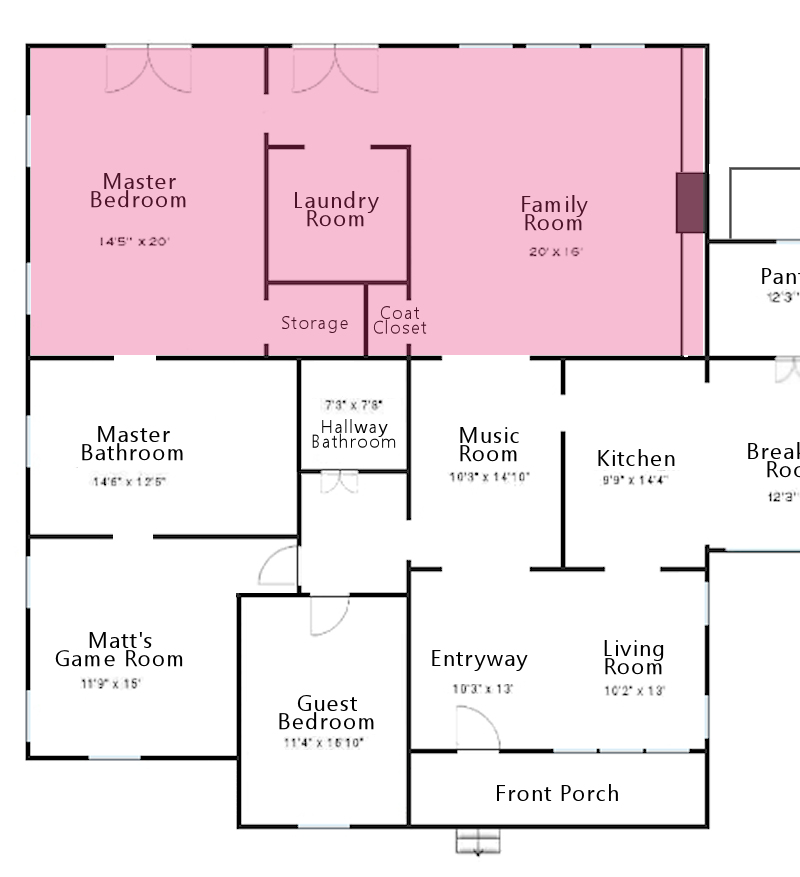 At the end of Phase 1, the plan was to leave the room labeled "Master Bathroom" as basically an empty room that would then be turned into an actual, usable bathroom during Phase 2. And then everything in pink would be added during Phase 3.
I share more details about our plans in this post…
But now, we've decided to combine Phase 1 and Phase 2, which means that when this first part is done, barring any unforeseen circumstances, we'll have an actual master bathroom!
Thankfully, I'm not completely unprepared. I've been planning and dreaming and thinking about this bathroom for a while now, and I already have a vision of what I want it to look like.
I decided on the floor plan a couple of months back. So the room labeled "Master Bathroom" on the floor plan just above will be arranged like this…
I originally thought that I wanted a freestanding soaking tub, but I've changed my mind. I want a built-in tub. I just love a pretty tub skirt with beautiful molding, pretty much like the one I built in the hallway bathroom. You can see that bathroom here…
I imagine something very similar to this tub layout (minus the vanity right up against it, obviously), with the large mirror on main wall, a beautiful chandelier, a tub skirt with beautiful molding, shelves at one end of the tub, and shelves plus a TV at the other end. Yes, I definitely want a TV in the tub area. 😀 It's one of my crazy "dream bathroom" list items, so this is my chance.
As far as my idea for the vanity/window wall, I've been very inspired by this bathroom by Studio Dearborn…
Of course, I don't want mine to look exactly like that, but the overall idea is inspiring me. For our bathroom, swap out the black tiles for teal, vessel sinks for undermounts, small mirrors for much larger mirrors, and the modern vanity for something much more traditional in style. But just the combo of the light floor, medium-to-light wood vanity, white countertop, dark wall tiles, and brass accents is the look I'm going for.
This is probably closer to the vanity color and style that I want in our bathroom…
This is going to be fun! And I'm excited that we're going to have a big master bathroom much sooner than we had planned.
Now I just need to find teal tiles. I've been looking, but so far, no luck. Everything I've found so far is either way too dark, or way too light. There's nothing so far in the sweet spot of just blue enough to not look green, and just light enough to look teal and not black while still being dark and gorgeous. I'm not picky or anything. 😀
Addicted 2 Decorating is where I share my DIY and decorating journey as I remodel and decorate the 1948 fixer upper that my husband, Matt, and I bought in 2013. Matt has M.S. and is unable to do physical work, so I do the majority of the work on the house by myself. You can learn more about me here.