My Master To-Do List For 2015 (House Goals)
One of the things I did during my end-of-the-year break from blogging was to go through each room of my house and make a mental list of all of the projects I want to accomplish in the house in 2015.  Mental lists are good, but written lists are much better for me.  So today, I'm turning that mental list into an actual written list so that I can have something to look at throughout this year, and actually cross things off the list as I make headway.  I fully expect that this list will change a bit as I go along.  Things will be added, while other things will be eliminated.  That's fine, but at least this will give me a good jumping off point, and it'll help me make the most of my time and keep me headed in the right direction.
If you'll remember, a few weeks back I shared my main goal with you.  I want to completely finish my living room, entryway, and dining room. Completely.  And then I want to make every other room of the house presentable.  I don't need those rooms to be perfect.  I just need them to be presentable and comfortable.
And let me make it very clear right now.  I completely plan on being all over the place this year, even more than ever.  🙂
I may do a project for the living room one day, and then do a project for the bedroom the very next day.  Then I might head back to the living room to work for a couple of days, and then spend a day working in my my office.  In other words, I have absolutely no plans to tackle one room at a time, start to finish, before moving on to the next room.  With a list this long, and the knowledge that it's pretty much all on my shoulders to get it done, the only way I will stay motivated to press on, without getting completely overwhelmed, is to go where my inspiration takes me each and every day.  So if I wake up and feel like painting, I'll find a room that needs painting.  If I feel inspired to sew that day, I'll find a room that needs a sewing project done.  But my hope is that by the end of this year, all of my scattered projects will fall into place to create a cohesive and comfortable home where every room is at least presentable, if not completely finished.
So here's what needs to happen in order for me to meet my goal:
(Sorry, but I didn't take time to take all new, updated pictures of each room, so you'll notice that some changes have already been made since some of these pics were taken.)
Front Exterior:
The goal – make it presentable.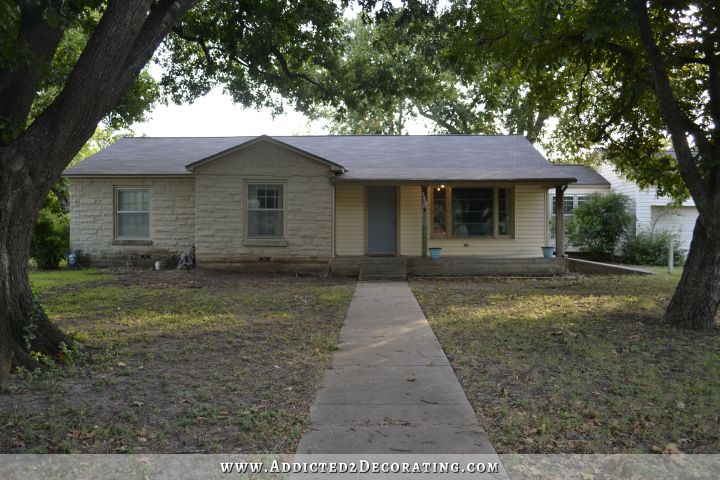 This house just looks lifeless from the front.  I have big plans for the front of this house, including a brand new extended front porch with added gables that will completely change the look.  Unfortunately, there's no room in the budget for that this year.  So for now, I'll need to stick with some simple cosmetic changes that will brighten up this dull exterior.
1.  Paint trim and windows white
2.  Paint the front door and side door
3.  Wrap columns in new wood and paint them white
4.  Remove the overgrown plants in front of the dining room and garage
5.  Add some colorful plants
6.  Get new house numbers that actually show up
7. Buy (or make) and install shutters on windows
8. Buy or make a new mailbox
Entryway and Living Room:
The goal – finish it completely.
These are old pictures, but the living room and entryway look pretty much the same today.  I did do an update to the fireplace to make it more traditional in style.  I also rearranged the furniture and painted the front door.  There's so much to do to get these areas finished!
9.   Remove tiles and 1 x 4's from the ceiling and re-drywall the ceiling
10. Rewire for lighting and move the junction box for the living room light fixture
11. Build an overmantel above the fireplace
12. Skim coat walls to remove heavy texture
13. Paint walls
14. Install wainscoting (changed my mind!)
15. Install grasscloth (changed my mind!)
16. Install trim (baseboards and crown moulding)
17. Replace aluminum window
18. Repair other wood windows so that they're functional
19. Reupholster sofa
20. Reupholster wingback chairs
21. Turn ottoman into a coffee table
22. Purchase (or make) and install a new light fixture
23. Make new window treatments
24. Caulk and paint trim around front door
25. Find a new area rug
Music Room:
The goal – make it presentable.
That is a very recent picture, and this room is well underway!  I highly doubt that it'll actually look like a music room this year since my piano is in storage somewhere in east Texas, and getting it here this year really isn't high on my priority list.  But I can make it presentable.  Here's what needs to happen:
26.  Build pony walls and columns for separation from entryway/living room (Done!  See it here.)
27. Remove ceiling tiles and 1 x 4's and re-drywall the ceiling.
28. Frame the doorway to the hallway
29. Patch drywall on walls (from moved electrical outlets and such)
30. Paint walls and finish wall treatment
31. Install baseboards and crown moulding
32. Purchase (or make) and install new light fixture
Kitchen:
IT'S FINISHED!!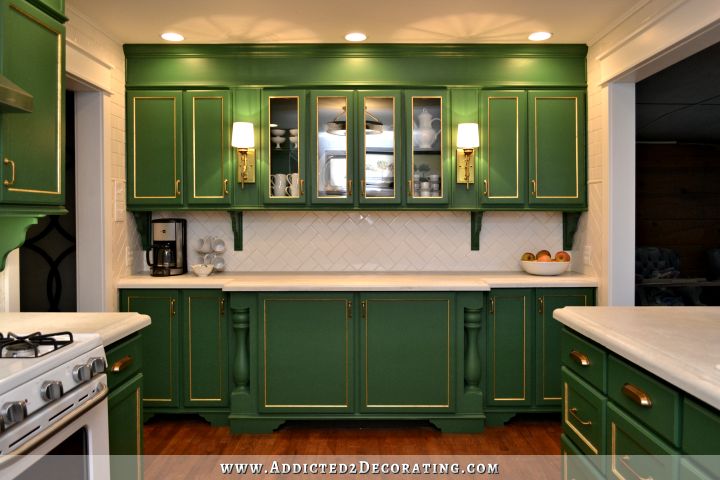 In the midst of all of these unfinished rooms, my kitchen is my happy place.  It's finished!  I actually have one room that's 100% finished!!  🙂
Dining Room:
The goal – finish it completely.
This is an old picture, taken during my kitchen remodel.  While the room isn't this dirty anymore, it's still piled with lumber and tools.  This room, out of all of the rooms in the house, is the one that overwhelms me the most.  Of all of the rooms in the house (with the exception of the ones that we plan on tearing down completely and rebuilding in the future, like the sunroom and master bathroom), this room needs the most structural work.  So here goes:
33.  Remove plywood from ceiling and install drywall
34. Patch the shiplap walls where needed and add drywall over the shiplap
35. Level the concrete floor and install plywood subfloor on top
36. Install hardwood flooring
37. Repair and paint front windows
38. Replace back left window with a smaller window
39. Remove back right window completely
40. Build pantry in back right corner of the room
41. Widen doorway to the sunroom and trim out
42. Make window treatments
43. Reupholster wingback chairs and heighten to dining room chair height
44. Trim and paint the door to the garage
45. Build beverage/ice machine station in the back left of the room
46. Rewire and move junction boxes for new lighting
47. Install chandelier over dining table
48. Complete pantry with lots of shelving
49. Stencil or paint walls
50. Install wainscoting
Sunroom:
The goal – make it presentable.
This room will eventually be torn down completely and rebuilt, level with the rest of the house, as the family room and utility room.  But for now, I need to make some cosmetic changes so that I don't cringe every time I walk in here.
51.  Remove the rest of the old curtains and add new curtains
52. Paint walls
53. Remove ceiling panels and find a way to make the ceiling look presentable
54. Figure out a way to remove/replace the green carpet.  Perhaps cheap carpet remnants?
55. Remove the shelves and declutter
Hallway:
The goal – make it presentable.
I actually made some headway on the hallway last year, but just not quite enough.  At least the polystyrene tiles and 1 x 4's are gone from the ceiling, and the ceiling has new drywall!  This year I need to:
56.  Replace all of the doors with new doors and door knobs
57. Tape, mud and paint the ceiling
58. Skim coat walls to remove heavy texture, and paint
59. Install trim – baseboards and crown moulding
60. Buy (or make) and install new ceiling light
Hall Bathroom:
The goal – make it presentable.
This room had me overwhelmed also, as I had no idea how to just make it presentable for now.  But just over the last 24 hours I think I have clarity on how to make it presentable.  I eventually plan to do a complete gut job and full-scale remodel in here, enlarging the bathroom so that it extends into the hallway about two feet (taking up the area that is now used by the small hallway closet).  I'll be removing the tub and adding a nice walk-in shower (or rather, a roll-in shower for Matt to use while we're doing our huge remodel of the master bedroom, master bathroom, utility room, and sunroom at some point in the future).  But for now, I just need to do a relatively quick and inexpensive makeover.  I plan to:
61.  Cover the floor with peel and stick groutable tile
62. Cover the wall tile with beadboard
63. Paint the walls
64. Finish removing the ceiling tiles and 1 x 4's, and patch and paint the ceiling
65. Paint the tiles around the bathtub
66. Add a new, inexpensive vanity and faucet
67. Add a new mirror
68. Rewire and install new lighting
69. Install a new toilet
70. Add a pretty shower curtain
71. Remove the door to the linen closet (behind the entry door) and make that area open shelving
My Office:
The goal – make it presentable.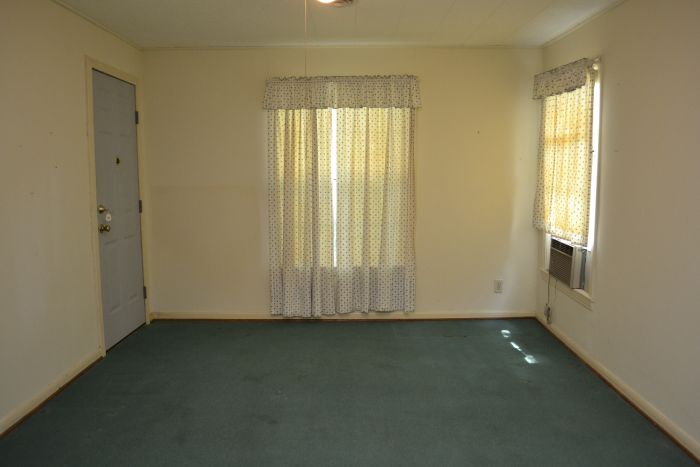 This is a very old picture, taken even before we moved into the house, but the only thing I've done in here is remove the carpet and refinish the hardwood floor.  Sadly, I still even have those curtains up.  So the plan is to:
72.  Paint the walls
73. Install baseboards
74. Paint the door
75. Add new window treatments
76. Buy or build a large work table that I can use for sewing projects and such
77. Install a new ceiling fan
78. Set up a usable and efficient desk area.
Matt's Game Room:
The goal – make it presentable.
This is another old picture, but just imagine the room filled with about 20 different video game systems, about 1000 video games, and controllers and wires strewn about, and you've got a pretty good idea of what it looks like now.  The walls, ceiling, and floor are exactly the same as pictured above.  I need to:
79.  Paint the walls and ceiling
80. Remove old blinds and add new window treatments
81. Find a way to organize Matt's gaming systems and games
82. Install a new ceiling fan
83. Install baseboards
Master Bedroom:
The goal – make it presentable.
This is kind of an old picture, but the room is pretty much exactly like this — big paint swatches painted on the wall, old blinds and vinyl window shade, and absolutely nothing comfortable or inviting about it.  That needs to change, so I need to:
84.  Make a headboard (Done!  See it here.)
85. Remove old shade/blind and add new window treatments
86. Paint the walls
87. Install baseboards
88. Move seagrass rug (from living room) into this room (Done!)
89. Find or make bedside lighting
90. Fix up the bedside tables
91. Replace the closet door
92. Replace the bathroom door
93. Paint the trim and windows
Master Bathroom:
The goal – make it presentable.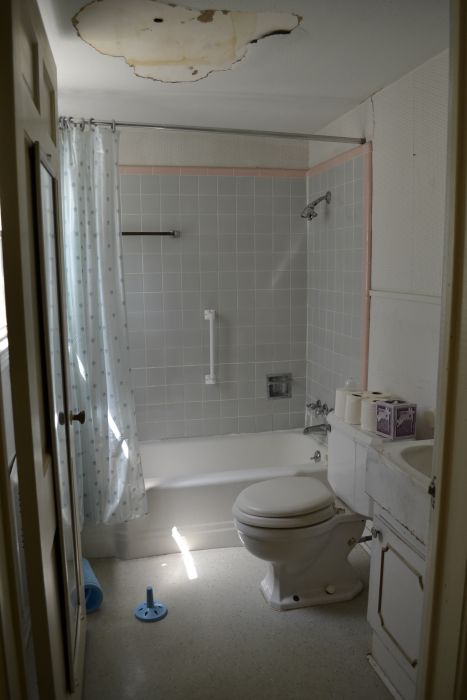 This is another old picture, taken before we moved in, but it doesn't look much better now.  Of all the rooms in the house, this one grosses me out the most.  I keep the door closed and try to forget about it.  But just like all the other rooms, I do need to make an effort to at least make it presentable since it will probably be at least two or three years before we can do our huge remodel.  We've already replaced the toilet, but I still need to:
94.  Replace the vanity, sink and faucet
95. Paint the tiles around the tub
96. Add peel and stick groutable tiles to the floor
97. Add beadboard to the walls
98. Hang a pretty shower curtain
99. Repair the ceiling and paint
100. Paint the walls
101.  Replace the mirror
102. Replace the vanity light
Back Yard:
The goal – make it presentable.
I don't plan to do much back here at all this year, but I would like to enjoy the back patio in nice weather.  So I just need to:
103.  Add some seating to the patio
104. Add an outdoor rug
105. Make a hammock and hammock stand (I've been wanting to do that for a year now!)
106. Clean up the mess from my projects that I have strewn about
The Garage:
The goal – make it USABLE!
The garage has basically become my storage building.  That needs to change.  I'd love to actually be able to work on projects out there.  I plan to:
107.  Declutter and get rid of the stuff I'll probably never use
108. Arrange the old kitchen cabinets as workbenches
109. Install inexpensive countertops on those cabinets so I can actually use them
110. Arrange all of my tools in the garage for easy access
And that's it!  Easy peasy, right?  🙂
I kept telling myself, "I have a whole year!  I can do it!"  But then I have to remind myself that there are only 52 weeks in a year, and those go by pretty quickly when some of these projects will last for several weeks.
So I fully expect that I'll have projects left on my list at the end of this year that remain unfinished.  But that's okay!  I just love having something to strive for, and I like challenging myself.  I think I work better under pressure.  This will definitely be a challenge, and I plan to get as much done as humanly possible.  It'll be fun to see how much I've actually accomplished at the end of this year.
Addicted 2 Decorating is where I share my DIY and decorating journey as I remodel and decorate the 1948 fixer upper that my husband, Matt, and I bought in 2013. Matt has M.S. and is unable to do physical work, so I do the majority of the work on the house by myself. You can learn more about me here.