I finished my headboard!  Here's how it turned out…
Unfortunately, I wasn't able to get any full-length pictures showing the headboard with the bed frame, but I'll share more as I make more progress on this room.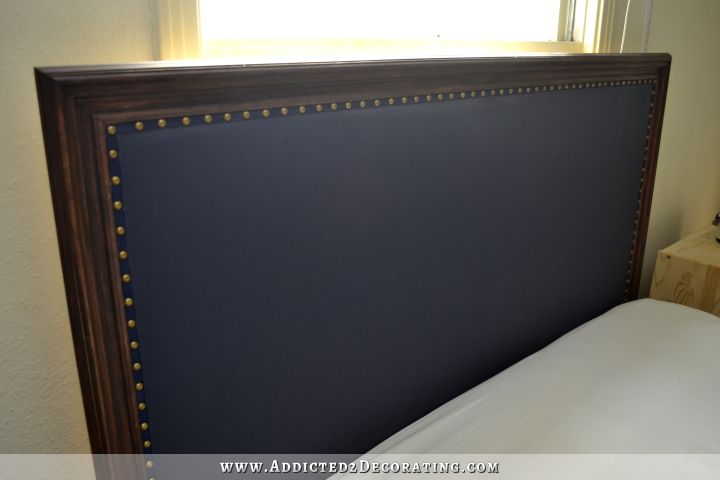 I wasn't sure how I'd like the navy blue with the stained wood, but I love it!  I think it'll be a perfect backdrop for the P. Kaufmann Sea Breeze Patriot fabric that I chose for pillows.
And the Robert Allen Cats Cradle in Papaya that I chose to go with it.
via
Yesterday I showed you how I made the frame for the headboard, and here's how I finished this headboard…
I started the upholstery steps by adding 1-inch foam to the center of the headboard inside the wood frame. I generally use spray adhesive, but this time I used hot glue.  It works fine, too.  It's okay to piece foam together, but just make sure that you also glue the pieces to each other along the edges so they don't shift.
On top of the foam, I added a single layer of hi-loft batting.  I glued this around the edges of the green foam and trimmed it just before it reached the wood frame.
And then I added the vinyl.  I started along the top making sure I was working along a factory-cut side of the vinyl.  Before each staple, I pulled the vinyl taut, and actually kind of stretched it a little bit to be sure there would be no wrinkles.  I did the entire top edge before moving on.
Here's a close up of the staples.  I did go back and add more in those gaps, but you can see that I used that small piece of moulding as my guide.  I put my staple gun up against that moulding each time before stapling.
With the top completely stapled on, I did half of the bottom.  I started right in the middle, pulled the vinyl down taut and stapled.  Then I worked my way to the left bottom corner.  I really can't stress enough how I pulled the vinyl taut with each staple, pulling it down, but also to the left.
And then I worked up the left side.
With the left side finished, I repeated that process on the other side, starting on the bottom middle, and working my way to the bottom right corner.  Then finishing up the right side.
With the whole thing stapled, it looked like this…
I used an X-acto knife with a very sharp blade to cut the excess vinyl right along the inside edge of the small moulding.
And finally, I added the finishing touches.  First I used hot glue to attach extra wide bias tape around the edges to cover the staples, and then I added nailhead trim on top of the bias tape.  You can use any trim for this part — bias tape, grosgrain ribbon, gimp, or any other narrow trim.
To get my nailheads spaced evenly, I added a nail head to the top corners, and then measured between them.  I divided that number by 1.5 (I wanted 1.5-inch spacing) to see how many nailheads I needed, and if I needed to adjust the spacing to get them even.  I ended up with spacing closer to 1.25 inches to get them spaced evenly.  Once I had the spacing needed for the top, I just repeated that same spacing down the sides.
One thing to note about nailheads is that they're pretty forgiving.  If you don't get a nailhead in perfectly spaced, don't worry about it!  Just hammer it all the way in (preferably using a tack hammer as shown above), and then firmly but somewhat gently tap the nail head on the side of the head to get it exactly where it needs to go.  You can actually adjust the positioning about 1/8-inch in each direction using that method.  If you try to adjust it more, the head might pop off, and you'll need to use needle nose pliers to get the nail out, and then you'll have to start over again with a new nailhead.
I generally hang my headboards on the wall using a large Ook Hangman French Cleat (available at both Lowe's and Home Depot), but since my bed is going in front of a window, that wasn't an option.  To install this headboard, I placed it on the bed frame, making sure that the backs of each were lined up, and then I used 2 x 4 lumber.  I wanted this headboard attached very securely, so I actually used wood glue first, and then screwed the 2 x 4 into the back of the headboard in four places (two at the top, and two at the bottom), and then screwed it into the bed frame in five places.  Because of the positioning of the trim on the bed frame, I had to use a 1 x 4 spacer, but it worked perfectly.
And that's it!  It was actually quite a chore getting it installed by myself, but I managed.
While I had the bed moved, I also brought the sea grass rug in that used to be in the living room.  Talk about a chore!  After getting that thing in place, and then installing the headboard, and then moving the bed into place, I was about ready to pull my hair out.  But it's done, and this room already feels more like a comfortable bedroom.  And I'm just getting started!
2015 Master To Do List, Item #84 – Make a headboard, AND Item #88 – Move seagrass rug into bedroom:  DONE!  🙂

Addicted 2 Decorating is where I share my DIY and decorating journey as I remodel and decorate the 1948 fixer upper that my husband, Matt, and I bought in 2013. Matt has M.S. and is unable to do physical work, so I do the majority of the work on the house by myself. You can learn more about me here.
I hope you'll join me on my DIY and decorating journey! If you want to follow my projects and progress, you can subscribe below and have each new post delivered to your email inbox. That way you'll never miss a thing!