My Tree Trimming Service Nightmare
Y'all, have I got a story to tell you! Now before I start, let me just say that if I were to share every single one of my bad customer service experiences with you, that's all this blog would be. I'm sure you've noticed, as I have, that customer service is a thing of the past, and I've experienced terrible customer service at one time or another at just about every place I patronize on a regular basis.
But this particular experience was so egregious, so beyond the pale, that my goal here is not only to regale you with a story of my terrible experience, but also to get this info online in a searchable way so that if anyone else in the Waco area thinks to hire these people, and thinks to google the name(s) first, they'll hopefully land on this page and see my experience. These people shouldn't be in business. Period.
So let me tell you my experience with A-1 Affordable Services in Waco, Texas, owned/operated by Michael Brooks and his assistant Josh McClendon III.
The nightmare starts…
This nightmare started on Thursday, December 26th, when I was returning home from the grocery store and pulled into my driveway to see that two men, one woman, and a child were working in my neighbor's yard cutting down trees and hauling the limbs to the curb. As I pulled up by the studio side door where I always park, the woman approached my driver's side door. I rolled my window down and immediately asked, "Do you need me to move my car?" assuming that they were concerned with dropping branches near my car.
She said, "No, I just wanted to ask you about your tree."
She was talking about the HUGE oak tree that's right next to the carport. The tree that should have come down before the carport was ever built. The tree whose life I was hoping to spare. The tree that then proceeded to drop a huge limb that punched a pretty big hole in the roof of the carport. The tree that now sits on death row awaiting execution at a time as yet undermined.
Here's a picture of the tree during the carport build.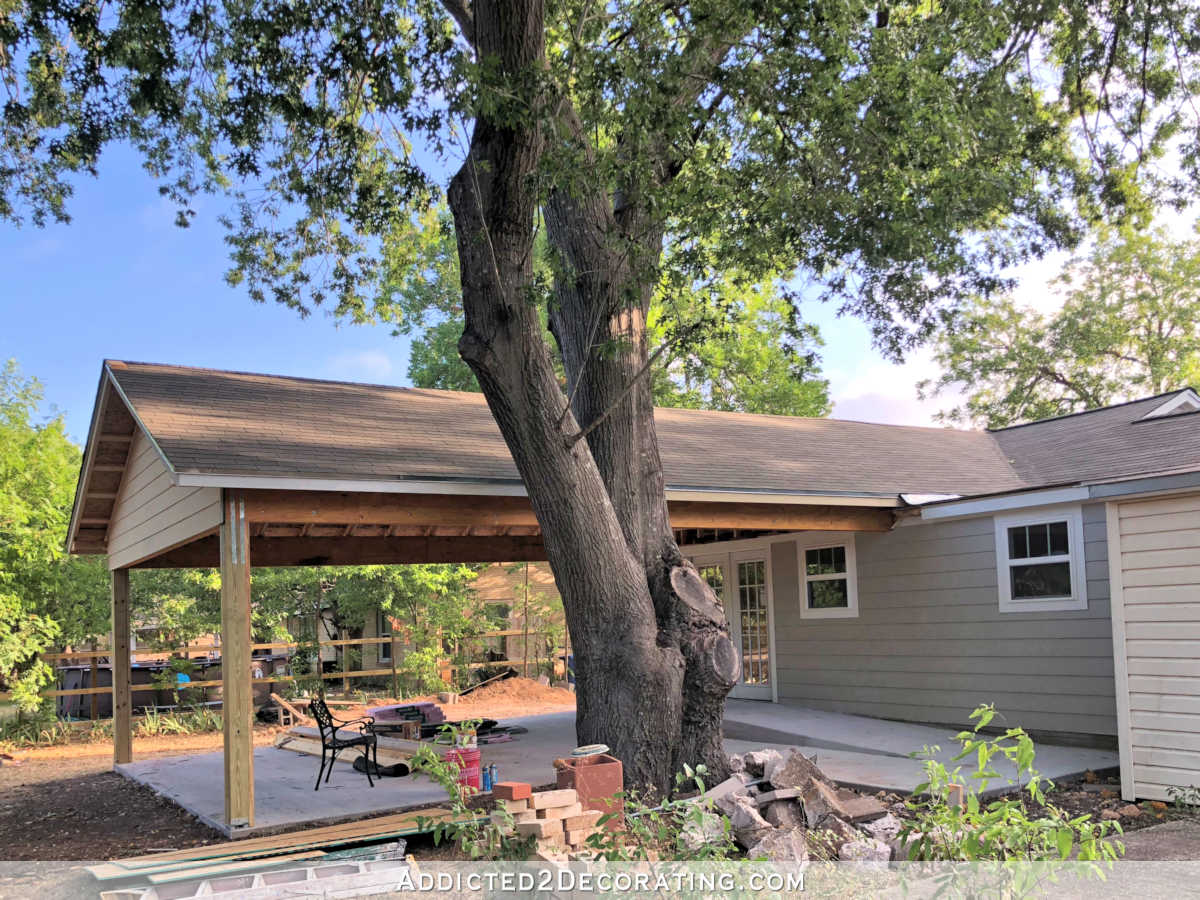 She told me that they were looking at my tree and noticed that several huge limbs really needed to come down immediately. I explained that I knew that, and actually wanted the entire tree to come down, but just couldn't justify spending the money right now since we were having a lot of work done inside. She called one of the men named Mike over to look at the tree and give me a price.
After looking at it, he told me that he would charge me $1800 to cut the tree down completely, haul off the limbs from my property (I didn't want them left along the curb), and to haul away my big pile of trash in the back. Since I'm always doing remodeling and building projects, I always have a pile in my back yard, and when it gets large enough, I have a guy I call who comes and hauls it away for me. But Mike said that he'd throw that in as well.
He assured me that they have 20 years of experience with cutting and trimming trees, and had done plenty of trees this size and plenty of trees that were this close to the house. He explained that they have the climbers, the ropes, and even a lift bucket. He said that they could do the whole job without a limb even touching my roof.
Well, that sounded good, and the price sounded incredible. Matt and I had been expecting to pay at least $3500 to have that tree cut down completely. So when I shared the info and price with Matt, he said that we should go ahead and do it.
The "Contract"
When we agreed to the price and services, Mike told the other man, Josh, to write up the contract. The contract turned out to be something that he hand wrote on a piece of notebook paper, but I was okay with that. A signed agreement is a signed agreement, whether it's hand written on notebook paper or pre-printed by Office Depot.
So Josh scribbled away, writing a pretty lengthy contract, and handed it to me to sign. It all sounded good except for one small part that said:
…unless an emergency situation arise would company ask for more cash.
Ummm…what? What kind of emergency situation could arise that would require more cash?
I asked him about that, and he said something like, "Well, that's just to protect us in case of…." I don't remember exactly what he said.
But I do remember that I asked him very specifically, "Have you EVER come back and asked a customer for more cash than was agreed upon?" He assured me that that has never happened. I said, "So you're telling me that in 20 years of business, you've never done that." He assured me again that that's never happened.
I had already asked him if they have business insurance and worker's compensation, the first which would cover any damage if they drop the tree on my house, and the second which would cover them if one of them falls out of my tree and can no longer work.
He assured me that they had both, so I told him that he needed to add that to the contract — that they have insurance and worker's compensation — BEFORE I sign the contract. He did so, and we all signed.
So we all signed the contract, and I wrote a check for $900, as we agreed. And of course, they cashed the check almost immediately.
The Work Begins…Barely
They spent the rest of the day working in my neighbor's yard, so they didn't get started in my yard until Friday. Friday afternoon, to be specific. And I think it was about 2:00 or 3:00 before they even got started. Seeing that this is still winter, the sun goes down around 5:40pm, so that didn't leave much time to work at all.
The woman and another person brought the truck and started loading up my pile of junk to haul off. They got about half of the pile taken away. Then the climber (yes, singular…climber) came with his ropes and gear and climbed up in that huge tree. Josh was helping to hold the rope. They worked very slowly for about 60-90 minutes, and took down two limbs in that time. Then Josh disappeared and I didn't see him again that day. The climber picked up all of his gear and told me that he'd have to come back when they could get another climber there to help. Then he left.
When they left that day, this is what it looked like…
In case you can't tell what that is, let me explain. The large limb leaning against the tree in the front is the one that dropped a while back and punched a hole in the carport roof. It's huge and heavy, and I was able to drag it off of the roof, but then it got lodged right there and I couldn't move it any further. So that's where it stayed. Behind that is another large limb that they cut down and left there. And then there's one large limb sitting on the roof of the house that they cut and left. (And remember, Mike told me they could do this job without a single limb touching my roof.)
So that's how they left things on Friday, and they didn't tell me when they'd be back. They just left.
The Awkward and Infuriating Ask
On Saturday, we woke up to drizzly, rainy weather, so I didn't expect them to climb and cut trees. I didn't expect to see them at all that day, so imagine my surprise when Josh showed up on my front porch around noon. Cooper and I met him at the door, and I just cracked the door (because Cooper is crazy with visitors) and talked to him through the crack. He said that he needed to talk to me and that it might take a few minutes, obviously wanting to come into the house. I put Cooper away and let him in.
Josh is very difficult for me to understand. It's like talking to a person who should be wearing dentures, but refuses to wear dentures. I don't know if that's the case with Josh, because I didn't look closely enough, but I just have such a hard time understanding him.
But I understood his initial statement very well. He said, "You know how I put in the contract that in case of emergency, we would require more money? Well, an emergency has come up."
I could feel my blood pressure rising and the anger building up inside. And emergency has arisen? HOW? They've cut down to freaking limbs from my tree, one of which is still sitting on my roof, and that's it! What kind of emergency could have come up?
He kept saying something about insurance, and insurance lapsing if he didn't make a payment by January 1st, and he couldn't rent the bucket without insurance, and he needed money for insurance, and blah, blah, blah.
I was infuriated. Can you even imagine someone you've hired to do a job coming to you and asking for more money because their insurance is about to lapse?
I couldn't imagine a more unprofessional thing. Why is his insurance my responsibility? And why does his soon-to-be-lapsed insured constitute an emergency for me? And why is he talking about renting a bucket when Mike told me that they already have all of that?
I told him in no uncertain terms that this was the most unprofessional thing I've ever experienced in my life. That there was absolutely NO WAY I was going to pay him more money after they only cut down two limbs and left one sitting on my roof. That I would pay what we agreed to and no more, and that I don't have more to pay them since we're in the middle of a $20,000 remodel.
And after all of that, he had the nerve to ask, "Well, you're going to be able to pay the rest that you owe us when we're finished, right? Because it sounds like you don't have any money, so I just want to be sure you'll be able to pay us."
I'm pretty sure I had actual fumes coming out of my ears at this point. I ushered him out the door, and immediately picked up my phone and called Mike.
That conversation went something like this:
Me: Mike, Josh was just at my house asking for more money, something about insurance lapsing and me needing to pay more so he can get insurance.
Mike: Oh, I'm so sorry, we couldn't cut the tree today because it's raining, but we'll be there next week.
Me: Umm, that's not the issue here. I'm telling you that Josh was just at my house asking for more money. What's that about?
Mike: Yes, ma'am. It's just that we can't work in the rain, so we'll have to wait to cut the tree.
Me: MIKE! LISTEN TO WHAT I'M SAYING!! Why was Josh just at my house asking for more money?!
Mike: Ma'am, I don't know about what Josh was doing, but we just can't work in the rain because it's dangerous for the climbers.
Anyway, by the end of our conversation (if you can call it that), Mike assured me that they would, absolutely, get the job done for the price we agreed upon, and that they'd be there on the next day with nice weather.
Too Much Wind
Monday, we woke up to beautiful weather. It was sunny, and the temperature was supposed to warm up to the 60s. So I expected them to be at my house bright and early to take advantage of the gorgeous weather.
Needless to say, I was disappointed. The morning passed, and I didn't hear from them.
Finally at 1:30, I got a message from Josh saying that they were waiting for the wind to die down before they send climbers to my house. Matt and I listened to that message, looked at each other in bewilderment, and looked out the window to see the trees standing absolutely still because THERE WAS NO WIND. None. Zero. I mean, the branches of the trees outside weren't moving even a little bit.
More frustration. But maybe tomorrow.
Insurance? What insurance?
On Tuesday, December 31, we woke up to another beautiful day, so I fully expected that they would be here. When will I learn?
We didn't hear from them at all, and finally at 2:00pm, I called Mike. And of course, he told me that they were just about to leave to come to my house. At 2:00pm. And the sun goes down at 5:40pm.
Before I hung up with Mike, I said, "Mike, I just want to be clear. You DO have insurance and worker's compensation, right?"
He said, "No ma'am. I don't have insurance, but I do guarantee that if there's any damage, we'll take care of it. But no, we don't have insurance."
I said, "What do you mean you don't have insurance? You told me that you have insurance!"
He said, "No ma'am. I never told you that we have insurance. We've never had insurance. But we will take care of any damage."
I said, "MIKE!! JOSH TOLD ME that you have insurance and worker's compensation!! I don't want anyone climbing up in my huge tree on my property without insurance and worker's compensation!"
He kept on and on with the "I never told you we have insurance" bit, and I got angrier and angrier, telling him that it was in the contract, and he finally HUNG UP ON ME.
Y'all, I was livid. Fuming. He freaking HUNG UP ON ME.
A couple of minutes later, he called back, but I don't think he realized he called me. All I could hear was Mike yelling at Josh saying, "Why would you tell people we have insurance and worker's compensation? You know we don't have that stuff! And you put it in the contract?! Why would you do that?!"
I just sat there and listened for a couple of minutes. Then I guess he realized that he had dialed my number, and he said, "Ma'am? Hello?"
He proceeded to tell me that he didn't know why Josh would put that in the contract because they don't have insurance or worker's compensation, but he assured me that if anything happened to our house, they would cover it. (How? If he didn't have insurance, and had to come begging for more money at my door on Saturday, how would they cover damages?)
I told him that if they were going to do any work at my house, I wanted a new contract first. I wanted the new contract to say that (1) they had originally told me that they had insurance and worker's compensation, which was a lie, (2) that they would do the work originally agreed upon, and for the amount originally agreed upon, (3) that I would not be held liable in any way if one of their workers was injured on my property, and (4) that they would be liable for any damages caused to my house or property during the course of the work being done. He said that was fine, and that they were on the way.
As soon as I got off the phone, I knew that there was no way I would actually let them do the work at this point, but I wanted my money back. And I knew that if I told them that on the phone, I'd never see them again. So my plan was to let them come to my house, and then I'd show Mike the state in which things were left on Friday. I'd also take photos of Mike, Josh, and their license plates, for identification purposes. And then I'd ask for my money back. If they refused, then I'd take them to small claims court.
Matt agreed to this plan of action, but wanted me to have someone here as a "witness", so I asked my mom to come over. She and my niece got here almost immediately, around 2:30, and we waited. And waited. And waited some more.
Needless to say, they never showed up, I didn't get a phone call, and I didn't hear from them the rest of the day. My mom and niece finally left around 5:30 or 6:00 after the sun went down and it was definitely too late to work.
New Year's Day
At about 8:30am on New Year's Day (Wednesday), I got a message from Josh talking about wind again. I didn't even care. It was New Year's Day, and I was heading to my mom's house for our regular Lunch On The Patio that my mom, my brother, my sister, and I have every Wednesday. (We grill steaks and have lunch on my mom's new amazing covered patio every Wednesday.) I wasn't in the mood to deal with Mike or Josh or their nonsense that day.
Interestingly, Josh called back once again that morning, and didn't leave a message. Later that afternoon, after I had gotten home, he called a third time. That time I answered, and he said, "I'm sorry, ma'am. I have the wrong number."
Do you really think he had the wrong number? Ummm…no. He just wasn't expecting me to answer.
The Big Blow Up
By Thursday, I had reached my limit with these two. I decided that I wanted to insist that they bring my money, and I wanted to record the phone call. So after setting things up to record the call (Texas is a one-party state, so they didn't need to know I was recording), I called Mike. No answer. I waited a few minutes and called back. No answer.
So I reluctantly called Josh.
You can listen to the whole phone call here, but here are the highlights.
Josh makes more empty promises — "We'll be there tomorrow morning."
I insist that they come today or I'll pursue legal action.
He says the reason they didn't come the last time they promised is because someone was in a car accident. (If that were true, they could have called me to let me know, but they didn't.)
I say that I want a refund. They push back and insist that they did work.
They say something like if they cut down just one limb, then I'm required to pay them. (What?)
Mike tells me that $900 isn't much money. (I guess meaning that I shouldn't be too concerned with getting my money back because it's not much money anyway.)
I told them I would "press charges" if they don't give me my money back. I had a good laugh at that when I listened to the recording. 😀 Let's just say that Matt and I have been watching way too many CSI reruns lately. 😀
One of them said, "Bitch, you're crazy," to me.
Mike said that he was pursuing legal action against me for "harassment."
At one point, I screamed my head off like a lunatic 😀 because I had reached my limit, and they kept talking over me. (I promise, this is not the norm. I asked Matt if I had ever screamed at him like that, and he said that in 17 years of marriage, he thinks I may have done it once. Maybe. But these jokers pushed me way beyond my limit.)
Mike said that from now on, I'd be dealing with him and not with Josh.
Mike finally agreed to a refund of $700, which he told me he'd bring the next morning at 8:00am.
Friday, Refund Day
I didn't really expect to see Mike at my house at 8:00am as he had promised. And I got exactly what I expected.
But surprisingly, about 8:30, Mike called and said that he was on the way, but he was just running late. He said he'd be there in about 20 minutes.
An hour later, he showed up. I went to the door and was immediately frustrated to look through the glass and see Josh standing in front, with Mike sheepishly standing behind him on the porch steps. I opened the door, looked right past Josh, and said, "Hi, Mike."
He said hi, asked me how much we had agreed to for the refund, and pulled out a wad of money from his pocket. Immediately, Josh started in with, "We did more work than that. We did more work than that. Ma'am, we did more work than that."
I said, "Do you want to go look at the work you did? I still have one big limb sitting on my house! Let's go look!"
Mike said, "No, ma'am. I'll just give you your money back. I only have $600 right now, but we're doing a job today and I can bring you the rest later today." (Remember, this is from the guy who said that $900 isn't much money, and yet he can't afford to give me $700 back.)
Josh just kept on, "But ma'am, we did more work than that."
Finally, I said, "Let's go look. Right now. I want you to come look."
So we all went back to the look at the tree. Mike seemed embarrassed, but Josh seemed unaffected. He then began telling me that I didn't give them the chance to finish the job, and I just need to let them finish.
I said, "Josh, I gave you plenty of chances to finish! But that's not the only issue. There's also the issue of insurance. Mike says that y'all don't have insurance, and you keep telling me that you do. So tell me, do you have business insurance and worker's compensation?"
He began mumbling something about Medicare and Medicaid, and how he was covered, and the climbers were covered, blah, blah, blah.
I finally ushered them back to their truck, with Josh grumbling the whole way about finishing the job and having insurance. Mike said that he would be back in a couple of hours with the other $100 of my refund.
Do you think I've seen or heard from them since? I think you probably know the answer to that.
Anyway, I do take responsibility for hiring people I had not vetted properly to do a HUGE job on my property. I should have done better. But their behavior was so beyond the pale that I had to write about it so that if anyone in this area thinks about hiring these guys, and happens to google their names and business name (I did try, but they're nowhere to be found online), they'll hopefully see my experience and know to stay far away.
In the meantime, I still have a huge limb sitting on top of my roof.
FYI: For those of you in the Waco, Texas, area looking for reliable tree trimming services (with actual insurance and worker's compensation), I highly recommend Goss Tree Services.
We used them twice. The owner is very nice and knowledgeable, and he actually DOES have all of then necessary equipment, including the big wood chipper truck so that nothing is left behind. After we used them a couple of times, I also saw them in an episode of Fixer Upper where trees needed to be trimmed. So obviously Chip and Joanna trust them also. I hate that I was taken in by the idea of getting that tree down for $1800. I'll never use anyone other than Goss Tree Services again. The price is worth the peace of mind and job well done.
Addicted 2 Decorating is where I share my DIY and decorating journey as I remodel and decorate the 1948 fixer upper that my husband, Matt, and I bought in 2013. Matt has M.S. and is unable to do physical work, so I do the majority of the work on the house by myself. You can learn more about me here.