Porch Progress — Critter-Proofing + Installing The Porch Boards (Finally!!)
I debated whether or not I should share my progress with y'all today or just wait until Monday, because quite honestly, I didn't get very far on the pretty stuff (i.e., installing the porch boards). But I did make some progress, and I was just way too anxious to wait until Monday to share. If you've missed the previous posts for this project, you can click the links below to get caught up.
Before we get to the pretty stuff, I have to share one more bit of prep work that I decided to do at the urging of a few of you.
I thought my prep work on the front porch was just about finished two days ago when I did the spray foam insulation to fill the gap between the porch and the house…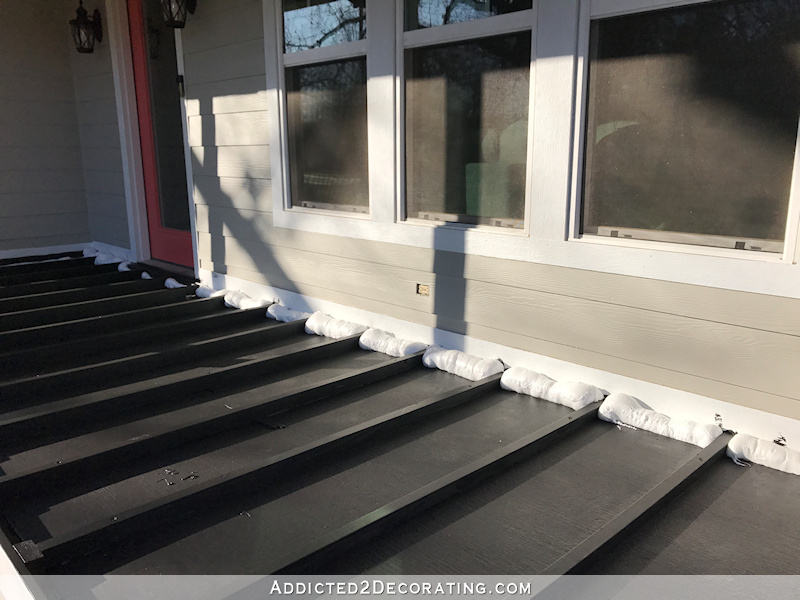 I thought I just needed to trim it, paint it, and then I'd be ready to install the porch boards.
But then some of you made a very persuasive argument that I needed to somehow critter-proof the area between the concrete and the wood porch boards. Mice, rats, and probably even squirrels, could easily climb up in the space I left for water runoff between the edge of the concrete and the skirting board…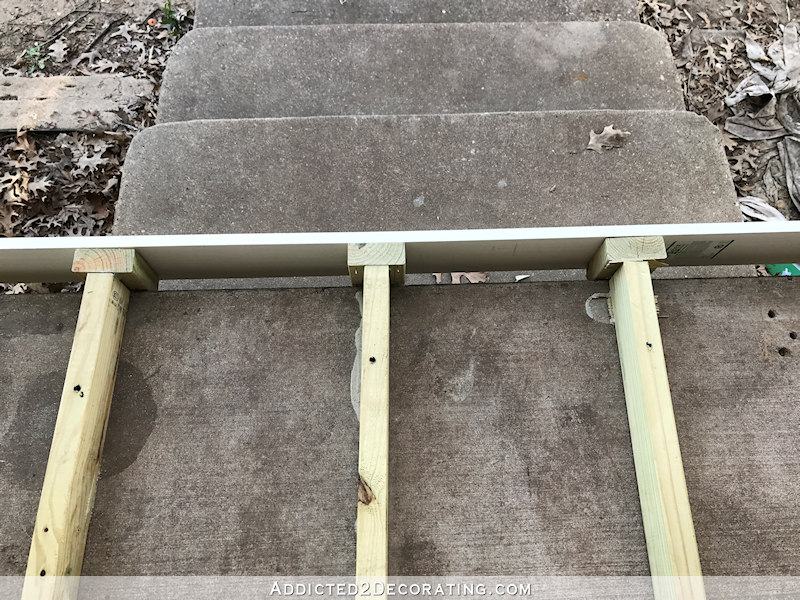 …and they could make their cozy little nests right in that space between the concrete and the wood.
I tried to ignore y'all. Seriously. 😀 I tried to convince myself to let Future Kristi deal with that problem if it arose so that I could get on with the fun stuff. But in the end, I knew y'all were right. So off to Home Depot I went to purchase some 1/4″ hardware cloth, which is a wire mesh with 1/4″ squares that would still allow for water drainage while keeping out the critters.
You absolutely have to wear gloves to work with this stuff because those cut edges will tear you up. It's awful to work with. I cut strips of the hardware cloth about 6 inches wide using my metal shears. Then using my narrow crown stapler, I stapled the hardware cloth to the top edge of the skirting board. Then I cut it right in the middle of the riser board (i.e., the joist) and pushed it down so that it was against the concrete, and stapled the ends into the sides of the risers to keep it in place.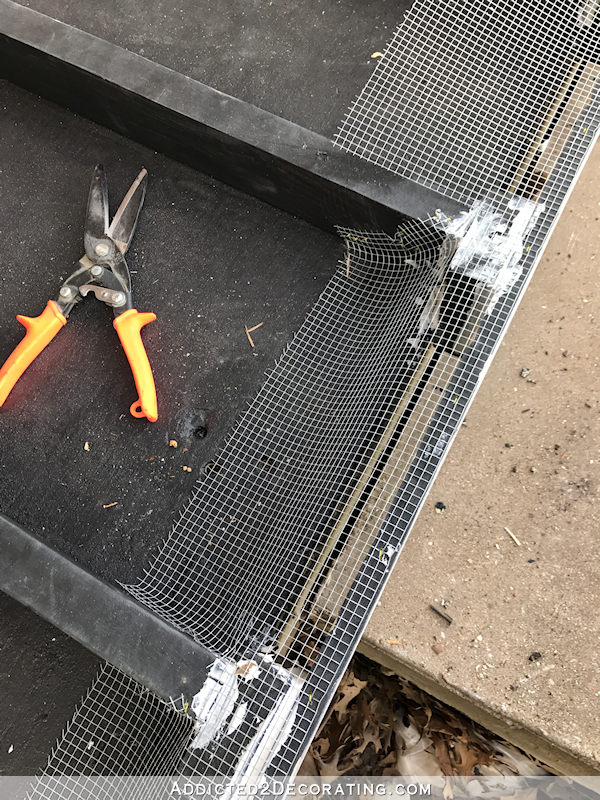 That process was very long and tedious, but I'm glad I did it. Now I can rest assured that there will be no critters nesting under my porch. And with that awful and tedious project done, I was finally able to get to the fun stuff — installing the porch boards! I didn't get very far since I started on the outside edge where I had to make sure everything was very straight and square, and then I had to cut some of the boards with my jigsaw so that they would fit around the columns.
Another decision that slowed me down was that I decided to seal all sides of my boards rather than just doing the tops. If you're planning on doing this project, I highly suggest that you take about an hour and read up on the pros and cons of sealing all sides of your boards (you can read all about it on various contractor sites) and decide if this method is right for you. Several factors will determine if you can and should do this, including the type of wood (pressure treated will be too wet unless you've let it dry for several months before installing, but cedar and other woods may be dry enough depending on your climate), where the boards are being installed (mine is just inches from concrete where moisture may take longer to drain/evaporate, so I wanted to protect the underside of the boards from that moisture), and several other factors.
After reading about and debating the pros and cons, I decided to go ahead and do it, which meant that I had to seal the edges, ends, and bottom of each board after cutting it and before installing it. I did this by brushing a coat of Thompson's Penetrating Timber Oil onto the bottom, sides, and ends before installing each board. That's a very slow and messy process.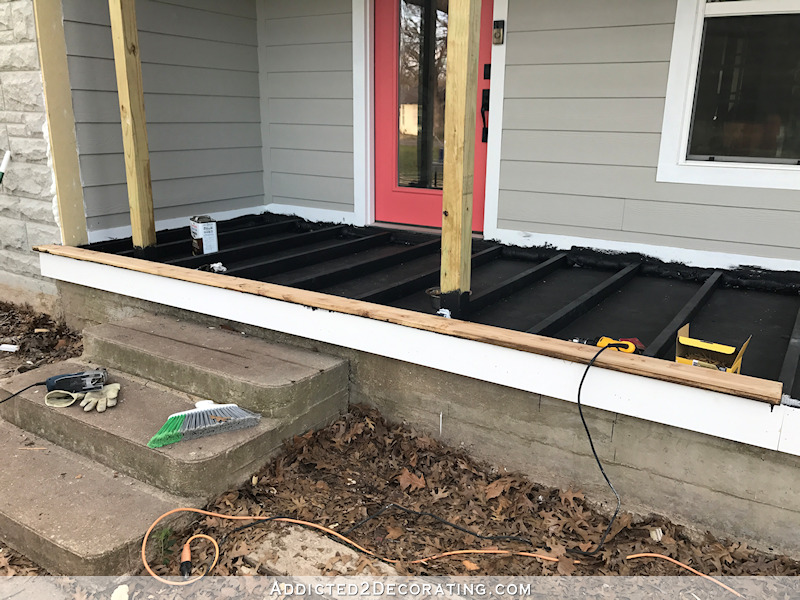 So I was only able to get two rows done before it got too dark to do any more work. (I took the pictures below this morning since it was too dark for pictures last night when I stopped. And yes, I left some of my tools and supplies out there overnight. 🙂 I did put away the big tools, though.)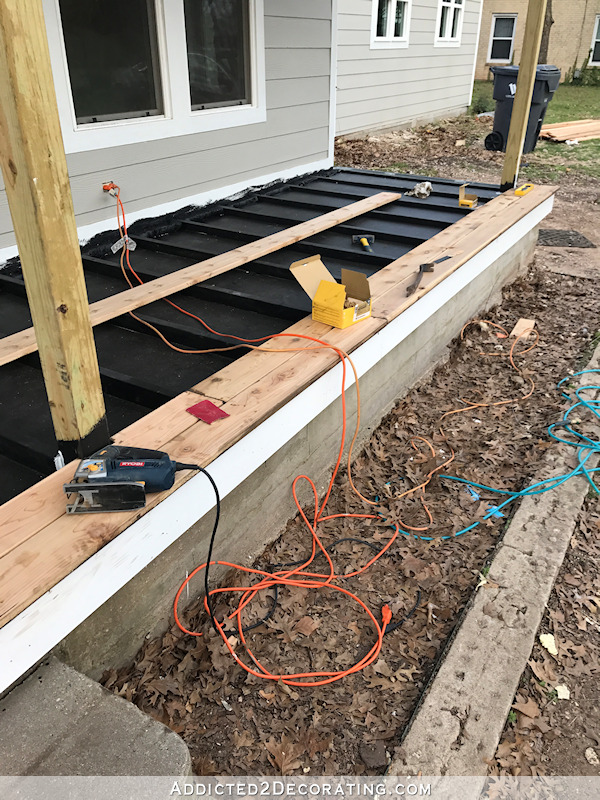 The second row was kind of a pain since I had to cut around the columns, which I did using my jigsaw.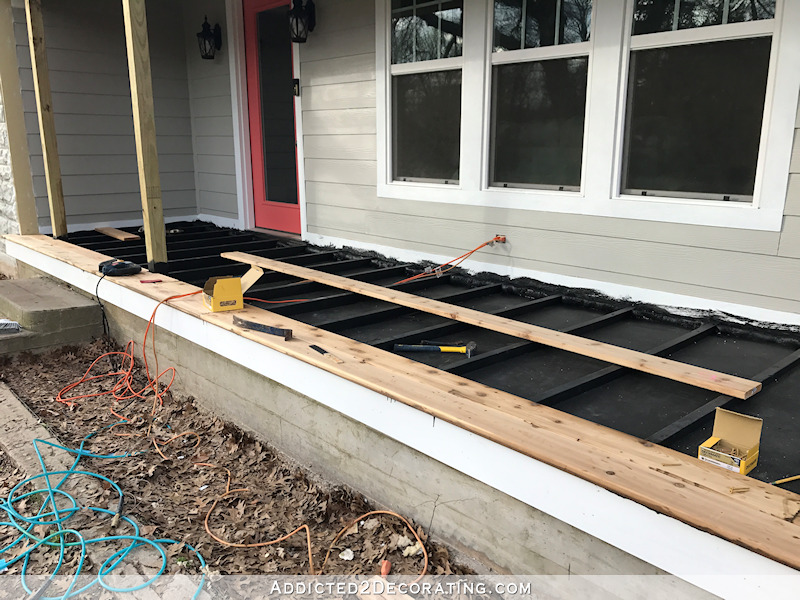 I'll have to do the same thing on the third row, but the rows after that should go much faster since they'll just be straight rows with nothing to work around. I do dread the row that goes right up against the house, though. I have a feeling that those will need to be ripped on my table saw, which might be a challenge working by myself with such long boards. I might have to call in reinforcements. Plus, I'll have to figure out what to do around the door. That's going to be basically a zero threshold door on the exterior side.
So that's it for now. I really need to get all of the porch boards installed and sealed today because there's a chance of rain beginning tonight and through tomorrow. I have my boards stacked outside, and they're thoroughly dry right now. Rain at this point would set me back a several days since I'd have to wait for the boards to dry out again before I could seal them. So it's a race against the storm clouds today. If I make as much progress as I hope to, I'll share a sneak peek or two on my Instagram. And if all goes well, I should have a finished porch floor to share with y'all on Monday!
UPDATE:
The new wood porch floor is finished! Click the links below to see the rest of the posts in this project.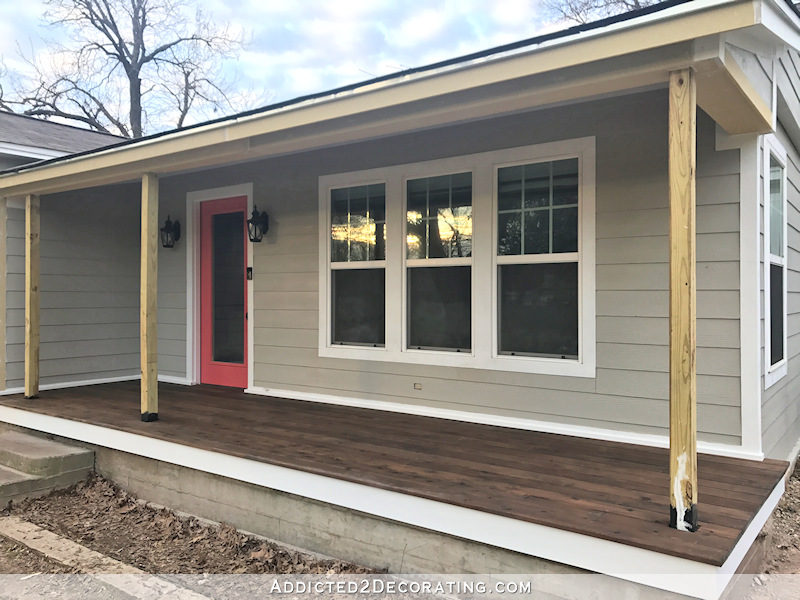 Addicted 2 Decorating is where I share my DIY and decorating journey as I remodel and decorate the 1948 fixer upper that my husband, Matt, and I bought in 2013. Matt has M.S. and is unable to do physical work, so I do the majority of the work on the house by myself. You can learn more about me here.