My First Equipment Purchase For Our Home Gym — I Bought A WaterRower!
This past weekend, I made my first equipment purchase for our home gym that's just for me, and I couldn't be more excited about it! I bought myself a WaterRower. (Really, the only other equipment I can think of that I want to purchase is a set of freeweights.) Anyway, have you heard of these? I'm sure many of you have, especially if you've ever been to an Orangetheory. This is what they use in all of their gyms, except that instead of the original wood design, theirs are metal and painted in their signature orange color. I got the pretty original wood design.
But let me back up a bit. I started working on our home gym earlier this year, and got it from this point…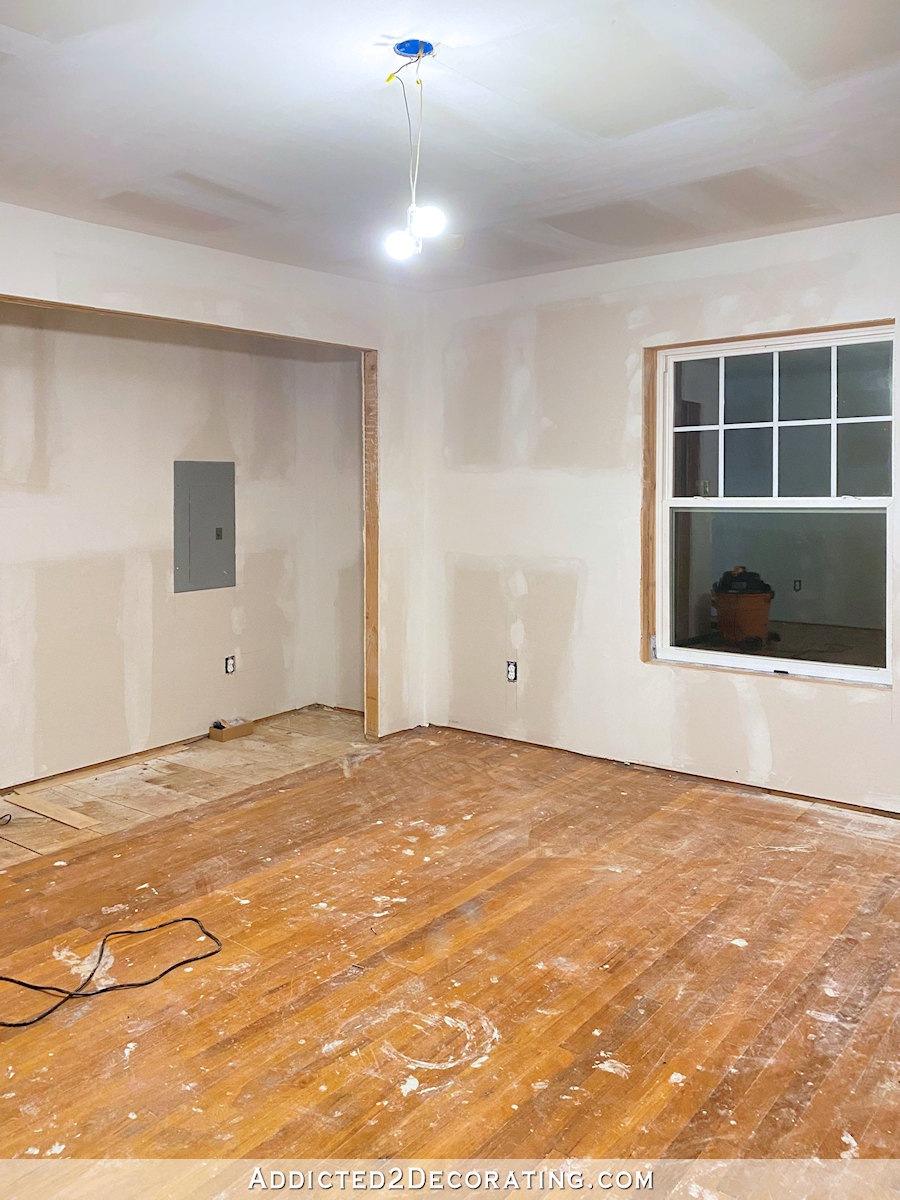 To this point…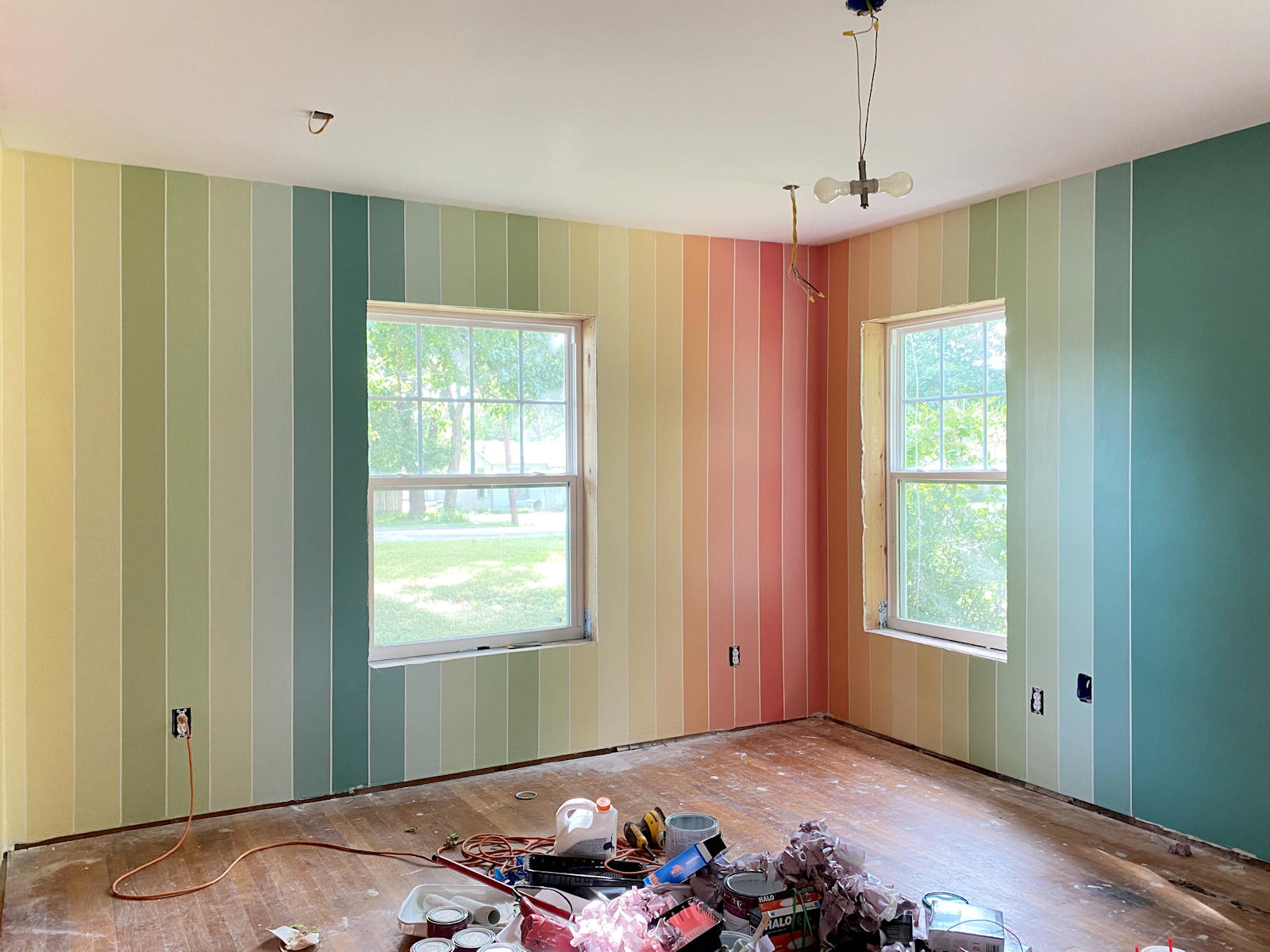 And that's where things were left. I mistakenly thought that I could continue work on the home gym while my contractor's guys were working on the master bathroom, but I quickly learned that I'd continually be in their way if I tried that. The scuttle hole to the crawl space beneath the house and the attic access are both in this room, plus they used this room to store tools, materials and supplies, etc. So there was just now way I could work on the room and not be in their way.
And then when they finished up their part on the master bathroom and handed it over to me, I asked Matt which room he would rather I focus on first. It wasn't much of a shock when he chose the bathroom. So the home gym has been on hold for a while. But I plan to get back in there at some point so we can have an operational home gym by the end of this year.
We already have a couple of pieces of equipment for the gym. Matt's Theracycle will be his main piece of equipment that he uses daily. (Right now, it's taking up space in my studio, so I'd like it out of there ASAP. But he does use it in there almost daily.) But that's just for Matt. A Theracycle is a special automatic bike that works out the legs of people with Parkinson's, MS, and other neurological disorders to keep up good circulation.
And then I have an awesome Bellicon rebounder that my mom bought me as a "thank you" after I helped her with her kitchen remodel (I'm not sure that was an actual remodel, but it was a heck of a lot more than a simple makeover) at the beginning of 2020. (See: My Mom's Finished Kitchen — Before & After if you missed that.) So that's pretty much all that we have right now. I do have a treadmill, but I've learned that I absolutely hate treadmills, so I'm going to sell it. That monstrosity won't be taking up room in our home gym.
And then, of course, I'm going to be building a Swedish ladder (also called stall bars). You can see what those look like here, and if you're curious how they're used, you can find a lot of Swedish ladder/stall bar exercises on YouTube. It will be something that's useful for both Matt and me. So that will go in that section of the wall with the super wide teal stripe.
I had originally hoped to add a punching bag to the room (a heavy bag, that is), but I'm not sure that the room is really big enough to accommodate that. It would have to be in a corner, and that's not really conducive to a good heavy bag workout.
So I wanted one more piece of equipment for the room that (1) wouldn't take up much room like a treadmill does, but (2) would give as close to a full-body workout as possible. And that's what led me to the rowing machine. I kept coming across information stating that rowing machines work out something like 86% of your muscles with just the one exercise.
I've only ever used rowers before in gyms, so I've never used one in a home. And to be honest, it never crossed my mind that it would even be a home gym-type piece of equipment until an advertisement for one popped up on my Facebook feed sometime last week. But it was for one of those all black, metal, loud types, with the big monitors and the monthly subscriptions to the online classes.
None of that really appealed to me. When I exercise on something like a treadmill or rower or rebounder, I like to either turn on Netflix or Hulu and watch a show, or turn on a podcast. That way the time goes by faster for me. So all of these big monitors with the bells and whistles, and the monthly subscriptions to instructor-led (sometimes live) classes, are probably wonderful for others, but they're just not my thing.
And that's when I came across the water rowers. There are all kinds, and at first, I was looking at the Ergatta. It looks like the exact same design as the WaterRower, except that it has a monitor on it. But instead of instructor-led classes, it uses a gaming format to keep you going and motivated. But again, those were bells and whistles that didn't appeal to me. I can't think of anything less appealing to me than a gaming format for my exercise. 😀
So that's what led me to the WaterRower. It's like the basic, screen-free design of the Ergatta. And the WaterRower came first. It was designed in the mid-1980s by Yale and US National Team Rower John Duke. So these have been around for decades.
I bought one of the original design that's made of wood. There's just something so interesting and beautiful to me about a piece of exercise equipment made of wood and water (contained inside a plastic drum, of course).
What fascinated me the most about it (besides the way it looks) is that it's not electric. It's simply the water inside that tank that provides the resistance while rowing. And it makes the most amazing and calming sound while in use. You can hear what it sounds like here.
I also loved that when it's not in use, it can stand up on its front end and be stored against a wall, taking up a footprint of 20″ x 22.25″. That's the smallest footprint of all of the rowing machines I looked at, and I looked at MANY of them over the last week. This is what it looks like when it's stored upright against a wall. It doesn't take up much room at all!
I'm so excited about this addition to our home gym! And I'm so glad to have that decision made. Once I set my sight on a rowing machine, I looked at probably 100 different brands before deciding on this one. I looked at ProForm, Ergatta, Hydrow, NordicTrack, Concept 2 (so loud!), Sunny Heath & Fitness. I mean, the list goes on and on. But in the end, the WaterRower seemed right for me and for how I exercise.
The strange thing is that I found WaterRowers on Amazon (the actual brand), and it said it would be delivered this week. But on the actual company website, it said that my order would be put in the production line and shipped in 2-4 weeks. So I don't really trust whatever those are that are being offered on Amazon. (Would those be seconds?) So I went ahead and ordered directly from the company website so I can be sure I'm getting the real thing.
And when it gets here, and I get my gym all arranged, it'll live right here in this corner when it's not in use.
I think we'll have a very functional little home gym when all is said and done. But I need to get that bathroom finished so I can start working on the gym again! I think my goal might be to get both rooms to where they're at least functional. In other words, get the bathroom to the point where we can use the shower. That's the main thing Matt wants ASAP. And then head back to the home gym and get it in a usable state. Then I can turn my attention back to the bathroom and put all of the finishing touches on it, and then do the same for the home gym.
Usability in both rooms is our first priority. All of the pretty stuff that doesn't add to functionality can wait until both room are functional.
Addicted 2 Decorating is where I share my DIY and decorating journey as I remodel and decorate the 1948 fixer upper that my husband, Matt, and I bought in 2013. Matt has M.S. and is unable to do physical work, so I do the majority of the work on the house by myself. You can learn more about me here.