Well, y'all, I thought that last week would be my big push forward as far as getting back into projects. That didn't happen. It has been so hard to focus on paint colors and building projects and headboard designs when I'm so distracted by the news on a daily basis.
After watching the news and getting more discouraged (and frankly, scared), I decided to revisit a post that I made four years ago about home security. I talked about things we could and should do after what we believed to be a break-in scare, and then never really acted on most of it. But I think it's time for Matt and me to make these things a priority, especially since crime has been increasing in our area in the last couple of months.
I mean, we have the dog. And he's crazy. And when he sees someone through the door or the windows, he barks, growls, and jumps like a maniac. So I think he's a pretty good deterrent. 😀
So our next priority is an alarm system. I've been researching and comparing systems, and I have to admit that I just don't know what to do. Comparing the pros and cons of each one just confuses the heck out of me. Right now, I'm leaning towards SimpliSafe, so if any of you have experience with that one, I'd love to hear about it!
And I finally did it…I bought a gun. (For those of you not in the U.S., gun ownership is perfectly legal here, and the right is protected in our Constitution. Six million guns have been sold in the last three months alone, and 40% of those are first-time gun owners, and 40% of those first-time gun owners are women). I know it was controversial when I wrote about it in that post four years ago, and it's controversial now, and that's fine. But I'm a law-abiding adult, and I have to do what I have to do. And since I don't have an able-bodied husband who can defend me if someone were to break in, I have to do it myself.
So I bought a little 9mm (very little to fit my very little hand), and then this last Saturday, I went out to the ranch (i.e., my sister and brother-in-law's property at the river) and my brother-in-law Bill taught me how to shoot. Y'all, it was SO much fun!! I wish I had done it years earlier and hadn't let my fear get in the way!
He taught me all about gun safety, how to load them, how to care for them, how to hold them, etc. It was very empowering, and it also removed a lot of the fear I had. I had the opportunity to get very comfortable with the one I bought, and I also had the opportunity to shoot three other handguns (I didn't like any of those — they were too big for my hand), plus my sister's 20-gauge shotgun (loved that one!), my sisters pink camo AR-15 (my favorite!), and my brother-in-law's larger AR-15 (my second favorite!).
It was just a very fun day being out in the country on a beautiful (but very hot) Texas day and learning how to shoot. I definitely needed that. Being away from the TV, away from social media, away from constant news, and surrounded by nothing but open country, trees, water, and cows, is so good for the mind and the body. And I pray to God that the only time I ever have to touch that gun is on the gun range.
So again…SimpliSafe, anyone? If you have that system, let me know what you think about it!
With all of that said and done, hopefully I can peel myself away from the news this week and actually get stuff done. I'm trying to motivate myself by reviewing my "to do" list that I had originally made for this year.
Obviously, there's no way I can get through this list now. Heck, I doubt that it was possible to begin with, but now after two months working on my mom's kitchen (which you can see here if you missed it)…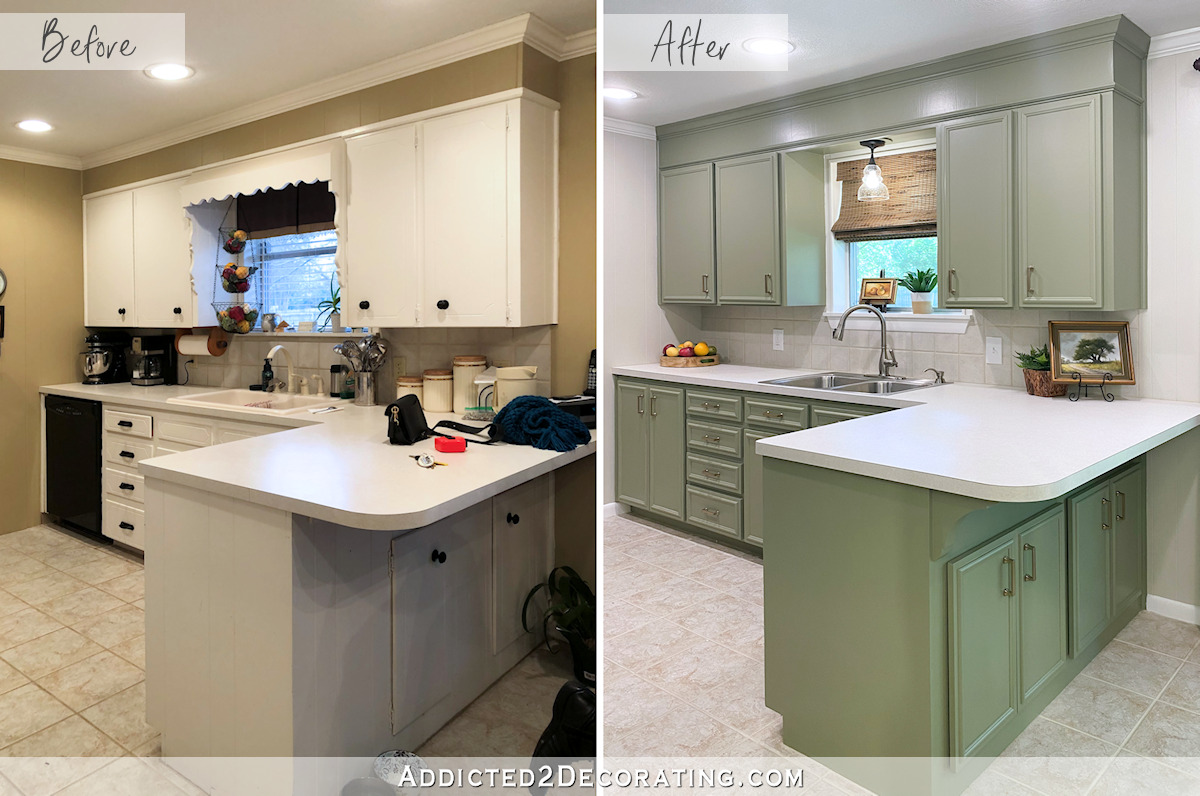 …and two months of doing nothing home-related while being obsessed with the news and the goings on of the world, there's just no way I'll get even close to getting through this list.
So I need to narrow my focus. Obviously, the first thing I need to do is finish the guest bedroom, which still looks like this…
Yep, it looks exactly like it did before I started working on my mom's kitchen. So this needs to be my focus for now until it's finished. That includes:
Install trim on window
Clean, stain, and seal the hardwood floor
Paint the walls
Install crown molding
Install baseboards
Install a bedroom door
Install trim around door
Paint the door
Make a headboard
Build a frame for wall-mounted TV
Build or buy a dresser
Install chandelier or ceiling fan
Built or purchase bedside tables
Make a window treatment (Roman shade?)
Accessorize to finish
I had originally planned to build a window seat between the closets, but I think I'll hold off on that for now. Since we're going to be using this bedroom as our main bedroom as soon as it's finished, and for the foreseeable future, I don't want to put anything permanent in front of that window, which would be our only point of egress in case of a fire in the hallway. Since I would not only have to get myself out that window, but also Matt, I would want something there that could be easily moved. So I'll probably put a little writing desk or a settee there for now, and then add a built-in window seat with storage at some point in the future when we're no longer using that bedroom ourselves.
After the bedroom, my next priority will be the hallway. It still looks pretty much like this, except that the hardwood flooring is installed now.
Actually, I'll probably work on both areas simultaneously. I'll do the floors in both areas (along with the home gym) at the same time. And then if I'm doing trim in the bedroom, I may as well install trim in the hallway at the same time. Same goes for painting the walls and ceiling.
So in the hallway, I need to:
Sand, stain and seal hardwood flooring
Paint stripes on the new wall and touch up areas that were damaged on other walls
Re-install crown molding
Re-install baseboards
Install new doors on the bedrooms
Install door trim
And finally, I want to get the home gym finished. It currently looks like this…
I know it might not make sense to some that I'd focus on the home gym before I finish my studio, but the exercise equipment that needs to go in this room is currently in the studio. I can't work freely in the studio until that equipment (which we are currently using, so it can't go in storage) is out of there, so this room comes first. So in this room, I will…
Install hardwood flooring that had to be removed during remodel
Refinish hardwood floor
Paint the walls
Install crown molding
Install baseboards
Install carpet tiles
Install trim around cased opening
Install trim on windows
Make window treatments (Roman shades?) for the windows
Build a frame for wall mounted TV
Install lights
Install ceiling fan
Install TRX
Install shelves and storage in closet area
And again, probably a lot of that stuff will be done at the same time I'm doing those things in the other areas. I'll definitely be refinishing all of the floors at the same time.
So I've got seven months, and three areas that I definitely want to finish before the end of the year. I may take a break here and there to do a random side project in another area of the house, but this is the main area that needs my attention.
I've got to find motivation, y'all! Hopefully having a very clear vision right here in this post that I can refer to easily will help. Maybe I need to print out these lists and put them on my refrigerator and bathroom mirror to keep me focused and motivated. In fact, I think I will for sure do that.
Addicted 2 Decorating is where I share my DIY and decorating journey as I remodel and decorate the 1948 fixer upper that my husband, Matt, and I bought in 2013. Matt has M.S. and is unable to do physical work, so I do the majority of the work on the house by myself. You can learn more about me here.