Bathroom Progress – Floor Tile Prep, Accent Tile Selection, and Vanity Color Decision
Things are moving right along in the master bathroom remodel! Now that the walls are finished (See The Final Bathroom Walls (Definitely Finished This Time!) if you missed how they turned out), I've been focused on getting the floor and shower prepped and ready to start tiling this weekend.
I had started waterproofing the shower a couple of weeks ago, and then ran out of the Semco waterproofing liquid membrane that I was using. So I had to put that on hold while I waited for a new order of Semco to arrive, and I moved on to the Venetian plaster wall finish. But now I'm back to waterproofing. I got the second and final coat of Semco on the shower, and then started on the main bathroom floor.
This isn't really for waterproofing purposes, but I wanted to use the polyester fabric and Semco membrane on the joints between the pieces of concrete board because the Semco also acts as a crack prevention membrane as well as a waterproofing membrane. (See How I Waterproofed My Shower Before Tiling Using Semco Liquid Membrane for more info on the waterproofing process.)
I worked on this until around 10:00pm last night, and of course, I ran out of the polyester fabric with just a few short joints to go. So I'll have a few more joints to finish up today before I can get started on the tiling this weekend.
It's supposed to rain all day tomorrow, so I'm not sure if I can actually do any tiling tomorrow. I was hoping to set up my wet saw right outside that door that leads to the back yard, but with rain, now I'm not sure what I'll do. I might have to buy one of those little tents to create a covered work area out there. Anyway, we'll see. If that doesn't work, I have a couple of other projects I can work on while I wait for better weather.
In other news, I finally ordered and received the accent tile. I went with my original selection. After seeing this tile in person, nothing else I found did much for me. Unfortunately, I ended up paying about double what I originally thought I'd be paying, but since nothing else was working out for me, I finally decided it was worth it. I found this online at AquaBlu Mosaics. It has actually gone up in price just since I purchased mine a little over a week ago. I paid $29/sheet, and now the price is $31.42/sheet. Interesting. But it sure is pretty!
I originally saw this tile in a local store, and what caught my eye was how the light cast such interesting shadows that danced on the white backing on the tiles. As I moved, the shadows moved, and it was so eye-catching and pretty. And the tiles are so shiny, which is also very pretty.
I don't know that I could actually capture all of the pretty in a picture, but here's a close-up where you can better see the shadows I'm talking about.
The sheets are pretty flimsy, but I tried my best to hold it up to the wall color so you can see them together. Again, check out those pretty shadows.
And I think I'll also be putting this in the shower niche…
And also on the wall with the shower head…
So even though it cost me double what it would have cost from the other place (the online store that cancelled my order and refunded my money with no explanation at all), I'm glad I stuck with it and paid the extra money. I think it's going to be very pretty.
And finally, I'm ready to order the materials I'll need to build the vanities, but I'm not 100% sure just what I want. In every mock up I've done, I've used a natural wood vanity.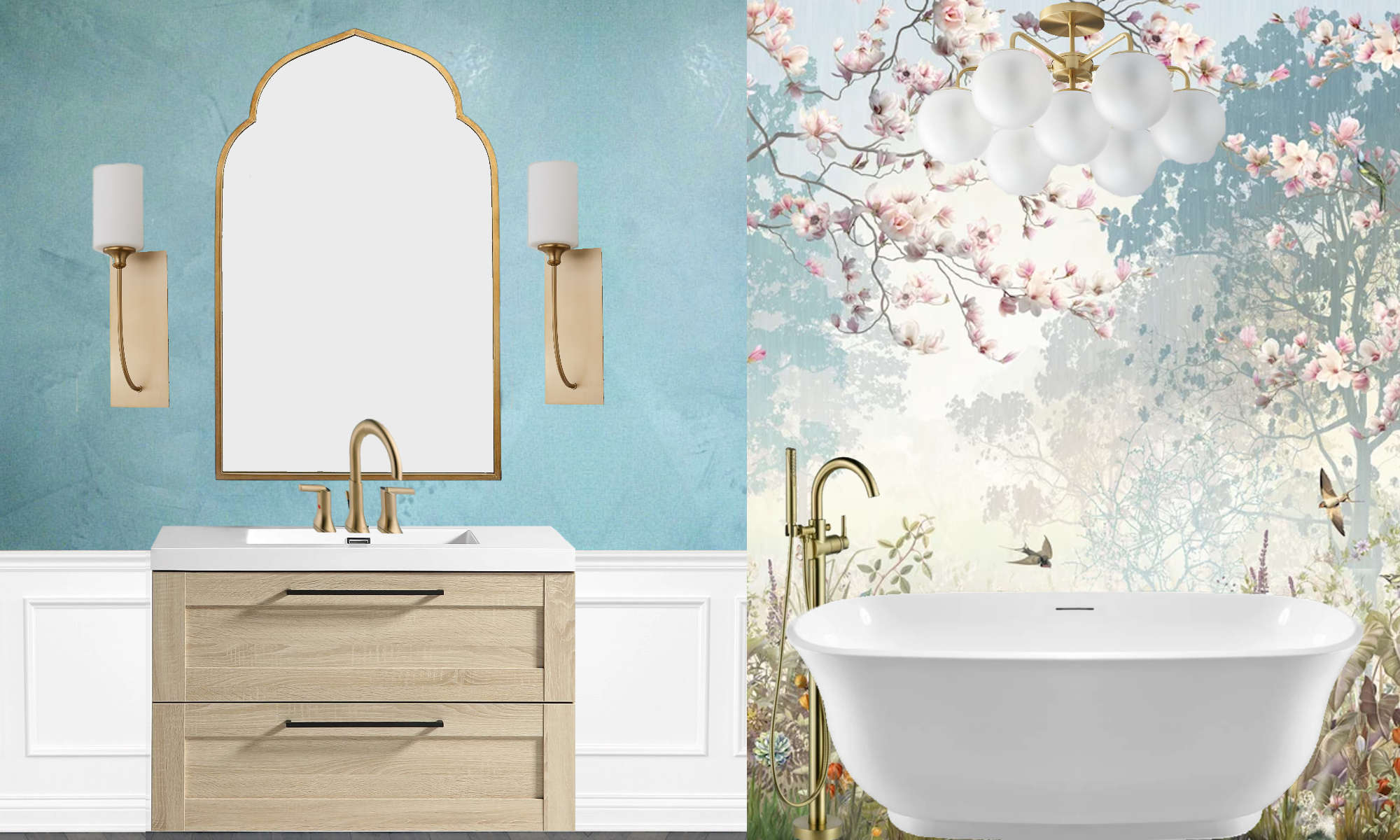 I do love that look. It's gorgeous. I'm pretty sure that's white oak, which is what I had planned to use. Here's another example of white oak…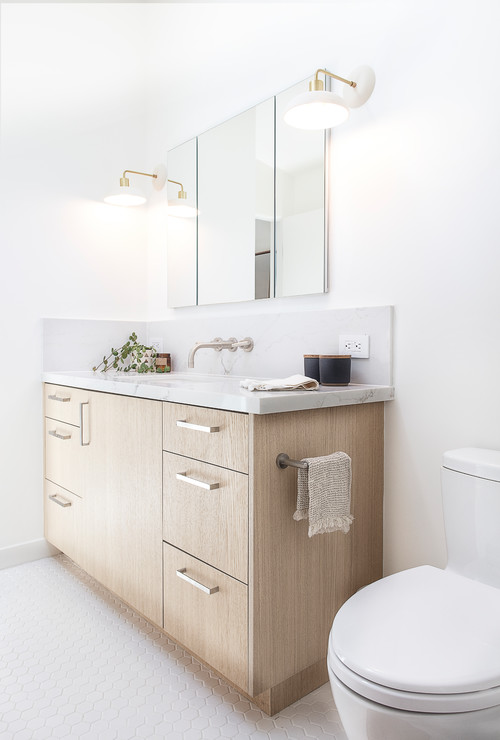 So here's my issue. I called to get prices on white oak and learned that white oak costs just as much as walnut. WALNUT! I never in my life would have thought those two would cost the same. So then I started thinking that if I'm going to pay that kind of money for wood, why not just get walnut? I mean, walnut is my all-time favorite wood, but I've never had the experience of building with it because it's so dang expensive! But I don't think wood gets any prettier than walnut. Here's a kitchen with walnut cabinets.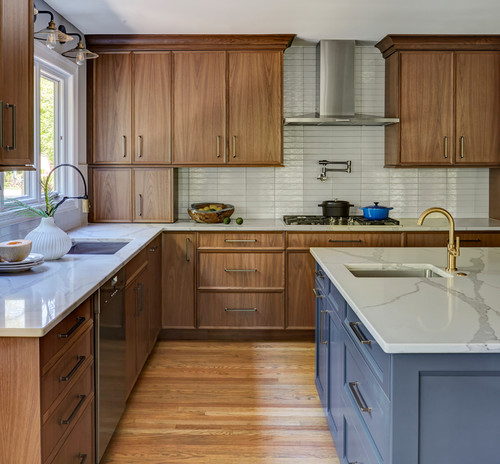 I find the floor in that kitchen to be totally distracting with those gorgeous cabinets, which is unfortunate. But if I used walnut, it'll be against very light tiled floors.
But to throw another wrench into the works, I started wondering if I should even have natural wood vanities in the first place. I mean, just take a quick look around my house, and you won't find natural wood cabinets anywhere. I'm a painted cabinets kind of gal.
When my bathroom walls were the original, much darker Venetian plaster color, and I was considering keeping it that way, I started considering painted vanities. I imagined really pale pink vanities with those dark teal walls. Those colors were really gorgeous together.
But now that my walls are much lighter, the pale pink runs the risk of turning the bathroom in a year-round nod to Easter, and that is not at all what I want.
But the pink works really well with the mural (you can see it taped in the middle), and it was perfect with the dark teal walls.
So with pink ruled out with the much lighter wall color, that really leaves me with neutrals like white or a very light gray. And frankly, neither of those does anything for me. I've never had natural wood cabinets, but I've also never had white or neutral cabinets, either.
That brings me back to a decision between white oak or walnut. I wish the white oak were cheaper. That would make my decision so easy. I'm still shocked that they're the same cost. But since they are, and walnut is my favorite wood ever, I'm at a loss.
The walnut would obviously be darker, but with everything else so light and bright, I'm not sure that a darker vanity would be a bad thing. I think it would be really pretty. I'd keep it natural (no stain) so that it would be as light as possible, but walnut always going to be a little dark, and definitely much darker than white oak. And the walnut might be perfect with the "wooded" theme of the mural.
On the other hand, white oak will keep things light and airy, and will maintain that spa-like feeling. I don't know how important it really is to me to maintain a spa-like feeing, if at all. But the two different woods will definitely bring two different looks to the room. So do I want warm and woodsy, or light and airy? Ugh! I honestly don't know, and Matt is absolutely no help at all.
Addicted 2 Decorating is where I share my DIY and decorating journey as I remodel and decorate the 1948 fixer upper that my husband, Matt, and I bought in 2013. Matt has M.S. and is unable to do physical work, so I do the majority of the work on the house by myself. You can learn more about me here.