Last Updated on December 24, 2015 by Kristi Linauer
I'm slowly but surely getting things ready in the breakfast room so that I can level the floor in there.  Yesterday was a long day of removing trim, baseboards, shoe moulding, tack strips, and more plywood from the walls, and loading all the junk in the truck.  I'm so tired of this process, but hopefully I can get it all finished today and get the floor primed so that tomorrow I can start putting down the self-leveling underlayment.
It's all very boring, and makes for really boring blog posts.  So today I wanted to share a few things that are a little more exciting than that (at least for me!).
First off, I have new dining chairs!  I mean, they're not dining chairs quite yet, but they will be!  My bonus sister Cathi and her husband Phillip own a travel agency in the Dallas area (Legacy Travel — look 'em up if you're ready for a vacation!), and they recently moved into a brand new fancy office with brand new fancy everything, so they were getting rid of their old office furniture.  Up for grabs were five wingback chairs, and I got four of them.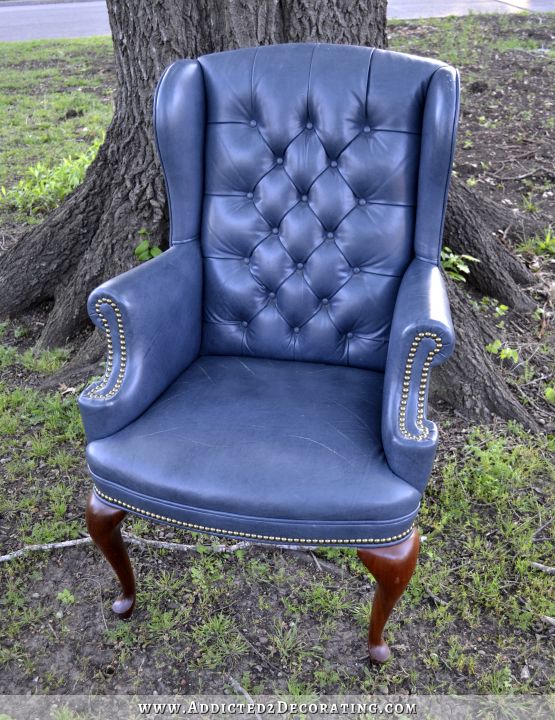 They definitely give off a very "office furniture" vibe right now, but I'm hoping to remedy that.
They'll need new legs to raise them up to dining chair height, and I might reshape the arms somehow before reupholstering them.  But the great thing is that since they were office furniture, they're a bit smaller than a wingback chair that you would get for a living room.  That makes them the perfect size for dining chairs!
I have searched and searched for wingback dining chair inspiration, and can't find anything that's quite "me."  I do think that I want them skirted all the way to the floor.  Nothing frilly (please…no, nothing frilly), but something pleated and tailored, and I think I'll probably lose the tufting.  We'll see.
Anyway, next…
The other day when I was cleaning out my garage, I unearthed some real treasures!  These lanterns that I bought when I lived in Turkey…
I've had these things packed away for years since, obviously, they didn't quite go with the decor in the condo.  🙂  But now that I'm gravitating towards these darker colors again, I'd love to use them!  I think they're so pretty, and they have sentimental value.  (Ahhh…I love Istanbul.  My favorite city in the world!)
The top little hanger doodads have holes right in the center, so these can actually be wired for electricity.  So I'm thinking of turning all three into one three-light chandelier of some sorts.  I have absolutely no idea where I'd use it at this point, but I definitely want to find a place.
And while I was digging around in the garage, I also found several chandeliers.  I think I've mentioned before that lighting is my favorite.  I can't say no to a stray chandelier.
This is one that I got for free from a client many years ago when we installed a new chandelier in her dining room.
It's a big one — maybe 30 inches in diameter.  It was all brass, and I painted the whole thing (crystals and all) solid black.  It probably won't stay black, but I do have plans for this monstrous light.  I'm going to hang it in my garage.  🙂
Yes…the garage.  That'll be a ways down the road, but by golly, I will have a chandelier in my garage, just like those fancy schmancy HGTV dream homes do.  😀
It'll be awesome.  Just you wait and see.
And then I found this cute little chandelier that I picked up at a local thrift store a few years back for $15.  It's quite small (probably about 12 or 14 inches in diameter), and I've never found a place to use it.
It needs to be rewired, and all of the crystals are missing, but I think it could be so pretty when it's fixed up.  I definitely need to find a place to use it.
And finally, this is the chandelier that I'm probably the most excited about.
😀
Now I know that you think I'm absolutely insane.  And no, I'm not joking.  I really am the most excited about this one.  I bought this several years ago at a local church garage sale.  I think it was about $5 or so.
Here's the key to finding chandelier treasures in a thrift store or a garage sale.  Ignore the ugly stuff (shades and such) around the chandelier, and focus on the shape of the actual chandelier.  Once I got all of the ugly wood and acrylic panels off, here's what I had.
Now you have to look past the spiky thing that the wood and acrylic were attached to (that can be removed), and just look at the shape of the chandelier.  That's actually quite a sleek and modern little chandelier that was hidden under that ugly 1970s facade.
You have to use your imagination, but with the addition of a few new bobeches, an easy-to-build cagey thing, and some spray paint, this chandelier could easily be transformed into something like this Open Grid Hammered Iron Ceiling Lantern from Shades of Light that costs $765.00.
Still don't believe me?  Well, I hope to make a believer out of you, because I think I'm going to use this little guy in my breakfast room.  🙂
I won't be using it over the table (it's much too small for that) but I want to use it in the seating area at the other end of the room.
I found a few more treasures, but those will have to wait.
Addicted 2 Decorating is where I share my DIY and decorating journey as I remodel and decorate the 1948 fixer upper that my husband, Matt, and I bought in 2013. Matt has M.S. and is unable to do physical work, so I do the majority of the work on the house by myself. You can learn more about me here.
I hope you'll join me on my DIY and decorating journey! If you want to follow my projects and progress, you can subscribe below and have each new post delivered to your email inbox. That way you'll never miss a thing!