Last Updated on June 19, 2019 by Kristi Linauer
I had never even heard of the term "cerused" until I saw the Cameron Diaz's green kitchen designed by Kelly Wearstler.  You know the one, right? It has the beautiful green cabinets and the cerused oak floor. In fact, it's the kitchen that has inspired the direction for my own kitchen and my plan for green cabinets. (You can click here to see it.)
Of course, the cabinets were the first thing I noticed in that kitchen, but those floors also caught my eye.  I thought it was some kind of faux bois technique, which is simply an artistic representation of wood and wood grain created with paint, stain, pen, pencil, etc.  But I wanted to be sure, so I went searching for info.  In the Elle Decor article, the description on this picture said that the wood floors had been stained with an ebony stain, and then they were cerused.
Cerused?  I had never heard of that, but I wanted….nay, needed…to know more.
What is cerused wood?
Cerusing is the process of opening up the grain of the wood and filling it with a color (most often white) in order to highlight the grain of the wood. Here's an example of a credenza with cerused drawers.
See how that grain is highlighted with white to make it stand out more from the dark gray? That's called cerusing.
And you can make this look as subtle or as dramatic as you want for your home. A white grain on a natural wood tone gives a beautiful and subtle look, while a white grain on an ebony stain gives a dramatic and more modern look.
Here's a more subtle example on a coffee table from Era Interiors with very light stain (or perhaps that's just the natural wood color) and the grain filled with white. Even with the subtle contrast, the effect still turns the grain into artwork.
My Project — Cerusing an oak dining table
So after learning all about cerused wood, I've been anxious to try out this technique on my own.  From what I've read, it works best on hard woods such as oak, and it just so happens that I have an oak dining table that I have a dining table that I purchased on Craigslist, and that needs to be refinished.
And while I'm generally not a fan of oak with all of its heavy grain (especially oak like this table that has such a strong orange color to it, with dark, almost black grain), and while I'm generally one of those people who tries to minimize the look of grain in wood in any way I can, I do actually love the grain in this particular table.  Whoever crafted this table went to great lengths to turn the wood grain into a work of art.
So I thought this table would be the perfect candidate to try out this cerusing technique.
The table actually has a leaf also, so I put it in so that I could refinish the whole thing.
I didn't get to the actual cerusing yesterday, but at least I was able to remove the old, ugly orange finish and get some pretty stain on it.
I started out using a chemical stripper (the same one I used on my hallway door) because with old pieces of furniture like this one, you just never know how thick…or thin…the veneer is. And almost always when you have a decorative pattern in the wood like this, it has been created with veneer. So I used the chemical stripper in order to minimize the amount of sanding I would have to do on the table top.
After getting most of the finish off with a chemical stripper, I followed up with my orbital sander using 150-grit sandpaper.  You can see the difference the sanding made here. The half of the table on the left has been stripped and sanded, while the leaf and the right half of the table have only been stripped with the chemical stripper.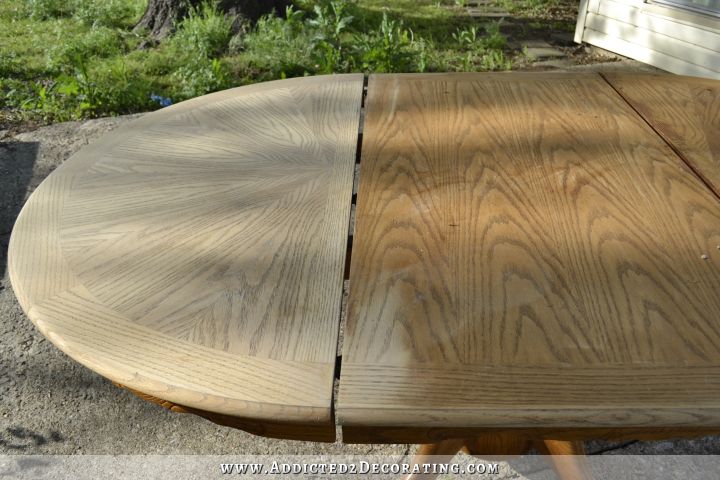 And almost immediately, I did actually sand completely through the veneer. So I was very glad that I had decided to use the chemical stripper first, and I used extra care in sanding to rest to be sure I didn't sand through the veneer in any other areas.
After sanding the entire top, I used a brass wire brush to scrub the entire top with medium pressure going with the grain of the wood. This is supposed to open up the grain so that it can be filled with the white wax or pigment later.
I couldn't find a large brass wire brush. All I could find were these brushes in the welding section at Home Depot.
So I bought three of them (they were just over $2 each) and used all three together to create a larger brush.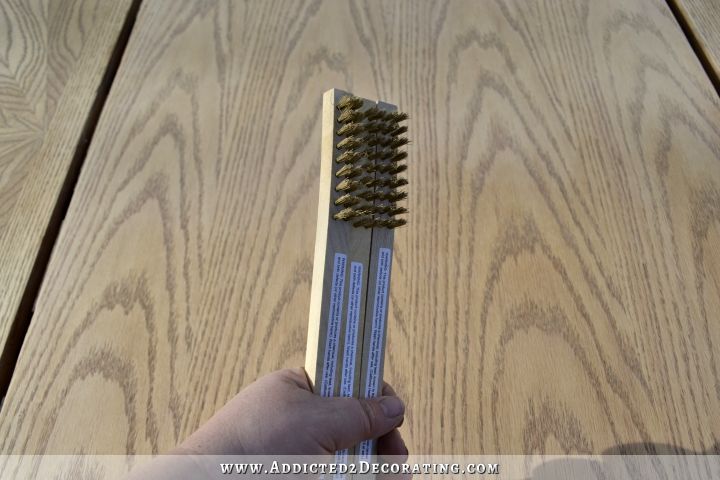 After scrubbing the entire surface with the wire brushes, I was ready to stain using Minwax Jacobean.  Now I know that I'm a somewhat recent convert to Varathane stain, and I generally prefer it to Minwax.  But the reason I prefer it is because it does a much better job at minimizing the grain of the wood.  I didn't think that was necessary for this project, so it didn't really warrant a separate trip to Lowe's for stain.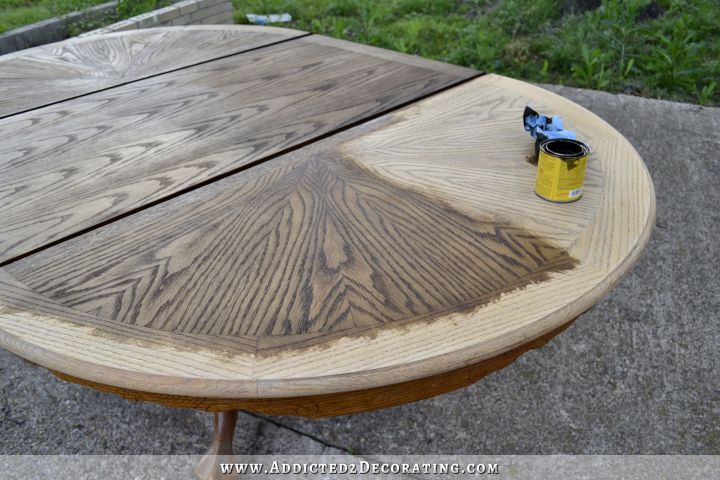 So this is as far as I've gotten on this project.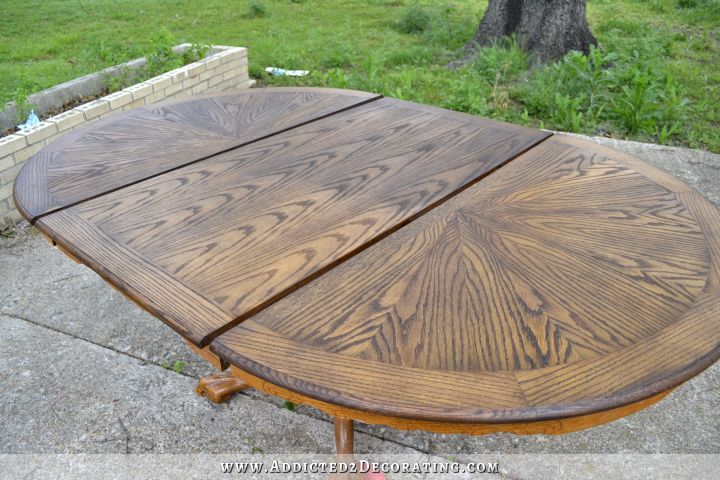 Next I'll be using white liming wax to fill the grain, and very fine steel wool to remove the excess wax so that it just settles into the grain of the wood. I really hope this works! 🙂
As you can see, I haven't done anything to the apron or the base yet. Those are still the awful orange oak color. I didn't want to ceruse the entire table (I think that would be overkill, so I'm just keeping it to the top), so I'll be painting the apron and the base a solid color. But I want to get the top done before making that final decision. I can almost guarantee that I'll end up painting it white, but I'll know for sure as soon as the top is done.
Hopefully I'll have a finished cerused oak dining table to show y'all on Monday! 🙂
EDIT:  I worked all afternoon on the table, and wanted to show y'all an "in progress" shot of the cerused table top.
I love it!!!  I had my doubts for a while that it was going to turn out, but I just kept at it, and this gorgeous grain finally appeared.  I'll share all the details on Monday.
Helpful sources and products:
Briwax Liming Wax – This is the white wax used to achieve the look of the white cerused grain in the oak table top. This product worked beautifully!
Brass wire brush – This is needed to open up the grain of the wood before waxing the grain.
Minwax Jacobean stain – This is the color of stain that I used on my table top before cerusing, but of course, you can use any stain color to achieve the specific look you want.
Update:
The table is finished! Here's a peek at how it turned out…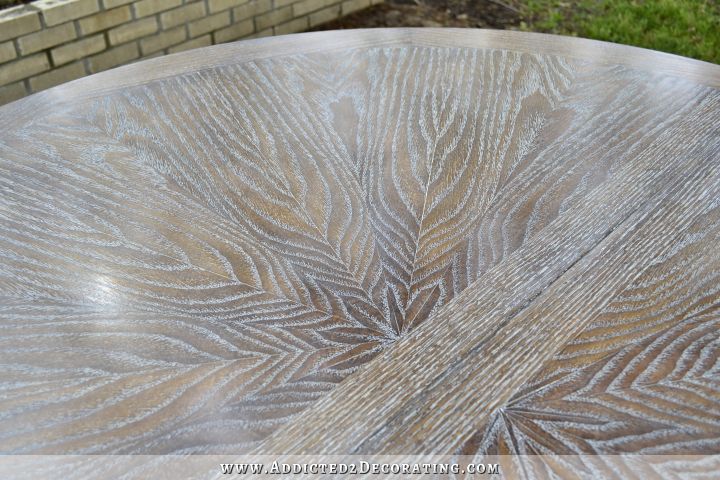 Want to see the rest of this project, and the details of how I achieved this cerused oak look? You can find those details here…
Addicted 2 Decorating is where I share my DIY and decorating journey as I remodel and decorate the 1948 fixer upper that my husband, Matt, and I bought in 2013. Matt has M.S. and is unable to do physical work, so I do the majority of the work on the house by myself. You can learn more about me here.
I hope you'll join me on my DIY and decorating journey! If you want to follow my projects and progress, you can subscribe below and have each new post delivered to your email inbox. That way you'll never miss a thing!