Last Updated on December 24, 2015 by Kristi Linauer
My living room is dressed in its new paint color, and I love it so much I could cry! Seriously, when I came into the living room at about 10:00pm last night after the paint had dried, and I flipped on the light and saw all of that gorgeous color surrounding me, it's like my mind let out this huge sigh of relief. I finally felt like I was home. The power of color is truly amazing.
So here's how my walls look now, dressed in the gorgeous rich teal called Mythic Forest by Behr.
Isn't that gorgeous?!  And isn't that so much more "me" than the brown?
I think it definitely reflects my personality much more than the brown did.
And of course, the sun wasn't completely up when I took these pictures (yes, I took them at about 7:30 this morning), so the room will be even brighter during the day.  But even in the early morning hours, it's still not dark and depressing.  It's inviting and cozy.
This time I painted all the way around onto the entryway wall.  I only had time to paint the teal, though.  I still need to paint the white on the lower portion of the wall.  Right now, it's still the original antique white, which is a very depressing color to me.
I apologize that I didn't clean up my mess for you.  🙂  I almost cleaned up this morning before I took the pictures, but I decided nope, I'm keeping it real.  When you finish painting at 9:00pm, and don't start re-hanging window treatments and putting furniture back until 10:30pm, this is the reality of the situation.  So welcome to my reality.  😀
Anyway, I couldn't be happier with it.  I just want to sit in there and stare at it and drink in all of the awesomeness that is teal.
I'm still trying to figure out the whole table lamp/end table/floor lamp/console table situation.  I was trying out some different things, so we'll see where I land on that.
But moving on to the fireplace!!!
I decided to go with an electric fireplace insert for this room, and then build a fireplace around it.  Several things went into this decision.
I didn't want to pay to have the plumber come out and run gas over to that area.  My plumber has gotten quite enough of my money lately, so no more for a while.
I didn't want the increased cost of having to build an actual fireproof fire box.
I didn't want the potential hassle of having to hire a contractor to build an actual fireproof fire box.
This room really doesn't need additional heat.  When the furnace is on, I get hot in this room, even when other rooms are colder.
When we remodel the sunroom and turn it into a family room, we'll probably spend more time in there, so that's where I'll spend the money for an actual gas fireplace.
Since I don't need a fireproof fire box, that means I can just worry about the pretty stuff!  And I can build the whole thing myself with no concern about whether or not it's sealed/ventilated/fireproofed properly.
First, here's the electric insert I purchased:
I got it from Electric Fireplaces Direct, and it's the Duraflame 20-inch insert that costs $139.00.  I watched so many videos, and read so many reviews, and I finally decided on this one because I really liked the design of the "metal grate", it has really great reviews for the most part, and the price was right.  But my favorite thing was that it didn't have a back on it, so I think it looks more realistic when not turned on.  As much as I'd love to have one that has the realistic steam mist "fire", there's just no way I was going to pay over $1000 for an electric fireplace insert.  Heck, I didn't even want to pay more than $300.  So this one was a good choice for me.
And now comes the fun part.  Planning the design of my fireplace!!
I spent a couple of hours scouring Houzz.com and found some great ideas.  I have a folder filled with ideas on my computer, but I can probably sum up everything with two pictures.
This one is probably my favorite: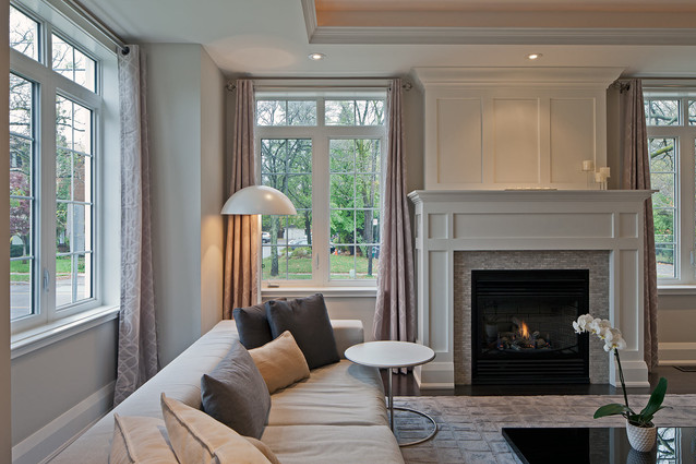 I really like the simple style and clean lines of the trim on that fireplace, and I also like the tile around the firebox. I found the perfect tile at Home Depot that I think I'll be using on my own fireplace that looks very similar to this one.
The one thing I'd change about that one is that I'd widen the upper part (not sure what the correct term is for it, but the part that goes from the mantel to the ceiling). I don't like it when that area is narrower than the part below the mantel. But overall, the styling of this one is definitely what I'm looking for.
One other change that I would like to make is the mantel. White mantels that blend in with the rest of the white fireplace aren't really my thing. I think they're very pretty, and I do love traditional style, but those are just a touch too traditional for me. I love the look of a stained wood mantel that contrasts with the white, kind of like this one.
So that's where this project is headed. I might have to do it in two stages. The first stage will be building the main fireplace, but the part that goes from the mantel to the ceiling will have to wait until we've leveled the house (how tired are you of hearing that?! 😀 ) and I've had a chance to remove the polystyrene ceiling tiles, as well as the 1x4s that they're attached to.
But I'm so excited to get started on this!! The credenza will have a new home, and I'll no longer need a "stand in" for the fireplace. Things finally feel like they're headed in the right direction in this room!
Addicted 2 Decorating is where I share my DIY and decorating journey as I remodel and decorate the 1948 fixer upper that my husband, Matt, and I bought in 2013. Matt has M.S. and is unable to do physical work, so I do the majority of the work on the house by myself. You can learn more about me here.
I hope you'll join me on my DIY and decorating journey! If you want to follow my projects and progress, you can subscribe below and have each new post delivered to your email inbox. That way you'll never miss a thing!