Painted Sofa Update (13 Months Later)
Well, we didn't actually get any ceilings drywalled yesterday.  We spent most of the morning working on small projects here and there, and then we had to clear out an area in the sunroom (which I've been using as my workroom over the last two months during all of the rain we've had) so that we could unload the drywall.  So I didn't even head to Home Depot to pick up the drywall until around 2:00pm.  That trip took quite a while because I needed 50 sheets (!!) of 5/8″ drywall, so I had to wait for the forklift to be available, then it took a while to load in the truck…
…and it took even longer to get it unloaded from the truck and stacked in the sunroom.  Fortunately, I didn't have to lift a finger for that part.  My neighbor stopped by to offer us his drywall screw gun, and stuck around to help my father-in-law unload the truck while I sat and watched…or, you know…supervised.  😀  I'm so used to doing everything on my own that it felt very strange sitting there and watching while others did the work, but I could probably get used to that quite easily!  🙂
So hopefully today is the day that we'll actually make some drywall progress.  I really hope so, because I added one more room to our ambitious goal.  I decided I want to drywall the ceiling in the sunroom and get rid of that awful drop down acoustic tile ceiling that's in there now.  That stuff belongs in an office building (if that), but not in a residential home.  And while I'll only gain about two or three inches of height, I think getting rid of the metal grid, which draws attention right to the ceiling, and replacing it with smooth, seamless drywall will make it kind of disappear.  Even though we'll eventually be tearing down the sunroom and rebuilding, I decided the couple of hundred dollars of drywall, and the time invested, will be worth it in the interim since we'll probably have to live with the current sunroom for about four years (and possibly longer) while we're saving up for our huge remodel.
Anyway, enough about drywall.  🙂
While I was trying to get the house clean and ready for my father-in-law's visit last week, and I was wiping down my painted sofa, I thought it might be a good idea for me to give y'all an update on how it's holding up, especially since that project is among the top five projects that I receive the most questions about.
So just as a reminder, I bought the sofa for $100 from a consignment store with the intention of reupholstering it for my front living room.  When I bought it, it had this hideous floral fabric on it.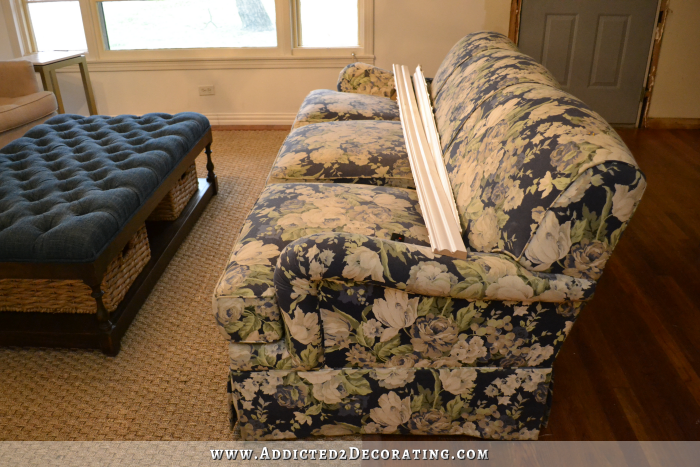 I never could decide how I wanted to reupholster it, and now in hindsight, I'm glad I didn't waste the time and money since I'll be turning that front living room into a dining room!  So since I couldn't make a decision, but didn't want to look at that hideous fabric anymore, I decided on a whim to paint it.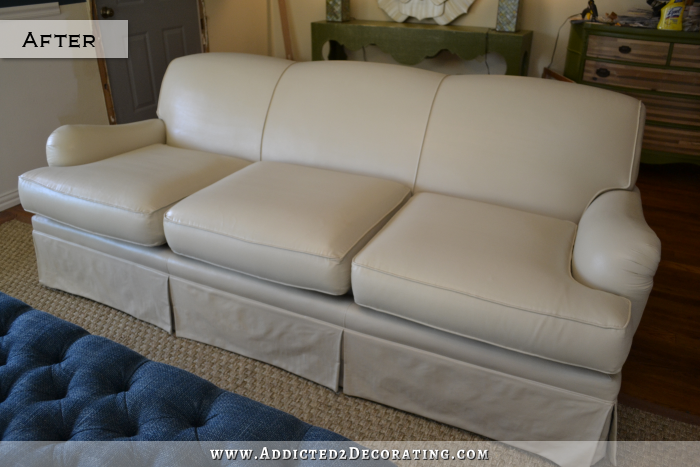 It took me one weekend to get it finished.
People warned me that it would stink to high heaven, that it would crack, that it would peel, etc.  So how has it held up over the last year?
Perfectly.  It looks exactly the same today as it did the day I took the photo above right after I painted it.  Here's a picture I took of it two days ago.  I took the picture at night, and my front room has horrible lighting, but you can see that the sofa is still in great shape.
So here are the answers to the questions I get the most:
Do you actually use the sofa?
Yep.  I sit on it regularly, and I've also taken naps on it.  My animals also sit on it, including my big 70-pound dog with the big claws, and they haven't caused any damage to it at all.
Does the paint chip or peel at all?
Nope, not a bit.  There's not one single spot on the sofa where there's any chipped or peeling paint.  I used latex paint, so it's very pliable.  Plus, the textile conditioner helped it to really sink down into the fabric, so it's there for good.
Does it stink?
I had to laugh at how many people thought it would stink with paint fumes or be toxic.  That depends completely on the paint that you use.  I used regular Behr paint on mine, which has no odor and contains zero VOC's.  It does not have, and never has had, a smell to it, stinky or otherwise.  It's perfectly safe to sit on, and I would venture to say it's actually much safer to sit on than upholstered furniture that's been sprayed with Scotchgard or other stain-preventing chemicals.
Is it easy to clean?
It's amazingly easy to clean.  For spot cleaning, like when my dog got on it with muddy paws, or when my cat threw up on it, I literally spray it with Windex, wipe it with a paper towel, and it cleans right off.  For all over cleaning (which is necessary every so often with as much sawdust and mess as I create with my projects), I mix up some water, baking soda, and white vinegar, and wipe it down with a rag.  If there are any mystery marks on it, I scrub them off with the rag, and the paint holds up perfectly.
Is it comfortable to sit on?
Well, it's a painted sofa, painted with latex paint, so it's basically a sofa covered in a plasticized rubbery product.  🙂  It's not uncomfortable to sit on, but it's not really something that you'd sink into on a regular basis to curl up and read a book, or take your weekly Sunday afternoon nap on.  I have taken naps on it, and I've been perfectly comfortable, but you just have to manage your expectations.  What does it feel like?  Well, if you were to take thick, heavy outdoor canvas and soft vinyl and combine them into one fabric, that's kind of how I'd describe the feel of this sofa.
Would you do it again?
Absolutely!  I think it's a fantastic interim solution for people who are stuck with a hideous sofa and don't yet have the money to replace it.  It's very inexpensive, it's relatively quick and easy to do, and it's incredibly durable.  I think it could easily last for two or three years (or indefinitely, really) while someone saves up for a new sofa.
Would I want it as a permanent piece in my home?  Nope.  Absolutely not.  I would only use it as a temporary piece while saving up for what I want.  But with that goal in mind, I wouldn't hesitate to cover up hideous upholstery with paint.
Any other tips or thoughts?
I think that the easiest fabric to paint is cotton upholstery fabric.  I did try to paint a chair that was covered in an old upholstery fabric with a velvety texture.  It did not work.  The chair was orange, and I tried to paint it light green.  Not only did the color not cover the original orange (after four coats of paint!), but the fabric became hard and kind of crunchy (to be fair, the upholstery was so old that it was kind of crunchy to begin with) and the velvety texture became very rough to the touch once the paint dried.  So in my experience, I'd stick with the upholstery cotton or similar fabrics that are smooth and have no texture or nap to them.
I think that covers the most asked questions, but if I've left out some info, don't hesitate to ask!
Addicted 2 Decorating is where I share my DIY and decorating journey as I remodel and decorate the 1948 fixer upper that my husband, Matt, and I bought in 2013. Matt has M.S. and is unable to do physical work, so I do the majority of the work on the house by myself. You can learn more about me here.