Last Updated on December 24, 2015 by Kristi Linauer
Happy Monday, all!
Well, after pressing the pause button and reevaluating the plan for my living room, things really started falling into place in my mind.  If you're not on my A2D Facebook page, you might be a little behind, so let me get you caught up really quickly.
First, my plan all along has been to add grasscloth to the upper part of the living room and entryway walls above white wainscoting that I plan to add after we get the foundation of our house level.  The brown paint color was just temporary.
Now here's the deal.  I've been planning on using a light brown/neutral grasscloth.  I really have no idea why, except to say that I think I've been trying to be someone I'm not.
Our condo was definitely "me."  Being surrounded by all of that color just made me happy.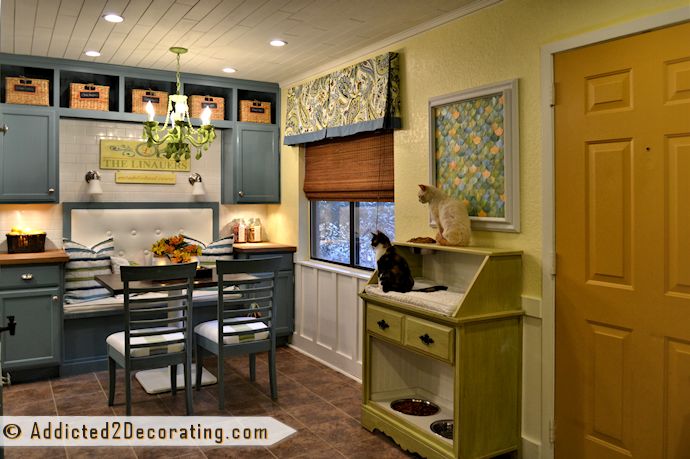 I just love color!! Bright, happy colors. Bold, saturated colors. Dark, moody colors.  It doesn't matter, as long as it's color.  What I'm not is a neutral-loving kind of person.
But for some reason, when we bought our house, I decided that I needed to be more "grown up" with my decorating here.  And somehow in my mind, that meant decorating with neutral colors.
I don't think I realized just how much I was suffocating with these neutrals (yes, I even consider the dark brown to be a neutral), until I started searching for grasscloth/wainscoting inspiration on Houzz, trying to determine just what shade of light brown/tan/khaki grasscloth I wanted on my walls and I came across this picture…
As soon as I saw that, I knew without a doubt that all this time, I've been trying to be someone I'm definitely not. "Grown up" doesn't have to mean boring neutrals. And color is what I crave.
So I'm headed in a new direction — one that is definitely more "me." While I can't add grasscloth just yet, what I can do is get rid of the brown and get some color on these walls. I chose six different shades of blue (they're actually all teal) — all from light and bright, to grayed and moody, to deep and saturated.
All of those are Behr colors from Home Depot:
Hallowed Hush — This is the color I used on my kitchen cabinets and my breakfast room cabinets at the condo.  I absolutely LOVED it at the condo, but here I think it's awful.  It looks like it belongs in a baby boy's room.  Definitely not what I'm looking for.
Teal Forest — This was Matt's favorite, but I ruled it out since I'm using dark navy blue in our bedroom, and I don't want two rooms quite so similar.
Cathedral
Solitude
Mythic Forest – This is the color that I used in the hallway bathroom at the condo.  It's one of my all-time favorites.
Moonlit Pool – Matt immediately ruled this one out, saying it looks like it belongs in a tween's room.
I posted that pic on Facebook yesterday, and over 1500 people commented.  The clear winner was #3, Cathedral.
So which one did I pick?  Well, after going back and forth between #3 (Cathedral) and #5 (Mythic Forest) for several hours, I finally asked my family to come over and weigh in on the decision.
Among all of us who saw the colors in person — my mom, my brother, my sister, my brother-in-law, and me — the vote was unanimous.
The winner is #5, Mythic Forest.
It's the same color I used in the hallway bathroom at the condo.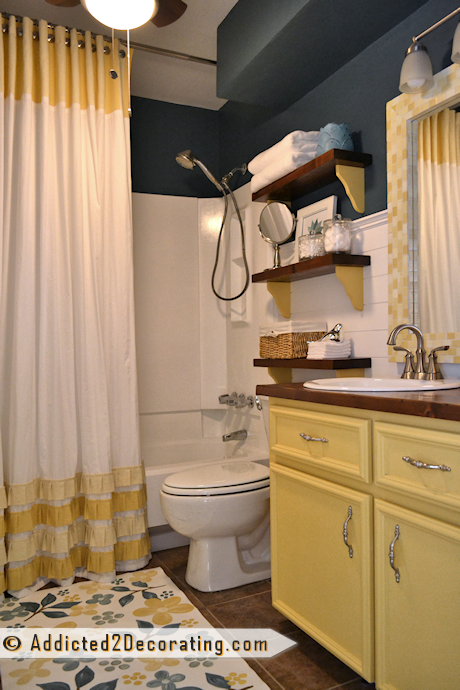 My mom said that just based on the picture with the paint samples, she definitely would have chosen #3, Cathedral.  But after seeing it in person, we all agreed it was just way too blue, and after painting it on all of the walls, I think it would have taken on a bit of kid's room appearance.  The Mythic Forest is blue enough to be blue (actually teal), while also having enough gray to tone it down and make it more sophisticated, and more appropriate for an adult space (in my humble opinion).  🙂
So hopefully today the painting shall commence.  I thought I could get some of it done last night, but I didn't get to Home Depot until 6:30, and then once I got my paint, picked up some dinner, ate dinner, relaxed and watched a show with Matt, it was 10:00.  I came so close to going ahead with my plans to paint, but then decided that just this once, I'd give myself a break.  🙂
I'm so excited to get color on my walls!!!  This new direction is definitely more "me."
Addicted 2 Decorating is where I share my DIY and decorating journey as I remodel and decorate the 1948 fixer upper that my husband, Matt, and I bought in 2013. Matt has M.S. and is unable to do physical work, so I do the majority of the work on the house by myself. You can learn more about me here.
I hope you'll join me on my DIY and decorating journey! If you want to follow my projects and progress, you can subscribe below and have each new post delivered to your email inbox. That way you'll never miss a thing!