Last Updated on December 24, 2015 by Kristi Linauer
I've been struggling with a decision over my wood windows for several months now.  I know, I know…just call me a hypocrite.  🙂
After I said on my Facebook page about a year ago how sad it is that people get rid of old wood windows and replace them with new (mostly vinyl) windows, here I am contemplating the very same thing.  Actually, I'm pretty well beyond contemplation.  I'm in the planning and shopping stage.  Even though I won't be able to afford them anytime soon (an HVAC system is far more important to me), I've been shopping around, comparing brands, etc.  But I will admit that every time I get online and start shopping around for windows, I feel a little bit of guilt at the thought of getting rid of all of my old wood windows.
But here are the factors that lead me to the decision to replace.
First of all, the thought of having to repair every single wood window in my house is more than just a little bit overwhelming.  I would have to repair every window in evey room except the sunroom, which is filled with aluminum windows.  None of my wood windows work properly, and I have a feeling it's because they're all covered with layers upon layers of paint.  I'd bet money that at least one of those layers is lead-based paint.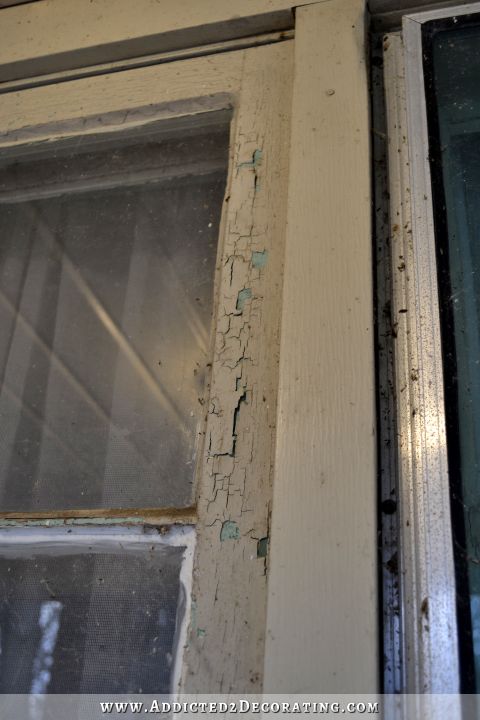 Do you spot the seafoam green?  That color has been on every single thing — interior walls, interior doors, trim, exterior siding.  Everything at one time was painted seafoam green!
But all of those layers of paint are keeping all of my windows from working properly.  Most of the windows won't even budge, but the ones that will budge will only move slightly.
And you can see that someone in the past, instead of reglazing the windows as they needed it, decided to do a little repair with caulk instead.
Wood windows should be glazed, not caulked!!
Some of the windows won't close all the way.  This is the front window in Matt's game room, and you can see that there's about a 2-inch gap between the top sash and the top frame.  Thank goodness we have storm windows!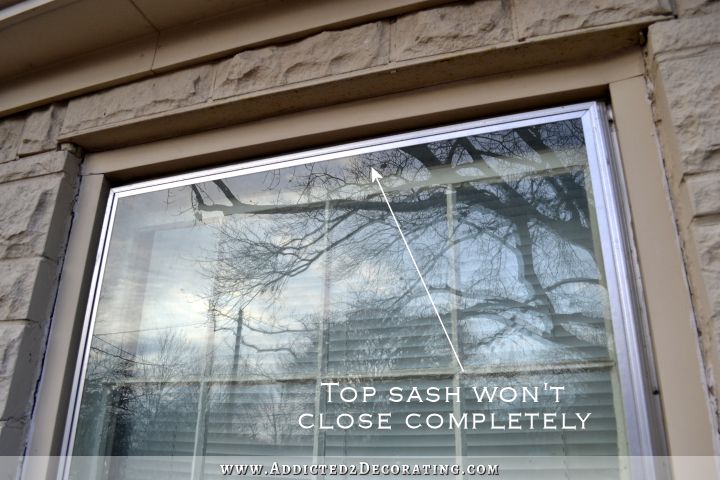 So there's literally not even one single wood window in my house that wouldn't need to be removed, stripped down completely, reglazed, reprimed, repainted, and reinstalled.  And it appears that some of them will need even more work than that to get them working properly again.
Another thing about old wood windows is that in order for them to be energy efficient, you absolutely have to use storm windows on them.  Well, I have storm windows, but they're ugly aluminum windows.  Not exactly the look I like.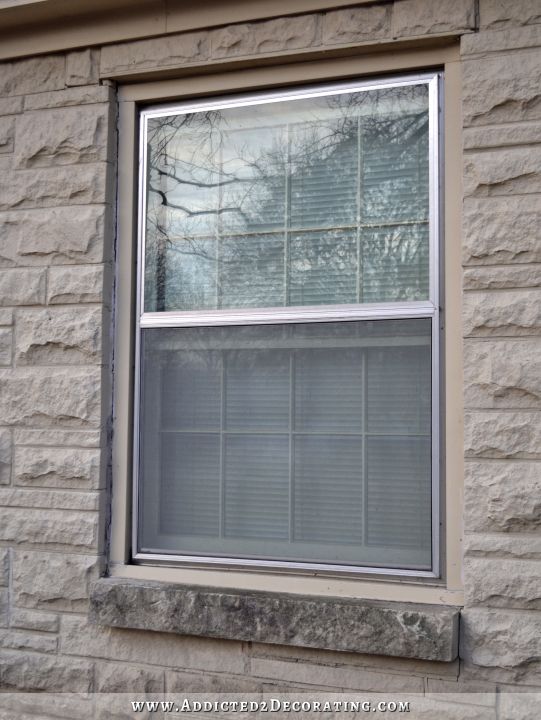 So in addition to all of the work that it would take to get the windows functional and looking pretty again, I'd also want to get all new wood storm windows.  And those things are pricey!!  Especially if I got the kind that I really want with the interchangeable glass/screen panels.
There's also the issue of matching these windows.  Two of the old windows are gone, and have been replaced with aluminum windows.  I have no idea how I'd go about replacing those.  I've been told that you can find old wood windows at ReStore, but I've never found any like mine.  So would they have to be custom made?  I can't even imagine how much that would cost!  And then what would happen when we do our major remodel in the back, adding a master bedroom, laundry room, and family room?  Would all of those have to be custom made as well?
*Sigh*  It just seems like way too much.
But the final straw for me came just the other day when I was researching how to repair old wood windows, and I came upon one restoration site that said post-WWII wood windows aren't even worth saving!  I couldn't find the site this morning (I wanted to share it with you), but it was a site that was all about saving historic homes, and so of course, it addressed old wood windows, and the importance of saving them.  And yet it said that post WWII wood windows aren't worth it.
Evidently after the war, wood windows were made very differently from the way they were made at the turn of the century.  The historic wood windows were hand crafted of dense, hard wood, and were put together using rope and weights.  After the war, things changed.  They were made of cheaper materials and were being made much faster (no longer by talented craftsmen).  They also did away with the rope and weight system.  And finally, instead of building the window as two separate sashes that can easily be removed individually for repair, the windows were built as one piece set in a frame that had to be installed together.
And sure enough, my post WWII wood windows don't have ropes and weights.  They have some sort of spring system instead.  And the sashes won't come out separately.  They're set in a frame that has to be taken out as a whole unit.
To be honest, I was glad to come across that information, and  to realize that my old wood windows aren't the highly coveted historic wood windows. (Highly coveted by historic home restoration enthusiasts, that is.)  That knowledge kind of let me off the hook as far as feeling obligated to repair and keep these windows.
And yet, I still feel a twinge of guilt at the thought of getting rid of them.
What would you do?  Would you still repair and keep them, simply because they're old wood windows?  Or would you replace them with something new, and not feel a bit of guilt at doing it?
Addicted 2 Decorating is where I share my DIY and decorating journey as I remodel and decorate the 1948 fixer upper that my husband, Matt, and I bought in 2013. Matt has M.S. and is unable to do physical work, so I do the majority of the work on the house by myself. You can learn more about me here.
I hope you'll join me on my DIY and decorating journey! If you want to follow my projects and progress, you can subscribe below and have each new post delivered to your email inbox. That way you'll never miss a thing!